Please read this, Please, it is for your own benefit. You will be very surprised about what you read about. 
My News Article
If you want news about Season 5, please click
here
 it is my blog that is filled with news and
gossip about Season 5, but I will also attach another link to where you can read more intensively as you can get to points in your knowlegde about Season 5.
If you want to read more please clickhere. But if you really want to have more knowledge about the character named Nadia, please clickherebecause she is like one of those characters that you should read about it for ages.
Plus I heard that she has a connection to Klaus and Silas. But who knows, she might be a progeny of either of them.I have made another format for the episode guides and if you want to read them or have look/browes on them please click
here
to do so.
Season Five is about to start off in the next few weeks and It will have the trailer for each episode within the summary itself and it is functional as well.
And one last thing, if you want to have an look at the first ever episode of Season 5, please click here, but I should warn you that it might have spoilers in it, but you can read it as your own risk of exposure to those spoilers.
You won't regret it, The Vampire Diaries and The Originals better beware, because both of them are coming our.
But the up coming season is going to be the most epic one ever. Since the first ever episode of season one, its had grown ever so popular.
Elena was human for the first three seasons and now she is forever vampire, she could have been human, but shoved the cure in Katherine's mouth.
But the show has been given birth to a spin off called The Originals like Pretty Little Liars has with Ravenswood. But who knows it would be giving birth to another spin off about Tatia and her doppelganer blood line.
Stefan, Elena, Damon, Caroline and Tyler are about to know that Bonnie their friend is no longer in the land of the living, she is stuck on the other side along with her grandmother and all that she has killed or had a hand in their death from Jeremy. So who knows this is season will be good, better or awesome.
I love this series and all of it's characters and cast, species and or other people that are link to the series.
Questions
What are you expecting to happen in this season
Who do you think is going to die
When do you think is going to be starting at
How many times are you going to watch each episode
Youtube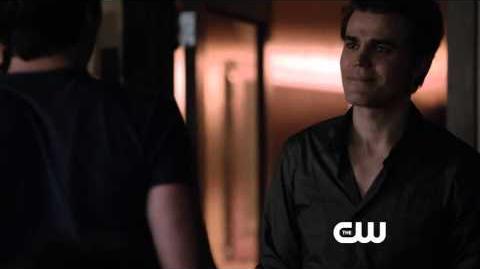 Synopsis's
Episode One
COLLEGE DAYS — After spending the summer enjoying her passionate relationship with Damon, and making sure that Jeremy is adjusting after his return from the dead, Elena is thrilled to move into the dorm at nearby Whitmore College with her new roommate, Caroline. Still believing that Bonnie has been traveling all summer and will soon join them, Elena and Caroline are surprised when a student named Megan shows up and announces that she will be sharing their dorm room. Katherine makes an unexpected appearance at the Salvatore house and pleads with Damon to help her now that she is human and vulnerable to her enemies. Matt and Rebekah return to Mystic Falls after spending a wild summer in Europe, where they met a mysterious beauty named Nadia. Elena can't shake the feeling that something is wrong with Stefan, and Silas makes a terrifying appearance at the "End of Summer" party in the town square.
---
Episode Two
MISSING PERSONS — Without telling Elena that Stefan is missing, Damon turns to Sheriff Forbes for help finding his brother. Elena and Caroline try to find out who is covering up a campus murder, and a fellow Whitmore student named Jesse gives Elena some intriguing information about Professor Wes Maxfield. While Jeremy struggles to return to his old life, he continues to be the only person who can see and talk to Bonnie, but he can't convince her that it's time to let the others know that she sacrificed her own life for his. After learning that Silas is searching for Katherine, Damon asks Matt and Jeremy to keep her out of sight, but the situation quickly spirals out of control. Finally, Nadia uses violence to make a point about her own agenda.
Thank You