500 Years of Solitude is the eleventh episode of the fifth season of The Vampire Diaries and the one hundredth episode of the series overall.
Summary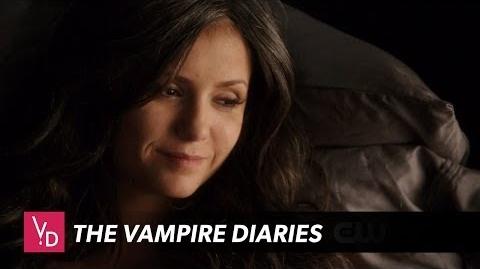 FLASHBACKS TO KATHERINE'S EARLY LIFE — As she faces a new crisis Katherine remembers the traumatic night in 1490 when she gave birth to Nadia who was immediately taken from her. Stefan lets Elena, Caroline and Bonnie know that Katherine's health has taken a turn for the worse, while Damon, Matt and Jeremy discuss some of Katherine's most notorious moments. Nadia comes up with a frightening plan to protect her mother, and Stefan and Elena are forced to help her. Meanwhile, Caroline is mortified when she realizes she forgot to fill Elena in on the latest shocking gossip, then indulges in a little scandalous behavior of her own. Finally, Elena and Katherine share an unexpected moment of connection.
Plot
SPOILERS AHEAD
The episode starts with a flashback at 1490 in Bulgaria where Katherine gave birth to her daughter, Nadia, and her father took her away from her right after she was born while at the present Katherine is at the hospital after the heart attack she was suffered. Stefan is there with her and when Nadia comes, he informs her that he compelled the doctors so he can take her back home to be more comfortable.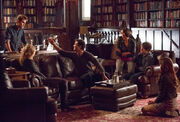 At the Salvatore house, Damon, Jeremy, Matt, Caroline, Bonnie and Elena have a drinking game celebrating Katherine's upcoming death naming the worst things she has ever done to them. Stefan walks in asking them to stop because they are being insensitive and he drinks to the survivor Katherine and not the evil one. Matt goes to get more liquor bottles when Nadia shows up and knocks him down. She then goes back to the house where everyone is gathered and tells them that she found a way to save her mother but she needs some help. When they deny to help her, she says that she imagined what their answer would be and that's why she has buried Matt somewhere alive and she took his daylight ring. If they want to find him they should help her.
Stefan and Elena follow Nadia to an abandoned house. On their way there, Nadia tells them her plan of how she will save Katherine. Katherine is born on a traveler bloodline and she can become one by getting into someone else's body, if someone teaches her how to do the spell. Nadia is willing to give her body to save her mother. When they reach at the abandoned house, they find many travelers there and Nadia tells Elena and Stefan that the travelers asked for the doppelgängers but she doesn't know why for. She leaves, letting behind Stefan and Elena. The travelers make a spell so the two of them can't escape and they get one buck of blood from each of them, for unknown reason, and then they let them go.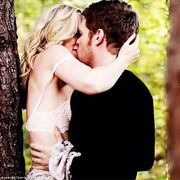 Meanwhile, Caroline, Bonnie and Jeremy try to find where Matt is. While searching, Caroline brings up how suprising it is that Stefan slept with Katherine. Jermey brushes it off by saying that they've all slept with people they regret. He then turns to Bonnie and assures her he didn't mean her. Caroline is very suprised to hear that Bonnie and Jeremy have slept together. She asks if Elena knows which Bonnie and Jeremy hastily reply "no". Caroline makes a remark about everyone having "scandalous sex" except her while Jeremy suggests they split up, obviously to reduce the awkwardness. Caroline agrees and Jeremy and Bonnie walk off. While Caroline shouts out for Matt, Klaus appears. He informs her that he is back because Damon told her Katherine was dying but Caroline wants to know if he killed Tyler. He says that he didn't and when Klaus mentions her break up with Tyler, she tells him that he chose revenge over her. Klaus wants to know if she would give him the same choice she gave to Tyler but Caroline tries to avoid the question saying that she is looking for her missing friend. He reassures her that Matt is fine since he heard his calls and a rescuer is on the way to get him out. While Caroline and Klaus talk, Matt opens the safe and he sees Rebekah. Klaus promises Caroline that he will leave Mystic Falls and never bother her again if she will confess her feelings about him and be honest. After that promise, Caroline kisses him and the two of them have sex before Caroline goes back to the Salvatore house.
Back in the house, Katherine remembers about the time when Klaus killed her entire family because she run away from him when Damon gets into her mind to torture her. He tells her that it's her fault that her family was killed and he also makes her see aunt Jenna and John Gilbert. Jenna stabs her and John cuts her fingers off, things that the two of them suffered while being alive because of her. Then, Elijah appears to save her, but when he sits next to her his face turns into Damon's who apologizes to her about all these not being real. That's when Nadia appears and snaps Damon's neck to stop him from torturing her mother.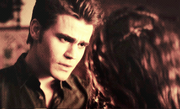 Nadia asks Katherine to say the spell so she can get into her body and save her life but Katherine declines saying that she had a full life and it's time for her to go. Nadia leaves and Damon wakes up having heard though the conversation between mother and daughter. Stefan walks in asking what happened and Damon informs him that he was messing with Katherine's mind all day. He asks Damon to leave and Stefan sits with Katherine and tells her that she deserves to find peace. She gets into her mind and he changes her memories from 1492. Her family is not dead and she has her little baby girl. He leaves the room while Elena comes in to say her goodbye.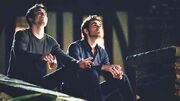 Stefan and Damon, before they join the rest at the living room, they have a brother-to-brother talk at the roof where Stefan asks Damon not to give up on Elena and try his best to get her back.
Everyone, except Elena, is in the living room and wait for Katherine to die. While waiting, Bonnie answers to Matt's question that as the anchor to the other side she sees lots of people including Vicki who appears to tell him via Bonnie that he loves him and always watching over him. Tyler also comes back something that makes Caroline upset after the moments she had with Klaus in the woods. Alaric appears last to inform everyone that he is always there.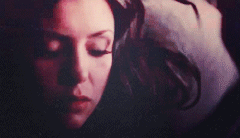 The episode ends with Elena and Katherine at the bedroom. Elena says Katherine she forgives her for everything she has done and while Katherine thanks her, she grabs Elena and chants the spell Nadia taught her earlier. Elena falls to the floor, Katherine faints and Elena phones start to ring. Elena wakes up and answers it. It's Nadia who asks if it worked and Katherine (via Elena's body) says that it did. She hangs up the phone, walks over to a mirror and says: "Hi, I am Elena Gilbert".
Cast
Main Cast

Special Appearance by

Recurring Cast

Co-Starring
Trivia
This is the show's 100th episode.
Antagonists: Nadia, Mia and The Travelers

This is the first episode since Original Sin in which Nadia is an antagonist.

This episode revolves around Katerina Petrova.
"500 Years of Solitude" is a reference to the book One Hundred Years of Solitude by Gabriel Garcia Marquez. In this case, it refers to Katherine's time on the run from Klaus.
This episode confirms that Katherine was seventeen years old when she gave birth to Nadia in 1490.
This is the first episode of the series overall where Katherine and Liz have scenes together on-screen.
It was confirmed by Rebekah that it has been almost three months since I Know What You Did Last Summer, placing the events in this episode in the late November 2011 or early December. This means that the The Originals is on the same timeline as well.
This episode is similar to Katerina from Season Two. A new flashback scene is seen where we see Katherine go into labor with Nadia, that places it before the opening flashback of Katerina.
Flashbacks to Katherine's past reveal how she ended up staying at the Salvatore Estate in 1864, as was first show in Season One's Lost Girls—When she and Emily Bennett were making their way into Mystic Falls, they passed by Stefan, who was fixing the wheel to his carriage on the side of the road. Though Emily and Katherine were originally planning to be guests at the old Lockwood Estate, Katherine was so smitten with Stefan at first sight that she instead convinced Giuseppe Salvatore to give her houseroom at his home instead so she could get closer to his youngest son.
This is the first episode since Graduation in which more than one Original vampire appears in an episode of the series overall, as both Klaus and Rebekah drop by Mystic Falls for the first time since their move to New Orleans. Though Elijah wasn't physically present, he did appear in an illusion that Damon created for Katherine to torture her in retribution for all she had done to him over the decades.
We learn in this episode that doppelgängers end up on The Other Side when they die as they are supernatural.
Elena becomes the second vampire in the series to be possessed by a witch, in this case Katherine. The first was Rebekah by her mother Esther in Season Three's Heart of Darkness and Do Not Go Gentle.
After this episode, no one sees the real Elena again until Gone Girl.
This is the second episode in Season Five to feature all eight main cast members. The first episode was For Whom the Bell Tolls.
This is the first episode of the third chapter of Season Five, The Passenger Chapter.
This is the first episode this season to feature eight cast members in one scene.
This is the second episode to feature Nadia's birth. The first was Season Two's Katerina.
Continuity
This episode takes place the day after the events of Fifty Shades of Grayson.
This is the only episode to feature all twelve series regulars from throughout the series' run.
Elena, Stefan, Damon, Jeremy, Bonnie, Caroline, Matt, Vicki and Tyler are the only main characters to appear in the Pilot, the 50th episode Smells Like Teen Spirit and this episode.
Vicki Donovan was last seen on Smells Like Teen Spirit. She was last mentioned in Stand By Me.
Jenna Sommers was last seen in The Departed.

Jenna's outfit in this episode is the same she wore in Season Two's Plan B when she was compelled to stab herself in the stomach under Katherine's orders.

Alaric and Klaus were last seen in Graduation.
Tyler was last seen in Monster's Ball.
Caroline Forbes was last seen in The Cell.
Rebekah Mikaelson was last seen in I Know What You Did Last Summer.
Elijah Mikaelson was last seen In The Originals (Episode).
John Gilbert was last seen in The Sun Also Rises. He was last mentioned in Stand By Me.
Emily Bennett was last seen in As I Lay Dying.
Elizabeth Forbes was last seen in True Lies.
Jeremy said he was killed by Katherine twice: In Down the Rabbit Hole (via Silas) and I Know What You Did Last Summer.
Caroline mentions that Katherine killed her as a human, which happened in The Return.
This episode marks the first appearance of Mia.
Klaus and Rebekah's appearances are set between Après Moi, Le Déluge and Dance Back from the Grave on The Originals.
Nadia was last seen as a baby in Katerina.
Katherine's family was last seen, slaughtered, in Katerina.
This is the only episode to feature all main characters of The Vampire Diaries, both previous and current.
Locations
Bulgaria
McKinley, Virginia
Behind The Scenes
The script was finished on October 17, while the filming started on October 28.[1]
There was a party held on the 9th of November where all: TVD mains: Nina Dobrev (Elena, Katherine & Amara), Paul Wesley (Stefan & Silas), Ian Somerhalder (Damon), Candice Accola (Caroline), Steven R. McQueen (Jeremy), Kat Graham (Bonnie), Zach Roerig (Matt), Michael Trevino (Tyler) including formers Kayla Ewell (Vicki), Matthew Davis (Alaric) and Sara Canning (Jenna), TO mains: Joseph Morgan (Klaus), Daniel Gillies (Elijah), Claire Holt (Rebekah), Phoebe Tonkin (Hayley), Charles Michael Davis (Marcel), Daniella Pineda (Sophie), Leah Pipes (Cami) and Danielle Campbell (Davina), Recurring cast members: Malese Jow (Anna), David Anders (John), Marguerite MacIntyre (Liz), Nathaniel Buzolic (Kol), Persia White (Abby), and new additions Olga Fonda (Nadia), Michael Malarkey (Enzo) and Shaun Sipos (Aaron), Executive producers Julie Plec, Kevin Williamson and Caroline Dries all attended.
Nina Dobrev, Paul Wesley, and Ian Somerhalder are the only actors to appear in all of the first 100 episodes.
This episode had about 2.72 million viewers in USA, which was 0.28 million more than the previous episode.
This episode featured the song "Love Don't Die" by The Fray. The music video in the song featured Candice Accola.
Hashtag during the airing is #KatherineFierce
Quotes 
Extended Promo
Stefan: (to Nadia) "She's dying. I don't think she'll survive the rest of the day."
Damon: "Think about the worst thing that Katherine Pierce has ever done to you. Toast to the glory of her impending death."
Jeremy: "She fed me to Silas and I died."
Damon: "Doozy."
Katherine: "They're talking about me, aren't they?"
Stefan: "No, they're reminiscing."
Elena: "She tried to kill me at least twice."
Caroline: "She did kill me."
Katherine: "Oops."
---
Damon: "I am choosing to not have to think about how you must feel every time some ghost from my past comes and ruins our life."
Elena: "Stop acting like I'm perfect! I've done horrible things too.."
Damon: "STOP DEFENDING ME! I can't change who I am, but I refuse to change you."
---
Stefan: (to Elena) "Damon's pushing you away because he hates himself. You never gave up on me, so don't give up on him…"
---
Damon: "I want to go back in time and fix every awful thing I've done. But I can't take any of that back."
---
---
Damon: "Deep down, you've got to be enjoying this a little bit.."
---
---
---
---
---
---
Katherine: (after successfully becoming a Passenger in Elena's body) "Of course it worked. I'm Katherine Pierce. I survive."
Multimedia

"Love Don't Die" – The Fray


"Come Save Me" – Jagwar Ma


"Illusory Light" – Sarah Blasko


"Let Her Go" – Passenger
Videos
Pictures
References
See also
Community content is available under
CC-BY-SA
unless otherwise noted.