"
But the darkest consequence was something my parents never anticipated... The hunger. Blood...had made us reborn, and it was blood that we craved above all else. We could not control it...
"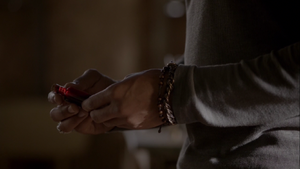 Blood is a specialized bodily fluid that both delivers nutrients and oxygen to the cells and also transports metabolic waste products away from those cells. Immortals, vampires and hybrids need to drink blood to function. If a vampire cannot feed on blood for an extended period of time, they will weaken to the point of desiccation. Blood is also what provides vampiric creatures with their supernatural abilities, such as enhanced strength, speed, agility, senses, healing, and mind control, and as a result, the strength of their abilities can be affected by starvation or extreme blood loss. Most vampires drink human blood, but there are some that choose to exclusively drink animal blood, such as Stefan Salvatore, or vampire blood, such as Mikael. However, animal blood does not provide the same level of nourishment to vampires as human blood does, which is why most vampires won't even consider it unless they have no other option.
Types of Blood
Characters who have used their blood to cure people
Trivia
Witches can use magic to boil the blood of a being or turn their blood into acid. Neither of these acts are fatal to a vampire or hybrid; however, this would be deadly to humans, which include witches and werewolves.
Gallery
See also
Community content is available under
CC-BY-SA
unless otherwise noted.