"
But the darkest consequence was something my parents never anticipated... The hunger. Blood...had made us reborn, and it was blood that we craved above all else. We could not control it...
"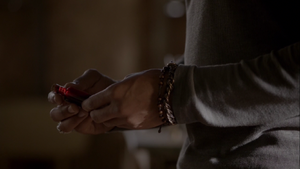 Blood is a specialized bodily fluid that both delivers nutrients and oxygen to the cells and also transports metabolic waste products away from those cells. Immortals, vampires and hybrids need to drink blood to function. If a vampire cannot feed on blood for an extended period of time, they will weaken to the point of desiccation. Blood is also what provides vampiric creatures with their supernatural abilities, such as enhanced strength, speed, agility, senses, healing, and mind control, and as a result, the strength of their abilities can be affected by starvation or extreme blood loss. Most vampires drink human blood, but there are some that choose to exclusively drink animal blood, such as Stefan Salvatore, or vampire blood, such as Mikael. However, animal blood does not provide the same level of nourishment to vampires as human blood does, which is why most vampires won't even consider it unless they have no other option.
Types of Blood
Characters who have used their blood to cure people
Gallery
Blood Magic
"
Ok… hmm, Blood Magic is not working, so what else is there?
"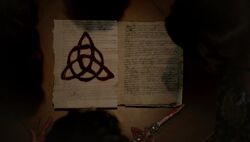 Blood Magic is a magical practice that allows a witch to incorporate blood into their magic to strengthen the spell or ritual they are performing. The origins of this practice remain a mystery though it can be traced back to the time of Qetsiyah.
At a basic level, Blood magic can be useful to enhance the abilities of minor spells while at a more devastating extent, can be used to curse, hex or even kill humans and supernatural creatures.
When Qetsiyah and Silas created the first true Immortals, Nature demanded a balance; a Doppelgänger. Other than witches themselves, with the innate magical properties of the blood, this is the first known creation of Blood Magic.
Throughout the centuries, Witches have utilized blood for a variety of spells ranging from simple locator and linking spells to complicated rituals. The most infamous form of blood magic resides in the creation of vampires; as Esther Mikaelson incorporated Doppelgänger blood into her spell. In order for the spell to be completed, it required for blood to be consumed in order to fully transition into vampires. Having utilized blood magic, it connected the sires of the Original Vampires, creating the sirelines, as it continued to spread as a plague.
In 1994, Sheila Bennett provided the Gemini Coven her blood and the spell to trap Malachai Parker in the 1994 prison world.
In, Before Sunset, Bonnie used blood magic to form a connection among herself, Damon, Stefan and Klaus. Using Dark magic (coupled with sacrificing Jeremy Gilbert) and this blood connection, it made it possible for her stop Klaus' heart and desiccate him.
In, I Alone, Damon gives Liv a vial of Lucy Bennett's blood in order to send them to the 1994 Prison World. In order to bring them back, including Bonnie, Liv gave Damon and Elena a vial of her blood in order to connect them in order to pull them all back to the mortal plane.
Main article: Spells and Rituals
At a more basic level, witches utilize blood as a powerful binding agent. Specifically, blood can be and typically used to track related targets, link to other witches, or channel their power and to heal the wounded.
Bennett witches are known for their Boundary and Sealing spells as they empower their spells with their blood and magic. This makes breaking these spells nearly impossible to accomplish without the castor (or their blood).

The Witch Ayana preserved Esther's body within a coffin and spelled it shut with a Blood-Knot Sealing Spell that lasted for over a 1000 years. Furthermore, it required 2 generations of witches within the bloodline to unseal, making it one of the most powerful and difficult spells to break.
Transference spell frequently use blood to bridge the connection between living targets.

When the status of Huntress was transferred from Rayna Cruz to Bonnie, Bonnie's blood was necessary to facilitate the spell.
Linking spells are another spell type that frequently uses blood.

Esther used doppelgänger blood to link all of her children together in order to kill them all. The unlinking spell also required the use of each of the individually linked target's blood to break the spell.
More potent forms of blood magic reside in the use of sacrifices to empower spells or when invoking dark magic.
Dark magic combined with Blood Magic can result in a variety of effects that range from possession to curses and hexes to even resurrection.

Greta Martin and Maddox's crude possession spell required the use of Klaus' blood to place his soul into Alaric's body. In contrast, Bonnie and Esther both utilize possession spells without blood to successfully transfer souls between bodies.
Davina's dark resurrection spell required the use of blood from two siblings in order to bring back Kol.
The Travelers utilized blood magic, specifically doppelgänger blood, to tear through The Anchor to resurrect their leader which subsequently lead to the casting of the magic purification spell.
When the practice of Blood Magic is couple with creation magic, i.e. the creation of The Hunters and The Huntress, human blood can be magically infused giving it special properties.
Blood Magic Gallery
Trivia
Witches can use magic to boil the blood of a being or turn their blood into acid. Neither of these acts are fatal to a vampire or hybrid; however, this would be deadly to humans, which include witches and werewolves.
Blood Magic is the magical practice that heavily relies on blood as a main component of any given spell.
Doppelgänger blood is the most potent blood utilized in Blood Magic.

The first known use of Doppelgänger blood magic lead to the creation of vampires.

Witches that perform Locator spells to find humans or supernatural being typically employ blood magic in their spells to find their targets.

Witches of New Orleans also use black sand/powder in their locator spells, though when they are desperate to find their target, they typically resort to using blood to strengthen their spell, the most notable occasion was when Dahlia requested to use Klaus' blood to find hope when she could not sense her magic.
Using blood magic makes it more difficult to hide from a witch performing the locator spell. This was shown when Bonnie was performing a locator spell to locate Esther, where she was able to fend her off by channeling her death spot.

Vincent Griffith first named this practice as they could not heal Cami with Lucien's blood.
See also
Community content is available under
CC-BY-SA
unless otherwise noted.