Dalton St. John was a character on The Vampire Diaries. He made his debut in twentieth episode of the seventh season. He was a member of The Armory and the brother of the founder of the organization. He is the great-grandfather of Alexandria, Yvette and Virginia, and the uncle of Lorenzo. After opening the door to the vault, he becomes affected by the monster and kills his colleagues.
History
1882
Dalton St. John was the leader of the Armory in 1882. During this year, he and his fellow colleagues ventured inside the mysterious Vault beneath the Armory. Nothing much is known about what occurred inside the Vault, only that Dalton emerged a ruthless killer; stripped of all compassion and humanity.
Throughout The Vampire Diaries Series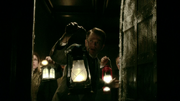 In Kill 'Em All, according to Virginia's story, he entered the opened vault with other members of the Armory. After hearing voices, the darkness snuffed out all of the light from their candles, as Dalton screamed. They brought him out and sealed the vault again. Immediately, Dalton was changed by his encounter with whatever creature of darkness is trapped in the vault. He was stripped of all empathy and love, leaving him a smiling and whistling psychopath, having murdered all his Armory subordinates with a smile.
Personality
He was shown to be intelligent and cared about his fellow coworkers at the Armory. After being trapped in the vault, his personality showed a drastic change. He was stripped of empathy and love, leaving him a twisted, smiling and whistling psychopath. Due to the stripping of his compassion, he had no qualms murdering his colleagues in cold blood, and while doing this, he smiled without a care in the world.
Physical Appearance
Dalton was a young man with bright blue eyes and short brown hair. He wore attire typical of the 1880's, had a somewhat tall stature and slim build.
Appearances
Name
Gallery
Trivia
References
See also
Community content is available under
CC-BY-SA
unless otherwise noted.