Daniel Gillies (born March 14, 1976) is a Canadian-born New Zealand actor. He plays Elijah Mikaelson on The Vampire Diaries and The Originals. His first appearance in The Vampire Diaries was in Rose.
Biography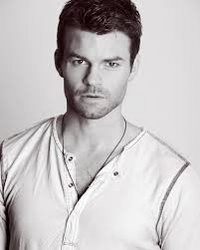 Daniel was born in Winnipeg, Manitoba, Canada. His father is a pediatrician. He was raised in New Zealand and went to Southwell School and the Hamilton Boys' High School. He made his acting debut in Street Legal. His next bigger role was in Spider-Man 2, where he played John Jameson, a fiancee of Mary Jane Watson (Kirsten Dunst). Gillies starred in his acting debut in the New Zealand drama Street Legal, where he played Tim O'Connor (2000–2002). He was featured in the movie Spider-Man 2 (as John Jameson) alongside Kirsten Dunst and Tobey Maguire. He guest-starred on NCIS as a British MI-6 agent, and on The Vampire Diaries as one of the Originals, Elijah.He also worked with Ian Somerhalder in the film Sensasion Of Sight. [1] As of June 2012, he appears in the NBC medical drama, Saving Hope. Gillies plays Joel Goran, the hotshot young surgeon. Gillies' other television credits include HBO's True Blood and A&E's The Glades. Other guest appearances include Masters of Horrors, Jeremiah and Mentors. A veteran of the theater, Gilles participated in over twenty plays professionally; including Julius Caesar, Three Sisters, Long Day's Journey into Night and The Judas Kiss. In 2006, he played a lead in the International Festival film The Sensation of Sight, alongside Academy Award nominee David Strathairn. The following year, Gillies started his own production company – Holy Monster. In 2010, Gilles wrote and directed his first independent film Broken Kingdom. The film was shot in Bogotá, Colombia and Los Angeles. It can be downloaded via its official website for only 5 dollars. he also worked in Gurinder Chadda's Hollywood film called Bride and Prejudice as the role, Johnny Wickham, along with the actress and former Miss World, Aishwarya Rai.
Personal life
He has been married to actress Rachael Leigh Cook since 2004. He made a movie called "Broken Kingdom" in which he and his wife play the main roles. Rachael and Daniel have one daughter, Charlotte Jamila Easton Gillies, born September 2013. On 22 January 2015, it was announced that they are expecting their second child. Their son, Theodore Vigo Sullivan Gillies, was born on April 4, 2015.
Filmography
TV Shows

| Year | TV/Movie | Role |
| --- | --- | --- |
| 1999     | Young Hercules | Antos |
| 2000 | Cleopatra 2525 | Cute Guy |
| 2000 - 2002 | Street Legal | Tim O'Connor |
| 2002 | Menots | King Arthur |
| 2002 | Jeremiah | Simon |
| 2005 | Into the West | Ethan Biggs |
| 2007 | Masters of Horror | Jack Miller |
| 2010 | The Glades | Dave Rollins |
| 2010 | True Blood | Jon |
| 2010 | NCIS | Royal Marine Major Peter Malloy |
| 2010 - 2014 | The Vampire Diaries | Elijah Mikaelson (Recurring Role) |
| 2012-2015 | Saving Hope | Dr. Joel Goran (Lead Role) |
| 2013–2018 | The Originals | Elijah Mikaelson (Lead Role) |

Movies

| Year | TV/Movie | Role |
| --- | --- | --- |
| 1998 | A Soldier's Sweetheart | Medic |
| 2001 | No One Can Hear You | Dirk Mettcalfe |
| 2002 | Various Positions | Marcel |
| 2002 | Snow Queen | Delfont Chalfont |
| 2004 | Spider-Man 2 | John Jameson |
| 2004 | Trespassing | Mark |
| 2004 | Pride & Prejudice | Johnny Wickham |
| 2006 | The Sensation of Sight | Dylan |
| 2007 | Captivity | Gary Dexter |
| 2007 | Matters of Life and Death | Jimmy |
| 2008 | Uncross the Stars | Troy |
| 2012 | Broken Kingdom | Jason '80' |
| 2019 | Occupation: Rainfall | |
Director
The Originals
Season 4
Season 5
Trivia
Gallery
References
External links