'Vampire Diaries' Profile: Elena and Damon Relationship
Play Sound
"
You want a love that consumes you. You want passion and adventure, and even a little danger...
"
The relationship between the cured vampire/human doppelgänger, Elena Gilbert and the cured vampire/human, Damon Salvatore, is a complicated, but a popular and powerful romantic pairing, and a significant relationship in the series.
Though initially started on antagonistic terms, their relationship develops throughout the series. He was the narcissistic evil vampire, who came to town to seek revenge on his younger brother, who Elena happened to develop an interest in. When everyone had written Damon off as a bad guy who couldn't be redeemed, Elena, who was unafraid of him and willing to call him on his crap, saw something in him that hinted he wasn't entirely evil. And so there marked the start of a tentative friendship. Over the seasons, their bond continues to grow, from becoming allies to friends, to best friends and, ultimately, lovers. He's always saving her from danger and she's saving him from his dark self, they both care deeply for each other, regardless of any obstacles that may come in their way.
They both love each other with a passion that consumes them. For him, she is the best thing that has ever happened to him in his life. For Elena, Damon is the one that defines her and believes him to be her soulmate.
They are known as "Delena" by fans.
Overview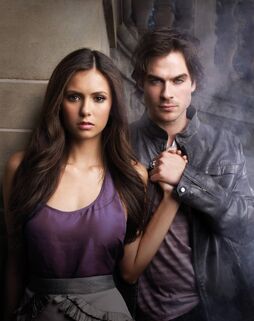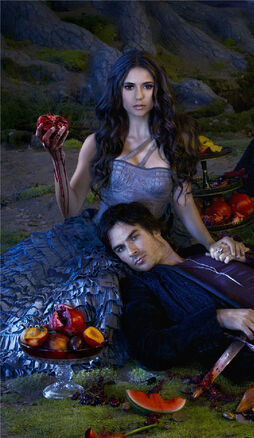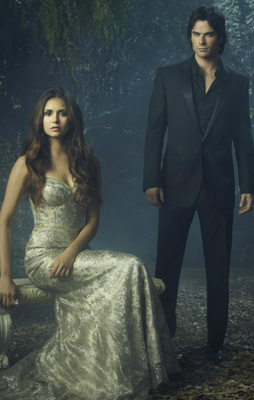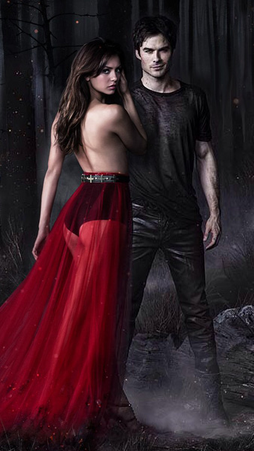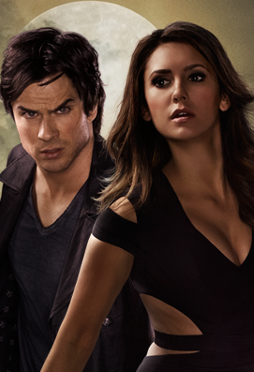 "Drawn together and not pulling away."
—Describing their relationship
"Because of Damon's feelings for Elena, thinking that, for the very first time in his life that he has a home, Elena is the one who helped Damon find his home and his home is Elena."
"The one thing I do want to see filmed and I'll say it because it hasn't happened yet and it may never happen, but I do want to see and I will go on the record to every Stelena fan in the world, I do want to see Damon and Elena get it on."
—Kevin Williamson
"That's the journey, I don't just want to throw them together tomorrow. I'd be sad. I want to see the kiss, I want to see the sweaty palms, I want to see it all go down."
—Kevin Williamson
"Even before anything happened in our series, Elena had been touched in her soul by this man."
"This year, she's had a very traumatic roller coaster of life experience and it's changed her irrevocably—and at the center of it all was the die hard belief that she loved Damon, that she loved him more than she'd ever loved anyone."
—Julie Plec
"I think that's what makes them as a couple so powerful. Even if the story line is them not dating, it's still a love story."
"It was going to be something beautiful and epic, so the rain was a way of us [honoring] this group of fans who spent five years begging for this one thing. … I think it's because of The Notebook … oh, and Spider-Man. Basically, there's something about people coming together in the rain that's the ultimate expression of love in the minds of most audiences."
—Julie Plec
"The show was so Delena-heavy. And their love was such an epic love and such a big story point for so many years that it's a strange dynamic now to have all that gone. Which is kind of what makes it interesting, because it's an Elena we've never seen before.""
"At the end of the day, it is for love and he's going to try everything he can to get her back and win her back."
"They've been through a lot. Love trumps all. So when you see, you want it to win."
—Ian Somerhalder
"I think they're a pretty damn epic television couple."
—Ian Somerhalder
"I think there's some terrific fan fiction to be written about Damon's first years as a human, but he was ready for it. He wanted it. He wants her. And when all is said and done, after going through such a trauma, to be able to grow old and die with your one true love is a beautiful solace in an otherwise difficult time."
—Julie Plec [1]
"Elena and Damon had a connection that was unlike any other. And you could see it onscreen. It was a very tumultuous back-and-forth relationship. But love ultimately prevails"
Damon came back to Mystic Falls with the sole purpose of bringing back Katherine Pierce, the vampire with whom he had fallen in love with as a human in 1864. However, after realizing that Katherine had secretly escaped the tomb but hadn't cared enough about him to find him, he resented her. He begins to fall for his younger brother Stefan's girlfriend, also Katherine's doppelgänger, Elena. His love for Elena makes him want to protect his birthtown instead of destroying it, as was his original purpose when he arrived. They form a rocky friendship.
Elena constantly forgives Damon from doing horrible things to her, such as killing her younger brother Jeremy (although he came back to life) or feeding her vampire blood (essentially ending her human life). Elena has admitted she sees the good in Damon and believes he's worth saving. Elena begins to reciprocate Damon's feelings for her, though continues to love Stefan.
Their friendship deepens, leading to them becoming best friends. Elena cares whether Damon lives or dies, and even when she chooses Stefan over him, Damon continues to still be there for her when she needs somebody and feels she can't turn to Stefan about it. Damon has never lied to her and would always tell her the truth, although he has admitted that he will lie to her if it saves her life.
After becoming a vampire, Elena breaks up with Stefan as her feelings for Damon had become too strong for her to ignore. Elena and Damon sleep together after she admits to her feelings. It's discovered that because Elena had feelings for Damon when she was human and it was his blood which turned her, a sire bond has been created between them. Damon begins to doubt her feelings for him and believes they are solely built on the sire bond. After being compelled by Rebekah to tell the truth, Elena reveals that she is no longer in love with Stefan and is instead in love with Damon. She later confesses this to him, stating that it's the most real thing she's ever felt. After Jeremy dies, Damon uses the sire bond to get Elena to turn her emotions off, knowing that the pain would be too much for her. She loses all feelings she has for him as a result, but continues a relationship with him solely for manipulation, later telling him her feelings were all due to the sire bond. Damon's willing to do anything to get her emotions back, including torturing her and killing Matt (although he was brought back to life), which eventually proved successful.
Elena later chooses between Damon and Stefan for the second time, this time choosing Damon, since she had fallen out of love with Stefan. She confirms her love for Damon during a heartfelt confession from them both, and they kiss. Damon's later proud as he says to Alaric, "I got the girl."
Their relationship lasts the whole summer and briefly becomes long distance when she begins attending college. After realizing how he's changing her, he decides to break up with her, causing her great heartbreak. Stefan makes Damon realize how stupid he was acting and he decides to try and win her back. However, when he finally tells her, he's unaware that Katherine has taken over Elena's body when she rejects him. This sends him off the deep end and he becomes guilty when he finds out the truth. After he tells her the truth, they mutually decide to end their relationship as they realize they have too much control over each other. However they end up sleeping together. But after that, Elena tells Damon that he has to let her go until they can figure things out.
As Markos, the Travelers' leader finally makes his appearance, Elena and Stefan begin to have visions of a life that they would never have. Damon is hurt by this but Elena lets him know that the universe doesn't control anything and that her and Damon are real, not those visions. She tries to be friends with him but he refuses and they try to avoid one another which turns out to be impossible. After getting kidnapped by Markos, nearly dying and with a little encouragement from Stefan she tells Damon that she thought she would never see him again and couldn't think of a worse way to die and so they both rekindle their relationship. In the finale of Season Five, in order to bring Stefan back from the Other Side, Damon and Elena go on a suicide mission. However, when the resurrection spell starts, Damon is unable to come back from the Other Side. Knowing that the Other Side is disintegrating and there is no other way for Damon to return, Elena breaks down completely. A ghost Damon confesses to her that she is the greatest thing that ever happened to him and the fact that he will die knowing he was loved by Elena Gilbert is the epitome of a fulfilled life. Damon says I love you and leaves while Elena continues to cry and pleas with him to return to her.
Months after Damon's death, Elena desperately mourns him. During that time, Elena had been using a witch drug that allowed her to hallucinate Damon as she does not want to believe that he's dead. Unable to go on with the memory of Damon, Elena has Alaric erase every good memory she has of him and doesn't remember loving him until she finally learns the truth from Stefan. After Damon's return from death, Elena tries to avoid him but changes her mind and decides that she wants her memories of him back. However, Alaric becomes human because of crossing the anti magic border and is unable to give Elena her memories. At first, Elena tries to move on but then realizes she can't seem to shake her feelings for Damon. They both decide to make new memories and start their relationship anew. As they started to bond, Elena began to see the good side of Damon as he worked hard to bring Bonnie back from the Prison World.
During their new relationship, Elena continued to fall for Damon and eventually got back together with him after the death of Liz, which made her feel that life was too short, wanting to live her life to the fullest with him. During the growing love between the two, Bonnie managed to escaped the Prison World and give Damon the cure which Damon planned to get before. As time went by, he still hadn't told Elena about the cure and started to question his future together with Elena. Eventually, his mother who was revealed to still be alive and was stuck in a prison world, stole the cure from Damon and put it in a place that Elena would find it. Damon and Elena talked about why he hid the cure from her because he didn't want to lose her and eventually chose to take the cure with her. Elena not wanting Damon to decide so quickly and resent her one day, knowing how much he loves being a vampire, asks for Stefan's help, to show Damon a brutal human life with Elena. After watching an elderly couple, Damon made his final decision to take the cure. He would give up his vampire status to marry Elena and be the father or their children. As soon as Alaric and Jo's wedding took place, Kai killed Jo and attacked everyone, putting Elena into a coma. Kai revealed that he linked Elena and Bonnie together. As long as Bonnie lives, Elena won't wake from her sleep; so until Bonnie dies, Elena will wake. Damon made the selfless choice of saving Bonnie's life, making Elena proud of him. They shared their final moments together with a dance and a kiss.
Eventually, Bonnie is able to break Elena's sleeping curse and she wakes up and reunites with Damon. Years later they marry and live a long and happy life. When they die, they find peace and reunite with their respective families.
Early History
"You want a love that consumes you. You want passion and adventure, and even a little danger...I want you to get everything you're looking for."
—Damon to Elena
Damon first met Elena the night her parents died. She met Damon in the middle of the road, and at first, he mistook her for Katherine. They started talking and even flirted a little. He told her that she wanted a love that consumed her, a love that was passionate, and a love that was a little dangerous. And then he told her that he wanted her to have everything she wanted. After their moonlit conversation, Elena's parents had arrived and Damon compelled her to forget it ever happened. They were later reunited in The Night of the Comet, but she didn't remember him. This also explains the reason how Damon knew who Elena was when they met in the Salvatore Boarding House. Elena admitted in The Departed, that if she had met Damon first, things might have gone different between them and she would have chosen him over Stefan. This memory resurfaces after Elena transitioned into a vampire in Growing Pains.
Throughout The Vampire Diaries Series
The Story Behind the Rain Kiss
Ever since their rain scene in Let The Right One In, fans of the couple have been wanting to see them kiss in the rain. Over the years, there have been numerous worldwide twitter trends requesting this scene. The writers agreed and the rain kiss happened in Season Six episode, Do You Remember the First Time?.
The following are the extracts from an interview in which Julie Plec shares her experience of the rain kiss.
Julie Plec explained that as the years have gone by, the idea of having a Damon and Elena kiss in the rain grew in the writers' room, but they knew that shooting the scene would come with many difficulties. "It's been sort of a frustrating request to fulfill because it's just so awful to shoot," she said.
But all hesitations and reservations were cast aside once the writers knew Damon needed to reference a hugely romantic moment, in hopes of triggering Elena's lost memories of their relationship.
"We were writing the story, and we were thinking, 'Okay, what could that memory be?' Plec recalled. "What was that summer that we skipped between season four and five where they had the summer of their lives?"
A meteor shower, a nearby waterfall and many more swoon-worthy ideas were thrown together in a brainstorm blender, before coming up with the perfect setting. "We were just pitching all of these ideas, and then all of a sudden — I don't even know who it was, maybe it was me, maybe it was somebody else — [said] 'What if they kissed in the rain?'" she revealed.
The EP continued, "Then we laughed because we were like, 'Ohh the director is going to get killed by the people who hate Delena!' And the writers will get killed, but the people who love Delena are going to be so happy."
Plec believes that The Notebook was the spark that caused audiences to become so fixated on the idea of a couple kissing in the rain. "There's something about two people coming together in the rain that is the ultimate expression of love in the minds of most audiences, I guess," she shared.
The showrunner was thrilled with the way everything came together and described the final Delena rain kiss scene as both "beautiful and epic," before adding that it was also a way for the writers to pay tribute to such a devoted fandom.
"When you have a group of people who, for five years, have been begging for one little thing, and you find the perfect way to give it to them, that's called honoring your fans," Plec said. "And I believe [in] that so strongly."[2]
Recurring Themes and Symbolism
Bonnie: That was weird. When I touched you, I saw a crow.

Elena: What?

Bonnie: A crow. There was fog, a man.

These were Bonnie's words to Elena on the Pilot. When Bonnie and Elena are in the car, and Bonnie is telling Elena she's psychic, Elena challenges her to "Predict something about me." Bonnie says: "I see..." (A crow hits the windshield.). At the cemetery while Elena writes in her journal by her parent's gravesite she is bothered by black crow she tries to scare him away but he resurfaces behind her and we see the fog and a mysterious figure standing far ahead. Later after Vicki Donovan's attack, she tells Elena that she saw a crow when she touched her and tells her that it's just the beginning. It's later revealed in the same episode that the crow was being influenced by Damon and it later resurfaces at the Salvatore Boarding House as Damon and Elena "meet" for the second time in The Night of the Comet. In the book series the crow holds an even deeper meaning to Damon and Elena's relationship, especially regarding Damon's character as he is able to shape-shift into the crow.

The Delena Road-trips: Damon and Elena have been on several road-trips throughout their burgeoning friendship. It all started in season 1 after Damon saved Elena from her car crash in Bloodlines. It was the first time they truly bonded and fans got to see another side to Damon and Elena's dynamic. Damon and Elena continued going through many roadtrips, most of these times when on a mission or adventures to get some sort of information or finding and rescuing someone they care about, they constantly bicker and tease each other most of the time allowing the fans to see their friendship developing. These times include; Bad Moon Rising, The End of the Affair, Heart of Darkness, The Five, Bring It On, Because the Night and Original Sin. It can also be noted that Elena is the only character aside from Damon to drive his car. She is the only female character to have driven his car.

Salvatore Boarding House Fire Place: Many of Damon and Elena's most meaningful moments have been centered around the fireplace at the Salvatore Boarding House; quaking recognition, gentle touch, hot embraces, long awaited meeting and heavy farewell, hearfelt love declarations...etc Many fans see the fire as symbol of their relationship, of they're ever growing passion, love and the strong bond that unifies them. Many of their fireplace scenes were in Homecoming, where Elena told him that they would "always survive" which sort of became the epitome of their relationship as they survived the countless obstacles and complication thrown in their relationship, other scenes include; the first time they made love in My Brother's Keeper, their warm embrace as they reunited in A View to a Kill, Their love declaration and Elena finally choosing Damon in Graduation, Damon's "You are my life" declaration in Original Sin, their 'quiet, peaceful' time on the couch by the fire in Handle with Care, their breakup in Fifty Shades of Grayson, when they once again try to end things and realize they can't stop loving each other in While You Were Sleeping, Damon finally lets her go in Rescue Me. In the episode Because, Elena and Damon share yet another powerful scene by the fire place where Damon tells her that he will take the cure with her so they can have their human life together. In the next episode I'd Leave My Happy Home For You, a now human Elena tells Damon that he needs to be absolutely sure that being human is what he truly wants. The fire metaphor could also be attributed to Damon's words to Elena about a love that consumed her, wanting passion, adventure and danger as all these elements can be attributed to fire and the strength and power of their love.

Dances—"The Simple Intimacy of a Near Touch": Damon and Elena shared their first dance at the Miss Mystic Falls Pageant and according to Elena it was the first time she truly felt attracted to him as well as one of their most popular moments. It's speculated as the first time Elena saw Damon with different eyes and the first time he truly let her in. The couple continued sharing many dance scenes in The Last Dance, Dangerous Liaisons, The Five, My Brother's Keeper, Monster's Ball and Do You Remember the First Time? but none would ever compare to the first. Their dances have always been kind of a tradition as Elena says it in Dangerous Liaisons. During the second Mystic Falls Pageant, Elena for the first time confesses her feelings for Damon and while the participants dances, they both gaze at each other as they remember their first dance. Later, at night, Elena admits she wanted to dance with Damon, so he takes her hand and they start slow dancing which ultimately leads to them making love for the first time. In Do You Remember the First Time?, Damon and Elena slow dance during a Whitmore charity event. Damon uses it as a means to try and stir up Elena's memory of him. In I'm Thinking Of You All The While, Damon and Elena share a final and beautiful dance when Damon enters Elena's mind while she's in magically induced coma. it's a powerful dance, very reminiscent of their first one on the Miss Mystic Falls pageant.

"It was so romantic and it brings that fantasy, gothic, romance element that is unique to our show, like Beauty and the Beast. 'It was more beautiful than anything you could say and more romantic than them kissing. The imagery connected them in a profound way. And dance is a motif in their relationship, starting with the Miss Mystic Falls dance, and they danced in the Salvatore living room in front of the fireplace before they got together, so this was the perfect way to end their story for now. It really worked out."
—Caroline Dries about their final dance

Elena's Necklace: Even though Stefan gave Elena her necklace to protect her against Damon (the power of compulsion, specifically) it became more of a symbol of Damon and Elena's relationship. The first time we see this is at the end of Rose when Damon returns it to Elena after Elijah had ripped it from her neck. Damon then reveals that he loves her, but that it's selfish of him to say it as he doesn't deserve her. Damon then compels Elena to forget what he had revealed and returns her necklace. (Elena does remember this however in Growing Pains due to her transition into a vampire). For Elena's 18th birthday (The Birthday) Damon gives Elena her necklace back as a present. Elena was overjoyed as the necklace represented hope for her and Stefan. The final time we see Damon retrieve Elena's necklace is from Katherine, during The Reckoning. As a gesture of comfort, Damon presents the necklace to her, hoping that it would cheer her up. Unfortunately the necklace only serves as a reminder that Stefan is gone. In Yellow Ledbetter, Damon is seen holding Elena's necklace whilst trapped in the 1994 prison world. This mirrors Elena revealing that when Damon gave her that necklace for her birthday, she realized that in that moment, she loved him. In The Next Time I Hurt Somebody, It Could Be You, Caroline gave it to Damon as a Christmas gift, which helped Damon recall Elena in spite of the changed memories of her that Sybil did to him. In We're Planning a June Wedding, Damon loaned the necklace to Caroline as "something borrowed," and assured her that Elena would be happy for her.

Hand Holding: Holding each other's hand has always been their way of comforting each other. It started when Damon takes her hand in Founder's Day and caresses it and then informs Stefan and her about the impending attack on Mystic Falls. After this, during several occasions they hold each other's hands, in The Last Day, Elena holds his hand after he expresses his sadness over her potential death and she tells him he won't lose her, in As I Lay Dying, Elena holds his hands while he is dying due to the werewolf bite, in Heart of Darkness, Damon holds her hand after they share a moment, in We All Go a Little Mad Sometimes, they hold hands after Elena thanks him for saving her life, in The Cell, Damon holds her hands after he promises her that he will get her out of the cell, in Home, they hold hands as they commit suicide to save Stefan, in I'll Remember, a hallucinated Damon comforts Elena by holding her hand and in Fade Into You, Elena holds Damon's hand as she asks him to bring her best friend back. Damon and Elena held hands again in Woke Up With a Monster when he saved her from Kai, they looked lovingly into each others eyes until they were interrupted by Jo and Alaric. They hold hands again as they jump off the clock tower in I'd Leave My Happy Home For You.

Carrying Elena to safety: Throughout the Vampire Diaries, it can be noted that Damon is one of the few people to ever carry Elena to safety. It all began in the Bloodlines when Damon saves her from a car crash and they later took a road trip to Georgia which cemented the start of their tentative friendship. As the seasons progressed Damon would continue to protect Elena and carry her to safety in episodes such as The Sun Also Rises after she the sacrifice ritual. In The Reckoning, when he takes her from the hospital and carries her to the Salvatore Mansion promising to never leave her again. In Man on Fire, he finds her unconscious on the ground and carries her back to her dorm room. In I'd Leave My Happy Home For You, when he carries her to safety once she collapses after taking cure to vampirism. This fortifies what Damon says in the the episode, The Reckoning, "I promise you, I will never leave you again.".

Meetings on the Gilbert House porch: Damon agrees to help Elena with Jeremy in Haunted. Damon thanks Katherine, thinking it was Elena, for his rescue in Founder's Day. Elena tells Damon that he has lost her forever in Bad Moon Rising. Elena tells Damon that he should not ask why she would have tried to save everyone in The Sacrifice. Damon kisses Elena for the first time in The New Deal. Elena tells Damon that he "can't kiss her again" because "it's not right"; Damon promises that "it's right. Just not right now" in Our Town. Elena admits that she believes Damon in how to be a vampire in The Five. Elena confesses her love to Damon for the first time in After School Special. Damon promises Stefan that they'll help Elena to turn her humanity on again in Stand By Me. Elena apologizes to Damon for compelled away her memories of them; Damon promises that they'll "make new ones" in I Alone. Elena takes the cure and regains all the memories in I'd Leave My Happy Home For You.

"That's why we're on this porch, because it's the first place Elena and I ever kissed. Over there by that bench? The first time she ever had the courage to tell me she loved me, and merely one foot to my right, is where I watched her take the cure so that she could have the life that she dreamed of..."
—Damon to Bonnie in Requiem for a Dream
Quotes
Dating Timeline
First Relationship

Start Up: My Brother's Keeper (4x07)
Break Up: Fifty Shades of Grayson (5x10)

Reason: Damon thinks he is bad and doesn't want Elena to always find a explanation for his actions and defend him, so he lets her go despite the fact that they both are still in love with each other and breaks her heart.

Post Break-Up Sex

Start Up: While You Were Sleeping (5x16)
Ended: Rescue Me (5x17)

Reason: Elena asks Damon to let her go because she believes that when they are together they do bad things for each other and that she can't control herself around him. Damon kisses her forehead and lets her go.

Second Relationship

Third Relationship

(Confirmed Relationship)
Novels
In the novel series Damon and Elena end up together.

Damon is Elena's true destiny:
"Well done, Elena. Here is a small souvenir (the music box Damon had given her; The Hunters: Moonsong, Chapter 34) [3] of your past life, as a token of our regard. Enjoy your humanity—you've earned it. I hope you find your true destiny."
— Mylea in The Salvation: Unmasked, Chapter 31.[3]
Damon is also Elena's home:
"This is it, Elena realized, stopping stock-still in front of him and staring dumbly up into his face. This is who I'm meant to be with. My destiny caught up with me after all.
"Hello, Elena." Damon's mouth twisted into its telltale smirk, and Elena knew she was home."
— Elena and Damon in The Salvation: Unmasked, Chapter 33.[3]
Trivia
Ironically, the actors who play Damon and Elena, Ian Somerhalder and Nina Dobrev began dating in 2010 and moved in together. However, they broke up in 2013 after three years of dating.
They both know what its like to be the older sibling as they both have a younger brother (Jeremy and Stefan).
Damon taught Elena how to feed without losing control.
Their names are linked alphabetically, D and E.
Damon has never broken a promise to Elena, until Home when he promised to come back to her but died.
Damon has never lied to Elena, until Do You Remember the First Time?, when he told her that he took her home because of the cold and muddy rain.
Both have killed vampires unintentionally created by the blood of Caroline Forbes.

Elena by staking Jesse to save Damon's life.
Damon by heart extraction of Colin Phelps as a mercy killing.

To deal with Damon's death in Home, Elena used a witch drug to hallucinate him and has started feeding on humans again.
Elena asks Alaric, since he was made into an Original Vampire with the Original Vampire Spell by Esther, to compel her to forget that she ever loved Damon so she move on with her life and eventually fall in love again.

In Let Her Go, she tells Caroline that this was one of the big mistakes of her life as the reason she shouldn't turn off her humanity. The other was turning off her own humanity after Jeremy's death.

Elena first realized she loved Damon on her 18th birthday when he did the selfless act of giving her the necklace Stefan gave her even though he loved her, knowing that it represented hope for her and Stefan.
Some of Elena and Damon's most popular moments include:
There's been something between them since their first meeting: "Even before anything happened in our series, Elena had been touched in her soul by this man," Julie says of their clandestine meeting.[4]
Damon originally had his own room until Elena moved in and they began to share a room. She briefly moved in with Rebekah when she lost her humanity.
Many cast and crew members have shown their love for the couple.
Elena and Damon have been on a lot of road trips.
Elena chose Damon over Stefan at the end of Season Four.
Damon became an Augustine Vampire in Total Eclipse of the Heart, and Elena became an Augustine Vampire in Gone Girl, making them the only Augustine Vampires in existence. Though they're cured in While You Were Sleeping and reverted back to vampires.
In the series, Damon is the oldest vampire as Katherine died and the Originals left the show while Elena was the youngest vampire until she changed back into a human.
Delena is the nickname of singers, Demi Lovato and Selena Gomez (Delena) who were best friends in real life.
Delena is the most trended TVD couple on Twitter.
Elena has talked about a future with Damon four times throughout the series.
Damon and Elena are endgame in the novel series.
Damon loves Elena enough to let her her go in Do You Remember the First Time?, to live the new life without her memories of loving him and be happy, he tells her this before leaving.
Damon has compelled Elena twice.

He tried to compel her to kiss him in Friday Night Bites, but she was wearing her vervain necklace.
In Rose, he compelled her to forget his love confession claiming his brother deserves her and he doesn't.
In a flashback in The Departed, he compelled her to forget their first meeting.

Popular Casual Dining Food Chain Olive Garden ships Delena.[14]
Popular Movie Franchise, The Divergent used the #Delena hashtag on twitter to promote their film -"A love as Eternal as #Delena".[15]
Elena and Damon up till now have had two popular culture references.

In episode 4x19 of The Good Wife, one of the characters reads a Delena fanfiction.[16]
They have been mentioned in the novel Amour Amour by Krista Ritchie-"He's not the Clyde to my Bonnie or the Damon to my Elena." [17]

Damon and Elena's sex scene is one of the hottest sex scenes in vampire history according to Hollywood Life.[18]
Ironically, Damon killed both of Elena's biological parents once.

Damon killed and turned Isobel Flemming into a vampire.
Damon killed John Gilbert once, but he was revived by the Gilbert ring.

They are mentioned in a promotional image for Legacies.
They are mentioned in Lizzie's wish reality in There's a World Where Your Dreams Came True, as well as their children. One of which was mentioned by name, Stefanie Salvatore, in Lizzie's second wish reality.
In Do All Malivore Monsters Provide This Level of Emotional Insight?, Josie Saltzman and Milton Greasley are temporarily living with them in their rebuilt home to attend Mystic Falls High School.
They won the Vampire Diaries Wiki Award for Best Couple for seasons One, Two, Four, Five and Six. They were nominated in Season Three, but lost to Jeremy and Anna.
After getting to the Top 4 on the WetPaint.com contest and getting many votes, they became the number 1 t.v. couple.[19]
They came 1st in the top 10 couples of 2010-2011.[20]
They came 2nd in the top 10 couples of 2011-2012.[21]
They came 3rd in the top 10 couples of 2012-2013.[22]
They won the poll for the hottest relationship on The Vampire Diaries.[23]
They won the Hollywood life poll of Fall TV's 25 Hottest Couples.[24]
They won the Hollywood life Thanksgiving poll.[25]
They were crowned Prom King & Queen in iVillage'S Pop Culture Awards.[26]
They won the poll for the hottest sexual tension in 2010.[27]
They won the Alloy entertainment poll for favorite magazine cover.[28]
They won the poll for the cutest tv couple of 2012.[29]
They won the poll for tv's sexiest hookup.[30]
They won the title of the best byte of season 4: Best couple in an official poll.[33]
In 2013, they won the E! Online tournament of the best tv couple of all time.[34]
Their 5X02 ending kiss scene was declared the scene of the week.[35]

Damon's epic "You are my life" confession to Elena in Original Sin was declared the scene of the week.[36]
Damon and Elena won Favorite On-Screen Chemistry at the People's Choice Awards 2014.
Winners of TV's best Teen couple poll.[37]
Their hug during Elena's last moments in 5X12 topped the scene of the week poll along with The Tomorrow People scene.[38]
They came 4th in the top 10 young ships of 2013-2014.[39]
In Zap2it's Crushworthy Polls, Elena and Damon has won Most Crushworthy Overall and Most Devastating Breakup.[41]
Elena and Damon's deathbed confession and kiss scene in As I Lay Dying won in EW's 2011 Season Finale Awards: Most Rewound Moment, Top Tissue Moment, Best Kiss, Best Romantic Cliff-hanger.[42]
Damon and Elena's break up and break up sex scene in While You Were Sleeping was declared the Scene of the Week.[43]
They won the poll for epic couple who epitomize true love.[44]

Elena and Damon won these awards in the EW's T.V. Season Finale Awards:

Damon's goodbye to Elena.
Unforgettable Line.
Best Use of Music.
Most Rewound Moment.[47]

They were crowned Alloy Entertainment's Prom King & Prom Queen 2014.[48]
In E! Online's Best Ever TV Awards 2014, Delena won:
They won the Best Ship Poll in Telefilm Addicted Awards 2012.[50]
They won the E! Online's Tournament of Young TV Edition 2013.[51]
They won the MTV's Ship of the Year Award 2014.[52]
Their rain kiss flashback in Do You Remember the First Time?, won the scene of the week poll.[53]
Elena and Damon won the poll of Popsugar's Best TV Couple of 2014.[54]
Elena and Damon won the poll of Voice of TV's Best TV Couple of 2014 [55]
Ian Somerhalder and Nina Dobrev won People's Choice Favorite TV Duo at the 2015 People's Choice Awards.[56]
Media
Soundtrack
Videos