"
Every time I close my eyes... I go back to that black horizon. That place where I was abandoned and forgotten, by my own family. So yeah, I came out mad, and I remain so.
"
Finn Mikaelson (Elder Futhark: ᚠᛁᚾᚾ ᛗᛁᚲᚨᛖᛚᛋᛟᚾ) was a major recurring character on The Originals. He served as the primary antagonist for most of the second season. Finn also had a recurring role in the third season of The Vampire Diaries, where he served as a minor antagonist and anti-villain.
Finn was the first son and second child of Mikael and Esther. He was the younger brother of Freya, and the older brother of Elijah, Kol, Rebekah, and Henrik and the older half-brother of Klaus. He is also the uncle of Freya and Mathias' unborn son, Klaus and Hayley's daughter, Hope, and Freya and Keelin's son, Nik.
Out of all of his siblings, Finn had the closest relationship with his mother. It was shown in the third season of The Vampire Diaries that he was strictly loyal to his mother and believes that her intentions are the best, as he was willing to sacrifice himself to kill all his younger siblings. Finn's behavior and attitude were what his siblings dislike about him the most. However, he eventually rekindles a relationship with his former girlfriend, Sage and had a change of heart. That reunion was unfortunately short-lived, as he was killed by Matt Donovan in The Murder of One.
Finn was able to escape the destruction of the Other Side as seen at the end of the first season's finale. He was resurrected by his mother, Esther, and was placed into the body of a powerful witch named Vincent Griffith. Once again, Finn worked closely with his mother, and this time in an effort to get his younger siblings to take on mortal bodies. They all refused and were antagonized by him for the majority of the second season. In Sanctuary, Finn actually put a deadly curse on his brother Kol, which killed him a few episodes later in I Love You, Goodbye. He also sabotaged Klaus's efforts to bring peace between the vampires and the werewolves of New Orleans, by trapping both species in the The Abattoir, making the vampires go mad with hunger. He even tried to kill Hope, so that Dahlia wouldn't come to NOLA, almost killing Elijah in the process.
Finn later reunites with his long-lost sister, Freya, and worked with her in order to find a way to stop Dahlia from killing all of them. Klaus came close to killing him in his witch form after the two of them fought, but he was stopped by Elijah. Freya then appears to help rescue Finn from their younger brothers. Fearful for his life, Finn begs Freya to save him. Freya tells Finn that she won't let anyone hurt him and traps him in her talisman as a spirit in order to keep him safe. Finn remains in her talisman for over half a year, with Freya being able to summon his spirit and channel him in times of need.
In An Old Friend Calls, Finn was resurrected as an Original vampire, though Freya believed his return is an opportunity to mend old wounds and fix their family's broken relationship. Finn then finally opens up to Elijah, telling him that the reason he was against them from the beginning was that they left him daggered while they were unaware that his consciousness slowly returned, yet he was unable to move, and so he was forgotten by them. So, he was angry with them when he was un-daggered, and remained so. Finn and Elijah then work together to save Freya from Lucien Castle. However, Finn is shortly thereafter killed by Lucien who turned into the Beast. Ironically, this bonds the Mikaelson siblings as Finn makes up with most of his siblings in near-death. He then dies for the final time, surrounded by all of them.
Finn was a member of the Mikaelson Family and an unnamed Witch Family.
Early History
Throughout The Vampire Diaries Series
Throughout The Originals Series
Personality
Physical Appearance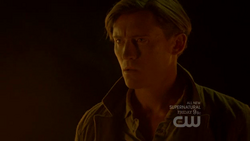 Finn is a handsome and tall man who appears to be 27–28 years old, given the time he was turned into a vampire by his mother. He has brown hair, hazel-green eyes and slim, but athletic figure. Finn is also the second oldest of the Original Siblings after his sister Freya.
When first awakened from being neutralized for 900 years, Finn still had the style of that time period, with long hair and adorned in the centuries old clothing, wearing a dark green tunic and pants in the fashion of the 1100's. Shortly after his return, he cut his hair to where it was still a bit longer in length than his siblings and usually slicked out of his face, much like Elijah's hair was during his time attempting to stop Klaus from becoming a hybrid. Finn was seen wearing dress shirts covered by gray dress coats, keeping an air of aristocracy about him though not to the extent of Elijah's dress style. Finn almost always had a severe, stern expression pasted on his face, rarely smiling while around his family, but becoming more friendly looking once he met Sage again.
After returning from the Other Side, Finn's spirit was placed inside the body of the witch, Vincent, taking on all of his physical features as his own. Even with a new body, Finn retained his more refined style of attire.
Powers and Abilities
Weaknesses
Finn had the typical weaknesses of an Original vampire. While in the body of Vincent Griffith, Finn had the typical weaknesses of a witch.
Relationships
Main article: Esther and Finn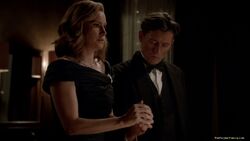 Out of all of his family, Finn has the closest relationship with his mother. Finn had been a small boy when he tearfully watched Esther have to give away his sister, Freya, due to a deal she had made with her own sister, Finn's aunt Dahlia. As Esther had more children afterward, Finn found himself still very close with his mom, his loyalty to her being greater than to his siblings. A thousand years later they conspired together against the rest of their family. Both of them wanted vampires out of existence and to end their siblings' existence on Earth for good. However, both were killed and their plans were halted to a stop. However, years later, they are both back from the dead, possessing the bodies of a witch and warlock and plan to take over New Orleans. When Finn discovered that his mother consciously complete her transition into vampire, he was devastated and disappointed by her hypocrisy. He hated her for that and used her for sacrificial magic.
Main article: Freya and Finn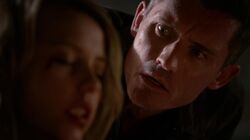 The relationship between Freya and Finn was always sweet and kind, as children they sometimes climbed into the trees and planned mischief. Then one day their aunt Dahlia came to collect Freya from a deal she and their mother made a few years ago, Finn is crying while his sister being taken away and Freya screams for her mother. Over time Finn believed her to be dead, and he never got along with his younger siblings as good as his beloved older sister. After 1,000 years has passed they are reunited and prepares for Dahlia's arrival. Freya saves Finn's life when one of her younger brothers tries to kill him, by taking his soul from Vincent's body and into her pendant to keep him safe from harm.
Main article: Finn and Sage
Finn met Sage nine hundred years prior to the start of The Vampire Diaries and the two of them fell in love with each other. Finn even turned Sage into a vampire, despite the self-hatred he held against the species his family created, as he wanted to be with Sage forever, and vice versa. Not long after Sage was turned, Finn and his other siblings were daggered by the original Brotherhood of the Five, though the dagger didn't work on Klaus. Klaus chose to keep Finn daggered, as the brothers did not get along, leaving Sage heartbroken and alone.
900 years later Finn was undaggered by his brother Elijah and Damon. A few days later they finally met with the help of Klaus and Rebekah to convince Finn not to aid their mother in her plan to kill them, which ultimately worked - he gave up his blood willingly so they could unlink themselves and left to catch up with Sage. The two took a walk through Mystic Falls and reminisced about their past together while she showed Finn how their hometown had changed since they had met each other. They then went on a date to the Grill, where they continued to catch up. Finn was disapproving when Sage admitted to turning many vampires, but he didn't stay upset with her. Stefan spiked the drinks they ordered from Matt with vervain in order to lure them outside so he could follow them and try to kill them with the white oak stakes. Sage protected Finn from Stefan, but he was soon staked by Matt and burst into flames while Sage cried. Sage died one hour later due to their vampire bloodline connection to Finn. Two years later Finn was resurrected along with his mother and his brother Kol.
Other Relationships
Appearances
The Vampire Diaries
The Originals
Name
Tropes
Trivia
Quotes
The Vampire Diaries
Season Three
Finn (to Klaus) "You're staying behind."
---
---
Finn (to Abby): "My mother's released me from an eternity of shame. It's not a sacrifice, it's a gift."
Finn (to Esther): "Stay beside me, mother."
---
The Originals
Season One
Finn (Possessing Vincent) (to Esther): " May you rest in peace."
Esther (Possessing Cassie) (to Finn): What's the fun in that. Come along, we have much to do."
Finn: (to Esther): "Yes, Mother."
---
Season Two
Finn (Possessing Vincent) (to Klaus) "And then, I thought it was your favorite brother, but mother broke him into a thousand pieces, and rather fix him, you left him to fend for himself God knows where. You know, if I didn't know better, I'd say you were hiding something from me. Something big. Something dark. Maybe your real father found out what it was, and you had to kill him?"
---
Finn (Possessing Vincent) (to Elijah) "And, as we both know, untidiness is your undoing. Tell me, do your soiled clothes serve as a reminder of your filthy memories? Your many sins? Are you having memories now, brother? Perhaps of the innocent Tatia? Or any one of the other poor souls who met their fate at your hands?"
---
Season Three
Finn (to Elijah) "We are not the same! You see, I still have a chance at some small happiness, and I'm going to take it. My proposal is simple. Allow Freya to put me back in a witch's body. Let the two of us go, and I promise never to look back again."
---
Finn: "I feel... strangely euphoric."
Klaus: "I've been known to have that effect."
Kol: "What a precious family moment. Pardon me while I go and gouge out my eyes with a hot poker."
Finn: "I thank even you, Kol. Your little witch actually came through."
Finn: "Today... I saw a glimpse of your coveted 'Always and Forever'."
Gallery
References
See also