For Whom the Bell Tolls is the fourth episode of the fifth season of The Vampire Diaries and the ninety-third episode of the series overall.
Summary
REMEMBRANCE DAY - While Mystic Falls observes its traditional Remembrance Day to honor the dead, Damon and Elena try to help Stefan through a confusing time, a task that ends up taking Elena on an emotional journey of her own. A worried Matt tries to figure out the reason behind his mysterious blackouts, and Caroline makes an effort to get to know Jesse better. Jeremy makes a startling confession that hits Damon hard. Finally Dr. Maxfield puts a plan in motion that will change everything.
Plot
SPOILERS AHEAD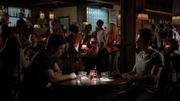 After Stefan lost his memory, Damon tries to help him remember. He remembers what's the date and where he is but he can't remember who he is or who are the people around him, not even that he is a vampire. Damon gives him his diaries to read but those can't help him remember either. Elena meets the two of them later to find out that Damon didn't tell Stefan about her yet. Stefan is conquered by his thirst and follows a waitress but Damon gets there in time before he hurts her. After the incident, they take Stefan to the family crypt where there are less people around. Damon gets a phone call from Jeremy and leaves, leaving Stefan alone with Elena.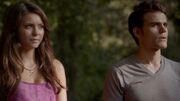 Elena tries to help Stefan remember by taking him to the school where they reenact the moment they met. Stefan still can't remember, so Elena takes him to the bridge where he saved Matt's life and Elena became a vampire, but nothing helps. The two of them come very close, but before they kissed, Elena tells him that she is with Damon, something that makes Stefan angry and leaves.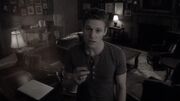 Matt has some episodes where he loses time, so he sets up cameras all over the house to discover what is happening. He also calls Jeremy to ask his help since he can't contact Bonnie. When Jeremy sees how desperate Matt is and that everyone is looking for Bonnie for help, he decides to tell everyone that Bonnie is dead despite her wishes and he calls Damon. Matt discovers in one of the videos that he has a passenger inside him who warns him that his friends will come looking for the knife and he has to protect it otherwise they'll kill him.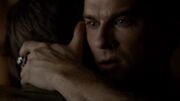 Damon is back to the Salvatore house where Jeremy informs him about Bonnie. Damon tries to tell Elena but stops when she tells him that she has lost Stefan and he decides to help her find him. Stefan is at the Remembrance Day celebration at the cemetery where Caroline finds him. Stefan can feel that he can trust her but he attacks Jesse. Caroline stops him, she gives Jesse her blood to heal him and then compels him to forget.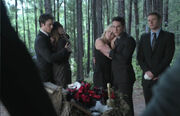 Stefan returns home, burns his journals and packs his things to leave since he doesn't want to live there anymore and be the "old" Stefan. Before he goes, he promises to Damon and Elena that he won't become the Ripper again and that Caroline will be checking up on him. After Stefan's departure, Damon finally tells Elena that Bonnie is dead. Elena, Damon, Caroline, Matt and Jeremy make a private ceremony for Bonnie in the forest to say their goodbyes. Bonnie is there and she talks to all of them through Jeremy who can see and hear her. While this is happening, Tyler appears and Caroline runs towards him laughing through her tears.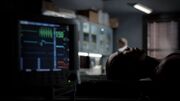 The episode ends with Jesse and Maxfield who finds evidence of vampire blood in Jesse's system. He explains him that this might happened because someone tried to heal him or because someone wanted to make him a vampire. Maxfield guess that what happened must be the first and he also explains that having vampire blood in your system is the first step to become a vampire. Jesse looks confused and Maxfield says: "And this is the second" while he injects Jesse with a syringe's yellow liquid that kills him.
Cast
Main Cast

Recurring Cast

Co-Starring
Trivia
Silas, Nadia and Katherine do not appear. This is the first episode in Season Five to not feature them.
Stefan is drawn to Elena despite having no memories of his life, his friends, or his family.
Both Elena and Damon try to remind Stefan of who he is in their own ways

Elena tries to help Stefan regain his memories by re-enacting the first time they met and taking him to Wickery Bridge, which leads to awkwardness when Stefan misreads the signs and mistakenly assumes that Elena has feelings for him.
Damon tries to help Stefan regain his memories by revisiting their history using Stefan's journals and Damon's own recollections of their lives as brothers, both when they were human and after they were turned into vampires.

Because Stefan has lost all of his memories regarding his identity and his relationships with others, Stefan has to re-learn how to be a vampire. Despite the fact that he has no recollection of the guilt he carried from his past misdeeds, Stefan still has an insatiable, Ripper-like hunger for human blood that he must re-learn how to control.
Matt grows increasingly worried about his recent blackouts and enlists Jeremy's help him in getting answers from Bonnie about why he's losing time. As a result, Jeremy is forced to confess to everyone that Bonnie is dead in order to explain why Bonnie cannot help them out of their supernatural problems.
Once Jeremy has confessed Bonnie's death, first to Damon, and then to the others, a memorial is held for her in the woods, which Jeremy, Damon, Elena, Caroline, Matt and Tyler all attend.
It is revealed during Damon's informational discussions about the Salvatore history that his and Stefan's mother died of consumption, which was the old-fashioned name for tuberculosis.

The Salvatore brothers wouldn't learn that their mother had actually been reborn a vampire following her death in 1858 until Season Six's The Downward Spiral.

Damon explains the origins of the Remembrance Day event, which began after Mystic Falls survived a cholera outbreak in the 1820s. However, he believes that in the modern day, it's just an excuse to get drunk.
Elena rings a bell for her family at the cemetery and takes a drink before explaining to the amnesiac Stefan that, in the last three years, she's lost both her adoptive, Grayson and Miranda, and biological, John and Isobel, parents, her legal guardians Jenna and Alaric, and her brother Jeremy. She also tells him that Jeremy was brought back to life by her friend Bonnie.

In an interesting twist, Alaric would also later be resurrected in Home.

Tyler made his reappearance after an absence of seven episodes for Bonnie's funeral.
This is the first episode of the season to feature (physically) all eight main cast members.
When Elena touches Stefan's face, and he is about to kiss her, she says, "I'm with Damon." The song "Gravity" by Sara Bareilles is played in the background.
Wes purposely kills Jesse after finding vampire blood in his system with the intention of turning him into a vampire. He was fed the blood by Caroline in order to heal him after an upset Stefan attacked him at the cemetery.

Additionally, Caroline is the first known main character sired by Damon who has sired another vampire with their blood.
Continuity
Locations
Cultural References
Behind the Scenes
This episode had about 2.63 million viewers in USA, which was 0.30 million less than the previous episode.
Hashtag during the airing is #Vampnesia
Quotes
---
---
---
---
---
Multimedia
"I've Got Friends" – Manchester Orchestra
"Cards With The Devil" – Von Bonneville
"Back Against The Wall" – Cage The Elephant
"Happy Faces" – Babe Youth




"Longest Night" – Howie Day
"Hearts Like Ours" – The Naked & Famous
"Gravity" – Sara Bareilles
"Without A Word" – Birdy



Videos
Pictures
References
See also
Community content is available under
CC-BY-SA
unless otherwise noted.