"
Keelin, when I met you I would've never predicted you'd become my sister. You're strong and beautiful, and deserve nothing but the best in life.
"
Freya and Keelin's wedding took place in Til the Day I Die.
In Til the Day I Die, during a conversation in bed, Freya and Keelin decide that they do not want to wait to get married but would like to marry the same day, to which both agree. Wedding plans begin and Freya begins to delegate roles among the Mikaelson family. Klaus is tasked with finding a venue; Kol is to orchestrate the wedding as the minister; Rebekah is to be Freya's maid of honor, and Elijah is to walk her down the isle.
"I have waited for you for years. Lived on your terms, set aside what I needed for myself to make you happy!"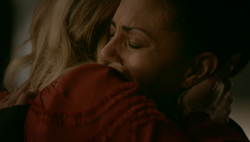 At first, Elijah is reluctant to walk Freya down the isle due to mourning Hayley. At the same time, Freya realizes that she has given Keelin the wrong impression about starting a family someday and that she cannot put another child through the upbringing that she had. In light of this, the wedding is cancelled. Later, when Keelin is packing her bags to leave, Freya enters explain her reasoning. Keelin is angry that she has given so much of her life and attention to Freya on her terms.
While Freya understands this, she is still wary of raising a family, but states that she is open to discussions some day, and the two agree to marry.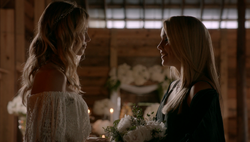 As the wedding approaches, and Freya is ready to walk down the aisle, she is consoled by Rebekah about Elijah's absence. Klaus agrees to walk Freya down the aisle, much to Elijah's dismay, who arrives shortly after, agreeing to walk her down the aisle. Both brothers walk Freya down the aisle, where Kol ordains the wedding. Both are officially married.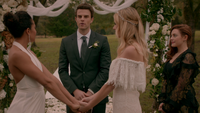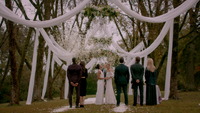 Trivia
The wedding band was Sarah and the Safe Word.
Klaus compels the organizer to allow Freya to marry there, as the wedding that should have happened had been booked for a year.
Gallery
See also
Community content is available under
CC-BY-SA
unless otherwise noted.