This article is about the event. You may be looking for Graduation, an episode in Season four.
"
No, we are not going to cancel. Graduation is the most important event of our lives, the last ceremony of our youth. It is our rite of freaking passage! Hell will freeze over before I let anyone cancel graduation!
"

Graduation took place in the Season Four finale.
Season Four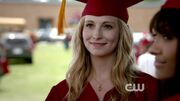 Before the ceremony begins, Caroline is calling Klaus and telling his voice mail that she will be calling him once every ten minutes until he arrives in Mystic Falls to save Damon. She joins Bonnie and they are joined by Matt, then Elena and Stefan. Despite the seriousness of the situation, Caroline is moved that they are all there to graduate. Bonnie, who knows that this is one of the last moments she will have with her friends, is crying and manages to get in a covert goodbye to her friends when she mentions their future college plans. Elena reveals that she won't be going to college as she missed the deadline during her psychotic phase. However, Caroline reveals that their vampire abilities can make them do anything and go anywhere they want. As the joy of the moment overwhelms them all, Caroline proposes a group hug. Stefan starts to refuse, but is forced into it by Matt and Elena.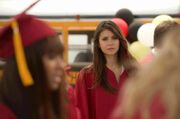 Mayor Rudy Hopkins opens the graduation ceremony before presenting the graduates, making an special mention for his daughter, Bonnie. As he hugs her in congratulations, she thanks him for everything, saying a quiet goodbye to him too. As she watches her friends graduate from the crowd, Bonnie runs into Kol who reveals that the entire place is crowded with the spirits of the supernatural creatures who were killed in the sacrifices to create her Expression Triangle and that when Kol gives the order, they will kill everyone. He then tells her that he wants her to drop the veil completely so that he and his friends could live. Bonnie leads him to the school boiler room to distract him.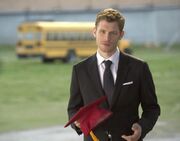 Elena and Stefan are worried about Damon as he is dying by werewolf venom and has refused to take the cure when the witches of Aja's coven arrive and use their magic to attack Stefan, Caroline and Elena. However, before the witches can kill them, Klaus arrives and throws a cap at Aja, decapitating her and breaking the spell. He then threatens the rest of the coven, saying that he has endless caps and all day to kill them all again and again. Caroline is happy to see Klaus.
Participants
John Albrecht
David Bance
Sarah Beasley
Savannah Davis
William Duncan

Matt Freeman
Jeff Gillies
Trish Stannert
Other Students
Senior Quotes and Superlatives [1]
Bonnie Bennett
Quote:  "Shoot for the moon. Even if you miss, you'll land among the stars."— Les Brown
Superlative: Most Spiritual
Activities: Varsity cheerleading, prom queen
Matt Donovan
Quote: "I get by with a little help from my friends."—John Lennon
Superlative: Biggest Heart 
Activities: Varsity football, prom king
Caroline Forbes
Quote: "This love is treacherous. This path is reckless. This love is treacherous. I like it."—Taylor Swift
Superlative: Most Likely to Succeed
Activities: Cheerleading, Prom committee, Mystic Falls beautification committee, head of recycling program, Go Green campaign, Miss Mystic Falls
Elena Gilbert
Quote: "Dream as if you'll live forever. Live as if you'll die today."—James Dean
Superlative: Most Helpful
Activities: Varsity cheerleading 
Rebekah Mikaelson
Quote: "How about me not blaming you for everything. How about me enjoying the moment for once."—Alanis Morissette
Superlative: Best Dressed 
Activities: Varsity cheerleading, '80s dance committee
Stefan Salvatore
Quote: "Map out your future—but do it in pencil. The road ahead is as long as you make it. Make it worth the trip."—Bon Jovi
Superlative: Best Hair
Activities: Varsity football
Trivia
Gallery
References
See also
Community content is available under
CC-BY-SA
unless otherwise noted.