"
A hybrid would be deadlier than any werewolf or vampire. Nature would not stand for such an imbalance of power. Therefore the witches, the servants of Nature, saw to it that my brother's werewolf side would become dormant.
"
Hybrids are a cross-breed of two or more different supernatural species. The term is commonly used to describe a werewolf turned into a vampire due to the fact that they were the first supernatural hybrid to be introduced in the series. However, since the werewolf-vampire hybrid's creation, there have been other hybrids, such as siphoner turned witch-vampire hybrids, werewolf-witch hybrids, and, in the unique case of Hope Mikaelson, a witch-werewolf-vampire tribrid.
Hybrids possess both the strengths and some of the weaknesses of their parent races, along with powerful attributes unique to themselves alone due to their combined heritage. For werewolf-vampire hybrids, this includes day walking and being able to transform into a wolf without the Full Moon's influence. For siphoner-vampire hybrids, they retain their ability to siphon magic and their own vampirism as a power source for their use in witchcraft; as they did not possess their own magic as siphoners; this is a skill that makes them powerful.
Creation
The Original Hybrid
Niklaus Mikaelson was conceived when his mother Esther had an affair with Ansel, the Alpha of the North East Atlantic werewolf pack. Her affair, as well as Klaus' werewolf heritage, was kept a secret from everyone. However, when Klaus made his first human kill after being turned into an Original vampire, he triggered his werewolf gene, which turned him into the world's first hybrid.
When Mikael learned about his wife's infidelity, he killed Ansel and the werewolves. As a hybrid, Klaus had additional powers over his siblings and father. Esther, however, cursed him to cause his werewolf side to become dormant, as a duty to Nature to keep the balance as well as a way of atoning for her affair. She bound the curse with the blood of Tatia, the Petrova doppelgänger, and the moonstone.
In 2010, Klaus enlisted a witch, Greta Martin, to break the curse by sacrificing Jules, a werewolf, Jenna Sommers, a newly turned vampire, and Elena Gilbert, the Petrova doppelgänger.
Werewolf-Vampire Hybrids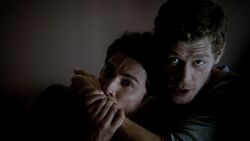 To become a werewolf-vampire hybrid, a werewolf must have either Klaus or Hope's Blood in their system before they are killed so they can awaken a short time later in transition. Because no regular vampire has ever attempted to use their own blood to turn a werewolf into a hybrid, it is likely that such an attempt would be unsuccessful. After a werewolf dies with Klaus' blood in their system, their transformation will be successful only if the wolf completes their transition by drinking the blood of a human Petrova doppelgänger. If a werewolf is turned with Hope's blood, her blood can also be used to complete their transition as well, just as a doppelgänger's blood would. So far, all hybrids have been created by Klaus; with the exception of Dwayne, Hayley, and Henry Benoit, who were created with Hope's blood. After Elena was turned into a vampire, her blood became useless to Klaus and he could no longer create more hybrids.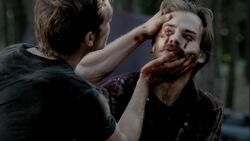 If a newborn hybrid feeds on regular human blood to officially complete their transition, the hybrid will become unstable, causing them to bleed from the eyes, become rabid, and eventually die in pain. This result was demonstrated during Klaus' first attempt to turn werewolves into hybrids in The Hybrid after he sired Paige's Pack. However, it is unclear why that happens. After being sired, they all began to experience unbearable pain and profuse bleeding from their facial orifices until they either killed each other, were mercy-killed by Klaus, or dying of failed transitions combined with exsanguination.
Siphoner-Vampire Hybrids
The hybridization of witches and vampires is impossible. Witches are servants of Nature while vampires are aberrations of Nature. When a witch transitions into a vampire, they lose their connection to Nature and are unable to practice magic. However, a subsection of aberrant witches, known as siphoners, are unique to this. Siphoners have no magic of their own, yet possess the ability to siphon magic from others. When they are turned into a vampire, the siphoner witch retains their ability to siphon magic and, as a vampire, access to siphon from themselves to cast spells. Lillian Salvatore found and befriended a group of siphoners that were cast out from their coven, the Gemini Coven. Eventually she turned them into siphoner witch-vampire hybrids. Her "family" became known as Heretics.
The Tribrid
The birth of Hope Mikaelson was one of Nature's loopholes. Sophie Deveraux explained that Klaus was only able to procreate due to being the Original hybrid; he was a born werewolf, turned into a vampire by magic, as opposed to transitioning by vampire blood. At the time of Hope's conception, Hayley Marshall was a triggered werewolf while Klaus was the Original hybrid. Hope Mikaelson was born as a living witch-werewolf-vampire tribrid, having inherited the ability to practice witchcraft from her paternal grandmother Esther, her werewolf gene from both her parents, and vampire heritage from her father. Though a tribrid, she was still required to activate her werewolf curse by killing another human as well as dying and transitioning into a fully activated tribrid.
Immediately after Hope's birth, Hayley was killed, but because Hope's blood was still in her system, she reawakened in transition, and eventually drank another drop of Hope's blood to complete her transition as a werewolf-vampire hybrid. It has been proven that tribrid blood is a powerful binding agent similar to doppelgänger blood. This eliminates the need for doppelgänger blood during the transition, though only the tribrid's blood can finish the transition of a new hybrid, thus the hybrid race still depends on a single and rare supernatural creature. Since becoming a fully activated tribrid, it is unclear if her blood can still create hybrids, similar to how Elena's undead blood become useless for Klaus.
Vampire-Dragon Hybrid
Though an unconventional and unique "hybrid," Kaleb was transformed by the golem Malivore by transferring a dragon into him while as a non-Original vampire. Malivore used him as a thrall to which he could directly control to do his bidding. When Hope stabbed Kaleb in the dragon's soft spot, Kaleb temporarily died and later revived. Though the effects of Malivore's control and the possessing dragon were gone, he retained some of his dragon abilities, describing himself as only "part" dragon. For a lack of a better description, he is classified as a vampire-dragon hybrid, though the term "hybrid" has yet to be used. Furthermore, Kaleb doesn't fully understand his new dragon-nature. He also refers to the duality of abilities as his "monster" side, which in some situations seems to be able to take over to the extent to where he can't control himself.
Known Types of Hybrids
Hybrid Casualties
Powers and Abilities
Weaknesses
Former Weaknesses
Hybrids
Doppelgänger Blood Magic: If blood from the last pair of doppelgängers is used in the Magic Purification Spell, all non-Original werewolf-vampire hybrids will have their vampire powers stripped from them little by little and then they will be brought back to the last stage of their werewolf life; death. They will then relive the way they died when they went into transition to the point where they die again. Kai absorbed the magic purification barrier and it's gone now.
Original Hybrid
Doppelgänger Blood Magic: If blood from the last pair of doppelgängers is used in the Magic Purification Spell, an Original werewolf-vampire hybrid will have their vampire powers stripped from them little by little and then they will be brought back to the last stage of their werewolf life; death. They will then relive the way they died when they went into transition to the point where they die again. Kai, however, absorbed the magic purification barrier.
Golden White Oak Ash Dagger: A weapon originally forged by witches and transmuted by Kol and Davina using Kemiya as a way to subdue Niklaus since he is unaffected by White Oak Ash Daggers. If dipped into the White Oak ashes and then stabbed Klaus' heart, he will be neutralized and desiccate and will remain that way for as long as the dagger stays in place. As of Ashes to Ashes, the dagger was destroyed by Dahlia.
White Oak Stake: The White Oak Stake was the only weapon on Earth that can permanently kill Klaus. As of When The Saints Go Marching In, Klaus and Elijah used the last remaining stake to stake each other.
Enchanted Thorns: Magically infused thorns created by the Hollow, that were grown in the ground laced with Marcel's blood, an Upgraded Original Vampire. A single scratch from these thorns will kill an Original; as of Phantomesque, the rosebush and thorns have all been destroyed.
Appearances in Wolf Form
The Vampire Diaries
The Originals
Legacies
Known Hybrids
Trivia
Due to the great emotional and physical pain, non-Original werewolf-vampire hybrids do not transform into their werewolf forms, unless it is necessary or are compelled to by an Original vampire.
In Season Four, a non-Original werewolf-vampire hybrid can break their sire bond though they must go through extreme torture of repeatedly turning to do so.
In Man on Fire, it is revealed that non-Original werewolf-vampire hybrids are able to turn a human (or witch) into a vampire.
Klaus was the only hybrid known to have been capable of procreating, however, this loophole was closed with a spell by Jane-Anne Deveraux.[1] This makes Klaus the first and only werewolf-vampire hybrid in history to father a child.
Hope has been referred to as both a "tribrid" and a "hybrid".
There are currently, at least, a single being left alive for each type of hybrid, except for the Original hybrid. There are at least four unnamed non-Original werewolf-vampire hybrids, turned by Klaus using Hope's blood. Valerie Tulle and Lizzie Saltzman are the only witch-vampire hybrids. Hope Mikaelson is the only tribrid in existence. Kaleb is the only vampire-dragon hybrid in existence.
References
See also
List of Hybrids - a complete list of all hybrids who have appeared in the series.