Jasmine Guy is an American actress, singer, and dancer who portrays Sheila "Grams" Bennett on The Vampire Diaries. She is best known for her starring role as Whitley Gilbert in the television sitcom A Different World and Roxy in Dead Like Me.
Biography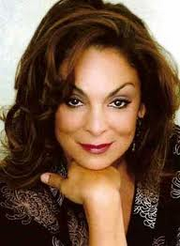 Jasmine Guy was born to an African American father and a Portuguese American mother on March 10, 1962, in Boston, Massachusetts. Guy was raised in the affluent historic Collier Heights neighborhood of Atlanta, Georgia, where she attended the former Northside Performing Arts High School. Her mother's name is Jaye Rudolph, and her father, the Reverend William Guy, was pastor of the historic Friendship Baptist Church of Atlanta, which served as an early home to Morehouse College and Spelman College) She later studied dance at Alvin Ailey American Dance Center in New York City in 1981.
During the run of A Different World, she released her self-titled debut album in 1990, which spawned three singles: "Try Me", "Another Like My Lover", and "Just Want to Hold You." The album went on to sell 168,000 copies. In the spring of 2006, Jasmine Guy spoke to the graduating class at The University of North Carolina at Chapel Hill and revealed that she will record a second album. She commented that of all the entertainment industries, the music industry was the worst. She will sell her new album online herself and not through a major label, similar to the marketing strategy used by Prince.
Personal life
She married Terrence Duckett in 1998. The couple have one child together, a girl named Imani, born in 1999. On April 8, 2008, people reported that the actress and her husband of nearly 10 years were divorcing due to irreconcilable differences.
Jasmine Guy was also a good friend of slain rapper Tupac Shakur, whom she met through her costar on A Different World, Jada Pinkett Smith. Guy collaborated with Shakur's mother, Afeni, to write a biography of her life as a former Black Panther. The book, "Afeni Shakur: Evolution of a Revolutionary," was published in 2005 by Simon and Schuster and received critical acclaim for its poignancy
Year
Title
Type
Role
2009-2017
The Vampire Diaries
TV Series
Sheila Bennett
2017
The Quad
TV Series
Grace Caldwell
2016-2017
K.C. Undercover
TV Series
Erica Martin / Erica King
2016
The Substitute Spy
G11
2016
Chasing Waterfalls
TV Movie
Salma
2016
Zoe Ever After
TV Series
Barbara Jean Johnson
2014-2015
If Loving You Is Wrong
TV Series
Mattaline
2014
Ir/Reconcilable
Short
Robye
2014
Big Stone Gap
Leah Grimes
2014
My Other Mother
TV Movie
Evelyn
2013
Scary Movie 5
Kendra's Mom
2012
What About Us?
Short
Arlene Gomez
2012
Kasha and the Zulu King
TV Movie
Ngazi
2012
Let's Stay Together
TV Series
Jasmine Guy
2011
October Baby
Nurse Mary
2011
Blossoms for Clara
Short
Clara Dukes
2010
Change in the Wind
Bessie Jordan (voice)
2010
Drop Dead Diva
TV Series
Judge Nona Daniels
2010
Stomp the Yard 2: Homecoming
Janice
2009
My Parents, My Sister & Me
TV Series
Keela Goldman
2009
Dead Like Me: Life After Death
Video
Roxy Harvey
2008
Tru Loved
Cynthia
2006
The Heart Specialist
2006
That's So Raven
TV Series
Pistáche
2003-2004
Dead Like Me
TV Series
Roxy Harvey
2002
The Parkers
TV Series
Delilah
2002
Cyberchase
TV Series
Ava, Queen of Symmetria
2001
Dying on the Edge
Micki
2001
Feast of All Saints
TV Movie
Juliet Mercier
2000
Diamond Men
Tina
2000
The Law of Enclosures
1998-2000
Linc's
TV Series
Courtney Goode / Courtney
1995-2000
Happily Ever After: Fairy Tales for Every Child
TV Series
Frog Princess Lylah / Jonae
1999
Lillie
Sylvia
1999
Ladies Man
TV Series
Allegra
1999
Any Day Now
TV Series
1999
Guinevere
Linda
1999
Partners
TV Series
Amanda
1998
Madeline
1997
Malcolm & Eddie
TV Series
Paige
1997
Perfect Crime
TV Movie
Capt. Darnell Russell
1997
Cats Don't Dance
Sawyer (voice)
1995-1997
Touched by an Angel
TV Series
Kathleen
1996
Lois & Clark: The New Adventures of Superman
TV Series
Angela Winters
1996
The Outer Limits
TV Series
Captain Teri Washington
1996
America's Dream
TV Movie
Elna Du Vaul
1996
Living Single
TV Series
Dr. Jessica Bryce
1995
Going, Going, Almost Gone! Animals in Danger
TV Movie
(voice)
1995
Klash
Blossom
1995
NYPD Blue
TV Series
LaVonna Runnels
1995
Melrose Place
TV Series
Caitlin Mills
1993
Boy Meets Girl
TV Movie
Lena
1987-1993
A Different World
TV Series
Whitley Gilbert
1993
Queen
TV Mini-Series
Easter
1992
Stompin' at the Savoy
TV Movie
Alice
1991
The Fresh Prince of Bel-Air
TV Series
Kayla Samuels
1990
A Killer Among Us
TV Movie
Theresa Hopkins
1989
Harlem Nights
Dominique La Rue
1989
Runaway
TV Movie
Charlene 'Charlie'
1989
Michael Jackson: Liberian Girl
Video
Jasmine Guy (uncredited)
1988
School Daze
Dina
1987
At Mother's Request
TV Mini-Series
Bank Teller
1986
The Equalizer
TV Series
Gloria
1982
Fame
TV Series
Fame Dancer
Appearances
Gallery
References
External links
Community content is available under
CC-BY-SA
unless otherwise noted.