"
Look, I get it you're going through a thing, it's not my business. But New Orleans is. You were gone, I was here. And I went seven years without losing someone got pretty damn used to it. I know that it is hard to hear, but Hope is a Mikaelson on the brink and we have to prepare.
"
Joshua "Josh" Rosza was formerly a major recurring character on The Originals; he has since been promoted to main in the fifth season. Josh first came to New Orleans as a tourist, with his best friend, while they were college students in their second year. Unfortunately for both of them, they attended one of Marcel's parties. Since Marcel lost one of his vampires before, he needed a new vampire. He put them to a loyalty test which Josh passed. As a result, Josh was turned into a vampire by Marcel Gerard or someone in his sireline. At first, Josh had a hard time adjusting to his new life as a vampire and making friends among the other nightwalkers. Most of it was due to Klaus compelling the newborn vampire to do his bidding and serve as his spy. Not long after, Marcel found out about it and took Josh to Davina so she could remove Klaus' compulsion. The two then quickly became best friends with each other.
Throughout most of Season One, Josh's personality slowly changed as he adapted to his new life as a vampire. He became more confident in himself, and after Davina made him a new Daylight Ring (at the courtesy of Klaus), he finally started to enjoy his new life. After Marcel's attempt to take over New Orleans failed, all his vampires (with the exception of Josh, who was bitten by Klaus, but was cured right after) were killed by the Mikaelsons and the werewolves, those that survived, were killed by the newly resurrected Mikael. Josh was left as the only vampire from the old reign. As a result, he became one of Marcel's closest allies and friends and even became his second-in-command during the second season. During that season Josh met one of Finn Mikaelson's wolves, a man named Aiden. The two fell in love and started dating, but after the latter was killed by Dahlia (as part of the conflict in the Mikaelson Family), Josh decided to leave town for a while, with Marcel cutting him loose.
As of the third and fourth seasons, Josh aided Marcel with the wars between the sirelines and the Hollow. Josh continued to aid Marcel and his men for nearly a decade before his final death. When Josh is injected with advanced werewolf venom into the heart, he dies in Marcel's arms. After his death, Josh reunites with the love of his life in the afterlife and finds peace with him.
Early History
Little is known about Josh's early life, aside from the fact that he was born in Michigan, USA in 1991 to yet-unnamed parents. In 2007, when Josh was sixteen, he became a fan of house and trance music and got involved in his local club scene so he could meet other boys. During his senior year, he began dating his first boyfriend in secret, as his parents were not tolerant of homosexuality. However, when his boyfriend sent Josh a bouquet of roses for Valentine's Day, his parents found them and threw them in a paper shredder before disowning him and kicking him out of the house. He presumably came out of the closet sometime afterward.
Two years later in 2011, Josh, now a college student, planned a trip to New Orleans with his best friend, Tina McGreevy, and they explored the French Quarter together.
Throughout The Originals Series
Personality
Not much is known about how he acted as human, as he wasn't one long before he was turned into a vampire. However, it is shown that loyalty runs deep in him as he was very hurt by his best friend Tina's decision to let Josh die and had not even considered leaving her to die herself.
Since becoming a vampire, Josh has been constantly pushed around and used, by both Marcel and Klaus, leading to Josh seeking out Davina's help. She would go on to removed Klaus' compulsion from him and their friendship grew. During his time with her, he explains how he just wishes to be normal. This prompted the young witch to give him a daylight ring.
By Season Two, his standing seems to have risen as he is no longer pushed around as much and acts as Marcel's second-in-command. Josh has remained one of the most sarcastic characters and has a very strong sense of loyalty, friendship and love towards those he considers friends and willing to aid them at any cost. This often placed him in situations where he acted as the voice of reason. He would eventually go on to meet Aiden, and quickly fall in love with him and supported him until his death, which all but devastated him.
In Season Three, Josh has grown more in his position of power and self-determination as he finds himself more confident and sure of his actions. Throughout the third season, he remains in New Orleans to help Marcel deal with the sireline crisis, as he was sired by Klaus and still had a sense of loyalty towards his sire and to Marcel. Despite the changes, he still fears the Mikaelsons and especially Klaus. Even after Davina's death at the hands of Kol, he was horrified by Marcel's decision to take the Beast serum, becoming the Beast of the prophecy, and to go after the Mikaelsons for their involvement in her death.
In Season Four, Josh remains loyal to Marcel acting as his right-hand man, along with Vincent and Sofya. During the five years of peace among the supernatural communities of New Orleans, Josh has become the new owner of Rousseau's and helps Vincent's and the local witch community. Seemingly, he's happy with life and has found a new boyfriend, Eddie, a human unaware of what he is and actively keeps it from him. While he has more confidence in himself, compared to Marcel and the Mikaelsons, he considers himself to be a small fry, though Marcel sees his worth and considers him a friend. He is willing to do what he must in order to save his friends, such as assisting Freya, knowing that she was the cause of Davina's death. However, even in the face of danger, he remains loyal and compassionate, even to Freya who helped break down his "emotional barriers" and initially refused to leave her when she faced Dominic, Priest of the Hollow. Since the death of Davina, he continues to visit her grave in Lafayette Cemetery, bringing her flowers.
Physical Appearance
Josh is a tall, medium-statured young man, with wavy, dark brown hair and dark brown eyes. He is attractive and handsome in his own simple way with the style of a typical-20-something-year-old American man and is usually seen wearing jeans with a polo or v-neck t-shirt and a hoodie or jacket.
Powers and Abilities
Josh possessed all the powers and abilities of a non-Original vampire. Despite being a rather new vampire, he appears to be talented. Josh learned to successfully compel within only a few months of being turned, a feat which even older vampires struggled with. The only other known vampires to master this ability on their first day are Caroline Forbes and Camille O'Connell.
As one of the youngest in New Orleans, he is, in most cases, outmatched in terms of physical strength by others. However, he demonstrated notable skill defending himself against vampires of intermediate age (impressively fighting off all three of them) in which it took Sofya Voronova, a vampire of much greater age, to defeat him.
Weaknesses
Josh had the typical weaknesses of a non-original vampire.
Relationships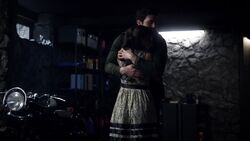 Josh met Davina after Marcel discovers Klaus' compulsion upon him, he requests Davina to free him in order to work as his spy. Josh is initially fearful of her although warms up to her after they bond over music, while Davina works her painful spell. After Josh's compulsion is lifted, they laugh over their differing views of "normal" and they are both noticeably sad when Marcel wants Josh to forget her. They "pinky promise" that Josh would keep her secret in exchange to keep his memories, as he says it's nice to talk to somebody again. While Josh is stuck in the shadows without a daylight ring, he is expressively fearful of Klaus and Davina promises to protect him. They are permanently separated when Josh passes away. It is unknown (as of right now) what Davina's reaction to Josh's death was.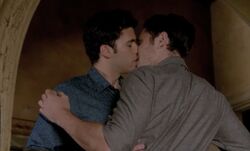 During the early second season, Josh and Aiden first begin to interact on a dating website, which leads to an eventual meeting in person. They share their first kiss in The Brothers That Care Forgot although due to their separate species and Aiden's original fear of the wolves not accepting his relationship with a vampire, their relationship is immediately tested. Although as their bond continues to develop and their species form an alliance, they overcame these obstacles and publicly express their relationship in I Love You, Goodbye. They officially begin dating and Josh seems to have moved into Aiden's apartment, however after Aiden begins to feel the pressure of his alliance with Klaus, he asks Josh to run away with him and begin their life together elsewhere, who accepts and they declare their love. However before Aiden has the opportunity to meet Josh, tragedy strikes as Dahlia fatally attacks and murders him. After finding his body in the alleyway they were supposed to meet, Josh is left heartbroken. Nearly a decade after Aiden's death, Josh too passes away and reunited with Aiden in the afterlife.
Right after Josh turned up in New Orleans and had Vampire blood in his system, Klaus Mikaelson broke his and his friend's neck to create spies for himself against Marcel and his empire. Once Josh completed his transition into a Vampire, Klaus compelled him to be his spy, his eyes, and ears. Josh seemed to be an effective spy for him by helping him drain a vampire off vervain and framing Marcel's best friend Thierry. But after his compulsion was removed by Davina, he betrayed Klaus and sent him into an ambush. After that, he has laid low and stayed hidden from Klaus.
Marcel and Josh have a very complex relationship who started off as just mere acquaintances and then evolved into friends. He was the one that turned to Joshua, and he is very loyal to Marcel and even endured the pain of having Klaus' compulsion removed from his system to show his loyalty to him. Josh wanted a daylight ring and was endlessly trying to prove to him that he deserved it. Now that it is just himself left in Marcel's Army and he is helping him to rebuild it. After years of being on Marcel's side, Josh passes away in Marcel's arms and Marcel is devastated.
Other Relationships
Appearances
Episode Absence
In Season Five, Josh does not appear in three episodes:
Name
Josh is a variant of Joshua (Hebrew), and the meaning of Josh is "Jehovah is salvation".
Rosza is of Hungarian origin and means "rose". Other variations of the name are Rozsa and Roza.
Trivia
Joshua is one of the few characters that have exceeded more than 10 appearances, as he has appeared in 13 episodes in one season. He's the second in The Originals Season One, along with Diego to appear in 13 episodes, and third in the TVD/TO universe, along with Carol Lockwood, in Season Two.
In Tangled Up In Blue, it's revealed in the news report that he's 18 and comes from Michigan, but in Bloodletting he tells Davina it was four years ago, implying he is 20.
He is the first LGBT character who appeared in The Originals before Aiden and the second in The Vampire Diaries/The Originals universe after Bill Forbes, before Lucas Parker, Aiden, Mary Louise and Nora Hildegard.

He is the first male LGBT character who appeared in The Originals before Aiden and second in The Vampire Diaries/The Originals universe after Bill Forbes and before Lucas Parker.
He is the first ever gay vampire introduced in both series.
He and Aiden are the first gay couple to appear in both series.

Steven Krueger played Emily's boyfriend on Pretty Little Liars before she came out. One of her girlfriends was played by Claire Holt.
The exact vampire whose blood turned him is unknown, but since all of them were turned by Marcel, he is of Klaus' bloodline.
Josh is the first vampire to have a compulsion placed upon him forcefully wiped out of his mind.
Josh obtained a Daylight Ring in The Big Uneasy. The ring was given to him by Klaus and spelled performed by Davina
Josh compels his first ever human in An Unblinking Death; a doctor, in order to help Camille with her plan to help her uncle.
In The Battle of New Orleans, he was bitten by Klaus and dying of the hybrid bite. In From a Cradle to a Grave, fortunately, Davina gathered enough of Klaus' blood that was on the ground in order to save Josh from dying.
Julie Plec reveals Josh was originally supposed to die but the writers refused to kill him.
Josh is the only noted Vampire who hasn't been shown to kill someone, however, he did in a deleted scene in season one.
He has not yet been seen to feed on a human.
He shares Similarities with Caroline Forbes.
He's currently the most recurring non-main character on the show.
Josh is a fan of techno and house music.
Josh is also a big fan of Lord of the Rings franchise, quoting characters from it by heart.
Davina used Josh's vampire power as an anchor, in order to get in and out of the Ancestral Plane. This connection was later severed by the dark witch Ariane.

Vincent is the second witch whose channeled Josh's to cross over into the Ancestral plane; Josh was the Anchor for both Vincent and Kol, who the latter was only able to go because he had been there before when consecrated in a witch body.

Josh nickname on the meeting social network is NOLA YOLO 19.

His description on the same website says as follow: "Just a Midwestern boy in the Big Easy. I love music, dancing and singing the song with the radio when I don't know the words. Also, I won my school's free throw contest in the 4th grade, but you probably already heard about that. THINGS I'M GOOD AT: I can kick super high and don't even need to stretch first. Just ask Matthew, Tater Tot and Doug (whose real name is Larry) I SPEND A LOT OF TIME THINKING ABOUT: The Loch Ness Monster".

He spends a lot of time on the dark web and knows how to navigate it quite easily.
Quotes
Season One
Marcel: Did you ever hear the phrase of "Uneasy is the head and wears the crown"?
Josh: Uhm, Lord of the Rings?
Marcel: Shakespeare...
Klaus: I ordered you to drain blood of him. What's taking so long?
Josh: Sorry. I'm not like medieval torture expert guy.
---
Josh (to Davina): I'm a gay club kid who died and come back as a vampire.
-- Bloodletting
---
Josh (to Camille): Hey Cami, you don't have any like human blood in your fridge don't you?
Josh: Reminds me to never piss off a witch.
---
Josh: I'm gonna die of a werewolf bite.
Davina : You're not going to die.
Josh: Just promise me that you'll listen to my iPod when I'm gone. I spent a lot of time on those playlists.
Josh: You know, I've only gotten roses once in my life. Didn't even get to keep them.
Davina: Why not?
Josh: My first boyfriend -- my only boyfriend, really-- gave them to me for Valentine's Day senior year. Tried to hide them in my bedroom, but my parents found them. You may not know it, but roses will jam even the best paper shredders. You know, I don't have a home to go home to, or a family to go home to. I used to hate myself for that, but the thing is, I don't really care what they think anymore. If your family doesn't like you the way you are, screw them! You got me, and Cami... even Marcel. If you want.
Davina: Marcel used me.
Josh: He used you to fight the people who were trying to kill you. And, you know, he also saved you from those people. So you don't have to trust the guy, but he does love you. [He smiles warmly at her] And P.S? So do I.
Davina: Even if I don't have any magic? All the power I had was from the other Harvest girls. I don't even know what I have without it.
Josh: Don't you owe it to yourself to find out? You're a witch, Davina. You can't change your DNA any more than I can, so you might as well embrace it.
---
Josh: The club kid in me is like in heaven.
---
Season Two
Marcel: Any prospects?
Josh: Well, since you asked. Yeah, there's this one guy. We've been messaging so far, but I think I like him. Like, really like him.
Marcel: So, what's the problem?
Josh: Oh, I don't know. I might have left a few things out of the old profile. For example, what has two thumbs and drinks blood to survive? Oh, right! This guy.
Josh (to Aiden): "Ps. Those pictures don't really do you justice. You're way hotter in person. You know, when you're not…murdering people."
Josh (to Aiden): "We could just, I don't know… be ourselves?"
---
Josh (to Marcel): "Not that I don't dig the whole Karate Kid vibe that we got going in here, but how are we supposed to learn how to defend ourselves from an army of super-wolves in like one day?"
Josh (to Camille): "Sweet. It's a big box of rusty old junk. We're saved."
---
Josh (to Davina): "It's kind of a, uh, Romeo and Romeo thing."
Josh (to Aiden): And hey, look, if you, uh, get nervous, or, like, need a vote of confidence or whatever? Just remember that, uh, I think you're pretty amazing.
---
Marcel: You sure you wanna do this?
Josh: What else am I gonna do? I mean, it's not like I can call my family, because, um, they suck. I can't get revenge, because Klaus is already in a coffin, and even if he wasn't, that's suicide! So, you tell me, Marcel... What else is there? I have to leave. Oh, wait, let me guess, you, uh, need me to patrol the city for some witch?
Josh (to Marcel): We were gonna leave town. I spent his last day saying goodbye to everybody but him.
---
Season Three
Josh (to Marcel): Weird! Well, that's the thing about ancient vampires, isn't it? They don't pay attention to modern things. Unlike your friend here, who minored in computer science and wrote a paper on the dark web!
---
Davina: I need to go to the only witch I trust, and that would be Kol.
Josh: Hmm. Your dead boyfriend who currently resides in spooky-witch-purgatory along with all the other dead spirits who shunned you? Sure! What could possibly go wrong?
Josh: Huh. Okay. For the record, if you looked up "uncool" in the dictionary, there would just be a tiny drawing of what's happening right now.
---
Josh (to Kol and Vincent): Well, there ain't no party like a cemetery party!
---
Season Four
Josh (to Rebekah and Elijah): Oh, that's too bad. I was gonna offer you some "welcome back" waffles.
Josh (to Rebekah and Elijah): Why do you guys even need me? Huh? I mean, I know I'm adorable, but I'm extremely small potatoes.
-- No Quarter
---
Josh (to Marcel): Given that The Hollow is like pure evil incarnate, maybe you should consider reaching out to people who are just a little more powerful than me. Like Mikaelson people.
-- Phantomesque
---
Josh (to Davina's grave): Well, hey there! Uh, it's me, again. Hope, uh, all is well where you are. You know, I really would love to talk to you about a few hundred things. Like how Eddie uses this weird baby voice anytime he says "hi" to a random dog. I don't know, might be a deal breaker. Or how I finally watched Practical Magic. And you were right. Perfect movie. Or, you know how freakin' much I still miss you.
Josh: Look, you remember the first day we met? You told me you wanted to be normal.
Davina: You said "normal" is relative.
Josh: Yeah, well, you're a twice-resurrected Harvest Girl with an Original vampire boyfriend. "Normal" always gonna be relative. But with or without him, you have to take this chance. You deserve it.
---
Marcel: Hey, you got hit pretty hard! Tell me what happened.
Josh (to Marcel and Sofya): Well, it's, uh pretty straightforward, really. Creepy resurrected witch made me his personal piñata. Oh, that would be your old buddy, Dominic.
Josh (to Marcel): Uh, sorry to interrupt here. Wouldn't it be smart to, like, align ourselves with the crazy powerful, unbeatable family who also wants to kill this thing?
"I would write... Dear Diary"

This article has been identified as an article that needs help. The reason the article has been tagged as such is that it is lacking information about recent episodes and/or correct information. You may wish to edit it to improve the standard or quality of work present on this article.
Gallery
References
See also