"
Growing up in the foster system every time I got sent someplace new, I'd hope that this would be the right place. You know, like, uh, "click your heels three times," "no place like home" kind of stuff. Just somewhere I actually belonged. But it never was. You know, and you can only hold out hope for so long and-and be hurt by so many people before its starts to seems impossible to trust someone new.
"

Landon Kirby is a main character on Template:Legacies. He made his debut in the twelfth episode of the fifth season on Template:The Originals and the first episode of Template:Legacies.
Phoenixes are a rare, supernatural species that was once thought not to exist. Furthermore, it remains unknown whether or not if the species is a preexisting species or was created specifically by Malivore, Landon's father, since Landon is the only known phoenix. This ambiguity results from Malivore's ability to consume numerous supernaturals as well as gaining the ability to reproduce due to the humans that were thrown into the dimension over time.
Early History
Not much is known except his biological mother is Seylah Chelon, a human that worked for Triad Industries. Landon was conceived when his mother was consumed by Malivore and subsequently impregnated, making Malivore itself Landon's biological father. After she gave him up for adoption, Landon went through the foster care system. While with one foster family at a young age, he would be punished by being forced to sit within a small closet; as a result, he developed claustrophobia which has persisted throughout his adolescence. Eventually he was fostered by Hector and Maria Gonzales who would go on to foster Rafael Waithe.
Throughout The Originals Series
In The Tale of Two Wolves, he delivers Hope and Elijah their order at Mystic Grill. He talks to Hope briefly and goes back to work after having multiple objects thrown at him by Connor. Before Hope and Elijah leave, he sees that Connor and his friends are a few dollars short and is mocked about his lousy service.
Later, he arrives at the town square where the band is playing and a few couples are dancing. Hope comes up to him and they begin to dance, and she tells him she can only be out so long before she has to go back to the boarding school.
Throughout Legacies Series
Personality
Landon is shown to be a sweet guy and a little bit shy. He is shown to be respectful, but is often bullied by Connor and his friends. He can be seen as a loner and has a sort of resentment towards the Salvatore Boarding School students because he thinks they are rich kids.
Landon spent his childhood bouncing from foster home to foster home. Due to an abusive foster family, at a young age Landon developed claustrophobia - having been forced to sit within a small closet for undetermined periods of time. Even in adolescence, he does not respond well to small spaces, such as when he was held in the werewolf transformation space at the boarding school and was even tormented by the Night Hag within his dreams. He exhibits well-developed positive traits - intelligence, loyalty, resilience, thoughtfulness, easy-going affable charm - despite upbringing and a history of abuse.[4]
Simulandon
Simulandon was a direct copy of Landon created by Josie Saltzman using Emma Tig's prism. As a direct copy of Landon's subconscious, Simulandon retained all memories and feelings from Landon, therefore was seen by Josie as a true reflection of what Landon really felt. Simulandon felt an overarching attraction to Hope Mikaelson, which Josie saw as proof that Landon truly loved Hope, not her.
Whilst Simulandon was aware of his role in the closing of the Malivore portal, he contested it strongly, having developed a like for life and a connection to Hope. He explained to Hope that whilst Landon was a coward, he was not; this allowed him to express how he felt about Hope. By the end of It Will All Be Painfully Clear Soon Enough, Simulandon had developed such an attachment to Hope, that he sacrificed himself to keep her safe, allowing Ryan Clarke to take over his body.
Physical Appearance
He has short, curly black hair and green eyes. He is a little taller than Hope, but not by much and has a slim build. He wears the light blue Mystic Grill shirt during work hours, and dark colored clothing when not working. He also has a large shaped tattoo on his lower right arm.
Powers and Abilities
Weaknesses
Relationships
Despite Landon and Rafael having only been foster brothers for a year or two they have grown close to that of actual brothers.[5]. Landon was the first to discover the supernatural world by being there for Rafael when he first turned into a werewolf. Despite Landon going against his new school by taking a supernatural knife, Rafael still ran away with him and defected from the Salvatore Boarding School. Despite the uncertainty of Landon's supernatural status, he was eventually allowed to stay at the Salvatore Boarding School and the two became roommates. Their brotherly relationship however was challenged with Rafael developing feelings for Hope, who was Landon's girlfriend at the time. Rafael was more troubled than Landon. Therefore, he tried to distance himself from Hope in order not to complicate things. Landon's momentarily death in The Boy Who Still Has a Lot of Good to Do traumatized Rafael, so much so that caused him to suffer from lunar psychosis. While stuck in his werewolf form for the duration of the summer, Landon took care of Rafael, while simultaneously trying to search for a cure. With Hope's return from Malivore, having reversed the effects of the ring she gave him, the brothers have been happily reunited. Rafael, however continues to suffer from lunar psychosis and his extended time as a wolf has not helped, to which Landon is worried about as he's more aggressive with his werewolf nature. After everyone's memories of Hope are returned in That's Nothing I Had to Remember, Rafael decides to again distance himself from Hope because of her past with Landon. In a final attempt to ensure Landon's safety, Rafael asks the sphinx how to protect Landon from Malivore. He's told that he must get him out of Mystic Fall if he wished to keep him from Malivore. Again, he and Landon leave the boarding school and make their way to North Carolina. Landon's found out information about Rafael's biological parents; together, they meet Rafael's father, Walt.  
Main article: Hope and Landon
Landon first met Hope two years ago on at his former workplace in Mystic Falls. They grew to be friends and it was clear they shared a deeper connection than that of friends. However, Landon moved away from Mystic Falls and they lost contact for two years. They reconnected when Landon's foster brother turned into a werewolf and Landon decided to stay there with him. Hope had to put Landon under "house arrest" at her boarding school because he was supposedly a human at the time. They grew close again as friends and even shared a kiss "goodbye' before Landon was supposedly compelled to forget his supernatural experiences. However, Landon explained that a supernatural knife caused him to lie to Hope. Landon took the knife behind Hope's back and stole it from the school, which betrayed Hope's trust in Landon in the process. Landon has stated that he wishes to gain Hope's trust back, but she walks away in anger from him when he returns to the boarding school. To investigate the missing reports of two Mystic Falls high schoolers, Landon is sent with Hope and the rest of the Salvatore Boarding School kids to interview students at Mystic Falls High School. After the events of dealing with a giant Arachnid-monster, Landon is back at the Salvatore Boarding School and sitting at a nearby pond alone when he is approached by Hope. She attempts to salvage their friendship, but he argues with her saying that he wished she had his back and she just blamed him for everything that happened despite it not being his fault, directly. Landon continued to defend himself further in anger and then left Hope sitting at the pond to suffer in silence for her intentions against him. Landon is annoyed to find out that Hope is the one conducting a series of tests on him to determine his supernatural abilities. Throughout the day, Hope conducted the tests with an annoyed attitude, which Landon notices, but doesn't address it until after his tests. Landon admits, with a supernatural lie detector, that he is sorry for hurting her trust in him, which softens Hope a bit. While voting to keep Landon at the school, Hope votes 'no' because she conducted a lie detector test on him earlier and she found out he doesn't feel safe at the school being he was beaten up by a werewolf. Landon is happy when Hope eventually forgives him for hurting her, but later, when seeing Landon off, he says he's not surprised she voted 'no' to keep him at the school. However, they resolve their issues and Landon is pleased when Hope gives him a magical device and some tools to help him locate his birth family. Landon then uses the magical device she gave him to have her come back to him before he departs and she smiles; they kiss before Hope watches Landon depart on a bus. They reunite a few episodes later when Hope realizes Landon is in trouble. When they reunite, Hope finds Landon with Seylah. They ally with Seylah and Alaric in order to protect the other key of Malivore. However, while waiting in a motel, Landon and Hope share an intimate make out session before Alaric interrupts them. A series of events leads Alaric to bring both Landon and Hope back to the Salvatore Boarding School, after they all forget about Seylah. After Landon is settled back into the school, Hope asks him to be her boyfriend and he happily says 'yes' before they share yet another kiss.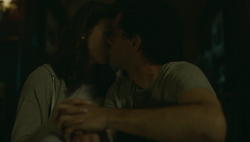 When Landon first comes to the Salvatore Boarding School for the Young & Gifted, the two have very little interaction. Even at the Honor Council meeting, Josie voted for him to leave the school, believing that it was for the better; however, when he returns she welcomes him back, though not without Landon casually reminding her of how she voted. After Hope is absorbed by Malivore and all memories of her were erased, they began their friendship, beginning with her witnessing him drown himself. After the incident, they decided that they should both stop worrying about dying and start living. Throughout the summer of 2028, they became close friends that eventually developed into a romantic relationship that culminated in their first kiss.
With a new semester beginning, Landon becomes the popular guy for "defeating Malivore" and begins getting attention from other girls, sparking Josie's jealousy. Though spending the summer together as friends, they eventually go on their first date which ends awkwardly, as they went out for sushi, though Josie's allergic to seaweed. Josie reveals that she is worried about their relationship due to her codependency and her need to "fix" things, but Landon points out that she hasn't been in a relationship where what she wanted mattered. They officially become a couple as Landon refers to himself as her boyfriend.
Other Relationships
Appearances
The Originals
Legacies
Episode Absence
Legacies
Name
Trivia
Gallery
References
See also