'Legacies' Comic-Con 2018 Trailer
Play Sound
This article is about the series. You may be looking for the first season, an article about the first season.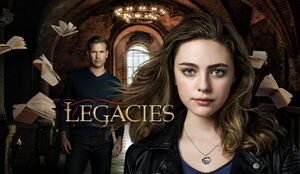 Legacies is The Originals spin-off series produced by The CW. The series was greenlit on May 11, 2018.[1]
On May 17, 2018, The CW announced it would premiere on Thursday at 9pm on the Fall schedule of 2018-2019 television season. It premiered on October 25, 2018. The CW announced that Legacies was renewed for a second season on January 31, 2019.[2]
The series mainly stars Danielle Rose Russell as Hope Mikaelson, Aria Shahghasemi as Landon Kirby, Kaylee Bryant as Josie Saltzman, Jenny Boyd as Lizzie Saltzman, Quincy Fouse as MG, Peyton Alex Smith as Rafael Waithe and Matt Davis as Alaric Saltzman.
Julie Plec serves as an executive producer, along with Brett Matthews, Leslie Morgenstein and Gina Girolamo.
Summaries
For the last decade, the iconic heroes and villains of The Vampire Diaries and The Originals have captivated audiences worldwide. They left an enduring legacy of love and family in their wake, which continues in LEGACIES, a thrilling new drama that tells the story of the next generation of supernatural beings at The Salvatore Boarding School for the Young and Gifted. It's here that Klaus Mikaelson's daughter, 17-year-old Hope Mikaelson; Alaric Saltzman's twins, Lizzie and Josie Saltzman; and other young adults — including high-energy vampire MG, newly-triggered werewolf Rafael Waithe and the mysterious Landon Kirby — come of age in the most unconventional way possible, nurtured to be their best selves... in spite of their worst impulses. Will these young witches, vampires and werewolves become the heroes they want to be — or the villains they were born to be? As they fight to protect their secret, their town of Mystic Falls and eventually the world, they will have to rely on ancient folklore and tales to learn how to battle their far-reaching enemies. LEGACIES stars Danielle Rose Russell, Jenny Boyd, Kaylee Bryant, Quincy Fouse and Aria Shahghasemi, with Matt Davis. LEGACIES is from Warner Bros. Television and CBS Television Studios in association with My So-Called Company, with executive producers Julie Plec (The Vampire Diaries), Brett Matthews (The Vampire Diaries), Leslie Morgenstein (The Vampire Diaries, Pretty Little Liars) and Gina Girolamo (The Originals).[3][4]
Main Cast and Characters
Main article: Character Appearances
Crew
Production
As of 3x16, not a single cast member had directed or written an episode, although two former TVD cast members have done so:
Productions codes and taglines
Season 1 - (T46.10051-T46.10066; 1x09-T46.10063; 1x10-T46.10062; 1x11-1x13-T46.10059-T46.10061) - Heroes. Villains. Whatever.
Season 2 - (T46.10201-T46.10216) - Hope is lost
Season 3 - (T46.10301-T46.10316) - The legends are true
Season 4 - (T46.10317-) -Hope must die
Seasons
Trivia
Every season since its debut, it has been paired with a different show on The CW. In the first season it was paired with Supernatural. The first thirteen episodes of the second season were paired with Supernatural as well, while the final three episodes were paired with Katy Keene. In the third and fourth seasons it was paired with a new show Walker, which stars Jared Padalecki from Supernatural fame.
The first season follows the events from February 25, 2028 til April 19, 2028, the second season follows the events from June 2028 til March 2029 and the third season follows the events of that spring.
Awards
Year
Result
Category
Recipient(s)
2019
Nominated
Sci-Fi/Fantasy TV Show
Legacies
Nominated
Sci-Fi/Fantasy TV Actress
Danielle Rose Russell
| Year | Result | Category | Recipient(s) |
| --- | --- | --- | --- |
| 2020 | Nominated | Sci-Fi/Fantasy TV Show | Legacies |
Multimedia
Pictures
Videos
Notes
There are no plans at the moment, but according to TVD and Originals showrunner Julie Plec, there are still stories to be told.

"My hope is The Originals will stay on and that I can bring some of these characters over there," Plec says of the Vampire Diaries spinoff. But if that doesn't work out, there's another option. "I could see our universes coming together in five years, 10 years, when people miss the shows," she says. "There's still stories to be told for The Originals that our characters here very smoothly and seamlessly fit into, so if we don't get to do that while The Originals is still on the air, I think that one day, if somebody wanted it badly enough, it could exist."

One final note: For those worried that Stefan's death means he wouldn't be a part of any future stories, fear not. If there were a future opportunity to tell more stories, Plec feels they could find a way to make sure both Salvatores would return. Is there a chance that next year—after TVD comes to a close and if The Originals continues for another season—we could see some Mystic Falls favorites show up in New Orleans?

A thousand percent. One of my goals is to find really exciting and organic ways to combine the universe just a little bit, whether it's a flavor or something more aggressive. There are a lot of really wonderful people that I work with that I'd like to continue working with, so it's certainly not out of the question that we could find ways to integrate them into The Originals.

Is there any possibility we will see any of the Vampire Diaries characters living on through The Originals once the show is over?

JULIE PLEC: First of all, it is my hope and desire that The Originals lives on [for] many more seasons to come, precisely for those kinds of opportunities, that we can take this world that we have developed, with the Mikaelson family, and occasionally have a little drive-by or a repopulation with these characters that we love. I'm not going to say anything about how this season ends, or the series ends, but there is definitely opportunity for that moving forward.

Carina Adly MacKenzie won't be involved on the show.[6]
Writers for the first season of Legacies include returning TVD/TO universe writers Marguerite MacIntyre, Penny Cox and first-time writers, Thomas Brandon, Sherman Payne, Stephanie McFarlane and Bryce Ahart.[7]

Marguerite MacIntyre previously portrayed Liz Forbes on The Vampire Diaries and wrote for The Originals in Season 1, Season 2 and Season 5.
Penny Cox was part of the writing team for The Vampire Diaries and wrote two episodes during Season 7 and Season 8.

Matt Davis wanted to name the show "Legacy Falls".[8]
See also
External links
References