The soundtrack of the Legacies series contains quite a lot of songs. Here are the songs from the second season.

"Back To Life" – Russ


"Want Me Back" – BENEE


"Yum Yum (Gimme Some)" – The Fatback Band


"Better Together" – Us The Duo


"Not Going Under" – Astro Driver


"Conversation" – Lucy Rose


"you were good to me" – Jeremy Zucker & Chelsea Cutter

"Sister" – K.Flay


"Feel It" – Gia Woods


"Die To Live" – Volbeat & Neil Fallon


"Take Me Home" – Chord Overstreet


"Loneliness" – Aaron Taos

"For The Thrill" – MAWR


"Creature" – BONES UK


"Black Bull" – Foals


"Back Foot" – Dinosaur Pile-Up


"Lash Out" – Alice Merton


"Rock It" – Ofenbach


"All We Have Is Now" – Ross Copperman

"It's My Party" – Webstar Allstars


"Love Has No Limits" – Fleurie


"Love You To Death" – Chord Overstreet

"Please, Please, Please Let Me Get What I Want" – The Smiths


"Dance Hall Days" – Wang Chung


"It Takes Two" – SRM


"You Spin Me Round (Like A Record)" – Dead Or Alive


"One Thing Leads To Another" – The Fixx


"Take On Me" – Wendy Wang & Inga Roberts


"Holding Out For A Hero" – Bonnie Tyler


"I Melt With You" – Modern English


"Faith" – Sleeping At Last


"What I Like About You" – Lillix


"Your Love" – The Outfield

"The Street Of Broken Dreams" – George Grant and the Mighty Templars


"Louise" – Felicia Carter


"I can't breathe" – Bea Miller


"Rescue" – Lauren Daigle

"Half A Man" – Dean Lewis


"Run To You" – Ocie Elliott


"Blackout" – Freya Ridings

"White Christmas" – Frank Sinatra


"White Christmas" – Chris Lee


"Jingle Bells" – Anthony Bruno


"Charger" – Foreign Diplomats


"Joy To The World" – Palisades Big Band


"Jingle Bells" – Palisades Big Band


"We Wish You A Merry Christmas" – The Hohohos!


"I'll Be Home For Christmas" – Chris Lee


"Silent Night" – Popov's Boys Choir Of Moscow


"Move Together (The Dark of The Morning Version)" – James Bay

"This Baby Don't Cry" – K.Flay


"Astronomical" – Svrcina


"Words Ain't Enough" – Tessa Violet

"original me" – YUNGBLUD feat. Dan Reynolds


"Black Hole" – No Money Kids


"Don't Hold Your Breath" – Bombay Beach Revival


"Castles (Acoustic)" – Freya Ridings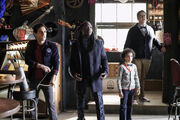 "Come And Get Your Love" – Motor Sales


"Feel Alive" – French Braids


"All My Friends Are Falling In Love" – The Vaccines


"Back Foot" – Gibbz


"Wiggy" – K+Lab feat. Alias & Sam Ross


"Run Through Walls" – The Script


"Remembrance" – Tommee Profitt feat. Fleurie

"Two Princes" – Spin Doctors


"All By Myself" – Chris Wood


"Get What You Want" – Silverman Brothers


"Crazy" – Nothing But Thieves

"Awaken" – League of Legends, Valerie Broussard & Ray Chen


"Is It Really Me You're Missing" – Nina Nesbitt

"Thanks For The Memories" – Karen David


"The 40's Were Grand" – Ron Komie


"Grow As We Go" – Ben Platt

"All In My Head" – Whethan feat. grandson


"Gotta Go" – Gilde Flores feat. David Morgan


"All My Friends Are Falling In LoveUndisputed" – Chaptabois


"Tall On My Throne" – Torii Wolf & FWD The Man


"Take Me Apart" – SYML

"It's So Hard To Say Goodbye To Yesterday" – Kaleb and Jed


"It's a Beautiful Life" – Billy Raffoul
See also
Community content is available under
CC-BY-SA
unless otherwise noted.