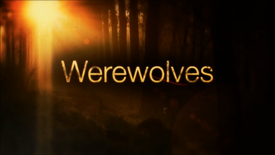 This is a list of all werewolves who have appeared or who have been mentioned in The Originals and The Vampire Diaries television series or novel series.
This includes untriggered werewolves and evolved werewolves.
Living Werewolves
This is a list of the currently-living werewolves in either series.
Nick (untriggered)
Daisy
Tucker
Kayla McInnis
Many unnamed werewolves
Deep Water Pack
Barry Pack
Poldark Pack
Malraux Pack
BasRoq Pack
Paxon Pack
Lucia
Tribrid
Deceased Werewolves
This is a list of werewolves in either series who have died or been killed.
Jacob Lockwood (untriggered)
Marianna Lockwood (untriggered)
Richard Lockwood (untriggered)
Benjamin Lockwood (untriggered)
Barnette Lockwood (untriggered)
Eve (untriggered)
Domonique Guerrera
Carlos Gurrera
Benito Guerrera II
Antonio Guerrera
William Collado Sr.
Sam
Juan
Many unnamed werewolves
Former Werewolves
This is a list of werewolves who have been turned into werewolf-vampire hybrids and are currently undead.
Deceased Former Werewolves
List of werewolves who were either born as or turned into hybrids and then killed.
Hybrid
See also
Community content is available under
CC-BY-SA
unless otherwise noted.