Wiki Targeted (Entertainment)
Play Sound
"I would write... Dear Diary"

This article has been identified as an article that needs help. The reason the article has been tagged as such is that it is lacking information about recent episodes and/or correct information. You may wish to edit it to improve the standard or quality of work present on this article.
Outside references are deliberately inserted references to The Vampire Diaries Universe from TV shows, movies, and other outside sources.
In 1x02 Kat said: "I'm not skipping home to scribble in my journal that maybe you're a vampire!!"
(July 14, 2009)
In 5x18 Liz said: "Maybe something with vampires? Everything has vampires nowadays. Have you seen the Twilight movies, or Vampire Diaries?
(March 24, 2011)
In 4x11 Liam hired a model to play a vampire because his daughter loves "The Vampire Diaries".
(November 29, 2011)
In 1x01 Charlie said: "Or The Vampire Diaries" during a conversation referencing tv shows that contain groups of young protagonists protecting small towns from supernatural threats. Ram asked: "You watch Vampire Diaries?" Charlie replied: "Everyone is very attractive" to which Ram conceded: "Yes it is true"
(March 7, 2017)
In 3x18 Eliot said: "I love Dorota. We're tight now. We talked about "The Vampire Diaries" in the elevator on Friday."
(April 12, 2010)
In 3x13, Ceca describes one of the guys she likes as: "dark and somber, like Damon from "The Vampire Diaries"."
(May 21, 2017)
In 1x13 Schmidt said: It's one of my desert island books. Along with Machiavelli's "The Prince", "Freak" by John Leguizamo, any of the scripts from the first season of "Vampire Diaries..."
(February 2, 2012)
In 1x06 while being undercover: "Some high praise for The Vampire Diaries, so I might have to check that out."
(May 5, 2016)
In 4x17, the first two suicides in the office building are by men named Ian and Paul.
(March 26, 2009)

It can be argued that the episode aired six months before the premiere of the Vampire Diaries, so this might be a coincidence, rather than a reference.

In 6x05, which is a vampire parody, while Dean and Sam are searching the room a toy Crow appears.
(October 22, 2010)
In 2x10 Sandra said: Did anyone watch "Vampire Diaries" last night? Damien's really gotten out of control."
(January 12, 2017)
In 2x12 a guy said to Sandra: Does your husband or boyfriend like "Vampire Diaries" as much as you do?"
(February 2, 2017)
In 1x02 on the shirts of the lacrosse team there is MFH written on them. A reference to Mystic Falls High.
(June 6, 2011)
In 12x01, Penny says that she's mad about canceling The Vampire Diaries.
(September 24, 2018)
In 4x19 Kalinda mentions Vampire Diaries fan-fiction (about Delena) while Diane has no clue what is she talking about.
(March 21, 2013)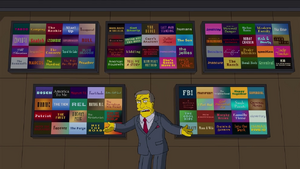 In 30x08 Legacies title card is among the hundreds of TV shows shown on the screens.
(November 25, 2018)
Amour Amour
The pairing of Elena and Damon have been referred in this novel written by Krista Ritchie-"He's not the Clyde to my Bonnie or the Damon to my Elena."
The Lost Herondale
"Sexiest is definitely Drusilla, though if you ask a girl, she'll probably say Damon Salvatore..." Simon shrugged.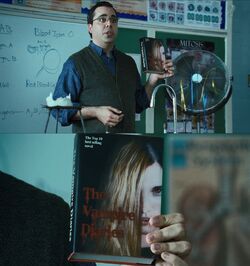 See Also