Wiki Targeted (Entertainment)
Play Sound
"
After I plunge this into your heart, you will be immobilized, imprisoned in a state of raw, inescapable anguish. Time loses all meaning. It's not unlike a living hell, which I find rather fitting, given your treachery.
"
Long Way Back From Hell is the fourteenth episode of the first season of The Originals and the fourteenth episode of the series overall.
Summary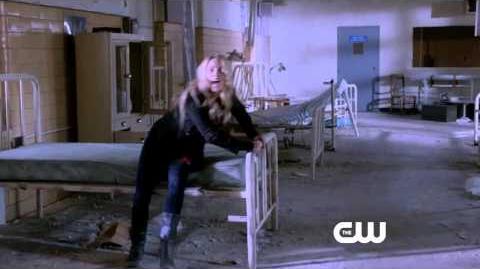 REBEKAH'S PAST CATCHES UP WITH HER — When Rebekah finds herself locked up in the sanatorium where she worked in 1919, she realizes a witch named Genevieve is back to seek revenge and to reveal dark secrets that would destroy Rebekah if she is exposed to them. A distraught Elijah turns to Marcel and Hayley for help when one of his decisions puts Klaus and Rebekah's lives in danger. With time working against them, Marcel realizes he may hold valuable information that could lead them to Klaus and Rebekah, but revealing it will almost certainly result in deadly consequences.
Plot
Cast
Trivia
Continuity
Locations
Behind the Scenes
This episode had about 1.83 million viewers in the USA, which was 0.27 million less than the previous episode.
From this episode onwards, Daniella Pineda (Sophie Deveraux) is no longer credited during the opening credits.
This is Leah Pipes' favorite episode from Season One.
Cultural References
"Long Way Back From Hell" is a song by Danzig released in 1990 on the album Danzig II: Lucifuge.
The story of New Orleans' battle with influenza is a particularly interesting one. A port city, it saw influenza arrive by sea via merchants and sailors. New Orleans influenza epidemic was a devastating one, between October 1918 and April 1919, the city experienced a staggering 54,089 cases of influenza. Of these, 3,489 died – a case fatality rate of 6.5%, and an excess death rate of 734 per 100,000. Only Pittsburgh (806) and Philadelphia (748) - the two cities with the worst epidemics in the nation – had higher death rates.
Tremé is a neighborhood of the city of New Orleans. "Tremé" is often rendered as Treme, historically the neighborhood is sometimes called by its more formal French names of Faubourg Tremé; it is listed in the New Orleans City Planning Districts as Tremé / Lafitte when including the Lafitte Projects. Originally known as "Back of Town," urban planners renamed the neighborhood "Faubourg Tremé" in an effort to revitalize the historic area. A subdistrict of the Mid-City District Area, its boundaries as defined by the City Planning Commission are Esplanade Avenue to the east, North Rampart Street to the south, St. Louis Street to the west and North Broad Street to the north. It is one of the oldest neighborhoods in the city, and early in the city's history was the main neighborhood of free people of color. Historically a racially mixed neighborhood, it remains an important center of the city's African-American and Créole culture, especially the modern brass band tradition.
The fleur-de-lis or fleur-de-lys (plural: fleurs-de-lis) is a stylized lily (in French, fleur means flower, and lis means lily) or iris that is used as a decorative design or symbol. The fleur-de-lis has appeared on countless European coats of arms and flags over the centuries, but it is particularly associated with the French Monarchy in a historical context, and continues to appear in the arms of the King of Spain and the Grand Duke of Luxembourg and members of the House of Bourbon. It remains an enduring symbol of France that appears on French postage stamps, although it has never been adopted officially by any of the French republics. According to French historian Georges Duby, the three petals represent the medieval social classes: those who worked, those who fought, and those who prayed.
Quotes
---
Multimedia

"Grinnin' In Your Face" – Son House


"Creeper" – True Widow
Videos
Pictures
References
See also
Community content is available under
CC-BY-SA
unless otherwise noted.