Vampire Diaries Lore: Lorenzo St. John
Play Sound
"
All those years, I kept a secret from the world. A shred of faith. See, I never believed that life... the universe, a higher power, whatever you want to call it, nothing... would allow me to suffer so much and then die... without knowing true love. It'd just be too cruel. And when I met you... my faith was rewarded.
"
Lorenzo "Enzo" St. John was a main character, minor antagonist, and anti-hero in The Vampire Diaries. He was formerly a major recurring character in the fifth season of the series, before being promoted to main in the sixth season. He was a vampire who was previously Damon Salvatore's cellmate in the 1950s, after being captured by the Augustines. He was first mentioned by Dr. Wes Maxfield, being dubbed as the "Augustine Vampire".
In the fifth season during Man on Fire, Enzo and Stefan fought intensely with one another. Enzo attempted to set Stefan on fire, but Stefan pushed his hand inside of Enzo, grabbing his heart. Stefan refused to kill Enzo, but Enzo stepped back and his heart was extracted. Enzo told Stefan that his revenge was making Stefan explain to Damon how he killed his best friend. Enzo later passed through Bonnie to the Other Side.
While on the Other Side, Enzo realizes that since Markos has entered the world of the living, that the dimension is falling apart. He tried his best to figure out how to get out of the Other Side and put his trust in Bonnie. In Home, Markos was sucked into Hell and Enzo successfully passed through Bonnie, returning to life.
In the sixth season, Enzo began a mission to save Damon and Bonnie from the prison world they were trapped in with the help of Caroline Forbes. He flirted with Caroline and antagonized Stefan for abandoning his search for Damon. After Damon's return, Enzo developed a jealousy towards Stefan and vows to make his life miserable. He forced Matt Donovan to assist him in doing so but later changed his mind when he began to care about protecting Stefan's niece, Sarah Nelson. He later encountered Lily, the woman who turned him into a vampire and who also happens to be Damon and Stefan's mother.
In the seventh season, Enzo allied himself with Lily and the Heretics because of his love for her. Eventually, he began working for the Armory as he was interested in his past and finding out what his family stands for. Enzo also hid Bonnie from the Armory because they needed her to open a mysterious vault. He gave her pills to mute her magic and the two end up falling in love. Enzo is last seen running after Damon into a vault in the Armory when suddenly discolored, long-clawed hands grab his face and pull him backward out of view.
He and Damon are then enslaved by Sybil and required bring her victims to feed off from. Enzo is freed from her control and he Bonnie begin spending time together. After they arrive at her house, Enzo overhears something about the cure. When Stefan uses the real estate agent, Karen, to sign the house over and invite him in, Enzo tries to get in, but to no avail. Bonnie notices something wrong and she sees him fall to the ground, dead, with Stefan having extracted his heart out. After his death, Enzo remains with Bonnie after she created her own dimension and he helps her with her grief and anger towards Stefan for killing him. This culminates in Bonnie letting go of Enzo, at his request, to save Lizzie, Josie and herself. In a flash-forward, he watches over her as she begins packing to travel the world.
Lorenzo was a member of the St. John Family.
Early History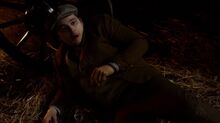 Lorenzo was orphaned as a child, with no idea who his real family was. By the age of four, he was forced into the workhouses. By fourteen, he was living out on the streets, fighting for scraps to survive.
In 1903 Southampton, England, Enzo was denied passage on a ship to New York because of his consumption, but Lily Salvatore helped him get aboard the ship so that he could see a doctor on the ship. However, he turned out to be a charlatan. Lily gave Enzo her blood in order to turn him into a vampire, and he later died of consumption before the ship docked in Manhattan Harbor. Before awakening in transition, the Gemini Coven caught up with Lily and her traveling companions, the Heretics. She and her family had killed everyone aboard except the charlatan doctor, leaving him to Enzo so he could complete his transition. He believed that Lily had left him and was unaware that she had been sealed in a Prison World.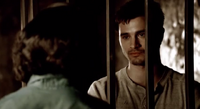 Enzo was found by the Whitmore family after he left his post in Eastern Europe during WWII. He was imprisoned by Dr. Whitmore, who shipped him overseas in a coffin and forced him to endure his torture and experimentation for ten years. In 1950, Enzo remained a prisoner of the Augustine Society and was used as an experiment in the laboratory at the Whitmore House. Maggie James was responsible for the study of his behavior and took notes about him. They began to develop feelings for each other later on. Later, Maggie wanted to help him escape and she asked him to turn her into a vampire. She wanted to escape and be with him forever, but Enzo, in order to protect her, took off her vervain bracelet, and compelled her to forget about him and leave. He returned her bracelet and she left.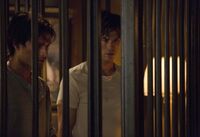 In 1953, Damon Salvatore was imprisoned by Augustine and Enzo reached out a hand of friendship to the young vampire. They would talk about many things to keep their hope of escape up. Enzo planned to have Damon take his ration of blood for a year so that he would be stronger and assist in the escape. During the annual New Year's Eve Party at Whitmore, Damon broke free of his chains and attacked everyone but, in the process, caused a fire. Enzo was still stuck in a cage laced with vervain and Damon attempted to free his friend to no avail. Realizing that he could not free his friend and fearful that Augustine would take him back, Damon turned off his emotions and abandoned him. Enzo continuously screamed for his friend to free him and was presumed dead.
Throughout The Vampire Diaries Series
Personality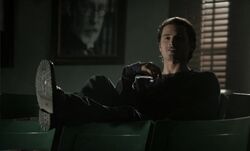 Enzo is a charismatic person who had lived quite a fulfilling life prior to his imprisonment by Augustine. Despite his imprisonment, he remained optimistic and hopeful to one day escape and possibly take revenge on Augustine for their torture on him. After it is revealed that he was still alive and imprisoned, Enzo seems to have become mentally unhinged as a result of the five decades of torture, as he slowly hums a song just after he introduces himself to Elena. He also showed immense anger towards Damon for being unable to save him, nevertheless after rekindling their friendship, he refused to abandon him when he turned into an Augustine Vampire. He shows that he is loyal and would never abandon those important to him. He is also shown to have a vengeance streak as seen when he helps Damon with the Augustines, when he finds out Maggie was killed by Damon, and that the people who knew that he was dead didn't mention anything to Damon.
Enzo continues to show acts of loyalty to his friends, mainly Damon, looking for leads to find Damon, and punishing Stefan for giving up on Damon. Enzo clearly misses his friend and even kills Stefan's girlfriend for giving up on Damon, and for making his friend Caroline cry. Enzo is willing to do whatever possible for those he cares about.
Physical Appearance
Enzo is very handsome, with short jet black hair, dark eyes, light olive skin and a solid jaw line. He physically appears to be in his mid twenties despite being nearly one hundred years old. Enzo presents a devil may care attitude in his appearance and is always seen with a cocky smirk, much like his close friend, Damon Salvatore.
His style consists of darker clothing; black shirts, scarves and thick jackets, boots underneath darkened jeans and black trousers, although on occasion has been seen wearing lighter colors, which in general is a "bad boy" style.
Powers and Abilities
Enzo possessed all the standard powers and abilities of a non-Original vampire.
Unlike some of the other younger vampires Enzo possesses a high resilience and tolerance to pain, torture, offensive spells and psychic attacks, having been the Augustine's "lab rat" for approximately 70 years while enduring countless horrific experimentations. He was observed impaling himself with a wooden shaft with no visible signs of discomfort, as well as being able to momentarily ignore the effects (losing consciousness and significant weakening) of a concentrated vervain shot used on him by Tripp.
He is also a skilled fighter. He is physically strong enough to fight Stefan and Damon (individually) on near equal grounds, though ultimately nearly losing his heart due to extraction from Damon. Given his age and prowess, he like many others, were no match for superior supernatural species such as Bonnie when she was the Supernatural Shamanistic Huntress.
He is also one of the few vampires to express knowledge and skill in swordsmanship, having confronted Julian, a vampire more than three times his age, in a sword fight and proved quite capable of fending for himself. However, it should be noted Julian ultimately defeated Enzo.
Most recently, Enzo has demonstrated that he has a mental fortitude beyond comparison for a vampire of his age (due to the Augustine experiments). When on guard, he can repeatedly fend off the psychic attacks from Sybil who has only been able to enter his mind when first surprised (her initial release from the vault) and a second time when Damon struck his chest and gripped his heart.
Weaknesses
Enzo had the typical weaknesses of a non-Original vampire.
Attitude towards humans
It is unknown what Enzo's original views on humans were but after years of torture, Enzo seems to have little respect for human life. He has fed directly from them and did not show any remorse when attacking or killing people. He did however fall in love with a human named Maggie James, and was unwilling to turn her when she asked him to help him escape Augustine. Instead, he compelled her to forget and leave him, not wanting to see her harmed or corrupted by becoming a vampire.
Relationships
Main article: Damon and Enzo
"Enzo's friendship kept me alive, he gave me a reason to hang onto my humanity"
—Damon to Elena about Enzo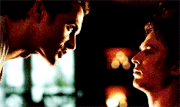 Enzo met Damon in 1953. They were both captured and tortured by the Augustine society for scientific purposes. Having been in captivity ten years longer, Enzo taught Damon how to "live for the future", when they're free instead of the moment, individually planning their revenge. Enzo seemed to care for Damon, one day allowing himself to be tortured in Damon's place. On the night of their planned escape, Dr. Whitmore opened the cell and lead Damon out near the party guests; Damon got himself free from his bound chains and gouged out Dr.Whitmore's eyes; causing an uproar with the house guests, a guest (trying to escape) accidentally knocked over the candelabra and it caused a fire to happen and Damon was unable to free Enzo, and turned off his humanity to escape the pain of his "death" before abandoning him. Damon and Enzo are currently best friends. However, after recent events that strained their friendship, for example: Enzo choosing Lily over Damon, they aren't as close as they used to be and are currently frenemies. Currently, the creature from the Armory has mentally incapacitated both Enzo and Damon to act violently. They are working together, are close friends again, and they are killing numerous of people across the United States East Coast.
Main article: Bonnie and Enzo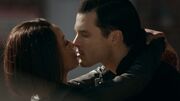 Initially, Bonnie and Enzo met under tense circumstances and they sometimes interacted with each other in hostile manners. They always shared a semi-antagonistic relationship, but Bonnie saves Enzo's life after he was almost sucked into Oblivion from the Other Side collapsing. After this, they remain sort of cordial with each other, especially since they began an alliance at the beginning of Season Seven. Also, during Season Seven, Bonnie gave Enzo advice on how to handle Lily Salvatore's rejections and Enzo saved Bonnie's life before the Armory could snatch her. While in hiding from the Armory, Enzo and Bonnie grow closer in friendship despite still acting slightly antagonistic with each other, but this is short lived when they share their first kiss in the cabin they were hiding in together. Three years pass and Enzo and Bonnie are in a romantic relationship and are in love with each other. Bonnie desperately tried to save Enzo's life from the siren which mentally incapacitated Enzo as well as Damon Salvatore. Bonnie is eventually able to rescue Enzo and restore his humanity. The two move into Bonnie's recently purchased B&B in upstate New York - they express their deep love for one another and a shared desire to get married and, eventually, have children, to which Bonnie offers him the opportunity to take the cure. Their relationship, however, is tragically cut short by Stefan by murdering Enzo. Bonnie eventually lets Enzo go and continues on to fulfill his final wish for her - for Bonnie to live her life to the fullest and travel the world. Having found peace, he watched over Bonnie as she packed her bag for her trip to Africa.
Main article: Caroline and Enzo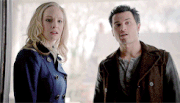 They meet when Caroline is surprised by Enzo who appears in the laboratory of Wes. He says that he is there for the same reason that she is; he wants the vampire-feeding virus out of their lives. Enzo tells her that Damon mentioned that she gets a little judgy and that he also said that she had a thing for accents. Enzo tells her that he knows of the cure to the ripper virus. While they work together to get the antidote Enzo flirts with her, but Caroline usually isn't sympathetic with him. They decide to take a road trip together to save Stefan and kill his doppelgänger. He tells her that She reminds him of Maggie. After Enzo kills Tom for Caroline, their relationship seems to have worsened, but Enzo anyway is always trying to be nice with Caroline besides tell her what his real intentions to find Maggie, his love of the past, Caroline seemed to like that.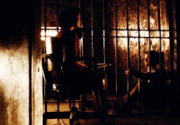 "Forget that I love you."
—Enzo to Maggie
Maggie never appears on the show in the present except for a couple of pictures of her dead body. They meet when Enzo was a prisoner on the Augustine Society. She worked for the Whitmore's and would take notes on Enzo, his behavior, etc. She would never get really close and always wore her vervain bracelet but in time they fell in love. She wanted Enzo to make her a vampire and escape with him. Enzo loved her enough and knew it would be too dangerous, so he tricked her and compelled her to leave. A couple of years later she somehow still remembered and went after Damon Salvatore because she thought Enzo was dead, but Damon killed her instead. In the present we see Enzo looking for Maggie and helps the Travelers to get some answers but turns off his emotions when he finds out she is dead. Since she would be old by now, he mentions that he isn't looking to date her, but to thank her.
"You deserve better, Sarah Salvatore."
—Enzo to Sarah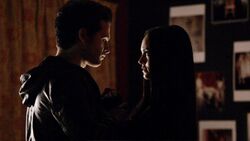 Enzo first saw Sarah in Woke Up With a Monster, after he learned about the "secret" of Stefan. Enzo due to personal dislike to Stefan decides to find out who this Sarah is and Stefan tells him that Sarah is the daughter of his nephew Zach, that is distant niece of Stefan. Enzo decides to take revenge on Stefan through Sarah, that is, use her, and then turn her into a monster. Lorenzo forced Matt to wriggle Sarah's confidence to know about her, and soon is brought together enough information and act out scenes where he is like hero saves Matt in front of Sarah, he shows her his vampire-face. Enzo knew that she would look for him after that. Lorenzo was right, Sarah found him in a cafe when he drank tea, and she photographed him. Enzo noticed it and again showed his vampire-face. Then, he was behind her back and said that he other angles look much better. He slightly shocked Sarah his abrupt appearance. Sarah began to threaten Enzo that she has proof on a flash drive, about what he is. Then Enzo broke flash drive and told Sarah that he was too strong, fast and rich. The girl said that she wanted to know everything about him, as Enzo planned. Enzo, hoping to frighten Sarah revealed that he is a vampire. Sarah did not seem surprised, and that shocked Enzo. Later it turned out that Stefan compelled Sarah not to be afraid of all that is associated with vampires. When Alaric told Enzo yesterday because of him innocent girl excised spleen, Enzo rethink his attitude toward Sarah and decided that this was a bad idea and that he is better than this. He came to Sarah in the hospital and she was pretty happy to see him. She asked if she had called him last night, but Enzo said that letting her into his life was a mistake. Then, he said that she deserves better and left. Before that, he called her real name, making her to think. However, Enzo, because of his friendship with Damon, who also is a distant uncle of Sarah, who killed her mother, wanted to acquaint her with the Salvatore brothers. But the door to the house was opened by Lily, mother of Damon and Stefan, and Enzo was terribly surprised and frightened when he saw her. He quickly said that was wrong house, took Sarah and they got into the car and drove away. Sarah did not understand what was happening, and Enzo explained that he knew this woman. He said that she is the Ripper. Enzo realized he did not know what to do, and that idea with Sarah was initially unsuccessful. Enzo compelled Sarah to forget everything that was, but it is on the vervain and inject a dose of Enzo him to tell her the whole story. Enzo woke up tied up in the house of Sarah, she said that Matt told her about the plan of Enzo and she seemed very angry and upset that have believed Enzo. Enzo told her that she was dragged from her dead mother, and that he really wanted to use her and changed his mind. Enzo said what exactly because of this Sarah attracts the darkness and she confirmed his words. Enzo was frank with her and talked about how he became a vampire and he wanted to make with her the same. Sarah asked him about that he did not do it because she does not want to know any of the biological family. Enzo let go of her and wished her a good life.
Other Relationships
Appearances
Episode Absence
| | |
| --- | --- |
| In Season 6, Enzo doesn't appear in 5 episodes: | In Season 7, Enzo doesn't appear in 5 episodes: |

In Season 8, Enzo doesn't appear in 2 episodes:
Name
Lorenzo is a Spanish and Italian masculine given name of Latin origin derived from the name Laurentius. It is used in Spain, Italy, and other Latin European and Latin American countries. Enzo is of Italian and Old German origin, and the meaning is "home ruler", variant of Henry.[4]
Trivia
He is experiment number 12144 in the Augustine Society.
Damon and Enzo were best friends and in the present day, his only friend is Damon.
Enzo is one of only ten recurring characters that appear in more than 10 episodes in it's inaugural season. The other nine being Annabelle who appeared in 11 episodes during Season One, Elijah Mikaelson who appeared in 12 episodes during Season Two, Rebekah Mikaelson, who appeared in 17 episodes during Season Three, Atticus Shane who appeared in 12 episodes during Season Four; Nadia Petrova and Wes Maxfield who appeared in 12 episodes each in Season Five; Josette Laughlin and Malachai Parker who appeared in 17 and 16 episodes respectively in Season Six and Rayna Cruz who appeared in 13 episodes in Season Seven.
Damon left him to die in the fire at Whitmore when he turned off his emotions because he couldn't free him from his cage.
He was a Soldier in WWII which lasted from 1939 to 1945 which puts him the army around the same time as Stefan Salvatore, who we see in his uniform in flashbacks in We'll Always Have Bourbon Street and TO's Thierry who was also a soldier in the 1940's.
He met Caroline Forbes in While You Were Sleeping and has shown an attraction towards her.
Enzo built up a resistance to the vampire weakness of wood due to the experiments he endured, this is proven when he jabs the wooden end of a shovel into his own body, and was amused that Stefan thought he could hurt Enzo, asking what he thought he could possibly do to him that wasn't done 100 times over. Even when Stefan went to rip his heart out, Enzo was not in pain like a normal vampire.
Enzo is the only TVD character that does not appear to be based off any character from the novels.
In No Exit, Enzo was turning humans into vampires to feed Damon and satisfy his hunger for vampire blood every 8 hours.
In No Exit, The Travelers confine Damon and Enzo in a house using magic so Wes could test Damon's limitations of his new strengths.
He knew about werewolves, but thought they were just a myth.
He was looking for Maggie until he found out about her death in Man on Fire.
He died with his emotions off in Man on Fire, but was brought back to life in Home.
His casting call name was Elliot before it was changed to Enzo.
I'll Remember was the first episode to credit him as a main character.
It is unknown what bloodline Enzo is from, but it can be assumed he is part of Niklaus, Elijah, or Rebekah's, as those descended from Kol, Finn or Mikael's bloodlines perished with their original deaths.
If you calculate the 70 years Enzo spent in captivity with the Augustine Society X the average working hours of 8 hours a day by 365 days a year X 70 years he spent 23.3 years on the operating table and 46.66 years in his cell
In Black Hole Sun it is revealed that Enzo turned Ivy into a vampire.
In The More You Ignore Me, The Closer I Get, it was revealed that Enzo had originally died of consumption (Tuberculosis).
In 1903, Enzo was turned into a vampire by Damon and Stefan's mother Lily to save him from Consumption.
In a flash forward in Live Through This, Bonnie and Enzo are shown kissing passionately, implying that they are gonna be in a romantic relationship some time in the future.
In Hold Me, Thrill Me, Kiss Me, Kill Me, Lily and Enzo shared their first kiss, he wanted her to run away with him but she said she could not.
Both of Enzo's deaths as a vampire were almost identical. Both times he was killed by Stefan Salvatore, despite forcing Stefan on his first death, and died by having his heart extracted by Stefan on both occasions.

On his first death as a vampire, his humanity switch was turned off while Stefan's was on, yet ironically on his second death, Stefan's switch was turned off while Enzo's was on.
Quotes
Season Five
(To Damon) : "Welcome. Dr. Whitmore never gets tired of watching us vampire heal, but he gives us one glass of blood per day, just enough to keep us alive. Pick yourself up, soldier... My name's Enzo. "

(To Damon) : "The one where you get your revenge. For instance, in my future, my revenge will start with killing Whitmore's dog and mailing it to his house postage due. Go on. Picture your revenge. Use your imagination. "

(To Damon) : "Neither am I. Any other interests... fine wines, travels, cars?... I'm partial to Jaguars myself, convertibles, the kind you take on a Sunday drive to impress a pretty girl. Ever done that? "

(To Damon) : "Eh, too many to count... Actually, there was one. Her name was Maggie. "

(To Damon) : "She was kind to me. She used to sit here in the hallway taking notes while she observed me. "

(To Damon) : "You have to understand she... she wasn't part of the torture and the experiments. For the longest while, she didn't realize that Dr. Whitmore was doing more than just observing my behavior. I didn't have the heart to tell her. I was just so glad of her company, you know? "

(To Damon) : "When she finally realized what was going on here, she couldn't bear it. So she said she was sorry, and she left. "

(To Dr. Whitmore) : "I take that as an insult! I have far more energy than my neighbor here. "

(To Damon) : "I'm sure I can only try with your help. We've just got to choose between us. "

(To Damon) : "All right, Damon. We're gonna play scissor, paper, stone to decide. "

(To Damon) : "All right then. A win's a win. You'll lead the way. Here's my ration. Now we've got 364 days to get you ready for the party. Cheers. "

(To Damon) : "Please don't leave me! Damon! Come on! Damon! Damon! Please! "

(To Elena) : "Welcome. I'm 12144. My name's Enzo. "

- The Cell

---

(To Stefan) : "Lorenzo, but my friends call me Enzo. Ah. Kidding. I don't have any friends. "

(To Damon) : "That's your first question for me? Not "How are you? How'd you survive in that fire I left you to die in? "

(To Aaron Whitmore) : "I'd love to. Have a seat. Been waiting 70 years to tell my story. "

(To Stefan and Aaron Whitmore) : "Damon and I had been locked in those cells for years, tortured, beaten, humiliated, but we weren't gonna let them break us, no. We decided if were going to escape, we needed to work together... We needed each other. "

(To Stefan) : "Tragic. Can I continue my story now, please? "

(To Stefan and Aaron Whitmore) : "Where were we? Uh, ah, right. I was telling my story, and you were all politely listening. Huh?... So I'd given Damon all of my blood ration so he'd have the strength to escape and save me in the process. Our plan began perfectly, didn't it? "

(To Stefan, Damon and Aaron Whitmore) : "I was waiting in the cage for him to release me, waiting for my friend, my cellmate, the only soul with whom I'd connected with in all those years of captivity. "

(To Stefan, Damon and Aaron Whitmore) : "Then a fire starts, burns out of control, but Damon just can't get the damn cage open. "

(To Stefan, Damon and Aaron Whitmore) : "He looks me in the eye as if he doesn't even recognize me, turns around, saves himself, leaving me to die. "

(To Stefan) : "No. Unfortunately I lived. I was spared by one of the scientists so I could spend another 50 years on a table being opened and closed. Now that we've all been acquainted, I'm gonna find something to wet my whistle. "

(To Stefan, Damon and Aaron Whitmore) : "Ah. It's frightening what you can find on campus these days. "

(To Stefan) : "Damon's not. Damon's staying right here. He knows all my secrets, so he knows how ornery I can get when I don't get my way. "

(To Damon) : "Oh, shame. Fun sport. Not that I can play. Took up drawing for a while. Of course I had no pencil, so I'd just prick my finger and paint the cell wall with my blood. "

(To Damon) : "Did you even think about it after you left, the experiments, the cell, or did you just go out and live your merry life to its fullest? "

(To Damon) : "You're not gonna see your girl again, Damon, because I want the antidote, and Wes told me not to come back until you were dead. "

(To Damon) : "I imagine you just broke your clavicle. Probably a few lumbar and thoracic vertebrae. It's funny what you learn about your body when it's taken apart like a bloody automobile right before your eyes! "

(To Damon) : "hat are you gonna do then, run? You're good at that. "

(To Damon) : "While you were out running wild, I had one single thought, that I'd have the pleasure of killing you "

(To Damon) : "Or what?! You never see her again? It might be good for you to know what it's like to miss someone for the next 60 years. "

(To Damon) : "If this is some attempt to make amends, it's a bit pathetic, mate. "

(To Damon) : "And now what do you feel, remorse, regret, pain? Even if I forgave you, Damon, would that make you less of a horrible person? "

(To Damon) : "You were the most important person in my life, and you ruined me, but that's just who you are, that's who you'll always be... A monster. "

---

(To Damon) : "God. I love a good fire... Oh. That's so wrong, isn't it? Since you left me to burn alive in one. "

(To Damon) : "More like who. Uh. Since you and I last spoke, I've done a bit of soul searching... had a trip to the barber... did a little research, which revealed to me that you killed almost every member of the Whitmore family in the years since you escaped, leaving just one alive each time to carry on the family name -- producing a whole new generation of victims for you to slaughter... exactly as you said you'd do back when you and I were cellmates. "

(To Damon) : "And it's occurred to me that perhaps I wrote you off too quickly. That, in fact, the Damon Salvatore I remember is alive and well. I have a present for him. "

(To Damon) : "He's the last of the Whitmore clan. Do you remember this vervain wrist watch? Dr. Whitmore never took it off even when he was rooting around in our chest cavities. How fitting that Aaron should die while wearing it too. So.. do you want to kill him, or shall I? "

(To Damon) : "As much as I've enjoyed your quality bourbon, I feel confident our next drink will taste better with young Aaron's dying screams ringing in our ears. And your final act of revenge will bring us both closure and a new beginning. "

(To Damon) : "His grandfather split our eyes open with a scalpel. You've taken it out on everyone else in the Whitmore family. I thought you'd want this. "

(To Damon) : "No because that would force me to believe that you've gone soft, when you and I both know that your first impulse when I presented him to you was to rip out his throat. Show me my old friend is still in there someplace. "

(To Damon) : "It's time to come to a decision, Damon. Do you want to kill him, or shall I? "

(To Aaron Whitmore) : "Never better. We've been waiting for you. "

(To Damon) : "Damon's teaching me a little game. See, he assured me you'd be on this road, heading out of town. "

(To Damon) : "Now that's the Damon Salvatore I remember. "

---

(To Stefan) : "It was my idea if it makes you feel any better. "

(To Stefan) : "Say, you haven't heard from Dr. Wes Maxfield by any chance? Bloke's next on the Augustine hit list, and he's a slippery little devil. "

(To Stefan) : "What do you say? Shall we get you a new hobby? Golf..., scrapbooking? "

(To Damon) : "So, once we've finished off this Augustine mess, what do you say we do a road trip? I was thinking South America, Cape Horn. Sailed pas but never stopped over. "

(To Dianne Freeman) : "Oh, that's ironic, isn't it? You know, since we broke in and kidnapped you from your office. "

(To Dianne Freeman) : "A mother. Ah. Interesting. Well, then you can imagine how heartbreaking it would be to learn that your child committed suicide, especially when said child was actually murdered by a vampire, a murder covered up by you. "

(To Stefan) : "Ah, but it's so much more fun when you can just commit to the leap. You're welcome to join in on the fun. Looks like you could use it... Good man. "

(To Stefan) : "You think that hurts? I'm curious, Stefan. What do you think you can possibly do to me that hasn't been done a hundred times before? Go on. Give it your best shot. "

(To Damon) : "What have I missed? She denied your request yet? Can we get on to the fun bit? "

(To Bonnie) : " I'm the one who gets people to do things they don't want to do. "

(To Damon) : "Let them know that Jeremy will be dead very soon. "

(To Jeremy) : "Damon tells me your sweetheart hasn't come through on your behalf. "

(To Jeremy) : "You know, you're right. She'll think I'm just some cliche murderer. I really like to make a good impression, you know? "

(To Jeremy) : "You see, that's the thing about threats. If there's no follow-through, no one takes you seriously. "

(To Stefan Salvatore) : "Did I give you the impression that I was taking orders from you? My bad. "

(To Damon) : "You missed all the fun. "

(To Damon) : "Brilliant. I'll drive. "

(To Damon) : "So, what do you say? Paper, scissors, stone for who gets to give Dr. Frankenstein his fatal blow? "

(To Damon) : "Now don't tell me you're having second thoughts about leaving home. "

(To Damon) : "Okay. I can see how this might be a problem.. "

---

(To Damon) : "You think they fell in love milking cows? "

(To Damon) : "Just because you lost your true love doesn't mean you have to dump on others. "

(To Damon) : "Manners! It's impolite to speak ill of our hosts. "

(To Damon) : "Please. Alright cranky. It's been almost 8 hours since you last fed. So I suppose that's about right. "

(To Damon) : "You feed on vampires now. I am a vampire. The only way to ensure my safety is to know how long you can last until your next fix. "

(To Damon) : "I don't abandon my friends, Damon. Besides, if you hadn't come with me to kill Doctor Wes, he wouldn't have stuck you with that nasty virus. "

(To Damon) : "Stop trying to scare me, Damon. I'm not leaving you. I'm the only friend you have left. "

(To Damon) : "I didn't realize you liked to play with dolls. "

(To Damon) : "Well, we've got 8 hours until you need to feed again. I wonder, what New York's like these days "

(To Damon) : "Give it up mate. Those travelers sealed this whole place up tight. "

(To Damon) : "It doesn't need to. Wes only needs it to last 8 hours. Remember? Then he can come back inside and autopsy my mangled corpse. "

(To Damon) : "Did you forget everything I taught you in that cell? Calmer heads will always prevail. "

(To Damon) : "But you do have people we can call, like your brother or your ex. They can find Wes and threaten him, or maim them. Anything that doesn't involve your fangs on my neck. "

(To Damon) : "or they will and you might hurt them. You don't want to risk them, do you? Me, on the other hand... "
(To Damon) : "Don't be dramatic. We'll work something out. "

(To Damon) : "You've given it all of two days! That's what you do, isn't it?There's a problem, you run. You did it to me, you did it to your girl... "

(To Damon) : "We're not all as fragile as you think we are. "

(To Damon) : "And I told you your pride isn't worth either of our lives. "

(To Damon) : "It'll be alright, mate. They'll come and we'll sort something out. "

(To Damon) : "Those are also options. As long as I live, I'm good. Joking! Kind of. "

(To Wes) : "If you were aiming for my heart, you missed! "

(To Damon) : "Boy, do I miss the indestructible Augustine cage right about now. "

- No Exit

---

(To Caroline) : "So werewolves are real? I always thought that, was, you know, a joke. "

(To Caroline) : "I'm here for the same reason you are.. I want this vampire-feeding virus out of our lives. "

(To Caroline) : "Right. Damon mentioned you get a little judgy. Then again.. He also said you had a thing for accents. "

(To Caroline) : "Then you're not the least bit impressed that I have the antidote? "

(To Stefan) : "Or I can just tell her.. considering I was lying in the road when he stopped his car. "

(To Caroline) : "You'll have to excuse Sloan. She's under a bit of stress. The leader of the travelers, Marcus, was it? "

(To Caroline) : "If you don't trust me, you're welome to join, Goldilocks. "

(To Caroline) : "The engine's running blondie. I appreciate the call. Let's go do this thing. "

(To Stefan) : "No mate. You aren't. They need to use you to get *unknown*. "

(To Caroline) : "Tick tock, gorgeous. Time is of the essence. "

---

(To Sloan) : "Atlanta assassination squad. How may we be of service? "

(To Sloan) : "You told us to find a nameless paramedic at the scene of a car accident in a city of freeways, fried green tomatoes and terrible drivers. It's not exactly as easy as it sounds. "

(To Sloan) : "I'll kill you too? You're like a perky, blonde angel of death. Almost had me convinced. "

(To Caroline) : "Okay. I give up. I can't tell if you're avoiding the mission, or me. "

(To Caroline) : "Because I've earned some company, after hand delivering the antidote that kept Damon and Elena from consuming each other.. Literally. "

(To Caroline) : "Damon's trying to be a good boy these days, which means I'm in need of a new murder buddy. "

(To Caroline) : "I'm joking! A joke.. british humor... "

(To Caroline) : "Ahh. Modern women. No bosom, no mystery. Present company excluded. "

(To Caroline) : "Why not? From what Damon tells me, I am your type. Well traveled, charming accent, dodgy morals... "

(To Caroline) : "Precisely. Well,to be honest, you remind me of someone I once knew. She was one of the Augustines. "

(To Caroline) : "It's a miracle we found the place. Every little street in this blasted city is peach tree. "

(To Caroline) : "70 years in a cage.. You'd think I'd learn to pick a lock by now. "

(To Caroline) : "Exactly. And I am a murderous vampire. Surprise! "

(To Caroline) : "She was in a bloody trance; unable to answer questions. I don't see why you're mad. I'm only doing what's necessary to save your friend, because you won't. "

(To Caroline) : "This" being the cold-blooded murder of an innocent man. You can hardly say the word. How do you expect to actually do it?"

(To Caroline) : "You've got me all wrong, Caroline Forbes. I'm not judging you. I'm preparing you."

(To Caroline) : "I've seen soldiers, men trained to kill, look their enemy in the eye and freeze up on the battlefield; A hesitation that usually costs them their lives."

(To Caroline) : "Why would a witch go to such lengths to keep a man alive and off the grid for four months? "

(To Caroline) : "There's a dead ringer, all right. Or, rather soon to be dead. "

(To Caroline) : "Or maybe you just can't stand the thought of putting Stefan's life into anyone's hands but your own. "

(To Tom Avery) : "We're angels mate, we've come to deliver you to this sweet hero. "

(To Caroline) : "Because you aren't the only one that cut a deal to save someone's life. That old flame I mentioned, Maggie, the travelers claim they know where to find her. "

(To Caroline) : "No. I'll earn her forgiveness in time. Because unlike you, Caroline, I'm willing to do whatever it takes for the people I love. The travelers moved to some junk yard outside Mystic Falls. Feel free to tell Stefan you're the one who saved his life. "

---

(To Damon) : "So, you broke up – that I get – and slept together – not smart, but again, I get it. Now, here's where it gets a bit hazy for me. You went to a parent-teacher conference? "

(To Damon) : "Right. And then the kicker: you offer to drive her back to campus and she says she can't be around you. I mean, I'm just confused even thinking about it. I can't imagine how you feel. "

(To Damon) : "Yeah, of course. A friends phase, where you, her friend, watch as she moves on with her life, finds a new boyfriend, perhaps a nice gentleman from a fraternity – Chance, or Brock. "

(To Damon) : "I haven't found her because the Travelers, i.e. my only lead, decided to play a fun game of spontaneous combustion before giving me what they promised. "

(To Damon) : "We could always go kill people! But I suppose that's what got you into this problem in the first place. "

(To Damon) : "Can you lose again or shall we move on to step two of Elena-less Damon? "

(To Caroline) : "Temptation: one, Enzo… Hello Gorgeous! "

(To Damon) : "You know what she's not telling you. Someone is having sex dreams. "

(To Caroline) : "Or we could stay and let them amuse us as they resist the desire to tear each others clothes off. "

(To Caroline) : "Ouch. She used the F-word. Poor bastard. "

(To Caroline) : "Oh, it is, but it was never explicitly stated until now. "

(To Caroline) : "Because, until it's officially out there, there's still hope. And hope...hope can trick you in all sorts of hilariously unrealistic scenarios. "

(To Caroline) : "Well, the Travelers forgot to tell me where Maggie was before they lit themselves on fire. "

(To Caroline) : "70 years in captivity and she was the face I clang onto. Just the notion that one day I get out and see her again. I don't wanna date her, Caroline. I wanna thank her. "

(To Caroline) : "If the visions are a road map, then we need more clues. Break out the popcorn, blondie. Elena's little sex romp isn't over yet. "

(To Damon) : "I wonder if this is where Stefan and Elena had crazy vision-sex. Eh, it's probably the bedroom. Stefan's pretty vanilla, but apparently that's Elena's favorite flavor. "

(To Damon) : "Well, would you look at that. I think we just met the universe. "

---

(To Damon) : "And to what do I owe the pleasure? "

(To Damon) : "Don't envy you there, mate. "

(To Damon) : "Sadly I've got to take a rain check. I'm late to meet some people. "

(To Stefan) : "I can't join my friends for a cup of tea? "

(To Stefan) : "No need to be rude. I've come here for a chat. "

(To Elena) : "Elena, darling, perhaps Caroline told you I've been searching for someone I once knew, a woman named Maggie. "

(To Elena and Stefan) : "Maggie worked there as an observer, taking notes on my behavior. She never got too close, never took off her vervain bracelet, but we spent hours and hours talking, and we developed an attachment. Now she left in 1950. I imagined her one day teaching at one of these fancy universities, starting. "

(To Liv) : "Liv! A little service here, please. "

(To Stefan) : "Ok, Stefan. Are you ready to talk about what you did to the love of my life? "

Enzo: " Too many witches under one roof makes me nervous. I'll let you know if he needs to die."

(To Elena) : "Place opens at eight, you got here at nine. Do the math, college girl. "

(To Stefan) : "I will gladly release them once you admit you killed Maggie. "

(To Stefan) : "That's what this is for. (He pulls out a small book.) Police found it on her body at the crime scene. "June 10, 1951, I found a job at a preschool. I love the kids, but still I feel lost, listless. March 1953, while my girlfriends have all found love, for some reason, I can't seem to connect with anyone, as if a part of my soul is missing or dead. My sister said there are more men in the city. Maybe I'll move." Now it turns out she did move to the city in 1958, and in the move, she uncovered a box that she hadn't touched in years-- Medical journals from 1950, covered in notes about a special vampire patient named 1-2-1-4-4. Of course, when she came back, Whitmore house had burned, and it was concluded that I had perished in the fire. You're a journal man, aren't you, Stefan? "

(To Damon) : "I take it you don't have Stefan's diaries handy. I need you to check his journal for an entry on November 8, 1960. "

(To Damon) : "Well, just trying to settle a little debate. No matter. I'm right. How you hanging in there, man? I heard you exiled Elena from your eye line. "

(To Damon) : "Not for long. I reckon one will be dead soon-- Eye for an eye and all that. "

(To Damon) : "The problem, if you must know, is that my girl Maggie, the one who got away, it turns out she didn't get away for long. Your ripper of a brother took a big bite out of her neck membrane in the sixties. "

(To Stefan) : "Got to jet, mate. Nothing personal, just a bit of revenge, you understand? (he ends the call) Any history majors in the house? Ah. Trick question. I compelled them all not to speak or react. Never mind. We'll use this. (looking at his phone) 1960. Let's see. Ford thunderbirds, Lincoln continentals, unseasonably cold that year. Tuesday, November 8, John F. Kennedy was running for president. "

(To Stefan) : "So it was the other ripper in Mystic Falls then? "

(To Stefan Salvatore) : "What exactly happens if you die anyway? Aren't you technically already dead? Should we find out? "

(To Maggie James) : "More than anything in this world. "

(To Maggie James) : "Leave, Maggie. Leave and never come back, and when you go, forget I ever existed, forget that I love you. Wait. "

(To Stefan) : "I used to scream, too, but for me, it wasn't so much the sharp instruments as it was the fingers. Those bloody fingers. Like I was a ball of dough. "

(To Damon) : "If I didn't know any better, I'd say that was a veiled attempt to get to release the damn hostages. "

(To Damon) : "You were there with me in Augustine. Look. Don't tell me you've forgotten what it was like to cling onto the one thing that kept you from feeling pain! "

(To Damon) : "Well, that's the problem, Damon. I don't want to hate you. Because if I hate you, then I have nothing left. There is another option. "

(To Damon) : "There we are. You're right! I don't have a care in the world. "

Enzo : " Ahh. This is fun, not caring. "

Enzo : " To Maggie James for whom I feel absolute and blissful detachment. "

Enzo : " All right. Everyone's free to go! Show's over! Don't worry. I compelled you all to think you spent the day studying like the good, little students you are. (to Liv) Except you. Stay. I want to test something. "

(To Liv) : "Look at that. I don't even feel obliged to say thank you. "

(To Elena) : "I think you mean when I kill you, you'll be dead. "

(To Elena) : "I know why Damon doesn't want to deal with you anymore. You don't shut up. "

(To Stefan) : "Bet you wished you'd murdered me back when you had the chance, but Damon would have been furious. I think it's time we both stopped coddling him. "

(To Stefan) : "Now where is my lighter? Maggie's lighter, I should say. I wonder what she'd think of all this. Of course, who knows what lies in the great beyond for a mere human like Maggie James? Probably nothing. It's probably just as well she's not watching this. I believe it might upset her. "

(To Stefan) : "Shall we burn together, you and I? Perhaps just you. "

(To Stefan) : "Don't you? Isn't there a part of you that thinks I can be redeemed? "

(To Stefan) : "Better yet, wouldn't it be a sweet piece of revenge when Damon finds out you killed his best friend? Have fun sorting this out with your brother. "

(To Bonnie as ghost) : "Go on. Keep your little secret. You'll see me again. Did I mention how good I am at revenge? "

(To Damon as ghost) : "It's too late to make amends, Damon. You know me. Never let go of a good vendetta, and this one is just getting started. "

---

Enzo As ghost : "For some reason, I thought that would feel better. "

(To Stefan as a ghost) : "You're sorry for that? I'm glad we've got our priorities straight.. "

Enzo As ghost : "Now there's an interesting development."

(To Elena as a ghost) : "Avoiding, are we? Nothing a hot bath won't fix. Wash the guilt straight down the drain."

(To Damon as ghost) : "Don't reckon I'd miss this."

(About Caroline) : "Smart girl. See why you like her so much. "

(To Caroline as a ghost) : "Getting warmer. Come on! You've almost got it. What is Enzo up to? "

(To Stefan as ghost) : "He's right. I like poetic justice. Damon Salvatore and his murderous brother die a fiery death. "

(To Damon as ghost) : "Don't let me down again. "

---

(To Bonnie as ghost) : "Ah. You're paraphrasing. He said, quote; "I will find a way." "

(To Bonnie as ghost) : "The the other side is on the brink of collapse. I plan on pestering all of you until I'm safely returned to the land of the living. " "

(To Bonnie as ghost) : "Well? What are you waiting for? Ring up your little witchy friend and get her over here. " "

(To Bonnie as ghost) : "When did you plan on telling me? Were you just hoping the darkness would come take me before the awful truth came out? " "

(To Bonnie as ghost) : "There's always a solution. Your boyfriend came back from the dead; Markos came back from the dead; you came back from the dead! " "

(To Bonnie as ghost) : "I will accept it when that darkness comes and yanks me to oblivion. I will accept it when I no longer exist. I spent over 50 years stuck in a cell; poked, prodded, tortured. By all rights, I had no hope of ever getting out, but I clung to it. So, I will accept it when it's done... not a minute prior. " "

(To Maria as ghost) : "Dead... just like you, but I've got a proposition to get both of us out of this place. " "

(To Maria as ghost) : "Markos managed to Houdini his way back to the land of the living with some crazy ass spell. Any chance you know it? " "

(To Maria as ghost) : "See, I think you underestimate how resourceful we are. Leave the details to us. What do you say? Interested? " "

(To Bonnie as ghost) : "We hit a little snag. " "

(To Bonnie as ghost) : "The great beyond happened. And it's going to keep happening, so we need to find a way out of here and fast. " "

---

(To Bonnie as ghost) : "This list is getting uncomfortably long."

(To Bonnie as ghost) : "Not exactly. Bonnie, meet the Traveler with our one-way ticket out of here, although you may know him better as an ancient immortal with a desperate need of a cure."

- Home
---
Season Six
(To a witch) : "You witches are also monstrously secretive. Lucky for me I'm quite gifted at unraveling the truth."

(To Caroline) : "Ha ha, well, well well. Well, there's a blast from the past. Hello gorgeous."

(To Stefan) : "Stefan! You are a hard man to track down. Uh, I wasn't sure if you're new..friend would invite us in but she said that this was your place. Which means...open invitation to all your mates, right? Got any bourbon?

(To Stefan) : "Ah, well that's silly. You can't just stop being a neck person."

(To Ivy): " myself, am I believer. Had to get a witch to do a locator's spell to find my buddy here."

(To Stefan) : "There, darling. No need to make a scene. Really it's all just some big misunderstanding, perhaps this will clear it all up."

(To Stefan) : "What kind of coward gives up on his own brother?"

(To Stefan) : "I've got a girl out there crying over you because she cares so much, and I'm here trying to figure out why but I can't see what's worth caring about. You know, Damon once told me that he promised you an eternity of misery, and I remember thinking, "Well, what could his brother have ever done to inspire so much hatred?" But now I get it. You're not a brother to him. Brothers don't give up. So every time I see you doing anything that looks like you've done so, every time you try to start over in a life that's nothing but a lie, I will make you pay. I will be the one to bring you the misery you deserve."

---

(To Caroline) : "Yea Rule 1, don't mention Elena was madly in love with Damon or you'll kill me."

(To Caroline) : "Rule 2 , don't really reference Damon at all or you'll kill me."

(To Caroline) : "Well i'll marinate with you."

(To Caroline) : "Hmmm....That would be..Shirley..A special off the menu item. This little diner is surprisingly well stocked."

(To Caroline) : "Sheriff's investigation? I'm terrified. I already have three warnings. One more is a fine."

(To Stefan) : "Right. Cavalry's on their way, so why don't we put a pin in our little spat till this all gets sorted, eh?"

(To Stefan) : "You've got to be bloody kidding me. I just saved your life."

(To Caroline) : "Good news, Caroline. I thwarted a vampire hunter. Bad news... Stefan has become a vampire hunter."

(To Tripp) : "This normally works, doesn't it? Knocks vampires right out. See, I'm a bit different than a normal vampire. I can fight the vervain. Not for long, but....I will have to take care of you."

---

(To Matt) : "Heh. That's all right, mate. Just lean in and I'll take it right from the tap."

(To Matt) : "Yeah come on I'm gonna need my strength back for when you help me escape."

(To Matt) : "When did Stefan's moral compass become the new true north? Wasn't he the one who scurried off to some poxy, little town while he let everyone believe he was still searching for his brother? Not exactly the hero move, if you ask me."

(To Matt) : "Yeah. Probably right, well except for Elena...Stefan, Caroline, You. What do you think would happen if I were to tell your boss about known vampires and their...groupies?"

(To Damon) : "I'm glad to see you found a way back, mate. Afraid it's going to be a short reunion though. We're headed for Mystic Falls known for it's bridges; quaint, small town charm and a really big vampire bug zapper."

(To Damon) : "It probably slipped his mind because he's responsible for my return to incarceration."

(To Damon) : "Probably jealous of my accent. Eh' maybe he did it because I killed his new girlfriend."

(To Damon) : "Consumption, wasn't much fun the first time around either."

---

(To Tripp) : "Hello again. That was quite a mess you made at the border last night. Hit-and-run. Tsk, tsk, tsk. Good thing Matt here was in the neighborhood to give you a ride home."

(To Tripp) : "Stefan has already made a very passionate argument in favor of snapping your neck, whereas in a surprising role reversal, I've opted for the "let's think this through, get all the information before we kill him" method."

(To Caroline) : "Tripp is still alive, surprisingly torture-resistant but alive."

(To Caroline) : "My fingers were covered in blood, and the touchscreen wouldn't work."

(To Caroline) : "Oh, he's fine. Just a little blood loss. I think he may have an iron deficiency problem."

(To Stefan) : "Oh. That's brilliant. Of course that's why she hates you. That's how you worked her into such a state in Savannah. That's why she told you to go take a leap. She hates you because she doesn't hate you at all."

---

(To Sarah) : "As soon as this door opens, you are not my problem anymore."
---
---
Gallery
References
See also
Community content is available under
CC-BY-SA
unless otherwise noted.