Elizabeth Malese Jow (known as Malese Jow; born February 18, 1991) is an American actress, singer, and songwriter who played Anna on The Vampire Diaries. She is best known for playing Genna Fabiano, a girl interested in fashion and designing her own clothes on the Nickelodeon television teen sitcom, Unfabulous. Most recently, Malese has been seen in a recurring role on the CW Network's show The Flash, where she plays the character Linda Park.
Biography
Malese was born on February 18 1991, in Tulsa, Oklahoma. Malese's father is Chinese-American and her mother is Caucasian with Cherokee heritage. She has two brothers and one sister. She also writes and sings songs in her spare time. Her name was originally Elizabeth Malese Jow but is popularly known as Malese Jow.
Career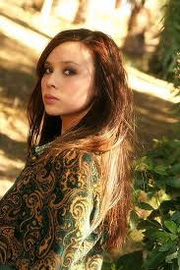 When she was 6, Jow appeared on Barney and Dellaventura, but her acting career took off when she landed the role of Geena Fabiano in the Nickelodeon television series Unfabulous alongside Emma Roberts. Geena was Addie Singer's diva best friend, obsessed with fashion and designing her own clothes. The teen sitcom lasted three seasons and earned Jow several Young Artist Award nominations. Since Unfabulous ended in 2007, Jow has appeared in Bratz: The Movie as Quinn and has guest starred on Wizards of Waverly Place, portraying the role of famous actress, Ruby Donahue. In 2008 she guest starred on The Young and the Restless as Hannah, and in 2009 she portrayed "Look-alike Carly" on iCarly, another series on Nickelodeon. That same year she acted in The Secret Life of the American Teenager as Gail and Disney show Hannah Montana as Rachel. She also made a cameo in the 2009 movie Aliens in the Attic.
In 2010, Jow appeared in the first season of The Vampire Diaries (The CW). She played the part of Anna, a 500+ year-old vampire who initially seems to have evil intentions, but is ultimately revealed to simply want to set her mother free. She tries to use Jeremy Gilbert (Steven R. McQueen) in order to get the opportunity to approach the Salvatore brothers (Ian Somerhalder and Paul Wesley) and Elena Gilbert (Nina Dobrev), but ends up falling for him. In the season finale, she tells Jeremy that she plans to leave, and gives him a vial of her blood so that he can become a vampire and join her. The first season ends with Anna attempting to protect Jeremy and the citizens of Mystic Falls from an imminent vampire attack when she is captured and killed by Jeremy's uncle, John (David Anders).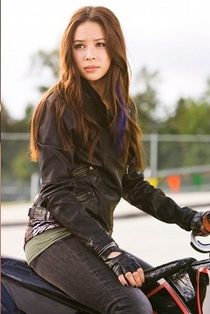 Jow appeared in ABC's 2010 movie You're So Cupid! as Megan, and played Alice Cantwell, the best friend of Christy Lee (Brenda Song), in the film The Social Network. She also guest starred on an episode of TNT television series Leverage. Some time later, she starred in the Nickelodeon television series The Troop as Cadence Nash. In 2011, she had a recurring role in Big Time Rush as Lucy Stone and in the series Desperate Housewives as Violet. Jow appeared again as Anna on The Vampire Diaries's third season. Jow has also appeared in American band, All Time Low's music video for their single, "Time Bomb." Jow's guest star role as Lucy Stone is a new recurring role in Season 3 of Big Time Rush. In 2012, she is slated to play Morgan in The CW's Shelter pilot episode. Morgan is a wild and promiscuous girl, so it promises to be a more adult role for Jow than her past roles portraying teenagers. Shelter was shot in North Carolina and is produced by J.J. Abrams and Mark Schwahn.
In 2015, Jow was cast as Linda Park, a recurring character in the first season of The Flash who had a short-lived relationship with the title character, Barry Allen. She has since reprised her role in The Flash's second season, which was expanded to include her character's Earth-Two counterpart as well, a metahuman known as Dr. Light who has the power to channel and utilize starlight to create concussive blasts and blinding light beams.
| Year | Title | Role |
| --- | --- | --- |
| 2018 | I Wrote This For You | Ariana |
| 2015-2018 | NCIS: Los Angeles | Jennifer Kim |
| 2017 | The Shannara Chronicles | Mareth |
| 2016 | Sisters of the Groom | Sarah Adams |
| 2016 | Sweet/Vicious | Chloe Freeman |
| 2016 | How to Be a Vampire | Jenny |
| 2015-2016 | NCIS: Los Angeles | Jennifer Kim |
| 2015 | Filthy Preppy Teen$ | Beatrix / Beatrix Bishop |
| 2015 | The Flash | Linda Park / Dr. Light |
| 2014 | Presumed Dead in Paradise | Madison Ashland |
| 2014 | Star-Crossed | Julia Yeung |
| 2014 | Plastic | Beth |
| 2014 | Castle | Hillary Cooper |
| 2011-2013 | Big Time Rush | Lucy Stone |
| 2012 | CSI: Miami | Amanda Reed |
| 2012 | Shelter | Morgan |
| 2010-2011 | The Vampire Diaries | Annabelle |
| 2011 | Desperate Housewives | Violet |
| 2011 | The Troop | Cadence Nash |
| 2010 | The Social Network | Alice |
| 2010 | Leverage | Josie |
| 2010 | You're So Cupid! | Megan |
| 2009 | Aliens in the Attic | Julie |
| 2009 | Hannah Montana | Rachel |
| 2009 | The Secret Life of the American Teenager | Gail |
| 2009 | iCarly | Fake Carly |
| 2008 | The Young and the Restless | Hannah |
| 2004-2007 | Unfabulous | Geena Fabiano |
| 2007 | Mother Goose Parade | |
| 2007 | Wizards of Waverly Place | Ruby Donahue |
| 2007 | Bratz | Quinn |
| 2003 | The Brothers Garcia | Celeste |
| 1997 | Dellaventura | Orphan Child |
| 1997 | Barney & Friend | Tea party girl |
Appearances
Music Career
Singles
Caught up in you
Mista DJ
Where You Belong
Go Go
Left Waiting
Hey Oh
Turn Away
Sound Of Summer
He Said She Said
Live 4 Today
You Left Me In The Air
Trivia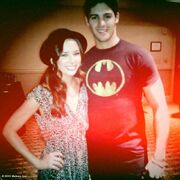 Gallery
External links
Community content is available under
CC-BY-SA
unless otherwise noted.