This article is about Matt Donovan, a character from the television series. You may be looking for Matt Honeycutt, a character from the novel series.
"
I've hurt people for the wrong reasons too, but that feeling in your gut, that voice telling you to hate yourself for what you did, that's not a bad thing. That means you're a good person.
"
Matthew G. "Matt" Donovan is a main character on The Vampire Diaries and a guest character in the third season of The Originals and first season of Legacies. He is the son of Kelly Donovan and Peter Maxwell. He had an older sister Vicki Donovan, who was turned into a vampire, and was later killed because she was unable to control her blood lust. Matt is also the ex-boyfriend of Elena Gilbert, Caroline Forbes and Rebekah Mikaelson and former fiancé of Penny Ares.
He was born and raised in the town of Mystic Falls. After the death of Elena's parents, Elena broke up with Matt because she lost interest in him. Despite the way they broke up, Matt still cares about Elena deeply and they've managed to maintain a good friendship. At the beginning of the series, Matt struggles with his sister, Vicki, because she was a drug user, but then she tragically dies. Later on he begins dating Caroline Forbes, and encourages her to become a more caring, kind and selfless young woman. However, Caroline soon breaks up with him after her transition into a vampire - in order to protect him.
Upon learning about the existence of supernatural creatures, he begins to distance himself from the Mystic Falls Gang. Eventually he starts to help his friends defeat their enemies and protect their hometown, and he fixes his friendship with Caroline. Later he becomes a Medium for a short while like Jeremy Gilbert, although he could only see his sister's ghost. He began a brief relationship with Rebekah Mikaelson, and went to Europe with her at the end of Season Four, but they ended things before she left Mystic Falls.
In Season Five, he was possessed by a Traveler for a brief time, and was also involved with Nadia Petrova, Katherine's daughter. Nadia later compelled him to forget that Elena was possessed by Katherine. After Nadia's death, Matt helps his friends deal with the destruction of The Other Side, assisted by the witch twins - Olivia and Lucas Parker.
Later on, he decided to become a deputy in Mystic Falls Police Department, and a vampire hunter.
When Elena Gilbert falls into a magical, coma-like slumber after Kai Parker links her to Bonnie Bennett, Matt is forced to step up his game and eventually becomes the sheriff of Mystic Falls. During this time, Matt kicks out all vampires from the newly-human populated Mystic Falls.
He later falls in love with his partner, Penny Ares. After Penny's death, Matt is determined to get revenge on the vampire who made Matt impulsively, but accidentally kill Penny. However, after a series of events that forces Matt to try and save Bonnie from being a bloodthirsty Supernatural Huntress, Matt is done fighting the war between humans and vampires. Matt decides to leave Mystic Falls and start a normal life outside the world of vampires.
After Matt left town, he went to look for his estranged father, Peter, and told him nothing of the supernatural creatures he dealt with for the last seven years of his life in Mystic Falls. He later returned to Mystic Falls and reunited with the spirits of his mother and sister, stopping them from helping Katherine destroy Mystic Falls. He took back the position of sheriff and became well-respected, thinking of running for mayor one day which he eventually became.
He is best friends with Jeremy Gilbert, Tyler Lockwood, Elena Gilbert, and Bonnie Bennett. He is also close friends with Caroline Forbes.
Matt is a member of the Donovan Family.
Early History
Matt was born on February 26, 1993 in Mystic Falls. He is the son of Kelly Donovan and Peter Maxwell. He had an older sister, Vicki Donovan. Because Kelly and Miranda Gilbert, who was Elena's adoptive mother, were best friends since high school, Matt knew Elena since infancy, occasionally sharing a crib. They grew up together, being really close childhood friends, and began dating in their teenage years feeling they owed it to themselves to try. When Elena's parents died, she broke up with Matt because she needed time alone to figure out her feelings. Matt still hoped they could be together, but it was not likely to happen due to Elena's instant connection to the new student, Stefan Salvatore. It's something he might still mourn about.
Throughout The Vampire Diaries Series
Throughout The Originals Series
In Behind the Black Horizon, he confronts Elijah and Finn who have arrived in Mystic Falls to find Freya. He aims his gun at them and he is made aware that there is another Mikaelson sister. When Elijah gives him two options, Matt suggests a third one and he helps them find Freya. He has his gun aimed at Lucien and Finn puts his hand on his gun and fires at Lucien, killing him temporarily. Lucien rises as a beast and knocks Matt unconscious.
Throughout Legacies Series
In This is the Part Where You Run, Matt discovers a mysterious crime scene that can only be described as supernatural. He calls in a favor to a State Patrol buddy and has the scene locked down and calls Alaric, who brings Hope. He explains that the local PD believes it to be a chemical spill, but that is not the actual story; that is for Alaric to determine. Alaric thanks Matt for the heads up and approaches the bus, deceased riders as charred husks of their previous lives litter the sits. Alaric and Hope unsure of what transpired between Landon Kirby, a missing passenger, and the other people aboard the bus.
In Hope is Not the Goal, he arrives at the boarding school to let the students and faculty know about the missing teenagers Dana Lilien and Sasha Stoteraux. He then listens to what Alaric has to say and they later go into the woods together to look for the girls. They find Dana with a pale skin tone and a bite mark on her neck, which makes Matt think she was attacked by a vampire. Not long afterwards, they see Dana is gone and then a bit later find what is left of her in the bus compartment. Much later, he confronts Kaleb in the hallway with Alaric about him feeding on humans.
Personality
"Because you're everything that I want to be. You're loyal, honest, kind. People root for you to succeed. Elena even died for you."
—Rebekah to Matt in Pictures of You
Matt is everyone's definition of the "everyday man". Out of the characters, he is the most "normal"; he does not possess any supernatural attribute, nor any supernatural artifact that makes him stand out of the rest of humanity and he wants it to stay that way (at least until he was given the Gilbert Ring previously worn by Jeremy). He is, however, aware of the supernatural world and has more than had his fair share of skirmishes with them in the past.
Matt is often seen by some people as a person who only cares about the sport, however, he is just the opposite, Matt is strong because he wants to protect his family and friends from the dangers that threaten them every day.
As far as personality goes, Matt is loyal, headstrong, and down-to-earth. According to Vicki, Matt is the "golden child" of their family, with a good future ahead of him. These qualities make it very hard for other characters not to like him, and he has captured the hearts of several females throughout the series. However, as the years have passed and he's lost more friends, Matt has become colder and even ruthless to a degree, as he has willingly tortured and hurt Damon and Stefan on several occasions.
Physical Appearance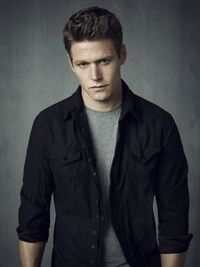 Main article: Matt Donovan/Appearance
Matt is a very handsome young man, who stands at approximately 6 feet tall with baby blue eyes and short dark blonde hair. He has an attractive face and can be considered as the stereotypical football player in regards to his personality and physical looks.
Matt's hairstyle over the seasons has remained similar, shortened with not much length except his hair was somewhat longer in the first season. On special occasions, Matt has been shown to gel his hair such as for the 60s Decade Dance, for a more formal style.
His clothing sense is that of a typical teenager, for school as he played football, he used to wear the school Timberwolves jacket however usually wore a range of different colored t-shirts and jeans with boots or sneaker shoes. Lately, he has been wearing checkered button-down shirts with a t-shirt underneath or shirts with an unbuttoned collar. He also wears a heavy jacket with hoods or light weight jackets, both of which are usually a darkened color. Working at the Grill, Matt has a uniform which consists of a dark blue t-shirt and black trousers. On occasions, he regularly wears a dark tuxedo and trousers with a tie.
Relationships
"Matt, I love you.. but I'm already dead."
—Vicki to Matt in Resident Evil
Vicki is Matt's older sister, although it often seemed like the other way around since Matt was the one looking after Vicki, due to their mother not being around. Vicki started to act erratically after she turned into a vampire, which made Matt think she was on drugs. After Vicki's death, Matt believed that she had run away, until her body was found. In season three, Matt was able to see Vicki after Esther performed a spell and tried to bring her back, but he had to learn to accept her death. When Matt temporarily died in season five, he saw Vicki and tried to keep hold of her, but she reminded him that she was already dead and let go as she was sucked into hell.
Seasons later, Vicki appears once again as a spirit from hell with the intent on ringing the Maxwell bell, which would destroy hell and Mystic Falls along with it. Matt originally tried to stop her until he realized how tormenting hell was for her. He recognized that she wanted to find peace from hell and he let her ring the bell. Although unaware of her presence, a little bit after the events of the eighth season finale, Vicki watches over Matt one last time before finding peace in death.
"I'm glad you pulled it together. The thing is, Ty, I get it, alright? We've all been through so much that it's bound to make us a little crazy. But I was thinking, you know, watching the way all those cops honored her today, I want to be a part of something like that. So I talked to one of the deputies, and he gave me an application. There's this, uh, officer training program. Seems pretty cool, you know, like something I'm supposed to be a part of. I got one for you too."
—Matt to Tyler in Let Her Go
Matt and Tyler are best friends, and have known each other for a long time. They were both on the football team, and they both also fell in love with Caroline, which strained their friendship for a while. In season six, Matt decides to join the police academy, and gets Tyler to join him.
However, due to circumstances thanks to Kai Parker's influence during Season Six, Matt and Tyler were forced to say goodbye to each other temporarily while Tyler figured out his newfound werewolf life. Also, Matt moved up in the ranks of law enforcement due to the rising supernatural occurrences in Mystic Falls. They still remain close friends up until Tyler's final death. Matt still mourns Tyler's loss and is still mad at Damon for killing him. Although unaware, Tyler's spirit watches over Matt one last time before moving onto finding peace.
"That's my hope for you, Matt. In our crazy lives together, you've always stayed the same. Human, loyal, and good. My hope is that you spend the rest of your life fighting for people like you."
—Elena to Matt in I'm Thinking Of You All The While
Elena and Matt had a relationship throughout most of high school, but she had broken up with him after her parent's deaths. At first, it was evident that he still loved her and was jealous of her new relationship with Stefan Salvatore, but they remained good friends throughout the rest of the series. When Rebekah drove Elena and Matt off of Wickery Bridge, she had Stefan save him before herself. When Elena lost her humanity, Matt was the person who had flipped her switch after Damon had snapped his neck while he was wearing the Gilbert ring. When Matt said his goodbye to Elena after she was put into a sleeping coma, she told him that she hopes he spends his life fighting for people like himself: human, loyal, and kind. They end up reuniting in the series finale.
"It means that...you almost died and it really freaked me out and it got me thinking you know 'cause... I'm not in a position where I can lose someone else right now. I realized, even though today I wanted to throttle you, I'm pretty sure that I'm in love with you and now it seems like you don't feel the same way."
—Matt to Caroline in Brave New World
Matt and Caroline have known each other since first grade. At first, he didn't like her very much, but they began to grow closer and started a romantic relationship. Their relationship was strained due to Caroline's frequent jealousy over Elena due to her and Matt's history. They start to drift apart after Caroline becomes a vampire, and also after she starts getting closer to his best friend, Tyler. They break up, and although they aren't together anymore, they still remain good friends and allies even after the series' end.
"Fine. Okay. The first rule of truly living: do the thing you're most afraid of."
—Rebekah to Matt in Graduation
Matt and Rebekah's relationship was strained at first, especially after Rebekah drove him and Elena off of Wickery Bridge, killing Elena and almost killing Matt. She makes several attempts to make amends with Matt, but he's cold towards her. At Prom, she dances with Matt and tells him that she wants to be everything that he is, which is beautifully human. She tries to be a better person and continually tries to prove it to Matt. After they are in a dangerous predicament with Alexander, Rebekah takes Matt's place on the trigger that sets off explosives. She kisses him and tells him to run so he won't miss graduation. She vamp speeds away, and the bomb detonates, but neither of them are hurt. She then goes off with Matt, and they spend 3 months traveling together before she joins her brother in New Orleans.
Main article: Matt and Penny
Matt first meets Penny when she pulls him over for driving drunk, which he argues with her against. The two have a rocky start when Penny insists the law doesn't bend for anyone. They eventually ally and become friends and partners against vampires. During this time, the two became engaged to each other. Unfortunately, Penny's involvement with the supernatural world and Matt eventually got her killed. Matt was shocked and hurt after her death, which influenced him to hunt all vampires that threatened his hometown because he believed a vampire caused her death. The last time Matt sees Penny is when he hallucinates seeing her and she tells him to move on with his life, without her. Matt does as she wishes of him: moves on.
Other Relationships
Donovan Family, Mystic Falls Gang, Mystic Falls High School, Mystic Grill, Mystic Falls Police Station
Appearances
The Vampire Diaries
The Originals
Legacies
Episode Absence
| | | |
| --- | --- | --- |
| In Season One, Matt doesn't appear in five episodes: | In Season Two, Matt doesn't appear in seven episodes: | In Season Three, Matt doesn't appear in seven episodes: |

| | | |
| --- | --- | --- |
| In Season Four, Matt doesn't appear in six episodes: | In Season Five, Matt doesn't appear in four episodes: | In Season Six, Matt doesn't appear in five episodes: |

| | |
| --- | --- |
| In Season Seven, Matt doesn't appear in four episodes: | In Season Eight, Matt doesn't appear in four episodes: |
Novels
In the novels, Matt's surname is Honeycutt, not "Donovan", and like the series, he is Elena's ex-boyfriend. Vicki is also not his sister in the novels. Matt Honeycutt's father is dead and his mother is only briefly mentioned and is completely dissimilar to Kelly Donovan.
Name
Matt is a masculine name of Hebrew origin. It is from the Hebrew מַתִּתְיָהוּ (Mattiyahu) which means "Gift of Yaweh". Matt is a variation or short form for Matthew. In the English meaning, it means "Gift of God".
Donovan is an anglicized form of the Gaelic Ó Donndubháin.[3]
Tropes
Elena's former boyfriend, hasn't given up hope yet - which makes him a Dogged Nice Guy .
He is pretty much a Generic Guy , with no special qualities - except being human .
Of course, he just wants his beloved to be happy , so he forgives Elena for ditching him and tries to be friends with Stefan.
His life sucks most of the times: We don't even know if he knew his father ;his mother is an Alcoholic who left him for a boyfriend in Florida; his sister Vicki was a drug addict who got turned into a Vampire by Damon because he was bored then staked by Stefan. Ah, and Vicki came back as a ghost. She was persuaded by Esther to try and kill Elena!
Like most of the main cast, he even died once. But he was revived.
By Season Four he is the only one in the cast member to remain human, so he is the Token Human, which in this case is also a Token Minority.
He's often called as The Quarterback, or Matty (Which he is affectionately called by Vicki).
He's Rebekah's Morality Pet
With April and Meredith he is part of Team Normal - the humans without powers that help the super-powered heroes.
Trivia
Matt's birthday is February 26, making him a Pisces.
So far, Matt has died five times in the series.
In the books, Matt learns that Stefan and Damon are vampires and that Elena has become a vampire and needs blood.
Matt was almost killed by two of his ex-girlfriends after they've been turned into vampires, the first being Caroline in Bad Moon Rising and Elena in The Rager.
In the series, Matt is aware of four people he knows turned into vampires, werewolf and a hybrid: Vicki, Caroline, Tyler (werewolf/hybrid) and Elena.
In the series, Matt was the second-to-last main character to learn about the supernatural world (before Jenna) and he is the last character to have learned this to be still alive since Jenna died one episode after.
Matt is not the brother of Vickie Bennett in the books. In the television series, he is Vicki's brother and takes care of Vicki and his mother Kelly .
In the books, Matt becomes Stefan's best friend, but in the series, Matt is best friends with Tyler Lockwood and Jeremy Gilbert.
In the series, he often shortens people's names, as well as Damon, but with nicknames -

Vicki "Vick"
Tyler "Ty"
Jeremy "Jer"
Caroline "Care"
Bonnie "Bon"

Kevin Williamson commented on the character Matt, saying "There's a door there, that we will eventually open, but for now he's human."
Although Matt's feelings for Elena are a major recurring theme in the first season, they have seemed to have completely vanished to make way for his new feelings for Caroline, which become a major plotline in the second season particularly since Caroline is now a vampire. However, in the books, Matt's feelings for Elena never seem to go away and play an even stronger role since he still has feelings for her when he discovers the existence of the supernatural world.
Matt was the first main character who destroyed an Original (Finn) without neutralizing it. (The Murder of One).
Matt is one of three main characters that has killed an Original. The other two are Niklaus and Jeremy.
In the books, he and Damon interact more often than in the TV series.
Although Vicki was a grade above Matt, she isn't quite a year older then him.
He and Jeremy are indirectly responsible for Elena becoming a vampire.
Before "Graduation", Matt had never set one foot out of Mystic Falls.

This changed when he and Rebekah took a summer trip around Europe.

Matt is the first main character to be possessed by someone through Traveler magic, the Passenger spell.
Matt is the first and only character shown to be immune to Silas' mind control, however this is due to him being possessed by Gregor at the time, the presence of another individual inside his mind prevented Silas from controlling him.
Matt is the first non-supernatural character who has shown to have been The other side when killed by supernatural entities while wearing the a Gilbert Ring.  He is also the first non-supernatural character who passed through Bonnie upon death.  After his third death wearing a Gilbert Ring in Resident Evil, Matt became the first wearer of Gilbert Ring to retain his memory or experience from the other side .
Matt is similar to Damon in respect of their relationships with women.
After seven seasons of The Vampire Diaries, Matt remains the only main human character.
It was revealed that Matt could bench press more than Jeremy.
Who can speak a language Matt Donovan can understand? The Maytag Man can. Eureka star Colin Ferguson, most recently seen as pitchman for Maytag, appears in the premiere as Tripp, leader of a local watch group that gives Matt something to do with his time, what with the absence of immediate threats on his life."He came about because we wanted to show Matt thriving in Mystic Falls without supernaturals," Dries said of Ferguson's character. "Every episode Matt is having his life in jeopardy or somebody's threatening to kill him or something. So it's like, 'What's Matt's life like when he can just not have to have a death threat every five minutes.' We kinda wanted to give him a father figure-type, coach kinda guy, so that's where Trip came out of. But it's Mystic Falls, The Vampire Diaries, not everyone is who they say they wanna be, but he'll ultimately become kinda an interesting, layered dynamic character that's not necessarily a good guy or a bad guy. He actually represents I think like a normal person if you're not in love with Damon or Stefan, like a normal person's point-of-view on the whole vampire world."
Matt is the only main character whose father is unknown.
Quotes
Season One
Matt (to Elena) : "When you broke up with me, it was because you needed sometime alone. You don't look so alone to me."

Matt (to Elena) : "That's ok Elena. You do what you have to do. I just want to let you know that. I still believe in us. And I'm not giving up on that."

Matt (to Vicki) : "Vicki, Vicki, come on, open your eyes, look at me."

- Pilot

---

Matt (to Elena) : "They're keeping her overnight to make sure there's no infection, but she should be able to come home tomorrow."

Matt (to Elena) : "Called and left a message. She's in Virginia Beach with her boyfriend, so... we'll see how long it takes her to come rushing home."

Matt (to Elena) : "You know. I'm... I'm actually gonna go back to the hospital. I want to be there when Vicki wakes up, get the real story about last night."

Matt (to Vicki) : "Hey. How are you feeling? You look better. I was worried before. You really had me freaked out with all of that screaming."

Matt (to Vicki) : "Good, good. Doctor said you can come home tomorrow. Vick, what attacked you in the woods?"

---

Matt (to Stefan) : "No excuse. Good luck tonight. We're lucky to have you."

Matt (to Tyler) : "What's my... You're my problem, alright? You're a bully. A freakin 12 year old bully man. And I'm sick of it. I mean, what was that about tonight? What's beating up the new guy going to prove? Or screwing with my sister or pummeling my girlfriend's kid brother."

---

Matt (to Elena) : "He's great at football. A little bit of a loner. And as much as I hate saying it, he might be a nice guy."

Matt (to Stefan) : "Hey. I'm not saying this for you. I'm saying it for her. But she's big on trust. So whatever you're holding back from her, the more you try to hide it, the more she won't stop till she figures it out."

---

Matt (to Vicki) : "Please come inside. I've been worried. Thank god you're ok. Where were you Vic?"

Matt (to Vicki) : "Three people were murdered in the woods. The cops were lookin for you. They wanna question you."

Matt (To Vicki) : "Everyone was worried about you."

Matt (to Vicki) : "Are you kidding? I had a freakin search party out looking for you while you were off on your crazy drug trip, and you want me to let it go?"

- Haunted

---

Matt (to Caroline) : "I heard your mom in the morning, and I didn't want to get you in trouble. So, I went out the window."

Matt (to Caroline) : "Your mom's the sheriff! And as for the hey's, I'm pretty sure it's what I've said to you every day since the first grade. Trying to read something into it? Lame-Girl move."

Matt (to Caroline) : "Being in bed with you, it felt nice. And so I was thinking about it, and I thought that I should tell you I stayed because you were all sad and alone and I felt bad for you."

Matt (to Caroline) : "No, because I know! With Vicki gone, and my mom off with Pete whoever, it's just me, so... I know."

---

Matt (to Caroline) : "I'm...I'm not over Elena. I mean I don't know if I am, but if we go there, then it would mess things up, and we might lose this, and this is the only good thing I've got going for me right now. So if this doesn't work, I'll just disappoint and hurt you, and I don't wanna do that."

---

Matt (to Caroline) : "No you don't. Because, you're letting Elena turn you into a crazy person. Look it's my fault. I made it pretty clear early in that Elena still means something to me. But all that talk, that was just two old friends and some memories. Tonight wasn't about me and Elena. I was there because I wanted to be with you. And I don't know what this means or what we are but I do know that you are the only person I want to be in this car with right now. And I don't even know if that makes sense because I'm not really good at expressing myself."

Matt (to Kelly) : "Do you know what I was doing tonight, mom? I was having fun, you know trying to forget about all of the crap that I have to deal with every day. Just enjoying a night with my friends. And then, there you are, wasted at the bar, where I work, by the way, to pay the bills that you don't pay. And then you're off acting like a freakin kid, hooking up with some guy half your age. I'm the kid, mom. You're supposed to be responsible for me."

---

Matt (to Kelly) : "I can't do it anymore mom so just go alright? You've done it before. More times than I can count."

Matt (to Kelly) : "Mom!!! Don't you get it? I'm better off without you."

Matt (to Kelly) : "I want you out of the house and my life by morning."

---

Matt (to Tyler) : "Dude don't scare me like that!"

Matt (to Caroline) : "Caroline! Guys over here! Caroline wake up."
---
Season Two
Matt (to Bonnie) : "She's not good, Bon."

Matt (to Bonnie) : "We were driving and Tyler heard this noise and he got..."

Matt (to Bonnie) : "'He got this migraine or something and he lost control of the car and... I thought that Caroline was fine and then... She wasn't so."

---

Matt (to Caroline) : "Your mom said you're not eating."

Matt (to Caroline) : "It's hospital food. It's supposed to be gross."

Matt (to Caroline) : "She also said you're getting released tomorrow morning."

Matt (to Caroline) : "No, the carnival is going to happen without you, Caroline. I know it's hard for your neurotic control freak personality to process but Bonnie and Elena have it."

---

Matt (to Caroline) : "Caroline? Caroline!"

Matt (to Caroline) : "Hey, I thought you said you were at home. Tyler is doing this whole thing at the swimming hole and I want us to spend the day together. Where are you? Call me."

---

Matt (to Katherine) : "I'm gonna get Tyler Lockwood really drunk. I'm going to start a fight with him and I'm going to beat him until he snaps."

Matt (to Katherine) : "I won't stop until he kills me."

---

Matt (to Tyler) : "Hey man, how you doing?"

Matt (to Tyler) : "I'm pissed at myself for picking a fight with you. And feeling guilty for what happened to Sarah. I mean, I've been dodging you for days because I didn't know what to say to you."

Matt (to Tyler) : "I'm really sorry. Please know that."

---

Matt (to Caroline) : "Something, anything. Like how did you feel? Anything in the realm of truth right now would be nice."

Matt (to Caroline) : "I love you then what's the problem? What are you keeping from me, Care? Look, if you love me you'll tell me, so what is it?"

---

Matt (to Liz) : "I know I came to see you. I don't know what to say, how to act around her."

Matt (to Liz) : "She wants me to take her to the dance. What am I supposed to do?"

Matt (to Liz) : "I'll never get away with it. She knows me too well, she'll figure it out."

---

Matt (to Caroline) : "Were not safe here. If that thing wants in, it's getting in."

Matt (to Caroline) : "I was on vervain. I faked forgetting so I could spy on you. It was your mom's idea."

Matt (to Caroline) : "Your mom hates vampires. She grew up hating vampires. She'll probably always hate vampires."
---
Season Three
Matt (to Jeremy) : "Please tell me you're not turning into one of these losers that hangs out at work on his day off."

Matt (to Jeremy) : "Honestly, Jer, last night was kind of a blur."

Matt (to Jeremy) : "Why are you... Why are you telling me this? You're dating a witch. Why don't you tell her?"

Matt (to Jeremy) : "No, no, no, no, no, no. We're... We're not contacting my sister."

Matt (to Jeremy) : "If you're messing with me, man."

---

Matt (to Bonnie) : "No, I...I just kind if want to see her myself, you know? I mean, I never got to say goodbye to her."

Matt (to Bonnie) : "Do you realize that just last summer, you and I were lifeguards at the pool? And the only two problems I had in my life were that Elena was breaking up with me and I sucked at CPR."

Matt (to Bonnie) : "Yeah. Now Elena's dating a vampire, you're a witch, my sister's a ghost and...I'm...I'm just a guy who's wondering how life got so screwed up."

Matt (to Bonnie) : "It, just, uh, kind of explains why I'm not that into senior prank night. I'll go grab a couple more rolls. Then we'll hit the gym."

---

Matt (to Vicki) : "Well, I was thinking about our first day last year. I was worried about running into Elena and you said..."

Matt (to Vicki) : "Yeah. Instead she met a vampire."

Matt (to Vicki) : "Yeah, I just, life stuff. You know, with you gone and mom not around, it's...A lot to deal with alone. I'm glad I get to talk to you, though. I miss you."

Matt (to Vicki) : "What do you mean come back?"

---

Matt (to Elena) : "Yeah, I want her to be happy, you know? It's what I want for all of you guys, in the middle of this crazy life you got stuck living."

Matt (to Elena) : "I'd say it's attached itself to you all pretty tight, yeah."

- Our Town

---

Matt (to Elena) : "How's Mr. Saltzman?"

Matt (to Elena) : "Yeah, she's holding it together, considering how close she and her dad used to be. Any word on who's behind these attacks?"

Matt (to Elena) : "Honestly...I'm kind of lucky, the only thing that I have to worry about for tomorrow, is showing up for my shift at the grill."

---

Matt (to Caroline) : "It's the decade dance. Remember? you made us sign up to help."

Matt (to Caroline) : "Bell bottoms and disco? I don't know, this just seemed cooler."

---

Matt (to Caroline) : "Yeah, I'm one of the good ones, I know...Why the compliments, what else do you want?"

Matt (to Caroline) : "And your point is...?"

Matt (to Caroline) : "Elena is my friend, Caroline. I'm just looking out for her."

---

Matt (to Elena) : "It's the only way I was gonna get you in this truck."

Matt (to Elena) : "I'm sorry, Elena, but you're right, okay. You don't have any parents to tell you what's right or wrong, you've got me and Jeremy and a bunch of vampires fighting a war you shouldn't be in the middle of."

Matt (to Elena) : "I'm getting you out of town, Elena. It's the only way to keep you safe."
---
Season Four
Matt (to Caroline) : "Elena doesn't want to be a vampire."

Matt (to Caroline) : "It's all my fault. I was driving. I was saved. She's a vampire because of me!"

Matt (to Caroline) : "If the council is after you, then why are you still here?"

---

Matt (to Jeremy) : "So, what are these again?"

Matt (to Jeremy) : "Nobody thought fire might be a little inappropriate."

Matt (to Jeremy) : "How is she?"

Matt (to Jeremy) : "If there's anything I can do, you know, short of giving her a ride, you'll let me know, right? I'm only alive because she told Stefan to save me first. She's a vampire because of me, so I'd like to pay it back or forward or whatever."

- Memorial

---

Matt (to Elena) : "Elena, hey! If I had known you were gonna go to that party, I never would have told Connor about Rebekah."

Matt (to Elena) : "Honestly, Elena, Rebekah kind of deserves it."

Matt (to Elena) : "Hey, Elena, are you sure you want to take that much?"

Matt (to Elena) : "Elena. Elena, that hurts Elena. Elena!"

---

Matt (to April) : "They're just stories."

Matt (to April) : "Look, this is a messed up situation, but the last thing you want to do is buy into that guy's craziness. You're going to be fine. We're getting out of here."

Matt (to April) : "There used to be an exit to the old wine cellar. They bricked it over."

Matt (to April) : "No we're not screwed."

---

Matt (to Damon) : "You're still saving a spot for Mr. Saltzman, huh?"

Matt (to Damon) : "I know that you don't like me."

Matt (to Damon) : "But I dug up some stuff about the explosion at the Young farm, I kind of need to tell someone about."

Matt (to Damon) : "So, April mentioned that her dad knew that Professor Shane guy. Which wouldn't be creepy, except, he had all of that info about the hunter's curse, and we live in a town where, you know anybody who knows stuff is creepy until proven otherwise."

Matt (to Damon) : "I got the sheriff to dig up the pastors phone records. Turns out, he made like a call to the same number the last month he was alive. And on the day the council got blown up at the farm, he called it ten times. The office of Professor Atticus Shane."

---

Matt (to Elena) : "What did you expect, Elena? It's Damon."

Matt (to Elena) : "Well, then you shouldn't have left him in charge. Look. I'm sorry. I know you didn't have a choice. Sire bond and all."

Matt (to Elena) : "All I know, Elena, is that the old you would have never left Jeremy with Damon, especially after what happened last night."

---

Matt (to Rebekah) : "I was working. I see you compelled the bartenders again."

Matt (to Rebekah) : "Yeah I heard about that."

Matt (to Rebekah) : "I meant what I said, but if you wanna feel sorry for yourself, go ahead."

Matt (to Rebekah) : "I can't, I've gotta go meet Caroline."

Matt (to Rebekah) : "Elena was my friend long before she was your mean-girl sidekick. So if you're upset that you lost the cure and your brothers ditched you, why are you still in Mystic Falls? Some of us don't have the option of leaving, some of us are broke, and failing all of our classes, and stuck here. So why don't you take your freedom and get the hell out of town? I would."
---
Season Five
Matt (to Rebekah) : "I thought we said no strings?"

Matt (to Rebekah) : "Weren't you leaving town?"

Matt (to Rebekah) : "I have to work. I'm back in the real world now, I need a paycheck."

Matt (to Rebekah) : "Those earrings don't bring you back to life. How am I gonna explain to Jeremy she stole his Gilbert ring?"

---

Matt (to Bonnie) : "I think someone moved my body. It's weird, but I can feel it...It's like I'm drawn to it."

Matt (to Bonnie) : "So, if this happens every time I die with the Gilbert ring, the second I go back, that means I'm just gonna forget about all of this. I'll forget that you're dead. Bonnie, you and Jeremy can't keep this a secret anymore. I'm sorry your dad died. I know it's hard, but how are you gonna deal with his death if you can't even deal with your own?"

---

Matt (to Jeremy) : "So, I woke up last night covered in mud with this."

Matt (to Jeremy) : "Yeah, I know. I have no idea where it came from. I blacked out, and I'm pretty sure that it's not the first time."

Matt (to Jeremy) : "No. I don't think it's the Gilbert ring that's messing with me. No. Like, it's got to have something to do with why Silas couldn't mind control me. He saw something or someone or whatever that Czech freak out in my head, but I think it's still there."

Matt (to Jeremy) : "I set them all over the house to help me figure out how I'm losing time. Have you talked to Bonnie? I think that she's the only person that might know what's going on here."

Matt (to Jeremy) : "So she can't pick up?! I sent her, like, 300 e-mails this summer, and she writes back twice. Did I do something to piss her off?"

Matt (to Jeremy) : "Jer, look. I need your help to get me in contact with her, okay? I haven't slept, okay? I'm scared I'm going crazy here. I need her help."

---

Matt (to Katherine) : "No! You're drunk and scaring the customers."

Matt (to Katherine) : "How'd did you know it was Czech?"

Matt (to Katherine) : "You translate, you drink."

Matt (to Katherine) : "So, over the summer, I went to Prague, met a girl. She followed me back here. Then, her boyfriend put some kind of spirit in my head."

---

Matt (to Tyler) : "Sorry. Slight misunderstanding."

Matt (to Tyler) : "You were right. She was compelling me, but only because she wanted to talk about Katherine and she knew I was pissed at her. I guess they didn't really settle their mother/daughter issues before she died."

Matt (to Tyler) : "Yeah. She knew you would go after her if you knew she was frying my mind. I guess she's got that whole 'stone cold' survival thing going on? Like mother, like daughter."

---

Matt (to Jeremy) : "Can we talk about the irony in us blowing up the only place dumb enough to hire us?"

Matt (to Jeremy) : "Yeah, if they can come home. No one said killing the Travelers will get rid of this anti-magic thing, although Mystic falls might be a half-decent place to live in again. No more vampire attacks, crazy blood rituals, you know?"

Matt (to Jeremy) : "There are worse things than having to visit your girlfriend at college on the weekends, Jer. It's called "normal"."

- Home
---
Season Six
Matt (to Jeremy) : "So, this is it, huh? Video games? Random girls? Drunk by noon everyday? Look, it sucks that Bonnie's dead, Jer. I get it, but you need to start living your life again."

Matt (to Jeremy) : "For now. But Caroline's working on a way to reverse all that. So, it's only a matter of time before we're dealing with all the problems that come along with vampires again. You're a hunter. You have skills. Use them."

Matt (to Jeremy) : "Yeah, you're right, Jer. You're not much of anything anymore."

---

Matt (to Tripp) : "Tripp, are you okay?"

Matt (to Tripp) : "I heard. Do you know what happened?"

Matt (to Tripp) : "I-I don't know. He was drunk...I offered to give him a ride home, and he said he'd walk. I should have driven him home."

Matt (to Tripp) : "Wait. Maybe I should go with you. I mean, I might have been the last person to see Jay alive."

---

Matt (to Stefan) : "A monster. Yeah, I know, but you could have stopped him, and you didn't."

Matt (to Stefan) : "I don't know actually. You're not exactly the sharing type."

Matt (to Stefan) : "So we're just supposed to trust that you know best?"

Matt (to Stefan) : "The problem is you are, because no matter how close vampires get to humans, our loves will always mean less, so when push comes to shove, we'll be on opposite sides, which is what Tripp knew and I didn't."

- I Alone

---

Matt (to Enzo) : "I'm giving you information about a girl who's supposed to be Stefan's long lost niece. I'm not exactly interested in him finding out."

Matt (to Enzo) : "Monique. Her name was Monique."

Matt (to Enzo) : "She knew something Stefan didn't want her to know, and for some screwed up reason, you're obsessed with knowing Stefan's secrets. Probably because he has everything you'll never have."

Matt (to Enzo) : "Because I want this obsession to take you the hell away from here. This is all the information Monique told me about her past. Take it and get out."

---

Matt (to Elena) : "Do you know how many times I've died, or nearly died? Most of those times were at the hands of people I thought were my friends. I'm sorry, not people--vampires."

Matt (to Elena) : "Don't give me the "we're not all like that" speech, Elena, because you are. Just one flip of a switch away."

Matt (to Elena) : "I can't say that I hate vampires, and then use them when it's to my advantage. I can't have both ways, Elena. That's just how it is to me."

---

Matt (to Tyler) : "Just taking a page from your play book. Oh, sorry--all of the pages. Ahh."

Matt (to Tyler) : "How's the deputy training program?"

Matt (to Tyler) : "Part of it. Remember, I'm on injured reserve, so you'll have to fill me in."

Matt (to Tyler) : "Maybe that's because Deputy Taylor's on medical leave for a week after you kicked his ass in front of the trainees!"

Matt (to Tyler) : "What the hell is wrong with you? Are you capable of not raging out? This program was a chance for you to do something with your life."

Matt (to Tyler) : "It doesn't have to be like that, Ty."

Matt (to Tyler) : "You just need some self-control."
---
---
"I would write... Dear Diary"

This article has been identified as an article that needs help. The reason the article has been tagged as such is that it is lacking You may wish to edit it to improve the standard or quality of work present on this article.
Gallery
References
See also
Community content is available under
CC-BY-SA
unless otherwise noted.