Boba Fett Returns - The Loop
Play Sound
Mia Kirshner (born January 25, 1975) is a Canadian actress who portrays a vampire named Isobel Flemming, Elena Gilbert's birth mother, on The Vampire Diaries. She is best known for her role as Jenny Schecter on the cable TV series The L Word (2004–2009), and for her recurring guest role as Mandy on the TV series 24 (2001-2005). She also appeared in Wolf Lake with Paul Wesley and also starred in the comedy, Not Another Teen Movie.
Biography
Kirshner was born January 25, 1975 in Toronto, Ontario, Canada. She is a grandaughter of Holocaust survivors. Kirshner was born and raised in Toronto, Ontario, the daughter of Etti, a teacher, and Sheldon Kirshner, a journalist who writes for The Canadian Jewish News. Her father was born in a displaced persons camp in Germany in 1946, and met Kirshner's mother, a Bulgarian Jewish refugee, in Israel. Kirshner has also a younger sister who is a writer. She attended McGill University in Montreal where she majored in Russian Literature. Kirshner's paternal grandparents were Jews from Poland, her granparents were survivors of the Holocaust. Kirshner had a middle class upbringing and attended Forest Hill Collegiate Institute but later graduated from the Jarvis Collegiate Institute. Kirshner studied Russian literature and 20th-century movie industry at McGill University in Montreal.
Career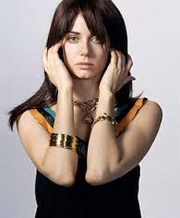 Kirshner found a talent agent at the age of 12, and was acting professionally by the age of 15. She made her film debut in 1993 in Denys Arcand's Love and Human Remains. She convinced her father to sign a "nudity waiver" to play a dominatrix. Kirshner won a Genie nomination for Best Performance by an Actress in a Supporting Role. The following year, she starred in Atom Egoyan's Exotica. In 1996, she appeared in The Crow: City of Angels. Kirshner also appeared in the first three episodes of 24 as the bisexual assassin Mandy in 2001. She would later reprise the role for the second season's finale and in the latter half of the show's fourth season. Also in 2001, Kirshner played Catherine Wyler, The Cruelest Girl in School, in Not Another Teen Movie. The character is primarily a spoof of Kathryn Merteuil (played by Sarah Michelle Gellar) in Cruel Intentions, and was partially based on Mackenzie Siler (played by Anna Paquin) from She's All That. In Marilyn Manson's music video for "Tainted Love", which was featured on the movie's soundtrack, she made a cameo appearance as her character Catherine Wyler. In 2004, Kirshner was cast as author Jenny Schecter, a main character in the drama series The L Word. She remained with the show for all of the show's six seasons through 2009. In 2006, she starred in Brian De Palma's The Black Dahlia in which she plays the young aspiring actress, Elizabeth Short, who was mysteriously mutilated and murdered in 1947. While the film itself was critically panned, many reviews singled out her performance for acclaim. In 2010, Kirshner co-starred in the film 30 Days of Night: Dark Days which began filming in the fall of 2009. In 2010, she was cast as Isobel Flemming, a guest role on The Vampire Diaries. In 2011, she voiced the title character in Bear 71, a National Film Board of Canada web documentary that premiered at the Sundance Film Festival. On April 20, 2012, it was announced that Kirshner will join the new sci-fi series Defiance, as the role of Kenya. Kirshner was ranked #43 on the Maxim Hot 100 Women of 2002. She and Beverly Polcyn were nominated for Best Kiss at the 2002 MTV Movie Awards for Not Another Teen Movie. In 2011, it was announced that Kirshner would be the face of Monica Rich Kosann's jewelry collection.
Philanthropy
In October 2008, after 7 years in production, Kirshner published the book I Live Here, which she co-produced with ex-Adbusters staffers Paul Shoebridge and Michael Simons, as well as writer James MacKinnon. In the book, four different groups of women and children refugees from places such as Chechnya, Juárez, Burma and Malawi tell their life stories. The book features original material from well-known comic and graphic artists including Joe Sacco and Phoebe Gloeckner. It was published in the U.S. by Random House/Pantheon. It was supported logistically by Amnesty International, which will receive proceeds from the book. After the release of the book, the Center for International Studies at MIT invited Kirshner to run a 4-week course on I Live Here in January 2009.
| Year | Title | Role |
| --- | --- | --- |
| 2016 | Milton's Secret | Jane Adams |
| 2015 | Never Happened | Laura |
| 2015 | Reluctant Witness | Erin Villenueve |
| 2015 | Bloodline | Woman |
| 2013-2014 | Defiance | Kenya Rosewater |
| 2013 | Lost Girl | Clio |
| 2013 | Graceland | Ashika Pearl |
| 2013 | I Think I Do | Julia |
| 2013 | The Surrogacy Trap | Christy Bennett |
| 2012 | The Barrens | Cynthia Vineyard |
| 2012 | Kiss at Pine Lake | Zoe McDowell |
| 2012 | 388 Arletta Avenue Xtra | Amy Walker |
| 2011 | 388 Arletta Avenue | Amy Walker |
| 2010-2011 | The Vampire Diaries | Isobel Flemming |
| 2010 | 30 Days of Night: Dark Days | Lilith |
| 2009 | CSI: NY | Deborah Carter |
| 2009 | The Cleaner | April May |
| 2004-2009 | The L Word | Jenny Schecter |
| 2008 | Miss Conception | Clem |
| 2007 | They Come Back | Faith Hardy |
| 2006 | The Black Dahlia | Elizabeth Short |
| 2006 | 24: The Game | Mandy |
| 2005 | Exile | Rebecca |
| 2001-2005 | 24 | Mandy |
| 2003 | Party Monster | Natasha |
| 2002 | Now & Forever | Angela Wilson |
| 2001-2002 | Wolf Lake | Ruby Cates |
| 2002 | New Best Friend | Alicia Campbell |
| 2001 | Not Another Teen Movie | Catherine Wyler |
| 2001 | According to Spencer | Melora |
| 2001 | Century Hotel | Dominique |
| 2000 | Cowboys and Angels | Candice |
| 2000 | Innocents | Dominique Denright |
| 2000 | James Draminski | James Draminski |
| 1999 | Out of the Cold | Deborah Berkowitz |
| 1999 | Speed of Life | Sarah |
| 1997 | Mad City | Laurie |
| 1997 | Anna Karenina | Kitty |
| 1996 | The Crow: City of Angels | Sarah |
| 1995 | The Grass Harp | Maude Riordan |
| 1995 | Johnny's Girl | Amy Ross |
| 1995 | Murder in the First | Adult Rosetta Young |
| 1994 | Exotica | Christina |
| 1993 | Cadillac Girls | Page |
| 1993 | Love & Human Remains | Benita |
| 1991-1992 | Sweating Bullets | Sandy / Cathy Paige |
| 1992 | Are You Afraid of the Dark? | Pam / Dora Pease |
| 1992 | Avonlea | Emily Everett-Smythe |
| 1990-1991 | Dracula: The Series | Sophie Metternich |
| 1991 | My Secret Identity | Alana Porter |
| 1991 | E.N.G. | Risa Timmerman |
| 1990 | Danger Bay | Catherine Walker |
| 1989 | War of the Worlds | Jo |
Appearances
Trivia
Gallery
External links