Jurassic World: Dominion Dominates Fandom Wikis - The Loop
Play Sound
"
You wanted to feed, I brought you to a city-sized, all-you-can-eat buffet. That's the beauty of New York-- there's so much life that a little death goes unnoticed.
"
New York City is the most populous city in the United States of America and the center of the New York Metropolitan Area, one of the most populous urban agglomerations in the world. It was once the temporary home of Damon Salvatore in the late 1970´s, where he enjoyed a bohemian and hedonistic lifestyle in the city.
History
Main article: Template:Early Modern#1977
During the mid-late 1970s, Damon Salvatore lived a wild life in New York, where he was active in the bar scene that was becoming all the rage as the punk trend gained popularity. Since his humanity had been turned off since his escape from Augustine's captivity in 1958, he had been viciously feeding on and killing so many people that he eventually became known as the well-known serial killer "the Son of Sam." Damon made friends with a vampire named Will, who ran a bar called Billy's, out of which he also ran a side-business for vampires in need of new identities. Because of this secret business, Will made a deal with Damon—Damon could feed on the human patrons of his bar, so long as he chose victims whose physical appearances matched his vampire clients and stole their IDs afterward so their identities could be given to said clients.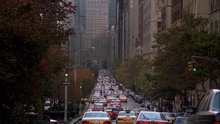 In 1977, Lexi Branson and Damon crossed paths at this very bar and Lexi revealed that she was sent by a worried Stefan to help him after the two had learned of Damon's killing spree all the way back in Mystic Falls. Lexi intended to help Damon turn his humanity back on, just as she had helped Stefan do the same multiple times over the centuries, and though Damon refused her help, she persisted and remained by Damon's side for the next six months. The two eventually fell into a routine where they would spend the evenings partying at the bar, getting drunk on Will's alcohol and feeding on the human patrons together, and then late at night, Lexi would take advantage of his drunkness to try to stir up feelings in Damon by making him reminisce about his past.
One night at Billy's, when Lexi was getting Damon to talk about his former flame Katherine Pierce, he tricked her into thinking that his humanity switch had been flipped because he had feelings for her, which led the two to have a night of wild sex throughout the bar. The two ended up on the roof, where they had fallen asleep, and the next morning, Lexi awakened at sunrise when the sun began to burn her skin, since she didn't have a daylight ring. However, when she fled for the exit to return inside, she found that the door had been locked and reinforced by Damon while she was sleeping, forcing her to press herself against the door in order to stand in the tiny sliver of shadow that it cast across the roof. Damon then began to taunt her, revealing that he had planned this "joke" to get back at Lexi for trying so hard to turn his humanity back on when he had no interest in doing so and stating he had lied about having feelings for her. He then abandoned her on the roof, leaving her trapped in the small patch of shadow until nightfall when she was finally safe to leave, and afterward, Damon was confident that Lexi now hated him enough to not follow him any longer.
Throughout The Vampire Diaries Series
Throughout The Originals Series
In The Feast of All Sinners, Rebekah moves to New York City with Marcel following her after they can no longer live in New Orleans. 
In Where You Left Your Heart, Rebekah and Marcel are still living in the city when he asks her to marry him at city hall unable to do it without her family she declines the offer.
In Ne Me Quitte Pas, after Elijah loses his memories he finds himself in New York living there for a while and plays the piano in Central Park. However Marcel finds him and tells him to leave town soon since Elijah cannot be there when Rebekah comes back.
Trivia
Gallery
<tabber> |-|The Vampire Diaries=
|-|The Originals=
See also