Spider-Man: No Way Home Trailer Dropped - The Loop
Play Sound
"
All Jeremy feels when he sees a vampire is a burning desire to kill them. Even if consciously he doesn't want to, as in your case, it's his subconscious that's calling the shots. [...] Think of it as kind of a conditioned response, right? See vampire, kill vampire. What I'm doing is creating a kind of middle step. It's like a detour where his subconscious learns to recognize you as someone he loves, someone he wants to protect. And that gives him a choice. He can choose to take the detour instead of the conditioned response.
"
O Come, All Ye Faithful is the ninth episode of the fourth season of The Vampire Diaries and the seventy-fifth episode of the series overall.
Summary
A WINTER WONDERLAND IN MYSTIC FALLS - As a Winter Wonderland-themed party fills the streets of Mystic Falls, Stefan and Caroline find themselves at odds with Tyler over his plans for Klaus and his hybrids. When Caroline proposes a solution to their problem, Hayley finds a dramatic way to make it clear that she is not on board. Later, Klaus makes a discovery that leads to chaos and violence. Meanwhile, Elena and Damon retreat to the Gilbert Lake House to help Jeremy conquer some dangerous inner demons with the help of Bonnie and Professor Shane, who reveals a piece of ancient history that leaves them all speechless.
Plot
Damon and Elena are lying in bed together fully clothed, but they have not slept together due to Damon being a perfect gentleman. Damon reminds her that her feelings might not be real due to the Sire Bond and that he should have invoked the bond by asking her to leave. Elena challenges him to let her go, but he can't. Just as they're about to kiss, Elena gets a text from Bonnie, who is at the Gilbert Lake House trying to teach Jeremy not to kill Elena. Elena invites Damon to come along with her. Meanwhile, Stefan arrives at Klaus' house, where Klaus is shown painting his contribution to the Winter Wonderland charity event.
Klaus shows Stefan the sword as proof that he has found it. In the cellar, two of the unsired hybrids are complaining about having to take orders from Klaus. Hayley reveals that she has found a witch who can save their lives. At the Winter Wonderland fair, Tyler tells an unhappy Caroline that he is going to use the body jump spell to put Klaus' body into his own and then encase it in concrete, until the hybrids have all safely disappeared, where Klaus can't find them. Elena and Damon arrive at the lake house, where Bonnie and Jeremy are waiting. Elena also invited Professor Shane to help them. They convince Jeremy to invite Elena inside, but then Jeremy tries to stake her. Caroline wants the sword soon, because the hybrids are taking down Klaus later that night.
Stefan breaks into Klaus' house to look for the sword, but finds a collection of letters instead. He calls Damon, who tells him that he invoked the sire bond by letting Elena go. He doesn't tell Stefan that they are together. Back at the lake house, Bonnie, Professor Shane and Elena have hypnotized Jeremy and Elena tells him family memories of the lake house. However, the plan does not work and Jeremy still wants to kill Elena. Stefan wants Tyler to postpone the plan so he can get the sword, but the hybrids refuse because the cure is of no interest to them. Damon realizes that if Jeremy connects his emotional feelings to someone other than a vampire, he can think of those feelings when he sees someone like Elena, therefore keeping her safe.
Damon suggests that he attaches his emotions to Bonnie. Professor Shane reveals that he has already visited The Cure and can lead Damon and Elena to it - the cure is buried with Silas who was mentioned in his lecture during a previous episode. Tyler tells his mom about his plan, and she reluctantly agrees to support him. As Shane is revealed to know where to find the cure, the sword is not needed and therefore Tyler's plan can go ahead. Caroline tells Tyler that instead of using his body, they can put Klaus' essence into Rebekah's body and bury the siblings together. Hayley is not happy about this. As a result, when Caroline receives confirmation from Bonnie, she snaps Caroline's neck. Meanwhile, Jeremy can be with Elena again, and the two reunite.
It turns out that the letters Stefan found are from Klaus' victims, and Klaus reminds Stefan that the reason they keep souvenirs is because they are always going to end up alone. April visits the bathroom and finds Caroline lying on the floor with no pulse, but much to her surprise, Caroline wakes up and warns Stefan about Hayley. Shocked, April insists that Caroline was dead and starts questioning the situation. Caroline then compels April to forget everything that she heard and saw. Later, Matt reveals that April was wearing vervain and cannot be compelled. Hayley tells Tyler about her lies and tells him that 12 hybrids were needed for a sacrifice.
Klaus kills all 12 of the hybrids. Damon finally sets Elena free. Stefan discovers that Damon and Elena are together, and is distraught. Damon tells Elena to leave and she says that leaving feels right. We find out that April was hidden in the cellar where one of the hybrids was killed, and she opens the coffin containing Rebekah's body. Klaus drowns Carol in the fountain, because he knows that Tyler's mom was the only person he had left and he wanted to make sure Tyler´s suffering.
Cast
Main Cast

Recurring Cast

Co-Starring
Trivia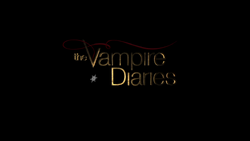 Antagonists: Niklaus Mikaelson, Atticus Shane and Hayley Marshall.
This is the final episode of the second chapter of Season Four, The Hunter Chapter.
The title card at the end of the episode had a snowflake falling instead of the usual falling drop of blood. 
This is the last episode set in 2010 which started in the season one midseason premiere A Few Good Men, a span of exactly 60 episodes.
April finds a daggered Rebekah hidden down in the tunnels and finally learns the truth about vampires and other supernatural beings.
It was revealed that Hayley never wanted to free the hybrids from Niklaus' sire bond. Shane had always intended to trick Klaus into killing his own hybrids so that their deaths could be part of the sacrifices in order to enact Silas' ultimate plan. Hayley was manipulated by Shane to help him in this task in exchange for helping her find information on her biological parents, who she has been looking for since she became a werewolf.
Niklaus kills twelve unsired hybrids in this episode.

This massacre is later revealed to be the second of three sacrifices of twelve beings that will create an Expression Triangle that will later be used to further Silas' plan to lower the Veil to the Other Side.

Though the Winter Wonderland-themed party is superficially similar to the Winter Party from the novels, which took place in The Fury, the two events are very different.
Stefan finds out from Caroline that Elena and Damon slept together, which causes him to fly into a rage.
This is the first episode where the Sword of Alexander is seen being wielded (in this case, by Klaus) in combat.
This is the second mid-season finale in which Klaus has killed someone. The first time was in Homecoming when he killed Mikael.

This is also the second mid-season finale with a failed attempt to kill Klaus.
This is also the second mid-season finale that Klaus has killed a parent of a hybrid.

Elena, Stefan, Damon, Matt, Caroline, Tyler and Bonnie are the only characters to appear in four mid-season finales thus far.
Damon admits to Elena that Christmas used to be his and Stefan's favorite holiday when they were humans, but they never celebrated it after they turned.
This is the second time that Susan Walters is credited as a Guest Star, and not as a Co-Star.
Behind the Scenes
This episode had about 2.81 million viewers in the USA, which was 0.39 million more than the previous episode.
Continuity
This is the first mid-season finale to feature April, Hayley and Shane; the second to feature Rebekah, Carol and Klaus; the third to feature Jeremy, and the fourth to feature Elena, Stefan, Damon, Matt, Bonnie, Caroline and Tyler.
The Gilbert Family Lake House was last seen in Season Two's The Dinner Party.
This is the second time Damon goes to the lake house. He previously visited there in The Dinner Party.
The first scene with Damon and Elena in bed mirrors the opening scene from We'll Always Have Bourbon Street. But to stress the change in status, they are somber and clothed.
Elena has been practicing fighting and self-defense, first with Alaric, then with Stefan. It paid off when Jeremy tried to stake her, but failed.
Jenna Sommers and Logan Fell were both mentioned by Elena while at the lake house. Jenna was last seen in flashback in The Departed, and in person in The Sun Also Rises. Logan was last seen in The Turning Point.
It's the second time that Caroline tells Klaus that if she needs to be nice to him, she'll need booze—and, both times, she was distracting him while the gang was up to something.
Tyler reminds Stefan and Caroline that they were responsible for the death of Chris, who was both first seen in We All Go a Little Mad Sometimes and was killed by Jeremy to activate his hunter legacy in the same episode.
Carol Lockwood says she is channeling Tyler's father, Richard Lockwood, who died in Founder's Day.
April Young's title as Miss Mystic Falls was referenced at the party. She was chosen to be Miss Mystic Falls in My Brother's Keeper.
April was unable to be compelled by Caroline because of her vervain bracelet. Jeremy gave April his vervain bracelet after Connor died and he subsequently gained the Hunter's Mark in The Killer. He knew that as a supernatural hunter, he could not be compelled anymore.
This is the second holiday episode seen in the series.
Locations
Tropes
Cultural References
Quotes
---
---
---
---
---
---
---
---
---
Multimedia
"Covering Your Tracks" – Amy Stroup
"Christmas Treat" – Julian Casablancas
"Take You to the Mistletoe" – The Kicks
"Christmas Wrapping" – The Waitresses
"Christmas Song" – The Ravonettes




"Jingle Bells" – Sugar & The Hi Lows
"O Holy Night" – Cary Brothers
"Oblivion" – Bastille
"Have Yourself a Merry Little Christmas" – Digital Daggers
Pictures
References
See also