Original Sin is the third episode of the fifth season of The Vampire Diaries and the ninety-second episode of the series overall.
Summary
SECRETS OF THE PAST
- When
Elena
and
Katherine
have the same dream that
Stefan
is in danger and desperately needs their help, they convince
Damon
to help them find Stefan. However, their plans are thwarted by a mysterious young woman named
Tessa
who seems to know everything about Stefan's history. In flashbacks to a distant time and place, Tessa reveals the shocking secrets in her past and what she has planned for the future. She also has a disturbing message for Damon about his own future.
Silas
forces
an unwilling accomplice
to help him search for Katherine, leading to a confusing and life-threatening situation for
Matt
. Finally, Silas reveals
the reason
he's determined to find Katherine, and Damon and Elena face a disturbing new reality.
Plot
SPOILERS AHEAD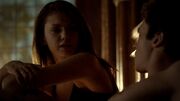 Stefan is walking around when he comes across a bar. He enters and finds Jo, a bartender. He feeds on her but stops himself from killing her. He tells her to run. She does but he soon follows. as he gets outside, the sun comes up and he begins to burn just realizing that doesn't have his daylight ring on. Elena wakes up in bed after having another nightmare, after Damon asks what's wrong, she admits that it was a dream about Stefan again, but Damon says he doesn't want to know what happened. He eventually relents and she tells him that Stefan was at a bar but doesn't know where, Katherine then makes her presence revealing that she had the same dream. Elena is then looking at a map in order to find which diner to go to. Katherine demands to go with them and while Elena has reservations, Damon mentions how Katherine is wanted by Silas.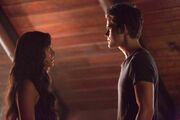 Elsewhere, Silas is talking to Nadia on the phone, in which he has doubts about Nadia's loyalty. She mentions how she killed Gregor and how Silas buried his body. Silas then tells Nadia to find Matt and get information about where Katherine is, then take the ring from Matt and kill him. Stefan awakens in a hut where a mysterious woman is watching him. He warns her to stay away from him as he doesn't want to hurt her. She gives him a blood bag and he drinks from it. She mentions how she knows that Stefan is the doppelgänger of Silas and reveals that she knew him and that he was not always a monster. She mentions how Silas was her true love and that they were the most powerful members of The Travelers, and that their love was so powerful that she created the Immortality Spell. Stefan then mentions that he knows that is when Qetsiyah came into it and ruined everything. He then asks that if she is alive why hasn't she gone after Silas and be with him. She mentions that while he was her True Love, she was not his, and then reveals that she is Qetsiyah.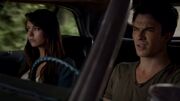 On the road, Damon is driving with Elena & Katherine, Damon asks about the diner but Elena says she will know it when she sees it. Katherine then pops in and says she will know too. Katherine then begins to taunt Elena about how all summer she has been having dreams of Stefan and yet was so interested in her relationship with Damon.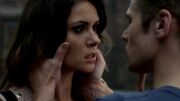 Back at the Mystic Grill, Matt is putting some rubbish away when he sees Nadia. He gets angry at her and demands to know what she did to him. She tells him that she is trying to protect him from Silas and trust her. She then uses a spell to bring forth Gregor who is still inside Matt's mind. He gets angry at her for killing him, but Nadia mentions how she did it to save him. She tells him that she loves him and that they will find a permanent way to keep him in control. She asks him to call Elena to find out where Katherine is.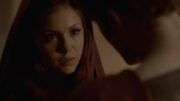 Back at the hut, Stefan is snooping in Qetsiyah's bag when she comes back in. He asks if she has a phone but she says there is no phone signal where they are. Qetsiyah then reveals more of the story of her past mentioning how at the planned wedding of hers and Silas that everything started dying and that she found out that the immortality spell that she created in the drink that would make her and Silas immortal was gone and that he was taking it somewhere else. She reveals that she found Silas' tent where she found that the woman that he was with was Amara, the original doppelgänger of Elena, and her handmaiden. Qetsiyah then tells Stefan that she is making him a daylight ring so that he can get out.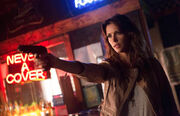 Elena & Damon finally arrive at the bar and enter leaving a sleeping Katherine in the car. They enter and find Jo, who has a bandage around her neck. Damon compels her to tell him what happened and she reveals about Stefan attacking her and then him burning before Qetsiyah threw him into a truck. She mentions how she knows who's truck it was and directs them to the hut. Before though she offers Damon a drink and he accepts until he realizes it is filled with vervain. Nadia comes in telling them that she threatened Jo's life if she didn't do it. Katherine enters as Nadia aims a gun at them. She demands to know which one of them is Katherine, and Katherine points at Elena, but Nadia mentions how Katherine is a liar and knows it is her. Elena tackles Nadia and tells Katherine to run which she does. Nadia is able to fight Elena off and escapes with super speed. Elena tells Damon to find Stefan while she goes after Elena. Damon tells her that if there is trouble to leave Katherine saying she is not worth a hair on her head. They kiss before they part ways.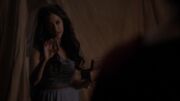 Back at the hut, Qetsiyah reveals how she killed Amara by giving her The Cure, and then slitting her throat and ripping out her heart, breaking Silas' heart. He vows to kill her but she uses her magic to hold him back and then gives him the cure telling him to take it so they can be together, but he refuses. Stefan then realizes that Qetsiyah is not making a daylight ring, she mentions to him about why she would give him the one thing that keeps him from leaving. He tells her that they are on the same side and wants to take down Silas but she refuses him and knocks him out with a spell.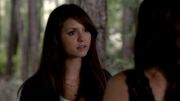 Katherine is running in the woods when Elena catches up to her. Katherine mentions how she is glad to see Elena. She then asks why Elena didn't kill her after giving her the cure, but Elena says that she is not like Katherine and that being human is punishment enough for Katherine. Nadia appears and snaps Elena's neck and threatens Katherine to come with her.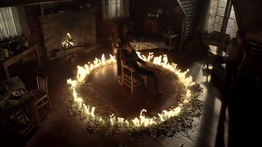 Damon arrives at the hut and finds Stefan tied up in veins on a chair. He tries to free him but can't. Stefan mentions how Qetsiyah is back. Qetsiyah reappears and tells them that she is going to create a link between Stefan and Silas so that she can disable Silas' mental powers. Despite Damon's reservations, Stefan agrees to it. Nadia gets Katherine to her car but Silas then comes out and reveals that he found them through the GPS. He mentions that he wants Katherine but Nadia says she is not done with her. Silas mentions he doesn't care about Nadia's plans. He uses his powers to make Nadia get her gun out and point at her own heart but before she is told to pull the trigger, Silas doubles over in pain. Qetsiyah reveals to Damon that she is frying Silas' brain. Katherine & Nadia escape while blood comes out from both Stefan & Silas' eyes. Stefan finally succumbs to the pain and faints.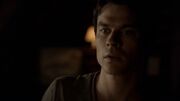 Damon tries to wake Stefan up but he doesn't. Damon demands to Qetsiyah to reverse what she did but she reveals that he will wake up. She then reveals to Damon how if he lets Stefan go and take him with him, then he and Elena will be doomed, she reveals that over 2000 years, versions of Stefan and Elena have found each other and fallen in love. She then offers Damon that if he leaves Stefan with her, she will look after him and then Damon can be happy with Elena. He contemplates this until he attacks Qetsiyah. Qetsiyah though knocks him out. Qetsiyah leaves and Elena arrives and goes strait to Stefan not even noticing Damon.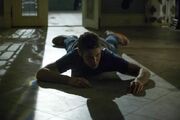 Elsewhere, Katherine is looking through Nadia's bag, when Nadia enters. Katherine admits to snooping. Nadia's phone goes off and she talks to Silas, who reveals that Qetsiyah is back and that she is more dangerous then he is. He then tells Nadia to keep to their deal and keep Katherine safe. Katherine grabs the phone and demands to know why he is so interested in her. He mentions that he is disgusted at the mere sight of her sharing the same face as Amara and then reveals that Katherine's blood is the cure. At Matt's house, he wakes up and gets a call from Elena. She reveals that they have have Stefan but lost Katherine, she asks him if he was okay, but he is surprised that he even called her having no knowledge of it. They say goodbye and he notices mud trailing out of the house, he then finds a knife in his pocket.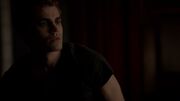 At the manor, Elena is sitting next to Stefan who is still out of it and puts his daylight ring on his finger. Damon comes in and she asks him what Qetsiyah said to him. He mentions how Qetsiyah said that their relationship is doomed and that the universe is working against them to get Stefan & Elena together but he says he is not going to let a jilted witch or the universe to control his life and that Elena is his world. They are about to kiss when Stefan wakes up. They are glad to see him but he looks perplexed. He then apologizes to them and reveals that he has no idea who they are.
Cast
Trivia
Antagonists: Qetsiyah (past), Silas, Gregor and Nadia Petrova (present).
This is the first episode this season to feature four main cast members.
It is revealed Qetsiyah is the one who saved Stefan, and that the man killed by Stefan after he was released from the safe was the owner of the cabin in which the two were staying.
Katherine appears to be fully recovered from the injuries she suffered in I Know What You Did Last Summer, which implies that some time has passed since True Lies.
Elena continues to have nightmares of Stefan that are accompanied by an unsettling feeling that something was wrong with him. Katherine also began to have the same dreams.

It was later revealed by Qetsiyah/Tessa that she magically gave them the dreams in order to draw them to her and Stefan.

It is revealed that Katherine's blood now contains the cure since she was the first person to ingest it. It was also revealed that both Silas and Qetsiyah want Katherine for that reason—Silas, so he can fulfill his plan of destroying the Other Side, becoming mortal, and killing himself to be reunited with his true love Amara; and Qetsiyah so she can force-feed Katherine's cure-laced blood to Silas and kill him before he can destroy the Other Side to ensure that her plan for revenge is finally successful.
Stefan becomes the first person (aside from Jeremy) to learn that Bonnie died after Qetsiyah informs him that she took advantage of "the Bennett witch" lowering the veil to the Other Side (which occurred from The Walking Dead to Graduation) and used her magic to resurrect herself.

However, Stefan's brain sustained so much damage during the spell Qetsiyah cast to link him to Silas that he lost all of his memories, and he subsequently forgot that he was informed of Bonnie's death.

Stefan loses all his memories after a spell done by Qetsiyah to link him to Silas in such a way that it would disable his psychic abilities and prevent him from reading anyone's mind. As a result, he awakens afterward with no memories or knowledge about any of his family, friends, or acquaintances, which includes Elena, Damon, and the rest of the Mystic Falls Gang.
Elena, Damon and Katherine meet Nadia for the first time in this episode.

Additionally, Katherine unknowingly meets her biological daughter for the first time since she gave birth to her and was subsequently forced to give her up for adoption in 1490. However, Nadia keeps the fact that she is Katherine's daughter a secret for the time being.

Qetsiyah reveals that Amara is the progenitor of the Petrova bloodline, and that Tatia, Katherine, and Elena are doppelgängers as a result of her consumption of the immortality elixir with Silas in sometime in 100 BC.
Qetsiyah makes the decision to have everyone call her Tessa, as she believes it's easier to pronounce and sounds less "ancient-timey."
This is the first episode in Season Five to feature Stefan more than Silas.
This is the first instance where Nina Dobrev plays three of the four known Petrova doppelgängers (Elena, Katherine, and Amara, though the latter was only in flashbacks) in one episode.
It is revealed that Silas fell in love with Qetsiyah's handmaiden Amara, who was the progenitor of the Petrova bloodline and the woman who spawned the female line of doppelgängers. Because of the love he felt for her, he left Qetsiyah at the altar of their wedding and stole the immortality elixir Qetsiyah had made for the two to drink together so he could share his new-found immortality with Amara instead.
Damon's epic "You are my life" confession to Elena in this episode was declared the scene of the week in an online poll.1
Continuity
This is the second time that Nina Dobrev plays three different roles in a single episode: Elena, Katherine and Amara. The first time was in the Season Four finale (Graduation), where she played Elena, Katherine and Silas.
Qetsiyah appears for the first time in this episode. She was last mentioned in Graduation.
Qetsiyah claimed to have reversed Amara's immortality and killed her. This was proven to be a lie in Handle with Care.
Thought not revealed until Monster's Ball, Damon correctly guesses that Nadia is European.
Stefan lost his memories of everyone he's ever known and everything he's ever done in this episode as a result of the spell cast on him by Qetsiyah to link him to Silas. He will not have his memories returned to him until the end of Handle with Care.
Locations
Joe's Bar
Ancient Greece (flashback)
Behind the Scenes
This episode had about 2.93 million viewers in USA, which was 0.79 million more than the previous episode.
Hashtag during the airing is #RipperReturns
Cultural References
Quotes
---
---
---
---
---
---
---
Multimedia
"Way Out" – Bass Drum Of Death
"Hello Lover" – Empires
"Dear Mr. President" – Fitz & The Tantrums




"Breathing Underwater" – Metric
"Hard Times" – J. Roddy Walston & The Business
"Satellite Call" – Sara Bareilles



Videos
Pictures
References
See also
Community content is available under
CC-BY-SA
unless otherwise noted.