Phoebe Jane Elizabeth Tonkin was born on July 12, 1989, in Sydney, Australia. She is best know for potraying Cleo Sertori in H2O: Just Add Water, Fiona Maxwell in Tomorrow, When The War Began, and Faye Chamberlain in The Secret Circle. Phoebe also portrays Hayley Marshall-Kenner in The Vampire Diaries and its spin-off The Originals.
Personal life
When she was four, Tonkin attended several dance courses, including classical ballet, hip hop, contemporary dance and tap dance. At the age of twelve, she began courses at the Australian Theatre for Young People (ATYP) at the Wharf Theatre. She later graduated from Queenwood for Girls in Balmoral, New South Wales. Tonkin has appeared in a number of commercials which include Vauxhall Motors and Chick Management, and she has also modeled for the magazines Girlfriend, Teen Vogue, and Dolly. She has also appeared in the music video for Miles Fisher's song "Don't Let Go."
She was also dating her fellow Vampire Diaries co-star Paul Wesley until they broke up.[1] However, they have since started dating again.[2] They are no longer together as of July 2017.
Career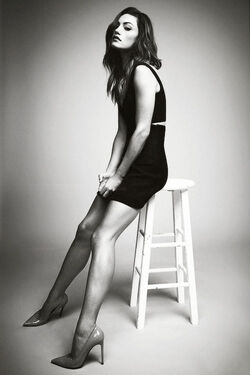 In December 2005, Tonkin was cast as the role of Cleo Sertori on the Australian children tv show H2O: Just Add Water, which followed the lives of three teenage girls who turn into mermaids. Tonkin improved on her swimming abilities during the pre-production of the series. The series premiered on July 7, 2006 on Network Ten and has since gone on to be aired to a worldwide audience of more than 250 million. To promote the series, she and her co-stars presented the best band award at the Nickelodeon UK Kids Choice Awards in October 2007. In 2008, Tonkin was nominated for "Best Lead Actress in a Television Series" Australian Film Institute Awards The series ran for three seasons with the series finale airing on April 16, 2010.
Tonkin has also appeared on fellow Australian television shows Packed to the Rafters and Home and Away. In September 2010, Tonkin made her film debut starring in the Australian action ensemble film Tomorrow, When the War Began. In the film, which revolves around a group of teenagers waging a guerrilla war against an invading foreign power in their fictional hometown of Wirrawee, she played the role of the rich and uptight Fiona Maxwell. In December 2010, a sequel was announced with Tonkin expected to return.
In January 2011, Tonkin moved to Los Angeles to pursue acting internationally. She was cast in March 2011 as Faye Chamberlain on the supernatural drama series The Secret Circle, which premiered on September 15, 2011 to over 3.5 million viewers. The series followed a group of young witches who are a part of a secret coven. Tonkin received acclaim from critics, and was referred to as the breakout star of the series; she was featured on Variety magazine's "New Faces to Watch" and was named one of 2011's breakout stars. The Secret Circle, however, had only one full season and was canceled on 11 May 2012. In 2012, Tonkin was cast as Jamie in the film Bait. Filming took place on Australia's Gold Coast and followed a group of strangers who were trapped in a supermarket after a freak tsunami along with a 12-foot Great White Shark. In August 2012, Tonkin was reported as being cast in the TV series The Vampire Diaries in a recurring role as Hayley, a friend of Tyler, joining her co-star from H2O: Just Add Water, Claire Holt, who portrays Rebekah Mikaelson. In spring of 2013, it was announced that Tonkin and her character Hayley would be moving onto The Vampire Diaries' new spin-off series called The Originals, which would be following the Original family of vampires to New Orleans, where they quickly become embroiled in a war between the various communities of supernatural beings who reside there. The Originals premiered on October 3, 2013 to 2.21 million viewers.
Filmography
TV Shows

Movies/TV Shows

| Year | TV/Movie | Role |
| --- | --- | --- |
| 2010 | Tomorrow, When The War Began | Fiona Maxwell |
| 2012 | Bait | Jamie |
| 2014 | Tomorrow, When The War Began 2 | Fiona Maxwell |
| 2014 | The Ever After | Mabel |
| 2016 | Billionaire Ransom | Amy Tilton |
Gallery
Trivia
Phoebe was cast in the sister show of The Vampire Diaries The Secret Circle.
Phoebe and Claire Holt are real life best friends and worked as mermaids on a TV show together back in 2006 called H2O: Just Add Water.
Phoebe was born on 12 July 1989.
Phoebe is 5 feet, 7.5 inches tall (171.5 cm).
Phoebe is 56 kg.
She is a vegan.
Phoebe was dating Paul Wesley as of September 2013.

Phoebe and Paul have broken up as of January/February 2017.
Phoebe and Paul have rumored to be back together as of May 2017.
Phoebe and Paul are no longer together as of July 2017.

Phoebe was born in Sydney, Australia.
Phoebe's character Faye Chamberlain was considered the "Damon" of the sister show The Secret Circle.
She has a younger sister named Abby.
After canceling The Secret Circle, Kevin Williamson decided to write her into one of his other shows, which is what brought her to The Vampire Diaries.
Both she and Claire have made their debuts on The Vampire Diaries in a season's third episode; Phoebe in The Rager in the fourth season, and Claire in The End of the Affair in the third season. Both actresses have been recurring characters on the show from then on.
After the CW's hit superhero shows Smallville and Arrow, CW is in the early works for a Wonder Woman show called Amazon, which would detail Diana Prince's origin story before she became Wonder Woman. It's been suggested that Phoebe could take on the lead role. [1] [2] Phoebe admitted she's interested in Amazon. Casting is being called for the lead role and matches Phoebe's description. [3]
Phoebe is a fan of the ship Klaroline.
It was revealed that she will star on The Vampire Diaries spin-off, The Originals, as Hayley. [4]
Phoebe is very clumsy and is known for tripping over things and falling. She admits she can't control her legs.
When Phoebe decided to call and tell Claire she was coming to Atlanta, she made Claire lock herself in her trailer and be completely alone, and not tell anyone else because no one else was supposed to know yet. When she told Claire, Claire screamed, and Phoebe told her that her trailer door had better be closed.
Phoebe stated that, in her opinion, one of the best characters is Rebekah, namely because she is awesome, cool, funny, and sexy.
She is friends with Alexandra Chando, who is one of Nina Dobrev's celebrity doppelgängers.
Phoebe Tonkin and Teresa Palmer are creating a website for heath called "Your Zen Life." [5]
She is named as one of Australia's fittest woman.
She has stated on her Twitter that she's a big fan of the show American Horror Story.
Phoebe has a history of portraying supernatural characters. She has appeared as a mermaid (H2O: Just Add Water), a witch (The Secret Circle), a werewolf (The Vampire Diaries), and a hybrid (The Originals).
After the departures of her fellow cast mates Daniella Pineda, Claire Holt, Leah Pipes and Danielle Campbell from the main cast she remains as the sole original female cast member on The Originals.
In season five of The Originals, she is only credited in the episodes she appears in. She is the only main cast member in the TVD/TO universe to have such billing.
External links
References
Community content is available under
CC-BY-SA
unless otherwise noted.