Pictures of You is the nineteenth episode of the fourth season of The Vampire Diaries and the eighty-fifth episode of the series overall.
Summary
PROM NIGHT IN MYSTIC FALLS — After making a decision that infuriates Klaus, Elijah proposes a life-changing challenge for Rebekah. Caroline finds that her carefully laid plans for the perfect Senior Prom night are disrupted by Elena, so she turns to an amused Klaus for a solution. Determined to get through to Elena, Damon and Stefan both attend the prom, but the evening begins to spiral out of control despite their efforts. When Elena suddenly lashes out in a way no one could have predicted, Matt turns to Rebekah for help. Finally, Bonnie makes a terrifying discovery, and Klaus receives a message that could change everything.
Plot
SPOILERS AHEAD
Bonnie
has a dream where she visits
Jeremy
's grave and encounters him. He only tells her repeatedly to wake up and when she does, the couch she is sleeping on is on fire.
Damon and Stefan have taken Elena's threat to kill people seriously, though they reason that the best course of action is to try to convince Elena to turn her humanity back on by reminding her of her past happy life.
Elijah has a conversation with Rebekah and Klaus about the cure to decide who will get it. Klaus wants to give it to Silas so he will die, though it will cause all the dead supernatural beings to come back; Klaus notes this will at least enable them to see their dead siblings, Kol and Finn. Rebekah wants the cure for herself so she can be human and have a happy life. Ultimately, Elijah decides Rebekah should get it because her reason is not damaging, leaving Klaus furious. However, Elijah will not just give Rebekah the cure in case her reasons to be human are more of a spur-of-the-moment desire. She has to spend a day "human", she cannot use her vampire powers at all so she knows what she is giving up. Elena is certain Rebekah will fail, as it is not in her personality to act human.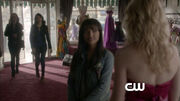 Shopping for a dress for the prom, Bonnie tells Caroline about her dream. She is uncertain whether her grief caused it or if her Expression powers are getting out of control. Caroline suggests Bonnie is upset because she did not get to say good-bye to Jeremy. They are then met by Elena and Rebekah, and Caroline is still angry with Elena for her previous attempt to kill her. Elena ends up stealing the dress Caroline picked out for herself, leaving an angry Caroline to ask Klaus to give her one. Stefan and Damon escort an unhappy Elena to prom. She meets with Bonnie and Matt, who have come together. They try to comfort her, but she coldly rebuffs them, saying she is not happy with Bonnie because the latter had said she could bring Jeremy back but did not. Damon tries to get close to her, but Elena ignores his statements, pointing out Damon was the one who told her to turn off her humanity in the first place, and claims her love for him was apparently the product of the sire bond after all. Stefan then tries, but gets the same result.
Bonnie sees Jeremy (or, rather, imagines him) and shares a dance with him with Rihanna's Stay playing in the background. She discovers it is really Silas when "Jeremy" tries to convince her to bring him back by giving the cure to Silas. Angry, she leaves. Caroline shares a dance with Stefan, and he admits he is having difficulty moving on from Elena because a part of him still cares for her. Caroline comforts him by saying it is natural, though she ends up leaving the prom she organized in depression over not having Tyler around.
Rebekah asks April to make her prom queen, not using her compulsion to do so, with Elena demanding she does. Rebekah asks Matt whether she would make a good human, but he says she will not because she has never done anything good, upsetting her. Damon is outside nostalgic as he thinks of Elena, and Stefan comes and bluntly points out that he and Elena had a real relationship, while she and Damon had sex that may have been caused by the sire bond. Angered, Damon charges at him only to be stacked by Stefan, revealing himself as Silas. Stefan is currently in the woods in a similar position. Meanwhile, Elijah asks Klaus to pardon Katherine, but Klaus is disgusted by his brother's affection, telling him if he gets his hands on Katherine, he will kill her..
Matt and Bonnie are crowned King and Queen, leaving Rebekah disappointed. Elena overhears the others' conversation about Silas and realizes that so long as Bonnie is around, Silas will prevail in breaking the veil that keeps the supernatural on the Other Side. If this happens, people such as Alaric and Jeremy will come back, and Elena does not want Jeremy to convince her to turn her humanity back on. She resolves to kill Bonnie to prevent this, as Silas needs her. Elena attacks Bonnie behind the curtains and Bonnie uses her Expression to stop her while wind and magic blow through the rest of the school and Bonnie tells Matt she has to leave. Confronted by Matt and April, Elena hits April's head on a desk, bites her and says, "That's for not letting Rebekah win Prom Queen', but she is actually sore from losing against Bonnie. Rebekah comes by and Matt asks her to heal a dying April with her blood, though it will cause her to lose her bet with Elijah.
Caroline goes to Tyler's old house and is pleasantly surprised to find him there for prom. Klaus cannot get into the house, leaving him safe for a while. They share a dance before he departs. He is instantly met by Klaus, who had guessed he would return. However, he gives Tyler a chance to run.
Bonnie is once again met by Silas, and he makes her more upset by insisting she try to get Jeremy back by helping him. She says, "I will die before I can let you control me." The cars parked in the background's lights flicker and alarms rings. Her Expression powers get overwhelmed with frustration and anger as Silas yells, "Control, Bonnie, control!" Bonnie screams as she wins the battle for consciousness while using Expression and consciously pushes Silas out of her mind with her enhanced powers. He disappears just as Elena appears and bites Bonnie. Bonnie falls onto her knees while Elena starts to feel pain in her mind, the already angry Bonnie becomes enraged and the viewer sees that Bonnie's wounds heal rapidly, much faster than vampires or werewolves have been shown to heal. For the first time in a while, Elena is left in a vulnerable position until Stefan and Damon show up and Elena is almost killed by Bonnie. Bonnie stops and leaves in a fury saying, "None of this is okay." while Stefan injects Elena with vervain, knocking her unconscious. Rebekah heals April and Matt, regretting his previous statement, agrees not to tell anyone about the event. However, Klaus has seen it and demands she tell Elijah the truth. He implies he is planning something, Rebekah calls after him, "What does that mean? Niklaus, what does that mean?!" So Rebekah calls Elijah to warn him. However, Elijah had been tricked into giving the cure to Silas, who took on Rebekah's form.
Elena is locked in the cellar of the Salvatore house until they find out what to do next. Damon notes how when Bonnie was harming Elena, she clearly showed genuine fear. They reason that if Elena is miserable, she will probably turn her humanity back on. Klaus goes home to find a letter from Katherine. She reveals that in
New Orleans
, a witch is plotting against Klaus, and reasons there are details that will be a horrific shock to Klaus. Her reason for warning him is he will give up on finding Katherine once he discovers the plot. Bonnie tracks down Silas and finds him in his normal form with the cure. He reveals a part of his true face to her by her inquiry.
Cast
Trivia
Antagonists: Elena Gilbert and Silas.
At least eight or nine days have gone by since the previous episode.
This is the first episode to feature all series regulars since After School Special. This is the sixth and final episode of the season to do so, as Tyler is absent for the remaining four episodes.
Rebekah reveals Elena is currently living with her.

However, this episode proved to be the last to feature this living arrangement, as Elena was injected with vervain by Stefan and brought back to the Salvatore Boarding House, where she was held in the basement until just before she turned her humanity back on in She's Come Undone. Afterward, she continued to live at the boarding house until she left for college.

Tyler appears in this episode after being absent for four episodes. This is also his last appearance of the season.
As stated by Caroline, vervain is no longer in the town's water supply.
This is the second time that Matt and the first that Bonnie has encountered Elena since she switched off her humanity.
This episode marks the first time Rebekah gets to attend a dance, as she had never been able to actually make it to any of the other dances she wanted to go to in the past.
Silas shows Bonnie what he claims to be his real face. It is scarred and deformed, and he tells her it is because Qetsiyah wanted to ensure that no one would ever love him again.

However, in The Walking Dead, Silas reveals that this face was also just an illusion to trick her into believing that she was powerful enough to keep him from using his psychic powers on her.

Silas takes on the physical appearance of four different characters: Jeremy, Stefan, Damon (off-screen) and Rebekah.

At the end of Graduation, it is discovered that Silas did, in fact, take his true form during this episode—however, since it was unknown at the time that Stefan was his doppelgänger, it was assumed he had just taken Stefan's form.

Elena tries to kill April Young in this episode after she refused to cheat and announce Rebekah as prom queen. However, she was saved at the last moment when Rebekah healed her with her blood after Matt begged her to save her. This is also April's last appearance in the show.
When Elena reveals that she doesn't want Bonnie to permanently lower the veil between the living world and the Other Side, she explains that it's not because she's afraid of the return of her enemies who were killed and trapped there, but because she doesn't want Alaric and Jeremy to come back, as she knows they will try to make her turn on her humanity again.
Katherine does not physically appear in this episode, although her voice can be heard at the end when she narrates the letter she leaves for Klaus.
This is the second episode in which Elena tries to kill one of her friends. The first was Caroline in Bring It On. The second was Bonnie in this episode.

In the Season Six episode Because, Caroline brings this up to Elena after Elena tries to get her to turn her humanity back on following the death of her mother in Stay.

This episode marks the first time Bonnie has ever used her powers against Elena when she uses Expression to cast a Pain Infliction spell on her in self-defense.
Klaus' threat to make Elijah's life miserable is similar to how Damon had threatened to do the same to Stefan when they first became vampires.
In Katherine's letter, she signs it at the end with her birth name, Katerina, which both Klaus and Elijah were known to call her.
The irrational fear Kol had of Silas seems to have been inherited by Klaus, as he is willing to let all of the dead supernatural beings on the Other Side return to life (many of whom are his enemies, such as Mikael), as long as Silas can take The Cure and die so he can no longer torment him with his illusions.
Rebekah says Klaus "hated" Kol, which is not entirely true — Klaus may have been angry enough to want to punish him for his actions, but he was furious when Kol was killed by Jeremy, and had it not been for the threat posed by Silas and the inconvenience of Katherine stealing the cure, Klaus likely would not have been too distracted to retaliate against them.
In the novel Dark Reunion, Bonnie has a dream where Elena appears (as a spirit), and gives her clues as to the new enemy arriving in Fell's Church. In the TV series, Bonnie has a dream where Jeremy appears and forces her to wake up so she isn't burned alive by her own out-of-control Expression-based pyrokinesis.
Elijah gives Klaus the White Oak Stake in this episode as a consolation prize to make up for the fact that he planned to give the cure to Rebekah.
Damon and Stefan take Elena prisoner and lock her up in the basement after she tries to kill Bonnie at the end of the episode.
Continuity
Locations
Behind the Scenes
This is the least viewed episode of Season Four, with only about 2.14 million viewers in the USA.
Though no one knew this at the time, Silas actually took on his true form at one point in this episode when he impersonated Stefan.
This episode was Kat Graham's favorite episode to film.[1]
Hashtag during the airing is #SuitAndDie
Cultural References
Quotes
---
---
---
Multimedia
"Whispers" – Dave Baxter
"Keep Together" – Hunter Hunted
"Bottled Up Tight" – Luke Sital-Singh
"Pictures Of You (The Cure cover)" – Class Actress
"Desert Song" – Hot As Sun
"Stay" – Rihanna




"Remember" – Kari Kimmel
"Paper and Gun" – The Cold And Lovely
"Lights" – Josh Ritter
"Song For Zula" – Phosphorescent
"Stay Away" – Charli XCX
"You Send Me (Sam Cooke cover)" – Caught A Ghost



Pictures
References
See also
Community content is available under
CC-BY-SA
unless otherwise noted.