San Vittore was a church located in in Brienno, Italy. It was the place where Alexander and Rebekah were to be married. Rebekah buried Alexander and his sword here.
Season Four
Rebekah told Stefan in The Five that she and Alexander were supposed to be married here, and that she buried him with his sword like a "hopeless fool".
In The Killer, Klaus traveled here. He exhumed Alexander's grave and found the sword, as it was the key into using the Hunter's Mark in order to find The Cure.
In Graduation, while Alexander is holding them hostage, Rebekah told Matt that she would take him there, and that's where they'll start their summer trip while scornfully looking in Alexander's direction. Alexander commented that it was romantic spot that was popular for weddings.
Trivia
San Vittore church really exists in Brienno, Italy.
This church only appeared in one episode.
This was the church Rebekah and Alexander were to be wed.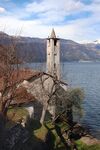 Rebekah buried Alexander here, along with his sword.
See also