Wiki Targeted (Entertainment)
Play Sound
"
I exist for one reason, too: merge with my sister. That's our destiny, right? Unless I stayed here in a no-magic zone. Maybe the merge wouldn't have to happen, and Josie would be safe.
"
Screw Endgame[2] is the fifth episode of the second season of Legacies and the twenty-first episode of the series overall.
Summary
80s DECADE DANCE — As the Salvatore School prepares for its upcoming '80s-themed decade dance, Hope and Lizzie find themselves trapped inside a never-ending labyrinth with a monster on their trail. Meanwhile, Josie and Landon decide whether or not to take their relationship to the next level. Elsewhere, MG turns to Kaleb for advice on what to do about Sebastian, while Rafael struggles to adjust to his life back at the school. Alaric also appears.[3]
Plot
Hope is stretching in the Town Square as Lizzie arrives, revealing that, following Josie's magic blast, she remembers Hope. Hope is shocked, but Lizzie tells her that they don't have time for reunions as Josie and Landon are planning to have sex during the 80s decade dance. Just as they are about to formulate a plan, a woman appears from the Malivore portal, claiming herself to be the Keeper. She holds up her wrist and welcomes the two to "the game", before disappearing. Hope and Lizzie think nothing of this, and go to cross the street before being ran down by a delorean. They awaken back where they started, with Hope announcing that "the game" has begun.
MG wakes Kaleb up, asking if he can see Sebastian, however Kaleb reveals that he can't, but to ask Sebastian what he wants. MG admits that Sebastian has come into contact with a tiny bit of blood — from the blood fountain — and now is able to reach out to weak-minded people, but is still desiccated. Sebastian wants Kaleb and MG to find his body and presumably awaken him.
Rafael talks with Landon as they begin to set up for the 80s decade dance. He tells Landon that Josie thinks the two of them will have sex later that night, however Landon does not believe this. He quickly comes around, however when Josie approaches telling him that they don't have to worry about Alaric as Lizzie has agreed to stay in town with him. This shocks Landon, who makes a joke about Rafael attending the dance with Hope, however he tells him to worry about his night with Josie. Alaric arrives shortly after whilst Josie and Professor Vardemus are talking. Vardemus reminds Alaric that he is prohibited — by court order — from being on school grounds, however he remarks that he has cleared it with the sheriff and is at the school as a concerned parent; neither Josie or Lizzie attended their scheduled dinner. Alaric tells Vardemus he is waiting at the school until he knows Lizzie is safe.
Meanwhile, Hope and Lizzie realize that they are stuck in an alternate version of the 80s. They manage to cross the road to a clothing shop and change into something alike of the decade. Lizzie asks why Hope didn't tell everyone who she was when she returned from Malivore, but Hope tells her she was too busy saving the two. The two continue to die multiple times before the two find a "clue store". They approach the store to find themselves reunited with the Keeper. The Keeper reveals to them that she was once in their situation until she was dropped into Malivore by men in black — presumably Triad Industries — and is now the "Keeper of the Game". She tells the two that they play the game and get eaten by her "pet", or one of them takes her place and the other is set free. Both Hope and Lizzie refuse to take her place, which angers her, however the two run off as her pet approaches. As they try to evade the monster, Lizzie tells Hope that nobody is better off without her, Josie and Landon are just filling a void left behind by Hope's disappearance. She further reveals that she hallucinated a boyfriend, but cannot reveal further information as the two trigger a trip-wire and are killed.
At the Salvatore School, MG and Kaleb have found Sebastian's body. Both refuse to wake him up on his request, until Sebastian offers MG a deal he cannot refuse: he will leave town and allow MG and Lizzie to be together in return for fresh blood to awaken him. The two consult with Alaric over this, who tells them to let Sebastian rot, as nobody is desiccated for being too nice. Kaleb thanks Alaric for his advice, and Alaric remarks that he's surprised he even wanted his opinion given the Honor Councils vote. However Kaleb reveals that he was the only one that voted for him to stay. In the hall, Landon is writing a list in his journal of things that he needs to do before having sex with Josie. Dorian approaches and Landon asks for advice from him. Dorian reveals that he and Emma are not dating anymore, but offers some advice: the two should just know.
Lizzie tells Hope to reveal herself to Landon, however she tells her that it won't make a difference. She tells Lizzie that she's Malivore's loophole and will just have to jump back in the portal, thereby making everyone forget her again. They attempt to escape again from the monster before they find themselves back at their origin. The Keeper asks if they'll take the deal, but the two refuse, before Hope tells Lizzie that they should take the deal, with Hope remaining as Keeper. Hope realizes that the monsters won't come if she remains behind with the minotaur. Nevertheless, nobody will know she is gone except Lizzie.
Alaric asks why Josie voted him out of the school. Josie reveals that deep down, it's what he wanted but couldn't bring himself to do it. She tells him that he needs to have his own life and that he succeeded in his mission to open a school where his daughters could be safe. She tells him to let the two of them go a little and begin dating, before she reveals that she has chosen him an outfit for the night.
Kaleb feeds Sebastian more blood, just enough to allow him to communicate with him physically. He asks what Sebastian wants, and is able to trick him into revealing that he is desiccated for feeding on too many people. With this, Kaleb tells him that he will burn his body after the dance, much to Sebastian's dismay.
Josie and Landon meet to walk to the dance together and both talk about their days. Josie makes a remark that the two don't have to dance if they don't want to, however Landon thinks this is a metaphor for having sex and is initially relieved until he understands the situation. He tells Josie that he wants their first time to be special so asks if the two can wait. They head to the dance together where they meet with MG and Kaleb. Kaleb tells MG that he figured out Sebastian is a cold-blooded killer, and that he further understands that MG is only thinking about Lizzie, but should let it go.
Meanwhile, Lizzie admits that she too exists for one reason only, to merge with Josie and if she stays in the labyrinth — a no magic zone — the Merge may not have to happen. Hope tells her that she won't let that happen, which leads to Lizzie knocking her out with a large tree branch. Lizzie goes to take the Keeper's deal, with the Keeper revealing she knew she was the smart one. She further reveals that the labyrinth was created by a sorcerer to punish women who refused his affection. She hands Lizzie the bracelet, telling her it's the only thing protecting her from the minotaur, but Lizzie smashes the bracelet after the Keeper reveals that actually Hope will die if she takes the role of Keeper. She joins back with Lizzie and the two kill the minotaur, essentially ending the game and returning them, and the Keeper, back to Mystic Falls.
At the dance, Landon asks Josie if the two want to "dance" somewhere else, hinting at the two leaving to have sex. Hope and Lizzie witness the two leaving, and Lizzie tells her to hurry as they can still stop them, however Hope tells her to let them go. Landon leaves during to find protection, but is unable to. Sebastian approaches Wade, telling him that he needs a friend. Lizzie asks why Hope does not want to stop Landon, and she reveals that she thinks they look happy together and maybe there is another destiny for her. With this, they dance.
Landon asks Dorian to borrow his car keys to make a trip to the store, however instead he gives him the key to the nurses office to find what he is looking for. Meanwhile in her room, Josie is distracted by the sound of what she believes to be rat claws, however it turns out to be Penelope Park's diary that records student entries to their own. She turns back a couple of pages to find Landon has written a song about Hope. When Landon returns she is visibly upset but asks if the two can wait. Landon happily obliges, and tells her they have all the time in the world. When he leaves, Josie reads the song again and begins to cry.
MG uses a magical mirror to talk with Kym, who tells him that he goes to the best school ever. She tells him about a guy staring at him from behind, however when he looks it turns out to be Sebastian, who licks his lips before speeding away, revealing that Wade has woken him.
At the Mystic Tap, Alaric has invited Professor Vardemus for a drink, much to his surprise. Alaric tells him he will stay out of his way as he wants his time at the school to be a success, but to remember he is in charge of people he loves. As Alaric leaves, Vardemus, notices the Keeper, and removes his ring, revealing himself to be Ryan Clarke. He reveals that he knows she is from Malivore, and begins to absorb her into him, before blood splatters.
Cast
Main Cast

Recurring Cast

Guest Cast

Co-Starring
Trivia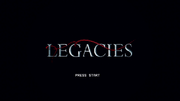 Antagonists: Malivore (indirectly), The Keeper, Minotaur, Rupert Vardemus/Ryan Clarke
The title card for this episode was changed to to one in the style of old video game's main menu.
This is the second occurrence of the 80s Decade Dance, the first being in Do Not Go Gentle; it is the first for Legacies.
Kaleb was the only member of the Honor Council in favor of keeping Alaric as headmaster; Josie, Jed, and Dorian voted him out.
Sebastian is "invisible" because he is using vampiric telepathy - though, in his desiccated and diminished state, he can only appear to the fragile-minded.
Josie rediscovers Penelope's spelled journal and finds out that Landon wrote a song about Hope before she jumped into Malivore.

Josie has had the journal underneath her bed, of which she says she's "been listening to [the] tiny little rat claws for months". Penelope gave her the journal earlier in the year, in late March. Despite listening to the scribbles for over six months, since it's now September, she only flipped back a couple of pages to find Landon's song about Hope - this is likely a blooper considering Penelope gave all the students pens to record what's written with them in the journal.

Professor Vardemus is actually Ryan Clarke, using a magical ring in order to maintain his disguise.
Continuity
Locations
Behind the Scenes
This episode's title was a line used by Hope.
When Hope and Lizzie are crossing the street in the Town Square, they are splashed by a car. The car was not actually involved in the splash, instead water was projected over them by a machine whilst the car drove past.[4]
Cultural References
Quotes
Multimedia

"Please, Please, Please Let Me Get What I Want" – The Smiths


"Dance Hall Days" – Wang Chung


"It Takes Two" – SRM


"You Spin Me Round (Like A Record)" – Dead Or Alive


"One Thing Leads To Another" – The Fixx


"Take On Me" – Wendy Wang & Inga Roberts


"Holding Out For A Hero" – Bonnie Tyler


"I Melt With You" – Modern English


"Faith" – Sleeping At Last


"What I Like About You" – Lillix


"Your Love" – The Outfield
Videos
Pictures
References
See also
Community content is available under
CC-BY-SA
unless otherwise noted.