The soundtrack of the TVD series contains quite a lot of songs. Here are the songs from the fifth season.
Season 5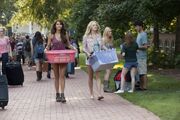 "Unbelievers" – Vampire Weekend


"Royals" – Lorde


"Falling" – Amy Stroup


"Pumpin Blood" – NONONO


"Dreaming" – Smallpools


"Destroy" – In-Flight Safety


"Here We Go Again" – Johnny Stimson


"Time" – The Fast Romantics


"Run Away" – Cary Brothers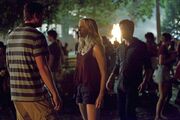 "Don't Give Up" – Ferras


"Better Life" – Paper Route


"Say Now" – The Rival


"Burn" – Ellie Goulding


"This Moment Now" – Tyrone Wells


"Don't Deserve You" – Plumb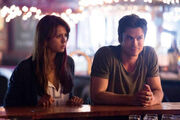 "Way Out" – Bass Drum Of Death


"Hello Lover" – Empires


"Dear Mr. President" – Fitz & The Tantrums


"Breathing Underwater" – Metric


"Hard Times" – J. Roddy Walston & The Business


"Satellite Call" – Sara Bareilles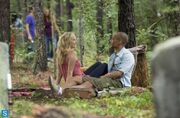 "I've Got Friends" – Manchester Orchestra


"Cards With The Devil" – Von Bonneville


"Back Against The Wall" – Cage The Elephant


"Happy Faces" – Babe Youth


"Longest Night" – Howie Day


"Hearts Like Ours" – The Naked & Famous


"Gravity" – Sara Bareilles


"Without A Word" – Birdy

"You Don't Know" – Brooke Annibale


"Send Him To Me" – Barbara Brown


"Bad Things" – Meiko


"Most Wanted" – Cults


"Never Tear Us Apart" – Cary Brothers


"Stars" – The Delta Riggs


"Au Revoir" – OneRepublic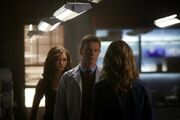 "Bitter Rivals" – Sleigh Bells


"Elephant" – Tame Impala


"Shine In The Sun" – Wild Belle


"Stars" – The Delta Riggs


"Keep Your Eyes Peeled" – Queens Of The Stone Age


"The Walker" – Fitz & The Tantrums


"Spark" – Fitz & The Tantrums


"Coming Down" – Dum Dum Girls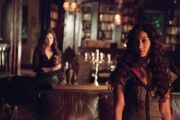 "You" – The Aquatones


"Don't Swallow The Cap" – The National


"Afraid Of The Dark" – Ejecta


"With Love" – Christina Grimmie


"Afraid" – The Neighbourhood

"Harlem" – New Politics


"Bad Intentions" – Digital Daggers


"Slipping Away" – Barcelona


"The Night Out" – Martin Solveig


"Come A Little Closer" – Cage The Elephant


"All Night" – Icona Pop


"The Other Side" – David Gray


"My My Love" – Joshua Radin

"A New Pair Of Blues" – Buddy Stuart


"Creeplife" – Deap Vally


"Yes Yes" – The Colourists


"Walkin' After Midnight" – Patsy Cline


"Oo Wee" – The Hearts


"No Other One" – Buddy Stuart


"A Girl Like You" – Eddie Robbins


"I Need You" – Buddy Stuart


"My Superman" – Santigold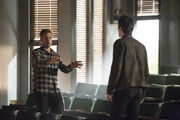 "Slave" – Yeah Yeah Yeahs


"Fitzpleasure" – Alt J


"Where It Ends, Where It Begins" – Sacco


"The Love Club" – Lorde


"All I Want" – Kodaline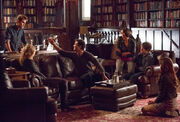 "Love Don't Die" – The Fray


"Come Save Me" – Jagwar Ma


"Illusory Light" – Sarah Blasko


"Let Her Go" – Passenger
Episode 12 - The Devil Inside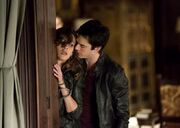 "Tongue Tied" – Grouplove


"21 Flights" – Heavy English


"Fa Fa Fa" – Datarock


"Flirting With Thieves" – Heavy English


"Your Body Is A Weapon" – The Wombats


"Thunder Clatter" – Wild Cub


"Live In The City" – Dragonette


"Bravado" – Lorde


"Soften And Shake" – Olivia Broadfield


"I'm A Man" – Black Strobe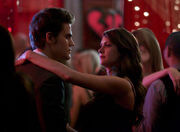 "Best Day Of My Life" – American Authors


"Who I Belong To" – Pink Frost


"Lady In Waiting" – US Royalty


"I Want It All" – Jules Larson


"It Ain't Over" – The Rival


"Female Robbery" – The Neighbourhood


"Best Part Of Me" – St. Leonards


"Beer Pressure" – Wildcat Strike


"Ever Love" – Beginners


"Love Me Again" – John Newman


"Restart" – Little Daylight


"Background" – Barcelona


"Say Something" – A Great Big World ft. Christina Aguilera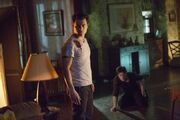 "Radioactive" – Imagine Dragons


"You Belong Here" – Leagues


"Fleur Blanche" – Orsten


"Poisonous Spider" – Company

"Good Mistake" – Mr. Little Jeans


"White Collar Whiskey" – Emily Wolfe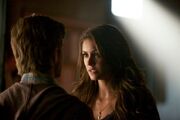 "Aliv" – Empire Of The Sun


"Avant Gardner" – Courtney Barnett


"Fire Breather" – Laurel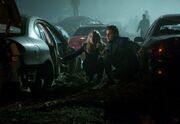 "Shake" – The Head & The Heart


"Weekend Warrior" – Etyan And The Embassy


"Walking Backwards" – Leagues


"Do I Wanna Know" – Arctic Monkeys


"Girls Chase Boys" – Ingrid Michaelson


"Far From Yesterday" – Amy Stroup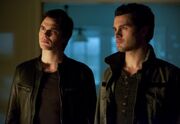 "Mad World" – Sara Hickman


"Woman" – Wolfmother


"Warm / Happy" – The Lonely Forest


"It Was Blue" – Angus Stone


"Kids" – New Division


"Outro" – M83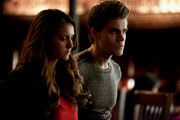 "Be What You Be" – Angus Stone


"Breathless" – US Royalty


"Locked In A Cage" – Brick & Mortar


"Ninety Nine Pounds Of Dynamite" – Buddy Stuart


"Poor Little Girl" – Buddy Stuart


"Starlight" – Johnny Angel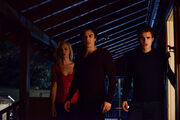 "River" – Together Pangea


"Turn It Around" – Lucius


"Chemical" – Kerli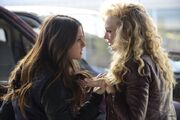 "Torture" – Rival Sons


"The Truth In You" – The Garden District


"Cherry Licorice" – The Felice Brothers


"Bad Blood" – Bastille


"Future Bolt" – Hotpipes


"I'll Be Honest" – The Privates


"Don't Let Me Go" – RAIGN
Episode 22 - Home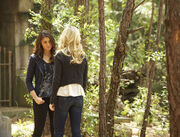 "No Rest For The Wicked" – Lykke Li


"Walking" – Ash Grunwald


"Love Is Just A Way To Die" – I Am Strikes


"Buried Alive" – Yeah Yeah Yeahs


"Finished Sympathy" – Glasvegas


"Be Alright" – Lucy Rose


"Wings" – Birdy
See also
Community content is available under
CC-BY-SA
unless otherwise noted.