The Originals Season 1 Trailer
Play Sound
The Vampire Diaries, The Originals, and Legacies Wiki team makes every effort to maintain professional courtesy and provide sources of information for upcoming episodes. However, anyone can edit the The Vampire Diaries, The Originals, and Legacies Wiki. As a result, it is not an accurate spoiler source and should not be cited as such.
Note: Only Sourced returning actors are listed, speculating about returning actors without a valid source WILL BE REMOVED so do NOT add any other actors that haven't been confirmed yet.

Season One of The Vampire Diaries's spin-off The Originals series produced by The CW.
The story centers around the Original vampires fighting for control of the French Quarter of New Orleans, Louisiana, which they helped build three hundred years before their return.
Summaries
The Originals centers around Niklaus Mikaelson and the Original Family of vampires, as he returns to the supernatural crucible that is the French Quarter of New Orleans, a town he helped build centuries ago, and is reunited with his diabolical former apprentice Marcel. As his siblings Rebekah and Elijah aid him on his fight for power, when they find out that the werewolf Hayley Marshall is pregnant with Klaus' child, not only will The Originals have to confront Marcel and his followers with absolute power, but they will also have to confront the dangerous witch, Sophie Deveraux and the Harvest witch, Davina Claire with her plotted revenge against them, as well as the French Quarter Coven that swears vengeance on The Mikaelson Family and will do anything to kill the child. Also, a bartender named Camille O'Connell studies psychology and when trying to find out the question of what makes someone evil, she meets Klaus and Marcel and gets involved in the dangerous crossfire of the French Quarter as her along with Marcel, Klaus, Rebekah, Elijah and Hayley, are involved in the power struggle between the supernatural factions, including the witches, werewolves and vampires where unlikely alliances are made, blood is shed, secrets are revealed, close ones betray you and revenge becomes best served cold as the fight for power not only causes chaos in the French Quarter, but it also causes chaos within the Originals as the fight for power is waiting for the taking, which will tear them apart so hard that always and forever will be threatened. Starring in the pilot episode of "The Originals" is two-time Teen Choice Award nominee Joseph Morgan, who will continue his "The Vampire Diaries" role of Niklaus Mikaelson. Morgan is an English actor who studied at the "Central School of Speech and Drama" in London, UK. Among his film credits are "Alexander" starring Angelina Jolie and Colin Farrell, and "Immortals" starring opposite Henry Cavill. Phoebe Tonkin will also star in "The Originals" playing the werewolf Hayley Marshall, a character that was introduced in season four of "The Vampire Diaries". Also joining the cast is "Saving Hope" star Daniel Gillies as Klaus' maternal older half-brother Elijah, who was the first original vampire to appear on "The Vampire Diaries". Gillies starred in Spider-Man 2 opposite to Tobey Maguire, his film credits also include "Uncross the Stars" with Ron Perlman, "Captivity" and "Broken Kingdom", which he also directed and starred along with his wife Rachael Leigh Cook. Gillies TV work includes "Into the West", "The Vampire Diaries" and "Saving Hope" which he will remain a regular on even if "The Originals" gets picked up. Claire Holt will also be reprising her role as Klaus' maternal younger half-sister and Elijah's younger sister, Rebekah Mikaelson. "The Vampire Diaries" showrunner Julie Plec will executive produce "The Originals" and serve as head writer. Plec developed "Diaries" along with Kevin Williamson, who will not be involved with "The Originals". Leslie Morgenstein will executive produce for Alloy Entertainment. Morgenstein is also currently executive producer of the hit ABC Family series "Pretty Little Liars". Senior vice president of television for Alloy Entertainment, Gina Girolamo, will also executive produce. Michael Narducci will serve as the show's producer.
Official Summary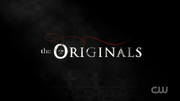 SYNOPSIS for THE ORIGINALS
Fall 2013: Tuesdays (8:00-9:00 pm ET) on The CW!
Family is power. The Original Vampire family swore it to each other a thousand years ago. They pledged to remain together, always and forever. Now, centuries have passed and the bonds of family are broken. Time, tragedy, and hunger for power have torn The Original Family apart.
When Niklaus Mikaelson, the Original Vampire-Werewolf Hybrid, receives a mysterious tip that a plot is brewing against him in the supernatural melting pot that is the French Quarter of New Orleans, he returns to the city his family helped build. Klaus' questions lead him to a reunion with his diabolical former protégé, Marcel, a charismatic vampire who has total control over the human and supernatural inhabitants of New Orleans. Determined to help his brother find redemption, Elijah follows Klaus and soon learns that the werewolf Hayley has also come to the French Quarter searching for clues to her family history, and has fallen into the hands of a powerful witch named Sophie.
Tensions between the town's supernatural factions are nearing a breaking point as Marcel commands his devoted followers and rules with absolute power. For Klaus, the thought of answering to his powerful protégé is unthinkable, and he vows to reclaim what was once his — the power, the city, and his family. While they wait to see if their sister Rebekah will leave Mystic Falls and join them, Klaus and Elijah form an uneasy alliance with the witches to ensure that New Orleans will be ruled by THE ORIGINALS once again.
[1]
A spin-off from The Vampire Diaries and set in New Orleans, The Originals centers on the Mikaelson siblings, otherwise known as the world's original vampires: Klaus (Joseph Morgan), Elijah (Daniel Gillies), and Rebekah (Claire Holt). Now Klaus must take down his protégé, Marcel (Charles Michael Davis), who is now in charge of New Orleans, in order to re-take his city, as he originally built New Orleans. Klaus departed from the city after being chased down by his father Mikael, while it was being constructed and Marcel took charge. As Klaus has returned after many years, his ego has provoked him to become the king of the city. "Every King needs an heir" says Klaus, accepting the unborn child. The child is a first to be born to a hybrid (part vampire, part werewolf) and a werewolf (Hayley).[2]
Cast
Note 1
: *The following characters also appeared in the
director's cut
version of the pilot.
Note 2
: **Davina only appears in the
director's cut
version of the pilot episode, not in
original airing
.
Note 3:
***Appears as a regular character through
1x13
.
Note 4:
****Appears as a regular character through
1x16
, &
1x22
.
Chapters
The main antagonists of this season are Niklaus Mikaelson, Marcel Gerard and the New Orleans witch coven.
Season One - Episode Guide
Image
Title
Writer(s)
Director(s)
Airdate
#
[[Pilot]]
Writer: Julie Plec
Director: Chris Grismer
July 20, 2013 (Comic-Con)
August 26, 2013 (The CW website)
#1x00
Acting on a mysterious tip that a plot is brewing against him in New Orleans, Klaus makes a trip to the town he and his family helped build. Klaus' questions lead him to a reunion with his former protégé, Marcel, a charismatic vampire who has total control over the human and supernatural inhabitants of New Orleans.



Image
Title
Writer(s)
Director(s)
Airdate
#
Always and Forever
Writer: Julie Plec & Michael Narducci
Director: Chris Grismer
October 3, 2013
#1x01
Klaus, the original vampire-werewolf hybrid, has returned to the supernatural melting pot that is the French Quarter of New Orleans – the city his family helped build 300 years ago. Determined to help his brother, Elijah leaves their sister Rebekah behind and follows Klaus. Elijah learns that the beautiful and rebellious werewolf Hayley Marshall – Klaus' onetime flame – has fallen into the hands of a powerful witch named Sophie Deveraux. When Sophie reveals some life-changing news, Elijah realizes that the Original family may have been given a second chance at humanity and redemption. Klaus, however, is more intrigued by his recent unexpected reunion with his former protégé, Marcel, a charismatic but diabolical vampire who now has total control over the supernatural inhabitants of New Orleans. Klaus vows to reclaim what was once his – the power, the city and his family.




House of the Rising Son
Writer: Diane Ademu-John & Declan de Barra
Director: Brad Turner
October 8, 2013
#1x02
When Rebekah arrives in New Orleans at her brother Elijah's insistence, she meets Hayley, who gives her some unexpected news. Concerned that her brother Klaus is up to no good, Rebekah seeks help from a reluctant Sophie. At her wits' end, Hayley takes matters into her own hands, but things quickly take a dangerous turn. Determined to uncover Marcel's secret weapon, Klaus stays one step ahead and executes his plan. Meanwhile, after a run-in with Marcel, Rebekah is reminded of all the anger and disappointment Klaus has caused her throughout the years. Finally, Marcel enlists Davina's help in his own dangerous plan.




Tangled Up In Blue
Writer: Bart Nickerson & Ashley Lyle
Director: Chris Grismer
October 15, 2013
#1x03
After discovering interesting news about someone in Marcel's inner circle, Klaus and Rebekah come together to attempt to unravel Marcel's empire from within in spite of Elijah's concerns. They enlist help from Sophie, who is reluctant to get involved for fear of the wrath of Marcel's secret weapon, Davina. Rebekah sneakily invites an oblivious Camille to a huge vampire party thrown by Marcel, managing to anger Marcel in the process. Elsewhere, Hayley learns from the witch Sabine that the supernatural creatures of New Orleans are reacting to the potential existence of a hybrid baby.




Girl in New Orleans
Writer: Michelle Paradise & Michael Narducci
Director: Jesse Warn
October 22, 2013
#1x04
With the annual Dauphine Street music festival around the corner, Davina, itching for a night out, convinces Marcel to let her attend. Marcel cautiously obliges but asks Camille to keep a watchful eye on Davina. Agnes convinces Hayley to visit a mysterious doctor in the bayou where she makes a shocking discovery. Meanwhile, Klaus takes a special interest in Cami, who reveals some alarming information about her past, and a determined Rebekah is on a mission to get to the bottom of a recent strange encounter involving Elijah.




Sinners and Saints
Writer: Julie Plec & Marguerite MacIntyre
Director: Chris Grismer
October 29, 2013
#1x05
Angered by recent events involving the safety of his unborn baby, Klaus demands answers from Sophie, believing she was involved. Sophie reveals to Klaus and Rebekah a troubling secret from her past. Meanwhile, Marcel asks Klaus to accompany him to the bayou after gruesome remains are discovered, while Rebekah, Sophie and Hayley Marshall set off on a mission of their own. Davina confides in an unexpected ally and reveals shocking information about the witches, ultimately leading to a disturbing revelation.




Fruit of the Poisoned Tree
Writer: Diane Ademu-John and Charlie Charbonneau
Director: Michael A. Allowitz
November 5, 2013
#1x06
When Klaus discovers Hayley's life is being threatened, he goes to extreme lengths to protect her and their unborn baby. Having a difficult time dealing with the tragic events of her past, Camille turns to Father Kieran for guidance. Feeling as though he can trust no one, Marcel visits an old friend to seek out some advice, while Davina takes steps to learn how to control her magic. Finally, Klaus delivers some surprising news to Father Kieran.




Bloodletting
Writer: Michael Russo & Michael Narducci
Director: Jeffrey Hunt
November 12, 2013
#1x07
When someone from Hayley's past makes a startling revelation, she grows concerned for herself and the baby. Amidst growing tensions between them, Klaus and Elijah turn to Sabine for help in locating Hayley, who has gone missing. After making a trip down to the bayou, Klaus has a surprising and dangerous encounter with an unexpected visitor. Meanwhile, Davina makes a surprising connection, and Marcel makes Rebekah an enticing offer that leaves her torn.




The River in Reverse
Writer: Julie Plec & Declan de Barra
Director: Jesse Warn
November 26, 2013
#1x08
Rebekah, facing a difficult decision, turns to Father Kieran for guidance. Elijah struggles with the consequences of a recent fallout with Klaus. Hayley remains by his side but is soon drawn away by a mysterious figure who sheds some light on her past. Meanwhile, a frustrated Camille struggles to make sense of a cryptic message she's come across. Finally, when an unsuspecting Marcel uncovers some upsetting information involving Klaus, a confrontation ends in a surprising twist.




Reigning Pain in New Orleans
Writer: Ashley Lyle & Bart Nickerson
Director: Joshua Butler
December 3, 2013
#1x09
Marcel, deeply conflicted by recent events, is surprised when Klaus opens up to him about some of his past indiscretions. Camille tries to make sense of cryptic messages she's come across and is disturbed when she gains some insight into Klaus' past. Meanwhile, in a surprising turn of events, the human faction takes matters into their own hands, resulting in a violent confrontation. Elsewhere, when Hayley learns of a plan to harm the werewolves in the bayou, she turns to Elijah and Rebekah for help. After heading to the bayou, they run into a werewolf named Eve, who has information that leads them to a shocking discovery.




The Casket Girls
Writer: Charlie Charbonneau & Michelle Paradise
Director: Jesse Warn
January 14, 2014
#1x10
As the French Quarter prepares for its annual celebration of the Casket Girls Festival, Cami suffers through as Davina attempts to free her of Klaus mind compulsion. Elijah and Marcel form an unlikely alliance as Klaus sets his plan in motion to get Davina back. Once it's known that Davina is missing, Sophie gets in on the hunt to track her down. Meanwhile, Hayley is forced to make a tough decision after receiving an unexpected phone call, and Rebekah sets her own plan in motion when she enlists the help of someone from Marcel's past.




Après Moi, Le Déluge
Writer: Marguerite MacIntyre & Diane Ademu-John
Director: Leslie Libman
January 21, 2014
#1x11
When Davina becomes violently ill and the repercussions soon begin to affect the entire French Quarter, Marcel, Klaus, Elijah and Rebekah rush to find out what is going on. Sophie approaches the others with some startling information about the Harvest Festival and presents a drastic plan to save Davina. Elsewhere, Hayley is racked with guilt as she comes clean to Elijah about her role in Sophie's plan. Last, a sequence of unforeseen events sends shockwaves through the French Quarter.




Dance Back from the Grave
Writer: Michael Narducci & Michael Russo
Director: Rob Hardy
January 28, 2014
#1x12
Marcel, still angered by recent events, refuses to help Klaus when a gruesome discovery is made in the Cauldron. Rebekah is on alert when she uncovers the remnants of a sacrifice down by the docks and immediately realizes that it's the work of a dangerous warlock from their past. Meanwhile, when Elijah gets some information that Rebekah may be in trouble, he and Hayley Marshall set off to find her. At Rousseau's, Cami comforts Marcel, who opens up and shares some details of his past with her, but things quickly spiral out of control when an unexpected visitor shows up. Finally, a violent confrontation ensues when Klaus faces off against a powerful force with an unmatched advantage over him.




Crescent City
Writer: Julie Plec & Michael Narducci
Director: Chris Grismer
February 4, 2014
#1x13
At the re-opening of St. Anne's Church, Father Kieran finds himself in a great deal of trouble after a run-in with a witch from his past. Marcel and Rebekah grow concerned when the reemergence of someone they once knew threatens to expose secrets they've kept buried for nearly a century. Elsewhere, Sophie is shocked when a discovery is made at the cemetery, but she soon realizes things may not be as they seem. With the full moon looming, Hayley lets Rebekah in on her plan to throw a party for her werewolf clan, but things take a dangerous turn when uninvited guests arrive. Meanwhile, Camille is conflicted when she makes a difficult decision involving the safety of Father Kieran, and Elijah finds himself facing his own dilemma when he has to choose between Hayley and his siblings. Finally, when one of his plans fails, Klaus takes drastic measures in the Cauldron, resulting in dangerous repercussions that affect everyone involved.




Long Way Back From Hell
Writer: Ashley Lyle & Bart Nickerson
Director: Matt Hastings
February 25, 2014
#1x14
When Rebekah finds herself locked up in the sanatorium where she worked in 1919, she realizes a witch named Genevieve is back to seek revenge and to reveal dark secrets that would destroy Rebekah if exposed. A distraught Elijah turns to Marcel and Hayley Marshall for help when one of his decisions puts Klaus and Rebekah's lives in danger. With time working against them, Marcel realizes he may hold valuable information that could lead them to Rebekah and Klaus, but revealing it will almost certainly result in deadly consequences.




Le Grand Guignol
Writer: Declan de Barra & Diane Ademu-John
Director: Chris Grismer
March 4, 2014
#1x15
In a series of flashbacks to 1919, Klaus opens up to Cami and reveals details of the devastating secret Rebekah and Marcel were trying to keep from him. Elijah forms an unlikely alliance with Monique and asks for her help in locating Sabine. Elsewhere, Thierry is reluctant to get involved when Marcel and Rebekah approach him with a plan to take down the witches. Meanwhile, in the bayou, Hayley is at her wits' end and holds Sabine hostage in an attempt to get information that will reverse the curse on Hayley's werewolf clan.




Farewell to Storyville
Writer: Michael Narducci
Director: Jesse Warn
March 11, 2014
#1x16
Despite Klaus' rage, Elijah is determined to protect Rebekah while the three of them are trapped in the City of the Dead cemetery by a witch's boundary spell. Klaus and Rebekah trade bitter accusations until Elijah steps in to reveal a long-held secret from the family's past. Meanwhile, Marcel races to free Rebekah, ultimately finding himself forced to make a deal with Genevieve. Finally, Rebekah and Hayley connect over their shared concern for Hayley's unborn baby.




Moon Over Bourbon Street
Writer: Michelle Paradise & Christopher Hollier
Director: Michael Robison
March 18, 2014
#1x17
After accusing Klaus of doing nothing while their control over the Quarter crumbles, Elijah makes a move to take matters into his own hands. He receives an intriguing offer of support from Francesca (guest star Peta Sergeant), a beautiful woman from a powerful New Orleans family. In an attempt to bring the warring factions of the city together, the Mikaelsons throw an extravagant party, where Klaus offers Jackson a tempting deal, Elijah and Hayley share a dance, and a violent fight comes to a surprising end. Finally, even as Marcel works on a new path to power, he continues to help Camille deal with her Uncle Kieran's tragedy.




The Big Uneasy
Writer: Marguerite MacIntyre & Michael Russo
Director: Leslie Libman
April 15, 2014
#1x18
Genevieve asks Elijah to allow her coven to publicly celebrate a traditional feast day, where members of the community offer the witches gifts in return for blessings. Monique and Genevieve disagree over what the ancestors want from them, and Genevieve reveals her plan to build the witches' power. When Elijah focuses his attention on restoring their home to its former glory, Klaus accuses him of doing it only to impress Hayley Marshall. Next, Klaus sets a new plan in motion by finding Cary, a werewolf from his own line, and sending him off to find a missing piece of family history. Marcel lets Thierry in on his new plan to rebuild his power, but Diego has his own ideas about the future. At the Feast of the Blessings, Monique and Genevieve try to use the ceremony to teach Davina a lesson, but Klaus intervenes and gives Davina a surprisingly important gift. While Hayley struggles to decide where her loyalties should lie, the ceremony explodes into violence.




An Unblinking Death
Writer: Ashley Lyle & Bart Nickerson
Director: Kellie Cyrus
April 22, 2014
#1x19
Desperate to help Kieran, Camille insists on an unconventional treatment, but her good intentions lead Kieran to a violent episode. After Klaus and Elijah disagree over the best way to handle the Crescent Wolves, Elijah makes a trip to the bayou, where he is witness to a horrific explosion that only adds to the hatred and mistrust among the communities. While Jackson and Elijah work to save the wounded, Hayley Marshall learns a surprising piece of her family history from Marcel.




A Closer Walk With Thee
Writer: Carina Adly MacKenzie & Julie Plec
Director: Sylvain White
April 29, 2014
#1x20
Hayley confronts a surprising enemy as she and her unborn baby fall into peril during a celebratory wake to honor a fallen member of the community. In order to save Hayley, Klaus and Elijah enlist the help of Genevieve who struggles to maintain control over Davina and the other young witches. Camille tells Marcel that Francesca Guerrera is determined to find a mysterious key that may unlock a family secret. Meanwhile, as Klaus suffers from nightmares of his father Mikael, he is forced to examine his troubled relationship with his own adoptive son, Marcel.




The Battle of New Orleans
Writer: Michael Narducci & Charlie Charbonneau
Director: Jeffrey Hunt
May 6, 2014
#1x21
Klaus and Elijah enact a plan to collect the sacred stones needed by Genevieve in order to forever change the fates of Hayley and the werewolf community. Realizing that Klaus' plan will lead to the extermination of all French Quarter vampires, Marcel rallies an army determined to take down the Mikaelsons and regain control of the city. Davina warns Josh to leave town as she is forced to make a fateful decision that will turn the tide of war. Meanwhile, Francesca threatens Camille, who attempts to decipher a code that results in a surprising revelation among the city's factions.




From a Cradle to a Grave
Writer: Diane Ademu-John
Director: Matt Hastings
May 13, 2014
#1x22
As the baby's due date draws near, Klaus and Elijah embark on a search for Hayley, while Hayley herself is determined to do whatever it takes to keep her unborn baby safe and away from the witches. Francesca takes a meeting with Oliver and Jackson to determine the future of the werewolves in New Orleans. In the aftermath of a surprising attack on Marcel and his vampires at the compound, Davina and Camille join resources to take down Klaus. Finally, in a desperate move to protect those most important to him, Klaus makes a heartbreaking decision.



Trivia
The Originals was picked up for 13 episodes.[3]

On October 11, The CW ordered three more scripts increasing the episodes from 13 to 16.[4]
On November 11, The CW picked up the series for a full season run, increasing the episodes to 22.

On January 22, 2013, it was confirmed Daniel Gillies would be a regular, doing both shows (The Originals and Saving Hope.)
A central theme of the new series was the voodoo and dark witchcraft running rampant in New Orleans' French Quarter, so naturally, witches have a strong presence in the series.
On February 13, 2013, it was confirmed Claire Holt was in the main cast, though she eventually left.
Joseph Morgan had promised that there would be plenty of crossover opportunity — especially since both shows are film in Atlanta. Meaning any of the characters in TVD could possibly come into the spinoff.[5]
Joseph Morgan teases that fans can expect the spinoff to be "a little more adult, a little more kind of gothic because these are old time vampires here." [7]
This is the third show that Claire Holt and Phoebe Tonkin starred in after the parent show (The Vampire Diaries) and H2O Just Add Water.
Tyler Lockwood is the first confirmed character from The Vampire Diaries to crossover onto The Originals.
There are currently only 6 main characters left after the death of Sophie and the departure of Rebekah. Only Klaus, Elijah, Hayley and Marcel have appeared in every episode so far.
The Originals has more flashbacks in its first season as compared to that of The Vampire Diaries, the parent show, had in its first season.
Marguerite MacIntyre (who portrays Liz Forbes on The Vampire Diaries) co-wrote three episodes of the first season: Sinners and Saints, Après Moi, Le Déluge and The Big Uneasy.
Multimedia
Pictures
Videos
References
External links
See also
Community content is available under
CC-BY-SA
unless otherwise noted.