"
Everything that brought us here to New Orleans was a lie. This story that Sophie Deveraux fabricated, this struggle for control of the French Quarter, this war between vampires and witches, wasn't over territory at all, this was over Davina.
"
Sinners and Saints is the fifth episode of the first season of The Originals and the fifth episode of the series overall.
Summary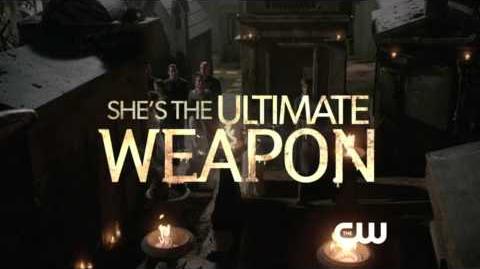 PASTS ARE REVEALED AND SECRETS ARE EXPOSED — Angered by recent events involving the safety of his unborn baby, Klaus demands answers from Sophie, believing she was involved. Sophie reveals to Klaus and Rebekah a troubling secret from her past. Meanwhile, Marcel asks Klaus to accompany him to The Bayou after gruesome remains are discovered, while Rebekah, Sophie and Hayley set off on a mission of their own. Davina confides in an unexpected ally and reveals shocking information about the witches, ultimately leading to a disturbing revelation.
Plot
SPOILERS AHEAD
Davina reveals to Elijah the source of her power and how she met Marcel. Hayley heads to the bayou hoping to find information about her family. A new and unlikely power player could be a threat to both Marcel and Klaus. Elijah returns home.
Having recently awakened from yet another daggering administered by Klaus, Elijah, looking a bit gray around the gills, wastes no time in trying to broker a deal with Davina. He promises he can keep his brother in line, something he has yet to accomplish, and she can be her true self and not Marcel's magical weapon. Davina questions how she knows he can trust him, and Elijah points out that despite his thirst for blood, he's made no attempt to drink from her like a juice box. Davina, who seemed so innocent in many ways in last week's episode, tests Elijah by pricking her finger and offering him just a drop of her blood. Elijah drinks a drop of her blood, and his skin color becomes normal.
Still seething from Hayley and the baby's brush with death, Klaus questions the validity of the deal he made with Sophie. It turns out the strangers weren't vamps but a faction of extremist witches with a link to Sabine. Sabine had a vision that baby Klaus would one day bring death to all witches.
Rebekah tells Sophie she promised Elijah she would protect the miracle Mikaelson baby while he tries to negotiate with Davina. When Sophie finds out that Elijah is speaking with Davina, she begins to unfurl her own history of the witches of the Quarter. While her sister and parents were devout in their practice of witchcraft, Sophie couldn't wait to take off and see the world the first chance she got. She returned to New Orleans because she wanted to be a chef. But, she arrived back in just in time for "the harvest." This is a ritual the coven performs every 300 years, so the bond to their ancestral magic is restored. Sophie wasn't down with this ritual that she originally passed off as nothing more than mythology. The ritual involved some sort of sacrifice involving four girls, but before we get all the gory details, their conversation is interrupted. Marcel finds out about the dead witches in the bayou. Their deaths seem suspiciously werewolf related, so Marcel asks Klaus to go with him to the scene. After all, his blood is the only known cure for a werewolf bite. Sophie tells Klaus she needs to gather the witches' remains and consecrate them before sundown, or the coven loses the link to their magic. Guess who doesn't care? Not only did the witches try to off his baby mama, but Marcel has an informant, and Klaus can't risk any link between himself or Hayley and the witches to be established.
Marcel has another run in with Father Kieran (Todd Stashwick). He accuses Marcel of holding Davina prisoner in the church's attic. Marcel denies that Davina is being held against her will and says he'll be moving her soon; too many people know her whereabouts. Father Kieran chastises Marcel for using Davina to prevent the witches from doing magic. Marcel says if he's going to defend the witches, they've got nothing to talk about and shuts the convo down. Marcel interrupts Elijah and Davina's quality time, but she covers for Elijah, so Marcel won't know the Original is awake. After he's gone, Elijah remarks that Davina and Marcel seem close, and she says the vampire is her family. Elijah finds this odd since Marcel delights in harming the witches, and he thinks this would trouble her. She tells him they deserve it. Davina was part of the harvest ritual. She said she and her friends were promised that it would bring their families strength and health, and she would be forever celebrated as a savior of the community. Davina says all they really wanted was more power, and she left before they could get it. As it turns out, the witches are in a bit of a jam. After the harvest comes "the reaping," and if they don't complete the harvest, there can't be a reaping, and the witches will start to lose their powers. If you didn't see this next part coming, you weren't paying attention. In order for the harvest to be completed, Davina has to die.
Sophie decides to head out to the bayou, and Hayley decides she's going to come along. Sophie protests, but Hayley says that whatever killed the witches seems to like her, so Sophie is probably safer with her along. She's also still hunting for information on her family, and this seems to be her best lead so far. Rebekah is a pretty big pushover for an Original and is forced to tag along on protection detail. Marcel and Klaus are waiting for Marcel's informant in some dive bar, and Klaus asks Marcel how he met Davina. He says it was less than a year ago and before he had banned witches from doing magic. Marcel says relations weren't exactly friendly between the two groups nor were they so divided. Marcel and Sophie were enjoying a carnal knowledge of one another. After a steamy encounter, she tells him that the elders have every 16-year-old-girl in the coven dying to be one of the four chosen for the ritual. He asks if there's anything he can do, but she shoots him down.
Sophie turned to Father Kieran for help. He told the witches they had to find another way. They argued that the vampire presence was growing stronger, and they needed more power. "Harsh times call for harsh measures." Father Kieran said what they were planning was not only wrong but illegal. Jane-Anne pointed out the hypocrisy of his outrage given the known presence of the vampires. He argued that the vamps had an arrangement with the humans. that as long as locals and their families stay safe, they turn a blind eye to missing tourists. He reminded them that they had a similar understanding with the witches, but the harvest would be going too far. Father Kieran claimed to be the witches' only ally and asked if they wanted to face the wrath of Marcel without his support because that's what would happen if they went through with the harvest. FYI, Cami's brother Sean was Father Kieran's nephew. Angry with Father Kieran, the witches put a hex on Sean. It made him appear as if he was slowly losing his mind. It was meant to serve as a distraction for Kieran while the witches moved forward with their plans. So, the mystery of what happened to Cami's brother was a short one, or so it seems.
Davina confides in Elijah that she can't wait to be normal. She tells him sometimes she can't control the magic and that she hurts people even though she doesn't mean to. Davina also informs him Sophie was the only one who spoke out against the harvest. Davina explains the intricacies of the ritual to Elijah. She says that there was magic in the knife they had used to cut their palms earlier in preparation. This knife would put them to sleep, and they would awaken during the reaping more powerful than ever. What the chosen girls didn't know is that they would have their throats slit, so all heck broke loose once the first girl was sacrificed. Davina and Sophie begged for help, but no one did. The witches didn't know that Father Kieran went to Marcel and asked him to intervene. Even Marcel isn't a proponent of child abuse. He and members of his crew interrupted the ritual but still failed to save three of the girls. All of the power that was supposed to be passed back into the earth was absorbed by Davina instead. Marcel, sensing Davina was a kindred spirit, saved her life.
Rebekah, Sophie and Hayley finally arrive at the scene of the massacre, and there is definitely evidence of a wolf or werewolf having been in the vicinity. A man shows up who turns out to be Marcel's informant. Rebekah calls her brother to warn him. Rebekah turns up to serve as a distraction, and she and Marcel reminisce about shared secrets that neither want Klaus to know. While they threaten each other, Klaus is able to intercept the informant and snap his neck.
Elijah offers to help Davina learn to control her powers. He explains about his mother and how her spell books could be helpful to the young witch. He says if she frees him, he can share them with her, but if she leaves with Marcel, he won't be able to find her, and they won't see each other again. She worries she's being manipulated, but Elijah says he's simply making a deal. Marcel ditches Klaus and Beks and uses the opportunity to move Davina. He decides to leave Elijah behind as a parting gift hoping it will buy him some goodwill with Klaus. Davina fakes the equivalent of a witch panic attack and convinces Marcel to return her to the attic. Elijah tells Davina he values family above all, and he's sorry he's failed her. She questions how he remains loyal to Klaus despite the fact his brother handed him over to Marcel in a box. Elijah says he has given up on giving up. He says he'll fight for his family until his last breath, and Davina says she will do the same when it comes to the witches.
It's all been a ruse. The battle between the vamps and the witches isn't over territory but over a young girl who holds the key to the witches' magic, and the reincarnation of Sophie's niece.
Cast
Trivia
Antagonists: Bastianna Natale (past), French Quarter Coven (past), and Agnes (past).
Narrator: Elijah Mikaelson.
Title meaning: a reference to the discovery of the very religious nature of the ancestral witches of the French Quarter Coven and their rejection of all sinners (Vampires and those Humans, like Father Kieran, who oppose the witches' goals). The saints are a reference to the four Harvest Girls, whose purpose is revealed in this episode.
This is the third episode to feature a flashback.
This is the first episode where Hayley starts to show a baby bump.
Elijah attempts to make a deal with Davina in order to end the war between the witches and vampires before it starts.
Elijah believes that Davina's powers are so strong that she can't control them.
It is revealed Jane-Anne had a daughter, Monique Deveraux, who was best friends with Davina.
Elijah is finally able to return home after he succeeds in making a deal with Davina.
Father Kieran O'Connell reveals that he is the leader of the Human Faction of New Orleans, just like Marcel is the leader of the vampire faction and essentially the de facto leader of the entire supernatural community of the city.
Cami doesn't appear in this episode.
It is revealed through flashbacks that Agnes was responsible for Camille's brother slowly losing his mind, which resulted in him killing himself along with his fellow seminary students in St. Anne's Church. She did this by putting a hex on him when she shook his hand using the Rosary of Madness.
It is revealed that Sabine's vision (according to Sabine), indicated that Klaus and Hayley's child will result in the end of witches. However Sophie reveals that she has her doubts about the accuracy of Sabine's visions.

It was revealed later in the season that Sabine was possessed by the spirit of Céleste Dubois, who lied about having a vision regarding Hayley and Klaus' child bringing the end to all witches in order to gain revenge on the Mikaelson Family.

In flashback, it is revealed that Sophie and Marcel had a secret romantic relationship eight months prior to this episode.
Sophie kissed a female party-goer in a flashback, making this the first episode to feature a kiss between to people of the same sex in TO.
The witches were revealed to have performed a ritual called The Harvest eight months prior to the start of the series, in which four young, teenage witches were intended to be sacrificed, and then resurrected, in order to appease their ancestors and strengthen their weakening bond to their ancestor's magic. Davina Claire, Monique Deveraux, Cassie and Abigail were the girls chosen to be part of the Harvest.

However, because of the intervention of Marcel and his vampires, only three of the four girls were sacrificed, leaving Davina as the lone survivor. It was because Marcel rescued her from death that Davina decided to side with him against the witches by using her ability to sense the use of magic to help Marcel enforce his rule upon the community.

This episode shows Elijah's vampire face slightly for the first time when he is hungry for Davina's blood and we see the trademark vampire veins beneath his eyes appear.
We learn that Marcel has a rule about people abusing kids.

This likely has to do with the abuse he suffered as a boy when he was a slave in 1820.
It is also implied that Marcel killed Jane-Anne the way that he did in Always and Forever (using a flexible tree branch to slit her throat) as punishment for allowing her daughter Monique to be sacrificed in the Harvest.
This rule will come into play several more times in the series.
Continuity
Locations
Behind the Scenes
This episode had about 2.05 million viewers in USA, which was 0.18 million less than the previous episode.
Marguerite MacIntyre (the actress of Elizabeth Forbes) made her writing debut with this episode of the Originals. She is the first actor of either show to be involved behind the scenes on either series.
Cultural References
Quotes
Multimedia
"I Can Only Give You Everything" – Nick Waterhouse
"Devils Crossing" – Brutal Jooks
"You Can't Be Told" – Valerie June
"In Crimson (Violin Piece)" – Jessy Green
"Lose Your Head" – Timothy Brackens




"So Bad" – J.M. Moore
"Transistor" – Jake Zavracky
"I'm Gonna Break You" – Lukewarm Freeda
"In Crimson" – Jessy Green
"Fangs" – Little Red Lung



Videos
Pictures
References
See also
Community content is available under
CC-BY-SA
unless otherwise noted.