"Now I'm hurt.."

This article contains spoilers that do not violate our spoiler policy.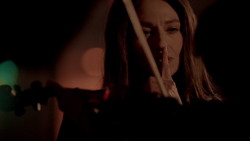 For the latest season see Legacies' Season Two News and Spoilers.
Legacies
We will find out what happened to Hope during the first few moments of season two — she and Clarke are not dead.[1][2]
"We're coming back to a world where people don't know Hope Mikaelson," executive producer Brett Matthews says of Legacies' second season, which he describes as "10 percent darker" than Season 1. "The characters are blissfully unaware, but there's a void that no one can quite put their finger on." On the romance front, we'll get to see "which relationships have developed [over summer vacation], and how others are different as a result of Hope going into the Malivore pit." Speaking of new connections, Lizzie will take an interest in new vampire Sebastian (played by Thomas Doherty, pictured), a character who exists "in response to how difficult it is to write a vampire in this newly woke world," EP Julie Plec says. In less pleasant news, "there's a hint of a [dark] new force at the beginning of the season, and the mystery of who that new force is takes us all the way into our midseason cliffhanger."BONUS SPOILER!: If you're wondering where Alaric will end up now that he's been ousted from the Salvatore School, look no further than his former place of employment. "The school itself plays a big role in the season," Plec says. "And the man needs a job."[3]
Casting News
Plec wants Caroline and Bonnie to make a guest star appearance. [4]
The Necromancer could return in the second season. [5]
Penelope Park could return.[6]
A new vampire will appear in the second season, being described as "a vampire who kind of got desiccated when he was 17 in maybe the 15th century and now wakes up in the 21st century and realizes that all the rules of being a vampire have changed and that he does not fit in into this very modern world."[7]

Given the leak of scripts, it is heavily implied that this vampire is Sebastian.

Matt Davis revealed that season two will introduce a "new female sheriff" and "new founders counsel members" and will consist of twenty episodes.[9][10]
The Mikaelsons may make an appearance.[11]
The merman might return.[12]
References
Community content is available under
CC-BY-SA
unless otherwise noted.