Stephen Martines is an American actor who played Frederick on The Vampire Diaries. He's mainly known for his roles on Soap Opera's General Hospital and Guiding Light.
Biography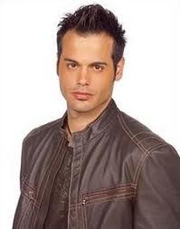 Stephen Martines was born on July 23, 1975 in St. Louis, Missouri. After a knee injury prevented him from playing professional soccer, Stephen moved to Los Angeles to pursue an acting career. He had only $200 and nowhere to go, leaving his car and local gym his home base. In LA, Stephen met his agent in a restaurant, and within a year, was hired on General Hospital. Before that, he guest starred on various television shows and in independent films.
Much of his supoprt is drawn from his family, and his late father is his biggest inspiration. Stephen is nephew to musician Guy Lombardo and is currently working on his second album. In his spare time, Stephen enjoys playing soccer in a semi-professional league and writing and recording songs.
During his tenure on General Hospital, Stephen was using the professional moniker 'Coltin Scott'. After the death of his father, Stephen reverted to his birth name, and has been working as 'Stephen Martines' ever since.
Filmography
Supernatural (2014) ... Freddie Costa (1 episode)
Colombiana (2011) (pre-production) (rumored)
Mud Dog Blues (2011) (pre-production)
"The Vampire Diaries" .... Frederick (3 episodes, 2010-2012)
"The Closer" .... Ricardo Ramos (9 episodes, 2008–2009)
"CSI: Miami" .... Jeff Peralta (1 episode, 2009)
"Bones" .... Alex Pina (1 episode, 2009)
"Fear Itself" .... Diego (1 episode, 2008)
No Man's Land: The Rise of Reeker (2008) .... Alex
"Monarch Cove" .... Parker Elian (14 episodes, 2006)
"Guiding Light" .... Antonio 'Tony' Santos (15 episodes, 2003–2005)
Ring of Darkness (2004) (TV) .... Shawn
"General Hospital" .... Nikolas Cassadine / ... (155 episodes, 1999–2003)
Planet Patrol (1999) (as Coltin Scott)
This Is the Disk-O-Boyz (1999) (as Coltin Scott) .... Indy-Lee Wong
Justice (1999/I) (TV) (as Coltin Scott) .... Juan Jr.
"Pacific Blue" .... Patrick Benton (1 episode, 1998)
Kraa! The Sea Monster (1998) (as Coltin Scott) .... Captain Ruric
External links
Community content is available under
CC-BY-SA
unless otherwise noted.