Susan Walters (born September 28, 1963) is an American actress and former model who portrayed Carol Lockwood on The Vampire Diaries. She is best known for her role as Diane Jenkins Newman in the CBS soap opera, The Young and the Restless, from 2001 to 2004. Walters also had the role as a principal on The CW's One Tree Hill. She currently plays Natalie Martin in Teen Wolf, alongside her onscreen husband, Rob Pralgo (the late Richard Lockwood on The Vampire Diaries), and her real-life husband, Linden Ashby.
Biography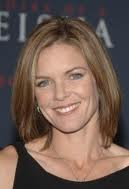 Susan Walters was born on September 28, 1963 in Atlanta, Georgia. Her first major role was as Priscilla Presley in the 1988 television mini-series Elvis and Me. Her other screen credits include a starring role in 1990 in Dear John, the short-lived prime time series Point Pleasant, and a guest role on CSI: Miami. Walters' is also known for her appearances as "Mulva" (really Dolores) on the NBC sitcom Seinfeld, which she played in 1993 and again from 1996-97. She also starred as Anne Osborne in the television version of The Big Easy on the USA Network at this time (1996).
In 1999, she appeared in the Disney Channel movie Horse Sense, as well as its sequel, Jumping Ship, in 2001. She began her career as Lorna Forbes Perelli on the soap opera Loving from the pilot on June 1983 to late 1986. She then left the daytime soap and appeared in various Aaron Spelling prime time television productions, such as Hotel during its entire last season (as Ryan Thomas), as well as Melrose Place (as Tiffany Hart). She also played one of the student nurses on Nightingales during its entire run. She is married to former Young and the Restless co-star Linden Ashby (ex-Cameron Kirsten). Ashby appeared briefly on the Y&R in the early 2000s as an evil man that Sharon Newman encountered while on the road, after she left Nick Newman and the Newman ranch for many weeks. Cameron abused Sharon and then killed Cassie's biological father before being killed himself. They have two daughters, Frances Grace (born 1991) and Savannah Elizabeth (born 1992).
Brief return to Y&R
At the end of February 2010, Susan Walters briefly took on her past role as Diane Jenkins on Y&R bringing Jack's never-seen son Kyle with her.
| Year | Title | Role |
| --- | --- | --- |
| 2011-2017 | Teen Wolf | Natalie Martin |
| 2016 | The Flash | Dr. Carla Tannhauser |
| 2015 | How to Get Away with Murder | Sharon Tidwell |
| 2015 | Girlfriends' Guide to Divorce | Karen |
| 2014 | Kill the Messenger | Los Angeles Times Editor |
| 2014 | Reckless | Lindsay / Lindsay Adams |
| 2014 | Star-Crossed | Maia |
| 2013 | Grape | Shari |
| 2013 | Perception | Anne Wallace |
| 2013 | The Following | Prosecutor |
| 2009-2012 | The Vampire Diaries | Carol Lockwood |
| 2011 | Big Mommas: Like Father, Like Son | Mall Mother |
| 2010 | Slow Moe | Mrs. Mobley |
| 2010 | Marry Me | Stella Grafton |
| 2001-2010 | The Young and the Restless | Diane Jenkins / Dian Jenkins |
| 2010 | Blood Done Sign My Name | Martha Tyson |
| 2009 | Army Wives | Annette |
| 2009 | Drop Dead Diva | Vicki Wellner |
| 2009 | One Tree Hill | Principal Rimkus |
| 2007 | Framed for Murder | Claire |
| 2007 | Without a Trace | Jenny Darcy |
| 2005-2006 | Point Pleasant | Meg Kramer |
| 2006 | Split Decision | Debris Radford |
| 2006 | Cold Case | Jane Robinson |
| 2004 | CSI: Miami | Mary Kinnan |
| 2004 | Combustion | Allison Saunders |
| 2004 | Summerland | Carol McFarlane |
| 2004 | JAG | Rachel Smithfield |
| 2003 | Carnivàle | Young Becca Donovan |
| 2003 | CSI: Crime Scene Investigation | Merrit |
| 2002 | Gale Force | Susan Billings |
| 2002 | The Ellen Show | Katie |
| 2001 | Crossing Jordan | Gail Horton |
| 2001 | Jumping Ship | Jules Biggs |
| 1999-2000 | Family Law | Tina |
| 2000 | Providence | Kerry King |
| 2000 | The War Next Door | Lili Smith |
| 1999 | Horse Sense | Jules Biggs |
| 1999 | Where the Truth Lies | Penny Morgan |
| 1998 | Love Boat: The Next Wave | Amy |
| 1998 | I Married a Monster | Kelly Victoria Drummond |
| 1998 | Melrose Place | Christine Denton / Tiffany Hart |
| 1998 | Caroline in the City | Laura Sterling |
| 1998 | Hotel del Sol | |
| 1997 | Two Came Back | Allie |
| 1997 | Nash Bridges | Mary Tod Butler |
| 1997 | Spy Game | Margo DeSalle |
| 1997 | 'Til There Was You | Robin |
| 1996-1997 | The Big Easy | Anne Osborne |
| 1993-1996 | Seinfeld | Dolores / Mystery Woman |
| 1996 | Two Guys Talkin' About Girls | Cindy One |
| 1995 | Strange Luck | Rosemary |
| 1995 | Il barone | Claudine de Martigny |
| 1995 | Texas Justice | Karen Masters |
| 1995 | X-Men 2: Clone Wars | Mystique (voice) |
| 1994 | XXX's & OOO's | Reed Barrett |
| 1994 | The Counterfeit Contessa | Palmer Hewitt |
| 1993 | Matlock | Melanie Kerns |
| 1993 | Murder, She Wrote | Lee Gillrich |
| 1993 | X-Men | Mystique (voice) |
| 1992 | Galaxies Are Colliding | Beth |
| 1990-1992 | Dear John | Mary Beth Sutton |
| 1991 | Defending Your Life | Daniel's Wife |
| 1990 | In the Line of Duty: A Cop for the Killing | Julie Tobias |
| 1990 | Grand Slam | Ann |
| 1989 | Hardball | Madeline Warwick |
| 1989 | Nightingales | Bridget Loring |
| 1988 | Simon & Simon | Marian Fitzwalter |
| 1988 | Nightingales | Bridget Loring |
| 1988 | Elvis and Me | Priscilla Beaulieu Presley |
| 1987-1988 | Hotel | Ryan Thomas |
| 1987 | Russkies | Diane |
| 1987 | Who's the Boss? | Kitty |
| 1987 | The Facts of Life | Cynthia Parks |
| 1983 | Loving | Lorna Forbes |
Appearances
Media
Pictures
External links
References