Taylor Kinney is an American actor and model who played Mason Lockwood on The Vampire Diaries. He's best known for his roles on TV series Trauma, Fashion House and Chicago Fire.
Biography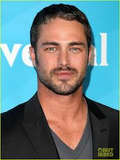 Taylor Kinney was born on July 15, 1981 in Lancaster, Pennsylvania. Before appearing in television and films, Taylor Kinney began his career in the theatre where his credits include "Fallout" and "A Streetcar Named Desire."
Taylor Kinney, an experienced surfer, currently resides in Los Angeles. In August 2011, he has appeared in Lady Gaga's video Yoü And I. Currently he is starring as Lietenant Kelly Severide in NBC's Chicago Fire.
Personal life
Since July 2011, he has been dating Lady Gaga.
In February 2015, it was announced that he and Lady Gaga are engaged, but on July 2016 they have broken up from their engagement.[1]
Filmography
Furnace (2006)
Fashion House (2006)
White Air
What About Brian? (2007)
Bones (2008)
Trauma (2009-2010)
Scorpio Men On Prozac (2010)
The Vampire Diaries (2010, 2011)
Mann's World (2011)
Chicago Fire (2012)
Gallery
References
External links
Community content is available under
CC-BY-SA
unless otherwise noted.