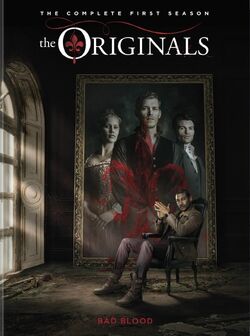 The Originals: The Complete First Season DVD box set was released on September 2nd, 2014. It consists the first 22 episodes from the first season of The Originals. The regular DVD version is $34.99 and the Blu-Ray version is $39.99.
Age Restriction
Not Rated
Summary
This sexy and spellbinding new series centers on the Original vampire family and the dangerous vampire/werewolf hybrid, Niklaus "Klaus" Mikaelson, who, along with his siblings Elijah and Rebekah, helped build New Orleans' French Quarter, only to be exiled a century ago. But a coven of witches desperate to reclaim its power lures the Mikaelsons back to their ancestral home, where the charismatic and diabolical vampire Marcel - Klaus's former protégé - rules with his vampire army. The Originals bring along caskets full of revenge, unrequited love and not-so-secret plans to reclaim the heart and soul of this thriving city, and a long-smoldering war between vampires, witches, wolves and humans soon erupts. Blood ties are strong, but the lust for power - and revenge - may prove stronger. Watch all 22 thrilling episodes starting the most compelling creatures of them all: The Originals!
Discs
Bonus Features
Pilot Commentary: Creator Julie Plec and director Chris Grismer discuss the development of the first season's story arc, the characters, cast and performances.
The Originals: Origins (13 minutes): The origins of the show and the process of introducing characters to an audience that never watched Vampire Diaries.
Comic-Con 2013 Panel (29 minutes): The Panel from Comic-Con 2013, which was held several months before the series' debuted.
Re-mixing History (10 minutes): The history with the supernatural by way of the show's writers.
The Original Vampires: A Bite-Sized Backstory (6 minutes): A montage of the centuries, characters, deaths, betrayals and conflicts that precede the series proper with the Original's backstory.
PaleyFest 2014 Panel (30 minutes): Creator Julie Plec, executive producer Michael Narducci, Daniel Gillies, Joseph Morgan, Claire Holt, Charles Michael Davis, Leah Pipes, Phoebe Tonkin, and Daniel Campbell participate in a Q&A at PaleyFest.
Deleted Scenes (23 minutes): Deleted scenes from 13 episodes including;

"Always and Forever,"
"House of the Rising Sun,"
"Girl in New Orleans,"
"Fruit of the Poisoned Tree,"
"Bloodletting,"
"The River in Reverse,"
"Dance Back from the Grave,"
"Long Way Back from Hell,"
"Farewell to Storyville,"
"The Big Uneasy,"
"A Closer Walk with Thee,"
"The Battle of New Orleans"
"From a Cradle to a Grave."
Trivia
Gallery
Videos
Pictures
See Also
Community content is available under
CC-BY-SA
unless otherwise noted.