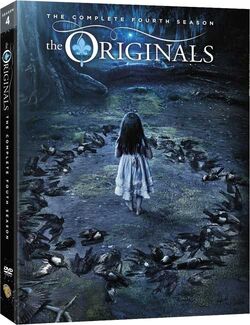 The Originals: The Complete Fourth Season DVD box was released on August 29, 2017. It contains 13 episodes from the fourth season of The Originals and bonus content.[1]
Age Restriction
Not Rated.
Summary
Season Four of The Originals begins on the fifth anniversary of the Mikaelson family's greatest defeat. Although Marcel Gerard has ushered in a new era of peace in the French Quarter, an army of unsired vampires has arrived seeking to bargain for the life of Marcel's infamous captive, the Original hybrid, Klaus. Meanwhile, the other Mikaelson siblings remain in an enchanted sleep Freya designed to keep them safe, buying Hayley time to find a cure for them...while also protecting her daughter, Hope.
After a daring rescue, the Mikaelsons are reunited, only to find themselves faced with an even bigger threat: the revival of an ancient evil that has strong ties to their most vulnerable family member. Following a devastating attack by this nightmarish entity, the Mikaelsons discover there is only one way to save themselves: they must stand their ground in New Orleans and forge an alliance with their former friends, both Marcel and the leader of the New Orleans witches, Vincent Griffith. With the city of New Orleans consumed by a seemingly all-powerful cult hell-bent on child kidnappings and ghastly rituals, Klaus must face his own inner demons as he struggles to become the father he never had, to the child he is only now getting to know. Upon learning the truth - that their evil adversary cannot be killed - the Mikaelson siblings will have no choice but to stand together...even if this is to be their final battle.
Discs
Bonus Features
"Originals: 2016 Comic-Con Panel"
"Deleted Scenes"
"Gag Reel"
Trivia
Gallery
Videos
Pictures
Notes
See also
Community content is available under
CC-BY-SA
unless otherwise noted.