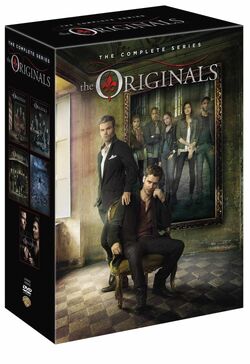 The Originals: The Complete Series box was released on October 2, 2018 on DVD. It contains all 92 episodes from the show.
Age Restriction
Not Rated.
Summary
New Orleans sets a decadent, sensuous stage for the turbulent saga of the original vampire family. Conflicted siblings Elijah, Rebekah and vampire/werewolf hybrid Niklaus are the bearers of the Mikaelson legacy, a family who built and ruled the French Quarter only to be exiled a century ago. When they return to reclaim the heart and soul of their beloved city from Klaus' former protégé, the diabolical, charismatic vampire Marcel Gerard, they ignite a long-smoldering power struggle between witches, werewolves and vengeful vampires—as well as passion, revenge, bloodlust and a primal desire to continue the familial bloodline. The Complete Series includes all five compelling seasons of supernatural passion and suspense.[1]
Videos
Pictures
Notes
This is the first TVD Universe DVD that does not contain any bonus content.
See also
Community content is available under
CC-BY-SA
unless otherwise noted.