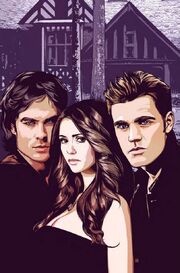 The Vampire Diaries: Digital Comic is a series of comic books published by DC comics.[1]
The anthology series features the stories by B. Clay Moore, Colleen Doran, Leah Moore and John Reppion, Tony Shasteen and Cat Staggs.[2][3]
Please note that any information in these comics is not canon.
Episode List
Image
Title
Writer(s)
Penciller (s)
Release date
#
[[Vervain]]
Writer: Colleen Doran
Director: Tony Shasteen
October 31, 2013;
November 13, 2014;
November 23, 2014
#DCx01-03
Part 1: Vervain is one of the most common herbs in the American South...so why is it that a plant that grows like a weed is so hard to find in Mystic Falls? The Salvatore brothers must be involved.

Part 2: The witch who cast the original anti-vervain spell is determined to make life difficult for Damon Salvatore and Stefan Salvatore. And the powerful spell he's casting requires someone to make a blood sacrifice!

Part 3: Julian's final revenge promises to make life unbearable for all vampires: all the magic he's accumulated over the centuries will make vervain the most common plant on Earth. But the Salvatores have one more trick up their sleeves...




[[Through a Glass, Darkly]]
Writer: Leah Moore and John Reppion
Director: George Kambadais
December 13, 2013
#DCx04
An innocent game of hide & seek leads to a terrible discovery when Damon and Elena crash into a bricked-up room in the Salvatore family home. But the skeleton they find isn't the weirdest surprise hidden inside!




[[Home for the Holidays]]
Writer: B. Clay Moore
Director: Tony Shasteen
December 26, 2013;
January 3, 2014
#DCx05-06
Part 1: When Stefan makes a clandestine Christmas visit to Mystic Falls, his battles against an unexpected group of vampires distract him from the town's Winter Party and the teen blowout in the woods.

Part 2: Stefan's busy fighting the vampires who moved into town, but his Uncle Zach has a new worry. He just realized a young neighbor bears a striking resemblance to Stefan's favorite photo...




[[Day of the Hunter]]
Writer: Leah Moore and John Reppion
Director: Beni Lobel
January 9, 2014
#DCx07
In a town inhabited by blood-thirsty vampires, nobody can be trusted and nothing is what it seems. In "Day of the Hunter", a man runs into some unexpected guests in the course of a normal day... or so he thinks.




[[Mind Games]]
Writer: Heather Nuhfer
Director: Alan Quah
January 16, 2014
#DCx08
After bringing Jeremy back to life, Bonnie joined her closest relatives on the Other Side. When she wasn't visiting her boyfriend in Mystic Falls, she was learning more about her family's powers...sometimes up close, and with devastating results!




[[Alaric]]
Writer: B. Clay Moore
Director: Tony Shasteen
January 23, 2014
#DCx09
Before he became the hot new history teacher in Mystic Falls, Alaric Saltzman taught himself to fight vampires. It wasn't easy-especially when a vampire with very personal reasons for battling him got involved!




[[1969]]
Writer: Sean E. Williams
Director: Xermanico
January 30, 2014;
February 6, 2014
#DCx10-11
Part 1: Bonnie Bennett uses her time on the Other Side to get in touch with some old family history. In this story, Grams reveals the story behind her first meeting with Stefan Salvatore!

Part 2: Grams' adventures with Stefan Salvatore and Lexi continue, as her powers grow stronger. But it's not just her witch powers, she's also awakening as a key force in the anti-war movement in Mystic Falls!




[[Laces]]
Writer: Colleen Doran
Director: Cat Staggs
February 13, 2014
#DCx12-14
Part 1: Damon Salvatore returns to Mystic Falls carrying a Confederate communiqué, too ill to deliver it promptly. How will Mystic Falls' townfolk react?

Part 2: Damon has returned from the war, and battle has taken its toll. He's desperately ill, but Katherine's more interested in scoring points against a rival for his affections than worrying about his interests.

Part 3: Katherine's lust for revenge against the young woman chosen to heal a fine specimen of Southern manhood take a twisted turn. Will her actions lead to disaster for The Cause?




[[Mad Maude]]
Writer: Bobbie Chase
Director: Dennis Calero
March 6, 2014;
March 13, 2014
#DCx15-16
Part 1: Stefan's playmate from the turn of the 19th century has escaped captivity and she's interested in only one thing—revenge! Will Katherine or Elena bear the brunt of her fury?

Part 2: Maude's arrival in Mystic Falls in the fall of 2013 has added complications to the already stormy relationship between Elena and Katherine. Whose philosophy will prevail as they end Stefan's former lover's reign of terror?




[[The Beast of Blue Mountain]]
Writer: Leah Moore and John Reppion
Director: Beni Lobel
March 20, 2014;
March 27, 2014
#DCx17-18
Part 1: The legendary Beast is a surefire way to scare the new kids at summer camp. But when the line between prank and myth blurs, camp counselors Jeremy and April investigate exactly who is responsible for terrorizing kids in the dead of night—if it's a WHO at all.

Part 2: One of the Blue Mountain campers is discovered convulsing and clawing her bunk to pieces, pushing Jeremy and April to question whether the Beast of Blue Mountain's pranks are really pranks at all. But with Bonnie Bennett's help, the truth is revealed!




[[The Mummy]]
Writer: Sean E. Williams
Director: Tony Shasteen
April 3, 2014;
April 10, 2014
#DCx19x20
Part 1: A traveling mummy exhibit offers the teens of Mystic Falls a unique opportunity—an overnight museum stay! When freshman class members Elena Gilbert, Bonnie Bennett and Stefan Salvatore volunteer to chaperon pre-teens for extra credit, they have no idea what they're getting themselves into!

Part 2: Stefan Salvatore woke up a 1000-year-old mummy. But what kind of curse has he activated, and will Elena and the rest of his friends be able to save him?




[[Grunge]]
Writer: B. Clay Moore
Director: Xermanico
April 17, 2014;
April 24, 2014;
May 1, 2014
#DCx21-23
Part 1: Seattle, the 1990s. Stefan's surrounded himself with young musicians, but will Damon accept this change in lifestyle?

Part 2: Damon's interference in Stefan's life reaches a new and shocking peak, as he compels a young girl to do something truly awful.

Part 3: Stefan is desperate to convince Damon to leave Seattle, but when they make a pact, can he trust his brother to keep up his side and just go?




[[Party Tricks]]
Writer: B. Clay Moore
Director: Beni Lobel
May 8, 2014
#DCx24
Caroline Forbes, Elena and Bonnie go to a campus costume party and they stumble across another vampire! When they realize someone's just trying to scare the students, they decide to have some fun, and teach the host a lesson.




[[Burning Love]]
Writer: Colleen Doran
Director: Colleen Doran
May 15, 2014; May 22, 2014; May 29, 2014
#DCx25-27
Part 1: When a house fire takes the life of a Mystic Falls cheerleader, Elena and her friends are crushed, but confused. This is the second tragic fire this family has suffered.

Part 2: The police have begun interrogating Elena and her friends about the tragic fire that killed a fellow cheerleader. But their suspicions seem to point to Stefan Salvatore as part of a love triangle!

Part 3: Stefan Salvatore is the prime suspect in the grisly murder of a cheerleader! Will Damon's influence keep him out of trouble, or place him firmly in danger?




[[New in Town]]
Writer: Beau DeMayo
Director: Beni Lobel
June 5, 2014
#DCx28
Matt Donovan is aiming for a normal life, so he's dating a new co-worker from the Mystic Grill. But when a series of grisly "animal attacks" are uncovered, Damon, Elena, and Caroline follow the new girl to see if there's more to her than it seems.




[[War Effort]]
Writer: B. Clay Moore
Director: Neil Edwards
June 12, 2014; June 19, 2014
#DCx29-30
Part 1: Stefan Salvatore has a long history with bloodshed, beginning in the American Civil War. So when he joins up for service in World War II, Damon is understandably worried.

Part 2: Damon's fears about the reemergence of Stefan's ripper side returning seem to be bearing true. Will his brother's comrades in the African desert survive the battle only to fall to a fellow soldier?




[[Frat Pack]]
Writer: Matthew D'Ambrosio, Jeane Wong and Missy Woodward
Director: Dennis Calero
June 26, 2014;
July 3, 2014;
July 10, 2014
#DCx31-33
Part 1: Now that Bonnie's alive again, the girls plan to take Whitmore College by storm, starting with an Angels & Devils party the Omega Psis are throwing.

Part 2: Elena, Caroline and Bonnie's plan to avenge a professor murdered by a werewolf gets into sticky territory when they infiltrate a party full of the frat brothers who had something to do with it!

Part 3: Calling your vampire boyfriends for back-up is an excellent plan—unless werewolves are holding your friend hostage in a room full of mystical artifacts and vervain.




[[Loyal Dogs]]
Writer: Beau DeMayo
Director: Cat Staggs
July 17, 2014;
July 24, 2014;
July 31, 2014
#DCx34-36
Part 1: Tyler Lockwood left Mystic Falls after his mother's murder, and is hiding with a werewolf pack in the Appalachians. But Katherine Pierce's arrival ends his peaceful plans for the summer!

Part 2: The situation gets complicated when a 13-year-old Ripper blackmails Tyler into tracking (and killing!) Katherine.

Part 3: Tyler and Alex have found Katherine's hiding place, but they'll have to get through an Expression witch before they can destroy her!




[[Circus of Souls]]
Writer: Matthew D'Ambrosio, Jeane Wong and Missy Woodward
Director: Beni Lobel
August 7, 2014;
August 14, 2014;
August 21, 2014
#DCx37-39
Part 1: The carnival that has come to Mystic Falls isn't what it appears to be-and when Sheriff Forbes realizes that people are disappearing, she turns to Damon for help!

Part 2: Damon is trapped by the carnival's ringleader, but the real danger comes from a source much closer to home.

Part 3: Bonnie's figured out how to permanently end the ringleader's carnival, but will it cost Jeremy part of his humanity?



Sketches
References

External links
See also
Community content is available under
CC-BY-SA
unless otherwise noted.