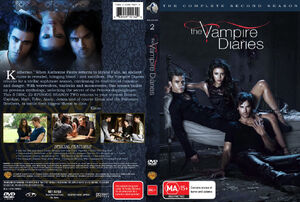 The Vampire Diaries: The Complete Second Season (DVD) box was released in on August 30. 2011. It will contain 22 episodes from the second season of the series and bonus content. The DVD version contains 5 discs for $47.95 and the Blu-ray version contains 5 discs for $54.95.
Age Restriction
R13 Contains Violence and Horror scenes.
Summary
They're back – and they're not alone. The seductive characters of The Vampire Diaries return for a stunning 5-Disc 22-Episode Season Two. This time Elena, Stefan, Damon and the other residents of Mystic Falls are joined by sinister new blood. Released from the tomb, Katherine unleashes her personal brand of evil in a diabolical plot. The Originals – the world's oldest and most dangerous vampires – hunt for Elena, who discovers she has a terrifying connection to their world. And now bloodsuckers aren't the only monsters in town. On moonlit nights, werewolves roam in search of victims…including vampires, who succumb to a single werewolf bite. The Vampire Diaries: unending suspense, undying romance.
Discs
Disc 1

Disc 2

Disc 3

Disc 4

Disc 5
Bonus Features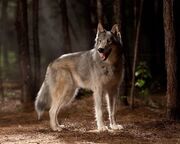 Pages of the Wolf (Three Featurettes):

The Myth & The Mystery (Werewolf Lore)
Building the Beasts (Working with Actual and Mechanical Wolves)
Howling at the Moon (Michael Trevino's Transformative Makeup Process)

Her Own Worst Enemy… Elena, Katherine and Nina!: Nina Dobrev Rises to the Challenge of Playing Two Roles
The Perfect Love Triangle: Vampires, Werewolves, Witches: Setting the Record Straight on Who's Nibbling on Whom for the First Two Seasons
Deleted Scenes – Unaired and extended scenes from nine select episodes.
Audio Commentary on "Masquerade" with Executive Producers Kevin Williamson & Julie Plec
Second Bite AKA Gag Reel
Blu-ray only: A digital copy of all 22 episodes
Media
Videos
Pictures
See also