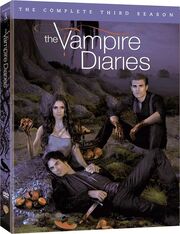 The Vampire Diaries: The Complete Third Season box was released on September 11th, 2012, on DVD and a Blu-ray-DVD combo pack. It contains all 22 episodes from the third season of the series and bonus content.
The DVD contains 5 discs with all season 3 episodes, alongside a bunch of bonus features. It's STP is $59.98. The Blu-Ray version contains 9 discs; it's a combo-pack with the DVDs, the BDs AND the UltraViolet digital downloads of all season 3 episodes! Priced at $69.96.
Age Restriction
R13 Contains Violence and Horror scenes.
Summary
The sexy and supernatural cast of The Vampire Diaries are back with a compelling 9-DISC 22-EPISODE SEASON THREE. As Stefan succumbs to Klaus, Damon and Elena wrestle with the guilt of their growing bond while they work together to bring Stefan back from the edge. And when Mikael the Original vampire hunter, Esther the Original witch and their children arise from their caskets to resolve a 1,000-year-old power struggle, Mystic Falls becomes a battleground for World War Vampire, with Elena caught dead center between them - and, as always, between Damon and Stefan.
Bonus Features
Stefan's Descent into Darkness
The Original Vampires: The Beginning
Gag Reel
Deleted Scenes
BLUE-RAY EXCLUSIVE
The Writer's Pack
Sound FX, Score and Suspense
The Producer's Spells
Elena Trapped in the Closet
Klaus and his first hybrid
Caroline's Dad Tries to "Fix" Her
Rebekah Joins the Cheerleading Squad
Damon and Elena Pillow Talk
Damon Releasing Stefan
Klaus Saves Caroline's Life
The Mikaelson Family Ball
Gallery
Videos
Pictures
See also
Community content is available under
CC-BY-SA
unless otherwise noted.