Torrey Joelle DeVitto (born June 8, 1984) is an American actress who portrays Meredith Fell on The Vampire Diaries. Torrey is also best known for her role as Melissa Hastings on Pretty Little Liars. In April 2011, Torrey married Paul Wesley (who plays Stefan Salvatore in The Vampire Diaries), but they divorced in July 2013.
Biography
Torrey Joëlle DeVitto was born and raised in Huntington, New York, to Liberty and Mary DeVitto, from the time Torrey was born, she was surrounded by the entertainment industry. For 28 years, her father played the drums for Billy Joel. She spent most of her early years traveling on the road with her parents. By the time Torrey could walk, her heart was in the music and acting world. She began violin lessons at age 6 and was in the 4th grade when she had already earned her place as the 4th chair violinist in a New York high school orchestra. From 1995 to 1997, she played in the Florida Symphony Youth Orchestra; from 1998 to 1999, she played in the Florida Youth Artist Orchestra, traveling with the orchestra to Austria; at age 12, she played a solo violin piece at the wedding of Christie Brinkley and Peter Cook; and, in 1997 Torrey played on stage with her father at a Terri Binion show in Orlando, earning her first standing ovation.
Torrey later studied dance with the Kings Park Dance Center in New York. She began taking acting classes at Zoe & Company in Orlando, Florida. At age 15, she began doing commercials, modeling, and doing print ads. Torrey's first break in acting finally came in 1999, when she participated in the Spelling Production, "Safe Harbor" (1999). One year later, she performed in the Nickelodeon pilot, "Noah Knows Best" (2000). In her junior year of high school, she enrolled in the Crenshaw Performing Arts School where she graduated 6 months early and at the top of her class. During the summer after high school graduation, Torrey stayed in Japan working for Avenue One Modeling Agency. Her big break came in 2002 when she earned the lead in playwright Lee Blessing's 3-woman play, "Eleemosynary", which was performed at the Orlando Shakespeare Theatre. Her performance won her rave reviews in the Orlando Sentinel.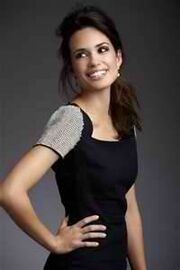 After graduating high school, Torrey moved to Los Angeles, where her career as an actress began to take off. Her work includes: playing "Alexandra" on the MTV pilot, "Alexandra the Great"; guest starring on the FBC pilot, "One Big Happy"; guest starring in "The Untitled Michael Jacobs Pilot" for FBC; as well as guest-starring on episodes of "Scrubs" (2001), "Dawson's Creek" (1998), "Jack & Bobby" (2004), "The King of Queens" (1998), "Drake & Josh" (2004), "CSI: Miami" (2002) and "Castle" (2009). Torrey booked her first lead on the ABC Family series, "Beautiful People" (2005), as aspiring model "Karen Kerr". On the film front, her film debut was in Starcrossed (2005), and she has appeared in the 2006 movie sequel, I'll Always Know What You Did Last Summer (2006) (V), The Rite (2011) with Anthony Hopkins, Green Flash (2008) (V), Killer Movie (2008) and Heber Holiday (2007). However, above all, she is most notable for her recurring role, "Carrie", on The CW drama series, "One Tree Hill" (2003).
Staying true to her love of music, in 2002, she played violin with the Tommy Davidson Band at the Sunset Room in Hollywood. Her solo performance earned her another standing ovation. She also played violin on Raphael Saadiq's CD, "Ray Ray", in 2004, and, in 2011, she played on Stevie Nicks' album, "In Your Dreams".
Torrey dedicates much of what free time she has to philanthropy. She is the first-ever Hospice Ambassador, and has been volunteering for almost five years with a hospice outside of Los Angeles. In addition to supporting hospice advocacy, Torrey also supports the "Global Roots" organization, whose goal is to support local humanitarians in their efforts to change the lives of children around the world.
Torrey also makes time to dote on her dog, Beau, a 7-years-old Chihuahua mix that she adopted at "Much Love", a pet adoption agency in Los Angeles.
Torrey's former sister-in laws were Julia & Leah Wasilewski, and Monika Emara.
Filmography
Films
Starcrossed (2005)
I'll Always Know What You Did Last Summer (2006)
Heber Holiday (2007)
Killer Movie (2008)
Green Flash (2008)
Cheesecake Casserole (2011)
The Rite (2011)
The Real St. Nick (2012)
Television
Dawson's Creek (2003)
Scrubs (2003)
Drake & Josh (2004–2005)
The King of Queens (2005)
Jack & Bobby (2005)
Beautiful People (2005–2006)
Runaway (2006)
CSI: Miami (2008)
One Tree Hill (2008)
Castle (2009)
Pretty Little Liars (2010–2017)
Marcy (2011)
The Vampire Diaries (2012-2013)
Army Wives (2013)
Chicago Med (2015–present))
Chicago Fire (2016)
Chicago P.D. (2016)
Trivia
Gallery
References
External links
Community content is available under
CC-BY-SA
unless otherwise noted.