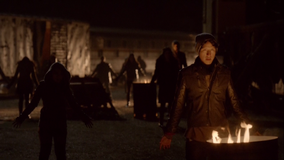 Traveler Magic is a form of witchcraft that is strictly used by a subculture of witches known as the Travelers. This form of magic specializes in spirit possession, a form of dark magic, as well as an emphasis on "collective" magic. Only by joining together, in large gatherings as "Passengers", are Travelers able to perform powerful feats of magic. Without access to the magic of other Travelers, their power is considerably weak. Such spells are cast in Czech, as opposed to Latin which is conventionally used when practicing traditional magic.
History
Traveler Magic was created after the great divide of conventional and unconventional witches as a result of the former cursing the latter. As a result of being cursed, they were incapable of using Traditional Magic nor gathering as a tribe.
Spells and Rituals
Main article: Spells and Rituals
Practitioners
Gallery
Trivia
See also
Community content is available under
CC-BY-SA
unless otherwise noted.