This article is about Tyler Lockwood from the Shows. You may be looking for Tyler Smallwood from the novels.
"
If this is it, if this is the way I go out, then let me go out as the face that you can never erase from your brain. The face that reminds you, to the end of time, of the moment you gave up. The moment you threw away everything you've ever wanted... to be a siren's little bitch!
"
Tyler Lockwood was a former main character, protagonist, current werewolf and a former hybrid on The Vampire Diaries, who played for the football team at Mystic Falls High School. Tyler was also an antagonist/anti villain of the episode Bloodletting of The Originals, where Tyler carried out his vendetta against the infamous Klaus Mikaelson.
He was the son of Richard and Carol Lockwood, and the nephew of Mason Lockwood who is also a werewolf. He was initially portrayed to be arrogant, selfish and a bully. But after triggering the family curse which turned him into a werewolf, he has learned to tone his behavior down. Before this revelation, he was referred to many times as a "dick," by both his best friends; Matt Donovan and Jeremy Gilbert. He was shown to have an athletic build, and great strength as a human. He also had a short temper and became angry very easily. He didn't understand why he behaved the way he did, at least until Mason came to visit after Richard Lockwood's death.
Initially after becoming a hybrid, he was extremely grateful to Klaus for taking away his pain of turning every month. However, he soon becomes angered at the prospect of being sired to him after he bites his girlfriend, Caroline Forbes. He manages to break the sire bond and continued to help other hybrids break the curse of being sired. This came at a price once Klaus found out about his actions, as Klaus murdered his mother and last remaining family member. Since then, he swore revenge on Klaus for his actions.
He had an on-and-off relationship with Vicki Donovan until her death and after he triggered his werewolf curse, starts to fall for Caroline after she helps him on a Full Moon, despite her relationship with his best friend, Matt, at the time. His relationship with Caroline has gone through the rocks over the series yet it fell apart after he chose to avenge his mother in favor of staying in college and being with her.
After a failed attempt to kill Klaus and Hayley's child, he was imprisoned in the Garden until released by Rebekah as a "parting gift" to Matt and in 500 Years of Solitude returns to Mystic Falls. He later grew suspicious about the relationship between Nadia Petrova and Matt, leading to the discovery that Katherine was, in fact, inhabiting Elena's body without anybody realizing.
In Man on Fire, Tyler became possessed by Julian, a Traveler, in the same manner as Matt and Elena were possessed by Gregor and Katherine, respectively. His control over his own later resurfaces without the Travelers realizing, allowing Tyler to uncover what they were planning: the eradication of spirit magic and everything that witches ever created through it. He ultimately escaped and quickly relayed what he learned to his friends. After the Travelers used the Body Sealing Spell on Tyler, Julian got permanent control of Tyler's body and due to Markos destroying the Traveler's Knife that was needed to remove Passengers, Julian could not be banished. Later, Julian was captured by the Travelers and they brought Julian to Mystic Falls, where they had cast the Magic Purification Spell, which can undo any non-traditional magic, including the magic that created vampirism. As a result, when Julian was forced to enter Mystic Falls in Tyler's body, Tyler's vampirism and activated lycanthropy were both stripped away before Tyler and Julian both died, as vampirism was what was keeping them alive.
Tyler, ended up on the Other Side, but thanks to Bonnie's sacrifice and Liv's magic, he was able to be resurrected and rejoin his loved ones in the living world in Home. Shortly after he returned, he discovered that he was no longer a hybrid due to the Travelers' Magic Purification Spell. At the beginning of the sixth season, Tyler was seen struggling to control his renewed anger issues due to his return to being a human with a werewolf gene, and desperately wanted to prevent himself from triggering his curse once again. He ultimately reactivated his curse, despite his best efforts to avoid it, when an already-dying Liv begged him to kill her and save himself; Tyler done as asked and mercy-killed her to re-trigger his werewolf curse which saved his life in I'm Thinking Of You All The While. While he was saying his goodbyes to Elena, she encouraged him to leave Mystic Falls and do whatever it is that he wants to do, insisting that he embrace his lycanthropy and let it be what makes him extraordinary. So Tyler left town, and became a member of The Armory, until Damon killed him for good in You Decided That I Was Worth Saving.
Tyler was the last member of the Lockwood Family and the Apisi Werewolf Bloodline.
Early History
Tyler was born to Mayor Richard and Carol Lockwood on February 10, 1993, in Mystic Falls, Virginia. After discovering that the werewolf gene runs through his family, Tyler was scared to become a werewolf himself and his fears became true when he accidentally killed Sarah and triggered the curse. Caroline Forbes, a vampire who wasn't his friend, offered her support to him, helping him through his first transformation and preparation for his new life. Tyler eventually fell for Caroline, but questioned their relationship when Jules, another werewolf and Mason's friend, told him that Caroline and two other vampires, Stefan and Damon Salvatore, killed Mason. Finding out that this was true, Tyler felt betrayed and leaned towards the werewolf brethren. He hesitated to help Caroline when she and the Salvatore's were at the brink of death, which hurt her, causing her to cut off their friendship. He was the one who revealed Mason's plan to break the curse to Jules and her boyfriend Brady. He then helps them find the moonstone and the doppelgänger. Stefan reveals to Tyler that Jules and Brady had lied to him and that Elena would die in the ritual to break the curse. He releases Stefan who kills Brady before he can capture Elena during which time the rest of the pack is killed by Elijah. He then decides to leave town with Jules, the only survivor, with a promise that she wouldn't lie to him anymore. After receiving a phone call from his mother telling him that she had an accident and was in the hospital, Tyler and Jules returned to Mystic Falls. They were both captured by Maddox and Greta Martin, witches working for Klaus, and were to be used in the sacrifice that would make Klaus a vampire/werewolf hybrid. Tyler and Caroline, who had also been captured for the sacrifice ritual, were rescued by Damon, who was later bitten by Tyler during his transformation. Tyler and Caroline eventually start a relationship, which becomes rocky when he becomes Klaus' first successful hybrid. His life is made much easier when his transformations cease to happen unwillingly and Tyler becomes very respectful of Klaus, trying to sabotage his friends' plots against him, which is later revealed to be due to a sire bond.
Throughout The Vampire Diaries Series
Throughout The Originals Series
In

Bloodletting

, Tyler traveled to New Orleans after hearing from witches about

Klaus

and

Hayley

's

unborn child

and the horror that it may bring with its birth. He abducted Hayley, despite once having been friends with her. He kidnaps Hayley in order to test a theory he had about her baby. He brought Hayley to her ancestral werewolf clan's current home and with the help of a werewolf named

Dwayne

, kept her there. He took some of her blood, which she shared with her baby and injected Dwayne with it before killing him. He believed that her unborn child's blood would be able to sire more hybrids and that it must be the reason why Klaus would even remotely care about protecting her or the baby. When the test worked and Dwayne became a hybrid, Tyler, having seen Klaus' plans for hybrids firsthand, knew that he had to get rid of Hayley and the baby before Klaus got a chance to cause anymore harm. Hayley resisted, though, and unknown to Tyler, the baby's blood actually made Dwayne sired to her rather than Klaus. Dwayne protected Hayley, giving her a chance to get away before Tyler ripped out his heart. Klaus caught up with him in the woods, surprised at how vicious Tyler had become. Tyler was still seeking

vengeance against Klaus for what he did to his mother, his hybrid friends and romantically pursuing Caroline. Klaus merely laughed at Tyler, asking him what Caroline would think of what he had turned himself into. Tyler fled, but Klaus followed with ease. However, he was ambushed by Tyler who staked him through the chest. A battle between the world's first two hybrids began with Tyler managing to hold his own for a few minutes against his sire, criticizing Klaus on how he had screwed up every relationship he ever had, whether it was with his hybrids, his family or soon to be child. Klaus dealt what would have been a killing blow, shoving his hand in Tyler's chest to rip out his heart once and for all, but as Tyler begged for him to do it, Klaus changed his mind. He realized that Tyler was suffering and wanted him to end his pain, but Klaus pulled his hand out, telling Tyler to leave but always remember that he was stronger than him and only lived since he permitted it. Later, Tyler visited

Marcel

, not deterred by the defeat from his quest for vengeance. He told Marcel that Hayley was pregnant with Klaus' child and the threat that it posed to all vampires.

In The River in Reverse, Tyler gets his neck snapped and is thrown into The Garden by Marcel and Rebekah after he makes it known that he's willing to kill a harmless baby. Rebekah released Tyler from the Garden between Après Moi, Le Déluge and Dance Back from the Grave.
Personality
Prior to triggering his werewolf nature, Tyler had a very aggressive, arrogant and selfish personality. He showed this many times for example when he had fights with Jeremy Gilbert over his girlfriend Vicki Donovan. Tyler behaved like this because of his werewolf gene. In Season 2, when his uncle Mason came to town, he learned how to control his anger and tone down his behavior. But after discovering that his family carried the werewolf gene, Tyler was scared to become a werewolf himself.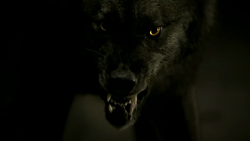 His fears came true when he accidentally killed Sarah and triggered the curse. Tyler felt guilty for killing Sarah, and when he discovered Caroline Forbes was a vampire they became friends. She helped him get through his first transformation, but he almost killed her when he was a wolf. She came back when he was back in human form. After this, she became his friend then girlfriend. His aggressive trait seemed to calm down once he triggered the curse, and he was able to start trying to live a normal life.
When Tyler became a hybrid he started being his old self and he became very loyal to Klaus because he took the pain of transforming away. In Season 4, Tyler put his friends and family before himself and really cared about Caroline, in Memorial, he showed great sacrifice and bravery in Pastor Young's funeral when he interrupted the chant and stood on the stage to get the hunter's attention and give his friends especially Elena a chance to escape from Connor's trap. However, in Season 5 of The Vampire Diaries, and Season 1 of The Originals, the suffering Tyler has gone through, being enslaved to Klaus and having Klaus murder his mother, has caused Tyler significant emotional pain and a dark change in his personality. He has become obsessed with vengeance, an ironic fact considering his obsession is targeted at Klaus. He is shown to have little regard for what gets in his way, going so far as to attempt to murder Hayley's unborn baby solely due to what Klaus might do with it. Also, he has shown subtle signs of being at least partially suicidal, trying to goad Klaus into killing him. Klaus believes that this is due to him losing so much, to the point where he believes he has nothing left.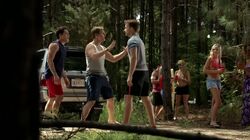 In "Home", after Tyler is stripped of his vampirism, and killed by the magic purification spell, he is resurrected as an untriggered werewolf, a lasting result of his death that he notices almost immediately. As an untriggered werewolf once more, he had reverted back to the "old Tyler", the hot-headed bully who is incapable of walking away from an altercation. He had already picked a fight with Luke Parker after learning that he had been supplying Elena with hallucinogenic herbs, proving that Tyler had no control of himself and that his anger was consuming him. Since then, Tyler had made several attempts take control of his anger, and channel it into something productive, like the law enforcement training academy that he and Matt had enlisted in. However, that was short lived.
In order to save his life from a life-threatening wound suffered during Alaric and Jo's wedding, Tyler had no choice but to once again trigger his werewolf gene. He did this by killing his girlfriend, Liv. She told him that she wanted him to live, and the only way to do that was by killing her to trigger the werewolf curse, thus activating his healing ability. It should be noted that Liv was already dying of the spell that links the Gemini Coven to their leader, who had already died. After triggering his curse, Tyler left town with Jeremy Gilbert to hunt vampires. It was during his hunter sojourns that he crossed paths with The Armory, and later became an associate of theirs. From there, Tyler moved to New York, where he was apparently living a normal life as bank trader. However, some time after this, he met Virginia St. John, who entrusted him with documents and research pertaining to the second Siren. This brought Tyler to back home to Mystic Falls, where he met his untimely demise at the hands of Damon Salvatore.
Physical Appearance
Main article: Tyler Lockwood/Appearance
Tyler has tanned skin, short black hair and dark brown eyes. His height is between 5'7" to 5'9". Tyler has a muscular and toned body. Like all werewolves, his eyes will turn yellow when he becomes very angry. In his werewolf form, Tyler's fur is black and his eyes are yellow. In human form, Tyler often wears black jeans with a t-shirt and a jacket. On special occasions, such as parties, he wears a black suit. In Season Two, he starts wearing leather jackets. His style has matured over the course of the series, using darker colors looking much more attractive.
When he returns in Season Eight, Tyler is seen wearing more mature, darker clothing with a black leather jacket. He has also grown out a beard and stubble.
Powers and Abilities
Tyler possessed all the standard powers and abilities of a non-Evolved werewolf. After he was turned and successfully completed his transition, he possessed all the standard powers and abilities of a non-Original werewolf-vampire hybrid. Being the first successful non-original werewolf-vampire, Tyler was more powerful than non-Original vampires in his age group, but was not as strong as those of greater age as shown in Homecoming when he was easily overpowered by Damon. However, he has been shown to be strong enough to hold his own as he was able to take on both Caroline and Stefan whilst possessed by Julian, even ripping out the latter's heart, and was shown to take on non-Original vampires well above his age when he tackled Nadia - a vampire of 500 years - and temporarily overwhelmed her, long enough to bite her. He was strong enough to also hold his own against Klaus - the Original Hybrid - during his attempt to avenge his mother's death. Tyler was also particularly fast as a non-Original werewolf-vampire hybrid, being fast enough to surprise Klaus and stake him from behind. Initially he was loyal to Klaus upon his creation as a result of his sire-bond, but due to his hybrid nature, he managed to break free by transforming numerous times until the process became painless, although he would still lose control in his wolf form. However, since the magic purification spell stripped away his hybrid nature, Tyler returned to his former untriggered status. Prior to his death, he triggered his curse once more and regained the standard powers and abilities of a non-Evolved werewolf.
Weaknesses
Tyler had the typical weaknesses of a non-Evolved werewolf at the time of his death.
Relationships
"You'll have to forgive my son's rudeness, he gets that from his father."
—Carol Lockwood in Family Ties
Tyler and his father never had a good relationship, because he was a horrible parent and treated him poorly. On several occasions, Richard intervened because Tyler did something in public where Richard felt ashamed of him. When Tyler and
Jeremy
got into a fight at a
Career Night
at
Mystic Falls High School
, Richard and Alaric stopped it, and Richard brought the two of them outside. Tyler's father tried to get the two of them to fight each other, even though they didn't want to fight any longer. Tyler's father also had a talk with him when Tyler got into a fight with
Matt
, where he then pulled Tyler to the side and hit him and told Tyler "That is the last time you ever embarrass this family again". On Founder's Day, Richard was angry at Tyler for not going home when he was asked to. This could be a reflection of his concern for Tyler's safety during the rounding up of the vampires, or it could be his dislike when his son disobeys him. Richard then grabbed Tyler by the arm, and says to his son "If I tell you to do something you do it". Tyler then tells him to get off, showing that he has finally stood up to his father and that he has finally had enough of his father's controlling attitude. During his father's funeral, Jeremy Gilbert comes into Tyler's father's study to comfort Tyler, but Tyler rebuffs his attempts and acknowledges that his father was a "dick", and that he knew his father's shortcomings. After the funeral, he revealed to his mother that he had always hated his father for treating him poorly. After Richard's death,
Matt Donovan
made fun of Tyler's father and poured alcohol over his picture. Tyler gets angry; possibly displaying some concern for his father. Tyler never talks about his father after this, perhaps because he doesn't want to be reminded of what kind of person his father was, and maybe to forget about him completely.
"So I guess it's just you and me now."
—Carol to Tyler in Plan B
Tyler seems to have grown up with a distant, but a somewhat positive relationship with his mother. It is only after the death of his father that Carol began to have a closer relationship with her son. When Mason Lockwood disappeared once again, Carol informed Tyler that "I guess it's just you and me now". Although he doesn't show it very well, Tyler is clearly fond of his mother, even returning to town after her accident. After Klaus Mikaelson murders Carol as revenge for Tyler trying to kill Klaus, Tyler originally wanted vengeance for her death. However, Tyler seems to have given up seeking vengeance for her death and continues to mourn Carol's death.
Main article: Caroline and Tyler
When Tyler triggered his curse, Caroline Forbes wanted to help him. Though Damon demanded her not to be his friend, she did. Tyler once asked whether she is a werewolf, Caroline laughed and said she is a vampire after a skirmish. When the first Full Moon came, Caroline helps him through the first transformation and it seems they form a special bond. The two become closer and eventually began a romantic relationship. Due to Klaus falling in love with Caroline, their relationship has become strained. Klaus promised that he will kill Tyler and Caroline pleased Klaus to let him live. Klaus told her to tell Tyler to leave town and hide which after a painful goodbye he did. They leave each vowing that they will find a way to be together again. Tyler returns in For Whom the Bell Tolls, and they break up in Monster's Ball, ending their relationship permanently. They still had feelings for each other, until Caroline slept with Klaus. After Tyler finds out, he is furious at her and this breaks their bond completely. After their angry tension was resolved after their post-breakup fight, they continue to remain good friends.
Other Relationships
Lockwood Family, Mystic Falls Gang, Mystic Falls High School, Tyler's Pack, Whitmore College
Appearances
The Vampire Diaries
The Originals
Behind the scenes
The casting call was: "18 years old, athletic, cocky, attractive, and a bit of a jerk, he's an alpha male who demonstratively marks his territory (i.e. Vicki) every chance he gets, particularly in front of Jeremy. Tyler can't resist needling Matt about the fact that Elena seems to be falling for the new guy, Stefan...
Novels
Main article: Tyler Smallwood
| | |
| --- | --- |
| Tyler Smallwood is a character in The Vampire Diaries novel series. Tyler is an eighteen-year-old who was born and raised in the supernatural town of Fell's Church, Virginia. He is a werewolf resident within the town. Tyler is the son of Mr. and Mrs. Smallwood, as well as the cousin of Caleb Smallwood. Tyler's best friend is Dick Carter, who plays on the high school football team with him. Klaus helped him trigger his werewolf gene by assisting him in killing Sue Carson and feeding him her blood. He later had sex with, Caroline Forbes, his ex-girlfriend, which made her pregnant with a child. Though he was presumably unaware of this, he fled the town after Klaus's death. Tyler is currently in a relationship with Caroline and he is raising their twin children, Lucas and Brianne together. | |
Name
Tyler is a unisex name of English origin. The meaning of the name is "tile maker".[2]
Lockwood is of English origin and means "enclosure forest".[3]
Tropes
Trivia
Tyler's birthday is February 10 and his astrological sign is Aquarius.
Out of all the main characters, he has missed the most episodes.

The other main character is Jenna.

Both in the books and series, he has a relationship with Caroline.
He didn't appear in five episodes in a row in Season Two, beating Bonnie, who missed four episodes in a row in season one.
He's the only main character throughout the series as a whole, who misses the most episodes in large gaps and has the most absences, even Alaric who was introduced mid-way through season one, has appeared in more episodes than Tyler.
In the series, it was unknown if the Lockwoods had the werewolf gene until Bad Moon Rising. But it was hinted at in The Turning Point. After the scene where Tyler hits Jeremy, he asked him, "What is your problem, man?" when a full moon can be seen in the sky, explaining his aggressive behavior.
Tyler has interacted with all the main characters, except for Jenna.

Tyler has never met Silas in Seasons Four and Five. Also, Silas never uses Tyler's or Bonnie's appearance to fool the other main characters.

When he was human, Tyler was the only living main character who was never bitten by a vampire.
In The Reckoning, Tyler is turned into a hybrid, the first successful one, due to drinking a sample of doppelgänger's blood during his transition.
Tyler is the seventh werewolf killed by a vampire or hybrid.
Before discovering the bloodline of the main characters, the only one of the protagonists who would have died if Klaus was destroyed, would be Tyler.

In the books, after Klaus' defeat, Tyler escapes and does not return to town.

Tyler is the first main vampire/hybrid character of the series to form a sire bond to his sire (Klaus).
Tyler is the first werewolf/hybrid character to have his venom extracted.
After Kimberley submitted to him, all hybrids present kneel to him, acknowledging him as their Alpha.
Tyler is the only successful hybrid to be shown in wolf form, as seen in After School Special.
Tyler has shown his wolf form more than any other werewolf/hybrid in the series.
Tyler returns for Bonnie's funeral in For Whom the Bell Tolls and leaves again in Monster's Ball.
Tyler was the only main TVD character for Season Five to appear on The Originals. He appears for a total of 2 episodes.
Tyler gained information that he used to back-stab Klaus.
Tyler was imprisoned in The Garden, for attempting to kill Hope Mikaelson. But he was released and sent to Mystic Falls as a gift to Matt, from Rebekah.
Tyler becomes the first hybrid to be bitten and fed on by a vampire in Gone Girl.

Damon lured Tyler and feed him to escape.

In No Exit, Nadia fights both Caroline and Tyler. Nadia escapes but is infected by the hybrid bite from her scuffle with Tyler.
In Gone Girl, Katherine gets Wes to help Nadia who is dying from Tyler's hybrid bite. Assuming that he will be able to cure her.
In Resident Evil, he is possessed by Julian.

Tyler is the first Passenger host who successfully resisted being taken over by the Passenger possessing him after hearing the summoning word. He did it by transforming at least partially to wolf form.

Tyler is the only hybrid to have defeated and killed a vampire much older than himself in 2 different scenarios; first he was responsible for Nadia Petrova's death when he bit her in No Exit, and in the second instance he killed Stefan via heart extraction in Promised Land, but he was also possessed by Julian at the time when he killed Stefan.

Although Tyler can be excused for killing Stefan as he was possessed by Julian at the time. Therefore, he cannot be held accountable for his actions.

After being stripped of his vampirism in the Mystic Falls' no magic zone before death, Tyler is now resurrected as an untriggered werewolf.
Tyler is the first hybrid to be cured of his vampirism not through the cure.
Tyler was a triggered werewolf again until his death in season 8.
Season 6 is the first time since Season 1 that Tyler will be neither a werewolf or a hybrid.
Tyler is the first main character to miss a season premiere (Season Five), although his voice was heard.
According to Caroline Dries, at the end of Season Six, Tyler leaves Mystic Falls and goes with Jeremy to hunt vampires.[4]
Tyler is the first main character of TVD to discover that Hayley was pregnant with Klaus' child.
Quotes
Season One
Tyler (Vicki): "Wow. Vicki Donovan says `No. That's a first"
- Pilot
---
Tyler (Matt):"Football is a contact sport. Sometimes, people get hurt"
---
Tyler (Damon): "Screw you, dude. "
---
Tyler (Jeremy): "Let's hang out because we did the same chick? Go be friends with the many other guys she screwed. "
---
Tyler (Matt): "The guy's not even subtle about it."
Tyler (Richard): "Be more creepy dad, it's not like your son is standing here."
---
Tyler (Matt):"I was a dick to her [Vicki]. I was really bad. What I hate is... I can't make any of it right. It's like I don`t deserve to even miss her. "
---
Tyler (Caroline):"I said I was sorry. "
---
Season Two
---
Tyler: "And so the black sheep returns. "
Tyler (Jeremy): "Found this in his desk. [hands liquor to Jeremy] He won't mind. He's dead. "
---
Tyler (Mason): "All I know is that I loose myself. And that time I become something else"
Tyler (Mason): "I saw your eyes. They glowed."
---
Tyler :"Are you busting us? Or are you joining us? "
---
Tyler (Mason):"You blew back into town with some supernatural family secret and you expect me not to ask questions? "
---
Tyler (Mason):"I basically have to cause death and then... boom. The next full moon I'm howling on all force "
Tyler :"I'm a dick by the way."
Tyler :"Okay, lets not play with the rock."
Tyler (Mason):"I almost killed a girl today. It was an accident. She's okay though. But there I was... you now just for a moment, for a split second I hoped she'd die. Whatever this is inside me, I don't want any part of it. I don't wanna feel that way again. I won't. I can't"
---
Tyler (Matt):"You know what I think of Caroline Forbes. She's an insecure, neurotic, bitchy little twit. But the girl's got heart. She means well. You've just got to take the good with the bad sometimes. "
- Plan B
---
Tyler (Matt):"Listen, I'm sorry that I've been a dick lately … a jerk lately. It's just, have you heard from Mason?. "
---
Tyler (Caroline):"Keep it up, but I'm not buying it. I saw how strong you were. I'm not leaving here until you tell me the truth. You're a werewolf. Say it. "
Tyler (Caroline):"I have no one else to tell. I'm sorry about earlier. It's just, I'm alone with this. What's gonna happen to me? I'm gonna turn on the next full moon, and I won't be able to stop it. I'm scared. "
- Rose
---
Tyler (Caroline):"Yeah. You can't be honest with him. It's not really fair to be with someone and not let them know who you are. I get it. "
Tyler (Caroline):"why you care? we never be friends before. "
---
Tyler (Caroline):"The guy at the hardware store said this was set up to resist 5000 pounds. "
Tyler (Caroline):"It's elastic. I mean, what should I wear? I don't think it's like the Hulk, where I get to keep my pants. "
---
Tyler (Caroline):"Look, I really want to thank you. I wouldn't know what I would have done with out you. "
Tyler (Caroline):"Why would you risk it? If a werewolf bite kills a vampire… why would you risk it?. "
---
Tyler (Caroline):"Then let me tell you. Stefan and his brother Damon killed him because Stefan and Damon are vampires, just like you. "
Tyler (Caroline):"I trusted you. "
Tyler (Caroline):" I didn't know what to do. "
Tyler (Caroline):"I had no idea they would come for you. "
Tyler (Jules):"I can't just run away with you. I don't even know you. My mom would freak! My life is here. "
---
Tyler (Jules):"Somebody needs to explain to me what the big deal is about a rock. "
Tyler (Jules):"I've known her my whole life. "
Tyler (Matt):"I've been going through a rough time—something I can't really talk about. Caroline's been helping me through it. She's been there for me, more than anyone has been my entire life. I kind of fell for her. I don't know how anyone wouldn't because she's pretty incredible. But she loves you. And she needs you. And to be honest, she deserves someone like you. So you be good to her. Okay?. "
Tyler (Jules):"I didn't know what they were gonna do to you. I didn't. I just … I don't want to be like this anymore. "
---
Tyler (Caroline):"She's banged up, but she'll be okay. "
Tyler (Caroline):" I should get going. Jules and I need to get on the road. "
Tyler (Caroline):" : I knew you hated me. I thought you deserved better than having someone like me... in your life. "
---
Tyler (Caroline):"You were right. I shouldn't have come home. "
Tyler (Caroline):" You're kidding, right? This is the second time I've tried to kill you. "
Tyler (Caroline):" Thank you, Caroline. For taking care of me. "
---
Season Three
Tyler (Elena):"But you kissed him. Probably screwed with his head. "
Tyler (Caroline):"I'm horny all the time. "
Tyler (Caroline):"I'm sorry. I gotta to run if I'm going to change and pick up Sophie in time. "
---
Tyler (Elena):"As Caroline likes to remind me, Stefan's in this mess because I bit Damon. I figure I owe you one. "
Tyler (Matt):"I thought I was meeting Caroline. "
Tyler (Matt):"Look man, I never meant for me and her being friends to be a problem for you. "
Tyler (Carol):"Let's skip the part where we pretend we don't know about the vampires in this town. "
Tyler (Carol):"You think Caroline's a monster? I'm a monster, mom. "
---
Tyler (Caroline):"Would now be a bad time to give you crap about sneaking out on me?. "
---
Tyler (Caroline):"You want to beat him up?. "
Tyler (Caroline):"No, this? This is sexy. "
---
Tyler (Caroline):" I am kissing you and you are wondering about your ex-boyfriend?. "
Tyler (Caroline):" I'm great, Caroline. I mean phenomenal. It is a subidon, I can explain. Everything is ... better. "
Tyler (Caroline):" This is going to be a great year. "
---
Tyler (Caroline):" I'm his first successful hybrid, Caroline. Don't you think that's the tiniest thing awesome?. "
Tyler (Caroline):" I'm sorry. I don't want to be that guy. I hated that guy. "
Tyler (Caroline):" Everything I like about me, is you. "
Tyler (Caroline):" I consider that a challenge. "
---
Tyler (Caroline):" I'm his first successful hybrid, Caroline. Don't you think that's the tiniest thing awesome?. "
Tyler (Caroline):" I'm here hanging streamers and have glitter all over my hands. If I'm sired to anybody, it's you. "
Tyler (Caroline):" After everything we've been through. You've been there for me for all of it. Don't turn your back on me now. "
Tyler (Caroline):" Klaus can't be killed. I can't be fixed. Understand that I'm okay with it. "
---
Tyler (Jeremy):" The point is to get drunk and shoot stuff. "
Tyler (Jeremy):" I'm a hybrid, Gilbert. You can't kill me unless you cut off my head or rip out my heart. And you're not going to do it with that lame-ass crossbow. Go ahead. Take a shot. Unless you don't think you can hit me. "
---
Tyler (Caroline):" Even though I wanna put you first, before anyone, I can't. And I'm sorry. "
Tyler (Caroline):" I just wanted you to know that I understand why you can't be with me. Even though I want to put you first, before anyone... I can't. I`ll never be able to. And I'm sorry. I`m so sorry. I just wanted you to know that. "
Tyler (Klaus):" Seriously, man, can't you just get one of your other hybrids to do your bidding? I lost my friends, my girlfriend. "
Tyler (Klaus):" A hybrid bite would kill a vampire. "
Tyler (Klaus):" I'm not biting Caroline!. "
Tyler (Caroline):" I'm not moving on from anything. I love you. "
- Our Town
---
Tyler (Caroline):" I came to apologize. "
Tyler (Bill Forbes):" You're better. "
Tyler (Bill Forbes):" I didn't mean to hurt you, I lost control. Again. "
Tyler (Bill Forbes):" Different, a little more myself. "
Tyler (Bill Forbes):" I can't put myself through that again. "
---
Tyler (Caroline) Voice message:" Caroline, it's Tyler. I know I should have called sooner. I just kind of freaked out and left. But I heard about your dad, and I'm sorry. I'm really sorry, Caroline. I'm out doing what he said. I'm going to fix myself and come home to you. I love you. "
---
Tyler (Caroline):" You have no idea how much I've missed you. "
Tyler (Caroline):" Yes. Once I know how to deal with Klaus. "
Tyler (Caroline):" I do feel different. I feel freer. Way more myself. All I know is I just turned about a hundred times in the Appalachian Mountains. If I can get through that, I can get through anything. "
Tyler (Caroline):" Did she say we could share the bed?. "
Tyler (Caroline):" But Klaus turned me. So if he dies, I die. "
Tyler (Caroline):" Charming? Does Klaus have a thing for you or something?. "
Tyler (Caroline):" I'm serious. What the hell happened while I was gone?. "
---
Tyler (Caroline):" What's he gonna do? Draw you another picture?. "
Tyler (Caroline):" Or we let Esther come and kill him. "
Tyler (Caroline):" It would be an option if we knew he wasn't the one who turned your bloodline. You'd be safe. At least he'd be gone. "
Tyler (Caroline):" Because I'm angry! Because I hate him! I should have never let him dance with you!. "
---
Tyler (Klaus):" I'm not your little bitch anymore. "
Tyler (Klaus):" By breaking every bone in my body a hundred times for the girl I love. "
Tyler (Klaus):" Is it? Or maybe real love is stronger than fake loyalty. "
Tyler (Matt):" Yeah, he would have taken you right down to the hospital, bro. "
---
Tyler (Caroline):" Let me protect you. "
Tyler (Caroline):" We've gotta travel light. So what do you need?. "
---
Season Four
---
Tyler (Caroline):" If we stopped having sex every time somebody died in this town, we'd explode. "
Tyler (Caroline):" Grief Sex. It's healthy. "
Tyler (Caroline):" Oh! Come on....I love you. How is that for sensitive?. "
- Memorial
---
Tyler (Carol):" Who the hell are you two?. "
Tyler (Klaus):" Nice to know you care. "
Tyler (Klaus):" You used my body as an escape hatch and kissed my girlfriend. So we're even. "
Tyler (Caroline):" I'm on house arrest. "
Tyler (Caroline):" You should go to the party. I'll be fine here. "
Tyler (Caroline):" Trust me, I'm no fun right now. "
---
Tyler (Caroline):" Caroline, it's not like that. "
Tyler (Caroline):" I never fell for her. "
Tyler (Caroline):" Caroline, she saved my life. I almost died trying to break the sire bond. Hayley was there for me, she helped me get through it, but nothing else happened. "
Tyler (Caroline):" Because I'd rather him think that then know the truth. There are other hybrids that need to be set free. Hayley and I can help them. But if Klaus found out about what we're trying to do, he'd kill us all. "
---
Tyler (Chris):" You're still going? I drank enough last night and then I slept, which is what you guys should have done. "
Tyler (Klaus):" I didn't know you were here. "
Tyler (Caroline):" Care, this isn't a good time. "
Tyler (Caroline and Hayley):"You girls are good liars. "
---
Tyler (Hayley):" You don't want to do that. Those girls will cut you. And they have nails. "
Tyler (Damon):" They don't. Paranoid much?. "
Tyler :"The sooner we get rid of this guy, the better. "
---
Tyler (Elena):" The bond effects how you act, not how you feel. "
Tyler (Kim):"Submit. Submit or you die. "
---
Tyler (Caroline):" This started with me. This has to end with me. I need your support. "
Tyler (Stefan):"I'm sorry man, but you don't have a choice. "
Tyler (Stefan):"We could give a rat's ass about the cure. "
---
Tyler (Caroline):"This whole thing, this is all my fault. "
Tyler (Caroline):"I should have saved her. "
---
Tyler (Klaus):" Morning, sunshine. You look pathetic. "
Tyler (Caroline):": He destroyed my life. I plan on being present for every second of his misery until I can kill him myself. "
Tyler (Klaus):"Is this what you want? To remind me that I'm powerless against you? Fine. You win. Now save her! Please!. "
Tyler (Klaus):"I'll be your slave again. I'll do whatever you want. Just help her. "
Tyler (Klaus):"You want to be in control, Klaus? Here. Now you get to be in control of her life. And if you want her to die…fine. But then you can sit here and watch her die yourself. "
---
Tyler (Klaus):" I'm just trying to help my friends find the cure. "
Tyler (Klaus):": You tell me. I was playing around with the handle on the ride over, and I found this. "
Tyler (Klaus and Caroline):"What's Aramaic?. "
Tyler (Klaus):"I'll be your slave again. I'll do whatever you want. Just help her. "
Tyler (Klaus):"You want to be in control, Klaus? Here. Now you get to be in control of her life. And if you want her to die…fine. But then you can sit here and watch her die yourself. "
Tyler (Caroline):"At least this time we have a minute to do it the right way. "
Tyler (Caroline):"This isn't goodbye. This is...until we find a way. We're immortal remember? We will find a way. "
Tyler (Caroline):"I will live a happy life without you. I will forget all about you and I will never ever think about you again. "
---
Tyler (Caroline) Letter:" Dear Care, I miss you more than I can put into words but I know as long as Klaus live I can't come home, he won't stop trying to kill me, and you won't stop trying to protect me which means the only way to make sure you're safe is for me to go and never come back. I left Matt the deed to the house it will protect you in ways I can't anymore. I will always love you. "
---
Tyler (Caroline):" I don't think you've ever looked more beautiful. "
Tyler (Caroline):" Caroline Forbes, may I please have this dance?. "
---
Season Five
Tyler (Caroline) Voice Message:"Hey, Caroline, look. I put a lot of thought into this and decided to defer school for now. This werewolf pack I'm helping, they need me. I know it's lame to do this over the phone, but I figure this way's harder for you to kill me. I'm really, really sorry, Care, but this is important. "
---
Tyler (Caroline):" How about we don't talk about my major right now? "
Tyler (Caroline):" Definitely don't want to talk about my dorm room. "
Tyler (Caroline):" How many times do you want me to tell you? I've been helping a werewolf pack in the land of no cell phone reception. "
Tyler (Caroline):" I thought I did make up for it a couple dozen times. "
Tyler (Caroline):" Wow. All of this and you weren't even on the dance committee. "
Tyler (Caroline):" Look, Care. I didn't just come back here to get you in bed. "
Tyler (Caroline):" Do you know the reason we're together? It's because Klaus granted us permission to be together. I'm sorry, but I can't live like that. "
Tyler (Caroline):" No. This is about me. He killed my mom and got away with it. I can't just start caring about sociology and frat parties. "
Tyler (Caroline):" I didn't come here to give it a chance. "
Tyler (Caroline about Klaus):" I need to go after him. I need to find a way to destroy his life like he destroyed mine. "
---
The Originals
Tyler (Hayley):"You don't wanna fight me, Hayley. You know you can't beat a hybrid. "
Tyler (Hayley):"It's not your backyard, it's Klaus'! You're shacked up in that mansion with that psycho. A long way from the girl I've met in the Appalachians, helping other werewolves. "
Tyler (Hayley):" You mean that you're pregnant? A hybrid baby, yeah,I know all about it. I've been roaming around the bayou, asking questions. "
Tyler (Hayley):" They can't help you! They're in the woods, hiding, because they were persecuted for decades by vampires. "
Tyler (Hayley):" Only hybrids can control when they change. And I'm the only one left, besides Klaus. Which is why we're here. "
Tyler (Hayley):" What makes you think I'm afraid to die? "
Tyler (Hayley):" Klaus destroyed everything good in my life! So, I'm gonna take away the thing he wants most! "
Tyler (Hayley):" Don't get all judgy! Dwayne knew what he was getting into. He volunteered! "
Tyler (Hayley):" I've been running with wolf packs all over the country. One of them was tight with a witch. She had nightmare visions about your baby and how Klaus could use it's blood to make an army of hybrid slaves. "
Tyler (Hayley):" What do you think? Klaus Mikaelson, killer of men, women and puppies, all of a sudden wants to be a daddy? Or, he's got an ulterior motive. Hybrids can walk in the sun, their bite is lethal to vampires. They'll take over New Orleans by the end of the week. And you know what's going to stop Klaus then? Nothing. "
Tyler (Hayley):" If Klaus gets ahold of you, if he gets that kid... he wins. "
Tyler (Hayley):" You got what you wanted, now get lost! "
Tyler (Klaus):" Used to hang out with you, I guess something must have rubbed off. "
Tyler (Klaus):" Whatever happens to me, Caroline's never going to stop hating you! "
Tyler (Klaus):" I guess I'm another one of your failures. Like how you failed at making hybrids, how you failed your family! Now it looks like you're going to fail your own kid! "
Tyler (Klaus):" Do it! You're never gonna break me! Only thing you can do is kill me, so go on! Go on, get it over with! "
Tyler (Marcel):" What if I told you that werewolf girl is carrying Klaus' child?... And, if that baby is born, it'll mean the end of the vampire species. "
---
Tyler (Marcel's vampires):"You all know Klaus wasn't always the hybrid. When he broke the curse that kept his werewolf side dormant, somewhere in all that, certain parts were now able to trump his vampire side. Like the ability to pass on the werewolf gene. That's where the werewolf girl he's been hiding from you all comes in. She rode through my town, pretended to be my friend and then end up hooking up with him. Now she's pregnant with his kid. "
Tyler (Marcel's vampires):" When Klaus became the hybrid, he figured out a way to turn full-bread werewolves into creatures like him... You're looking at one of them "
Tyler (Marcel's vampires):" We're stronger, faster. And the toxins in our bites could still kill a vampire. But on the downside we were loyal to him. Like, supernaturally loyal "
Tyler (Rebekah):" We're stronger, faster. And the toxins in our bites could still kill a vampire. But on the downside we were loyal to him. Like, supernaturally loyal "
Gallery
References
See also
Community content is available under
CC-BY-SA
unless otherwise noted.