Greetings and Welcome to my Profile! I'm a big fan of The Vampire Diaries, The Originals, Charmed and other supernatural shows, especially if magic is involved. I'm a site admin (promoted May 8th, 2017) and Fandom Councilor (since July 12, 2019) and pretty active on this community, so if you have questions please feel free to ask, I'll try to answer to the best of my ability. If I can't answer it, then I will direct you to someone for further assistance. In case you can't tell per my profile I'm a Witch fanatic and a "Witchipedia" guide towards anything TVD , TO, and Legacies. If I don't know it, I'll find it out! You'll find me editing mainly witches, witchcraft, magic powers, and related magical object articles. I've completely revised and continue to update the Spells and Rituals page, thus practically a walking Grimoire towards TVD/TO/LEgacies. Though mentioned later, I'm a huge Bonnie Bennett lover, fan, and actress supporter as well as a Beremy shipper (the only 'ship that I 'ship'). I'm also a huge fan of Kat Graham and her music. Side note, I also love the Scarlet Witch and happy to see her debut on the big screen. Again, Welcome and Happy Editing :)
See my Sandbox where I work through some of the bigger page revisions. My bot: Bennett Witch Bot18
See my current and on-going or Future edits:
On-Going:

Comics and related pages (Creating and updating, plot etc.,)
Pyrokinesis (Expansion and all occurrences)
Screencaps for current Legacies episodes and eventually for episodes (TO) that are lacking.
On Hold:

Character Episode Summaries
Discontinued:

Transcripts -- when available (Update previous ones with spells; correcting page format; contribute to the new season - Transcripts will cease for Legacies S2 and beyond) -various
Past major edits:

Spells and Rituals (New spells with new season) Revision and clean up.
Witchcraft Merged Spell Casting info on to main page.
Projection Merging Astral Projection and Teleportation Pages; revised and updated.
Telekinesis (Expansion and all occurrences; formatting, adding images/gifs)
Pain Infliction (Expansion and all occurrences; formatting, adding images/gifs)
Individual Magic and Power pages (Traditional, Dark, etc.)
Individual Magical Practices pages (Sacrificial, etc.,)
A few pages that I've Created:
The Vampire Diaries
What is the best spell(s) enacted within the show... well here are the best two!!!
My Favorite Characters
Basically any Bennett Witch with a few others here and there. XD
Ah, Grams, the beloved matriarch of the Bennett line. How I fell in love with her during her first appearance. It grew when she challenged Damon and then my heart broke when she died. Like Penny Halliwell in Charmed, she is the recurring spirit the guides her granddaughter (when the veil is down) and continues to watch over Bonnie, eventually saving her (after)life.
My Favorite Couple: Beremy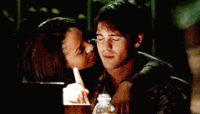 "Wait, you're Elena's little brother. I've known you forever. You're that punk kid. I remember your awkward phase, and then your emo phase, your druggie phase. Overnight you turned into this hot guy who's really sweet… "
"I died, Jer. I died the day before graduation and the rest of this has been a gift and I choose to be thankful that I didn't waste a second of it. So, take care of Elena… I love you."
The Originals
My Favorite Originals Characters
Images and Gifs
Community content is available under
CC-BY-SA
unless otherwise noted.