Hi Everyone! This page is about the user BooSeeksCow part 2, and about Boo, the far ancestor/doppelganger of Elena Gilbert!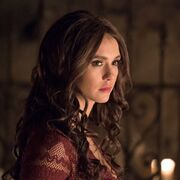 BooSeeksCow part 2 appeared to be a Gemini witch, but turns out to be a Cow-doppelganger, Amara and Tatia's descendants. They have the same ancestor as the Petrova-doppelgangers Katherine & Elena: Amara. Boo fell in love with the vampires BooSeeksHorse & Pony, and became a vampire when Chuck Bass threw her from a rooftop (accidently, in the future) while she has Pony's blood in her system. When she just became a vampire, she looked for the cure, but later she accept her faith and remained a vampire happily, together with BooSeeksPony, her later husband (even though she first met his brother and fell in love with him). Boo grew up in a family of Gemini's, but she was actually adopted by the Gemini's. Her ancester Boo
Name: BooSeeksCow part 2
Turned: On November 21, 1657, by BooSeeksPony's blood
Born: November 6, 1640
Status: Alive (as a Vampire)
Species: Human, Vampire, Doppelganger (Cow Doppelganger)
Killed by: Chuck Bass, November 21, 2008/November 1657 (thrown from a Rooftop, accidently)

Family Members:

Gemini Witches (adoptive)

Cow Family line (biological)

Boo Seeks Cow the Original (ancestor)

Petrova family line

Katherine Pierce

Elena Gilbert

Tatia 

Amara

BooSeeksPony (love-interest) 

BooSeeksHorse (love-interest)
Seeks Cow the original came into her life as her first real family member, but tried to kill her. She is best friends with her Gemini-sister BooSeeksRat, Serena van der Woodsen, and eventually she became friends with her ancestor Boo Seeks Cow the original. 
Biography:
BooSeeksCowpart2 is a far descendant of Boo Seeks Cow the Original and a                                                                 Cow Doppelganger.  Boo was born November 6, in 1640, in a family of Gemini witches. When Boo turned seventeen in 1657, she met BooSeeksHorse, and she falls in love with him immediately. She finds out he's a vampire, and that she's not a Gemini-witch. Actually, she's a Cow family Doppelganger. Always wondered why she got that superweird name. She also meets his older brother, BooSeeksPony. Both Pony and Horse fall in love with Cow and she starts developing feelings for both of them, even though she sticks with Horse. The Gemini's kick Boo out of their house for hanging around with vampires, so she stayes with the brothers Horse & Pony. But then, she meets Boo Seeks Cow the Original, who ever had a relationship with both brothers and tries to win them back now. But they do Whatever it Takes to
​​​​
protect Cow from her far ancestor while they're singing Whatever it Takes, by imaginge dragons. Boo gets into a love triangle with both brothers, while her ancestor is trying to win Horse for herself. Because of the extremely things she does to get him back, Cow decides to break up with Horse, while her feelings for Pony are getting stronger. Then, suddenly, a future witch comes back to the past. Her name is Lily van der Woodsen. She mentions a friend of hers, Dorota, have seen a face like Cows and leaves again. But actually, she cursed Cow. Cow is linked to her ancestor now, so everything happens with her ancestor happens to Cow, so they can't kill Cow the Original. Because of all these problems, Cow runs away to the future, to Manhattan, New York. In New York, she meets a girl named Serena van der Woodsen, who looks incredibly like the witch who cursed her. She introduces her to her best friend Blair. But at a party Blair throws for herself and her new boyfriend, her ex suddenly shows up: Chuck. While the two fight, Chuck gets drunk and threatens Blair with Cows death. He says he will jump off the rooftop with Cow in his hands, so they will blame Blair for their deaths. Suddenly, he passes out but Blair is still in time to save him, but he already letted go of Cow. But Cow didn't die, instead, she became a vampire. 
Community content is available under
CC-BY-SA
unless otherwise noted.