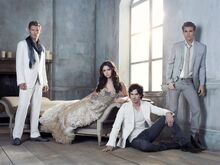 "
We can still come back. We're not too far gone. We get to come back. I know. We can all change.
"

— Rick Grimes from THE WALKING DEAD (TV Series)
My Favorite Characters & Pages
My Least Favorite Characters
My Favorite Couples
Gilijah
Talijah
Delena
Bonkai
Bonenzo
Klaroline
My Favorite TVD Episodes
My Favorite TO Episodes
My Favorite Legacies Episodes
Pages I've Created
My Teams
My Info Of Other Things
I love supernatural tv shows. The Originals, The Vampire Diaries, Legacies, Beauty and the beast 2012 tv series, Charmed 1998 tv series, Buffy The Vampire Slayer, Angel. And my 3 favorite tv shows The Walking Dead, Talking Dead and Fear The Walking Dead. I also enjoy watching Married With Children, Breaking Bad, Friends, Family Guy, Dawson's Creek, The O.C, Jerry Springer, Tru TV's World's Dumbest, The Munsters TV series, the Addams Family TV series, Shades of Blue TV series, Gilmore Girls, The Three Stooges TV series, The Blue Planet and Planet Earth tv series (it's a documentary about the earth and it's animals), and Shark week, I also like boy meets world. Sex And The City TV series and the movies as well. I also love music I will listen to anything but Rap except for (Eminem and The Beastie Boys), Jazz, Classical and Country. I'm more into Heavy Metal Music my favorite band is Korn. I also enjoy Slipknot and Mudvayne. And rock music like Linkin Park and Rise Against. When I want to listen to dance music I enjoy listening to Tiesto and Madonna. I also like listening to the Beatles, Rolling Stones, Garbage (band), Beck and Led Zeppelin. I'm also a huge fan of horror movies. I love zombie movies like the resident evil franchise, night of the living dead original, train to busan a korean zombie movie, dawn of the dead remake, Shaun of the dead, Zombieland one and two. The Halloween Movie franchise is my favorite regular horror movie and several others including Underworld franchise. I also love Alien movie franchise, Chucky movie franchise, Jurassic park franchise, Ice Age movie franchise and Star Wars franchise as well. I also enjoy watching the nightmare before Christmas. In my free time I like to read. I'm currently reading the walking dead compendiums 1-4. They are the comics in a big book. I'm a huge fan of the show and obviously the comics. I'm also a huge fan of the Harry Potter books and movies as well. Been a fan for a long time. I also love watching movies, watching hockey and watching a lot of tv shows. I also love shopping, watching TV and movies, going to music concerts with friends, taking walks with my dog, sleeping in and spending time with my family, friends and my dog.

I'm also a huge fan of Hockey. My favorite team is the Chicago Blackhawks. I've been a fan for a long time. And have been to a lot of games as well. Hockey is my favorite sport. Also a fan of the Chicago Cubs as well. Baseball is my second favorite sport.
Community content is available under
CC-BY-SA
unless otherwise noted.